Lakeside Process Controls
Automated solutions tailor-made for filling the tech gaps
The renewable energy sector is fluid by nature. With an ever-changing landscape and an aging infrastructure with which to carry out new renewable energy avenues and sustainability efforts, challenges do remain.
With these challenges however, come opportunities from which only the best and most experienced companies are able to capitalize. For Lakeside Process Controls, possessing the expertise, in-depth knowledge and the systems in which to carry out the necessary solutions is at the heart of what the company undertakes every day by reducing their customers' risk and overall installed costs.
With their history beginning in 1952, Lakeside Process Controls is an employee-owned company with headquarters in Mississauga, Ontario. For 70 years, the company has been a market leader in providing automation solutions to a wide range of industries, including Chemical, HVAC, Energy & Combustion, Food & Beverage, Life Sciences, Mining & Metals, Oil & Gas, Power Generation, Pulp & Paper, Refining & Upgrading, and Water & Wastewater.
Lakeside offers a wide array of services and products to its many customers, as well as advanced capabilities in design, construction, engineering, and process management. Moreover, the company is also an Impact Partner of Emerson Automation Solutions, the global technology, software, and engineering firm that is a world leader in automation solutions.
"We provide sophisticated equipment." Scott James, Lakeside Vice President of Key Accounts explains. "However, the expertise that comes with Lakeside in partnering with Emerson's technology is that we have that consulting and solutions-based mindset. So we expand beyond the product. We build solutions with the customers. When it comes to automation, we look to make the processes better, stronger, and more robust."
Over the last several years, Lakeside has become a leader in the nascent RNG (Renewable Natural Gas) or biogas energy sector. RNG is a pipeline-quality gas, composed primarily of methane, which is created from renewable sources such as decomposing natural waste material, either from a landfill, a dairy farm, or a water treatment plant. RNG is completely interchangeable with conventional natural gas, and as such, it can be processed and purified, then added to the existing pipeline infrastructure.
James believes that Lakeside's many capabilities allow it to "play in an area that no one else has," meaning that it can provide sophisticated products and processes for its customers in the RNG space to solve heretofore seemingly intractable problems.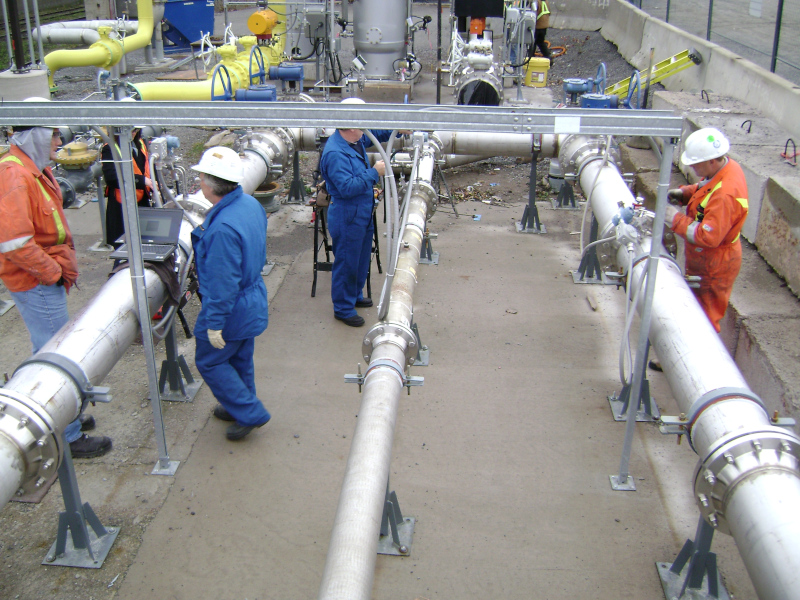 "Lakeside will put in that unique part of the infrastructure that usually gets unaccounted for," he affirms. "We have unique products that fit the biogas space directly. We have analytical equipment, we have control equipment, we have regulators, control valves, and measurement components that are perfectly suited for this industry. Because we have these products, and the engineered solutions that connect them, we can apply them very succinctly and strategically," James adds.
For example, while a company that wishes to prosper in the biogas industry might already have the necessary equipment to clean and process the RNG, as well as a source — perhaps a local municipal landfill — it has yet to determine how to sync up the pieces in order to bring the product to market. "The starting points and end points are defined," says James. "We put them together. We're working with our customers to innovate their processes and be a partner with them to either break into the market or continue doing what they're doing in the market."
To further illustrate the work that Lakeside is involved in, James cites an example. "10 years ago, a landfill site was delivering the biogas to a paper mill to mix with their natural gas and there was a gap – they did not know how to measure the landfill gas and do the proper blending with the natural gas. So we provided the skid to measure and blend." James further explains that a skid is a system comprising main equipment such as pumps, heat exchangers, filters, and vessels. Skids can contain entire process systems or individual process applications, including batch mixing or blending, delayed differentiation, solvent recovery , and small-scale distillation.
Lakeside's Strategic Pursuit Manager, Chuck Kolking, agrees. "We're the glue that connects all the dots," he states. "That's a big part of what we do for our customers. For example, we're working on a job in Whitby, Ontario. They're expanding their process facility, as a result, generating and capturing biogas for use as an alternative to natural gas to support meeting sustainability goals. So, there's the OEM digester equipment and then there's the supply line and their boiler."
"Our original scope is to provide the boiler fuel trains where they're going to burn this digester gas and the associated measurement & controls. They also look to us to provide overall consulting related to Ontario Codes and Standards. So, we led the effort to review the installation to ensure that what they bought, and how they were installing it, was going to meet the TSSA (Technical Standards and Safety Authority) codes and standards," Kolking describes.
"Another example," he cites, "relates to an existing facility in Winnipeg. Their pollution control center. They had been successfully burning digester gas (digester gas is typically formed through the anaerobic decomposition of organic waste materials) but in an unapproved format. So they contracted us to help them update their fuel trains and controls to support the local regulations."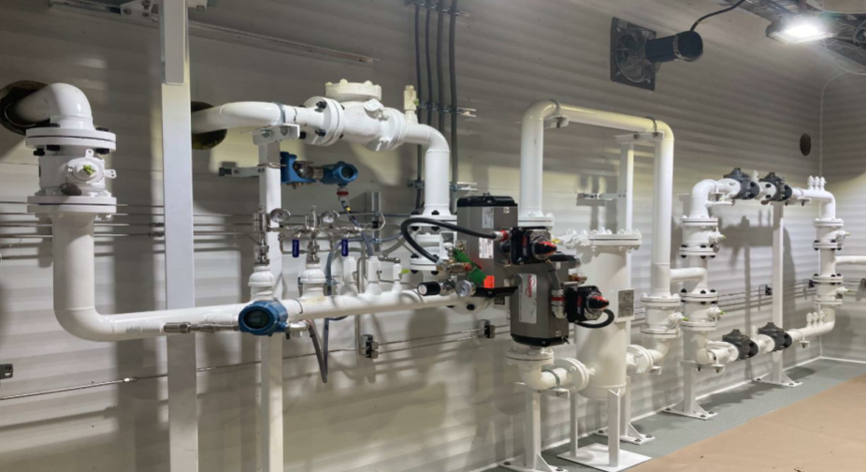 "We have built up the necessary knowledge," James says. We know pipeline systems; we know rules and regulations to properly bring biogas into a company's pipelines. We have probably the broadest product portfolio of industrial control measurement equipment that we can apply to any situation. We also have expertise in these products; we have expertise in engineering and design; we have expertise in construction. It's kind of a unique skill set that people can take different chunks of, or we can also put it all together for very specific subsets of what a project needs. In that way, we make it easier for a producer to navigate effectively and meet all the requirements.
As the RNG industry continues to mature, Kolking believes that Lakeside will likewise continue to come up with more and more improvements and refinements to suit its customers' needs.
"We're always thinking about improving," he offers. "We help take the square peg and round out that peg to fit the round hole. We get input from users and maintenance personnel and we take that input and improve that solution so that the next one is 80% fit for purpose; the next one is 90%. Eventually, there's going to be nothing but round holes and round pegs."
One of Lakeside's key customers is Enbridge Gas Inc., one of North America's largest natural gas utilities. In the past, it has offered the company a variety of square pegs to round out. Most recently, it's been about hydrogen and its future use as a completely non-polluting gas, perhaps the next big thing in sustainability power generation.
"We engineered the blend system for hydrogen and natural gas for Enbridge, which is going into the pipeline now," Kolking reports. "We're doing a similar solution for another customer in the US. They're going to use our system to start testing their own standard related to how they transmit natural gas. So, we're helping them to define their standards and acceptability levels so they can move forward."
While moving forward often means exploring previously unknown territory, James believes it's a terrain that Lakeside is more than prepared to venture into. "A lot of our customers need someone who feels confident in trying the unknown," he declares, defining, perhaps the key characteristic of what has continued to make Lakeside Process Controls a leader in its field.
"We're fine working in the unknown. The unknown is something we'll work through with the help of our partners," James concludes.
AT A GLANCE
Lakeside Process Controls
What: a market leader in providing automation solutions to a wide range of industries
Where: Mississauga, Ontario
Website: https://www.lakesidecontrols.com
Enbridge Gas Inc. – www.enbridgegas.com
Driving the circular economy with RNG
Unlocking the value of landfill, wastewater and farm waste.
Produced from organic waste, landfills and wastewater, renewable natural gas (RNG) plays a vital role for anyone looking to reduce greenhouse gas (GHG) emissions and generate more revenue.
As Ontario paves the path to a net-zero future, RNG is gaining traction as an immediate solution; it's interchangeable with conventional natural gas, with the added advantage of being carbon-neutral, and sometimes even carbon negative. That means it can be added to the existing natural gas system, with no investment needed in new infrastructure. It's versatile, and can be used to fuel fleets, power industry and heat homes and businesses. For agribusinesses, food and beverage producers and municipalities, RNG is a lucrative new source of revenue, with positive implications for communities.
Companies like StormFisher have already tapped into the potential of organic waste. At its biogas facility in London, Ontario, StormFisher converts over 70,000 tonnes of waste to RNG. The process captures methane that would otherwise be released into the atmosphere—equivalent to taking more than 1,700[1] cars off the road for a year.
Enbridge Gas can help uncover and get RNG projects off the ground with financial and technical support for businesses and municipalities. It's proven, scalable and ready today. Visit enbridgegas.com/rng to set up a call.
[1] https://www.epa.gov/energy/greenhouse-gas-equivalencies-calculator#results (based on 8000 tonnes CO2)
Emerson – www.emerson.com/NGDecarbonization
Emerson delivers time-tested and innovative solutions for biogas to biomethane processing and downstream applications. We provide world-class technologies and services that can help you meet renewable energy targets, while reducing project complexity, ensuring safe and consistent production, and optimizing lifecycle costs.