Bradford Soap Works
A clean conscience
Business View Magazine interviews Stuart Benton, President & CEO of Bradford Soap Works, for our focus on Best U.S. Companies in the Clean & Green sector
Soap has been "having a moment" since the outbreak of COVID-19. With handwashing becoming a critical step in the fight against the coronavirus, the spotlight has been on hygiene, and the enormous effect cleansing has on improving global health. At the same time, this extraordinary surge in demand for handwashing products has led to growing environmental concerns about the use of liquid versions – anxieties about the industry's impact on water usage, plastic pollution, and the sustainability of raw materials used in the provision of those products.
For Bradford Soap Works, a Certified Organic company with a reputation for being firmly eco-minded, a commitment to clean, sustainably sourced ingredients had been one of their pillars long before the pandemic figured into the equation. For more than 140 years, they've helped personal care companies build great brands, all while developing pioneering products that contain little to no water. Through their vertical integration and kettle soap process, they've been able to create original, completely customized formulations for their broad customer base, leading to an extensive product line that includes specialty soaps, cleansing poufs, and a variety of anhydrous cleansers from moisturizers to shave sticks. With headquarters in West Warwick, Rhode Island, in the same impressive granite mill building they've occupied since 1931, the profoundly unassuming Bradford Soap Works company is steadfastly and proudly carving out its legacy – in the medium of bar soap and beyond.
The "Original" in the company's moniker "The Original Bradford Soap Works" is a story all its own. Founded in 1876 by James Rogers and William Murgatroyd, two gentlemen hailing from Bradford, England, the now-behemoth soap manufacturer got its start supplying flake soap for scouring wool to the many textile mills peppering New England. But having failed to register the name, Bradford Soap Works became the trademark used by another English immigrant, who'd serendipitously also settled down to make soap flakes in Rhode Island.
Today, the company does business as Bradford Soap Works and is re-imagined as one of the largest bar soap manufacturers in the United States. Their growing client list includes top consumer-goods companies like Colgate-Palmolive, Johnson & Johnson, Unilever, L'Oréal, and Amway, with specialty soap currently sold in more than 50 countries.
"We're a company of firsts," proclaims President & CEO Stuart Benton. "We made the first specialty bar soap for Amway in the 1980s – a glycerin and honey bar. We also developed the first all-natural soap for Tom and Kate Chappell of Tom's of Maine, who were hoping to add a bar of soap to their toothpaste line. Really, you think of soap as being all-natural anyway – it comes from either tallow or vegetable oil – but when you use natural oils, there are metals (copper and iron molecules) that can cause some discoloration. We use a reagent called a chelator for that, but we didn't have one that was all-natural; So, we developed an all-natural chelator that we put in their bar. I'd say it was the first truly all-natural bar of soap unless you go back at least a couple of thousand years."
Bradford even created the first cleansing bar for Cetaphil and helped Unilever launch "a little brand called Dove." Benton confirms, "There's a huge natural element to what we do. When it comes down to it, we're an innovative, market-driven R&D company that happens to manufacture."
They were also the first personal care products manufacturer to offer soap bases using palm oil from Rainforest Alliance Certified™ farms. "In 2012, we worked with the Rainforest Alliance to find a suitable palm oil plantation in Central America," Benton recalls. "From there, we knew exactly where our palm oil was being sourced and that it was going straight to our West Warwick factory, where we could put it into a bar. So, we opened that opportunity up to our customers, and some notable brands took advantage of it. Tom's of Maine, Colgate, Amway – they can all use that little green frog logo."
The Bradford team next traveled to Ghana to visit the communities that process their shea butter. "We went in to see how the shea was collected," Benton explains. "We wanted to make sure that the story we're telling is true. We saw how the Global Shea Alliance, a nonprofit, organized these different communities to work together so there'd be enough volume of shea butter to produce a year-round supply, and the industry would develop in a way that would increase the women's income. Because when women make equivalent amounts of money, they get a voice at the table. They get to buy medicine for their children. They get to send their children to school. It's quite powerful. Through this program, Bradford has committed to plant 1,000 shea trees in Ghana over five years."
With demand for good corporate citizenship being at an all-time high, Bradford has taken hold of every golden opportunity to engage its employees through social impact innovation initiatives, like the one with Global Shea. For example, in 2019, the company turned its focus to Africa to see if its surplus soap could be used to stimulate jobs and economic growth, while empowering women who'd found themselves in vulnerable circumstances.
"When you make soap, the process is sort of equivalent to making biscuits: you roll out the dough, stamp your biscuit, and re-roll any leftover dough," Benton explains. "When we stamp out soap, we try to re-circulate as much of it as we can, but you always get some remnants. So, we started working with World Vision, which was initiating entrepreneurial programs in African villages. In Somalia, which is classified as one of the most dangerous places in the world, they were able to get some of our soap scraps in. And so, World Vision taught women about economics; taught them how to turn these scraps into bar soap. They then used the soap in their own homes or sold them as part of learning to be entrepreneurs."
That year, Bradford provided more than 165,000 pounds of soap base to World Vision, which translated into 75 jobs for women in those communities. In 2020, Bradford donated over 755,000 pounds, making possible even more jobs and better health clinic services. "In Zambia as more soap got into the community, what they discovered was that the lines to see a doctor were becoming shorter and shorter. Just that little surplus soap was now being used to better another part of the world."
Bradford then repeated the exercise with Eco-Soap Bank, helping village communities in Cambodia. "They've been giving the soap to schools and clinics, and it's been very helpful in the COVID fight," Benton says. "You know, for years, everybody kind of took soap for granted. I've tried to communicate this to my team over the last 18 months of the pandemic – that they are actually saving lives across the world by coming in to work."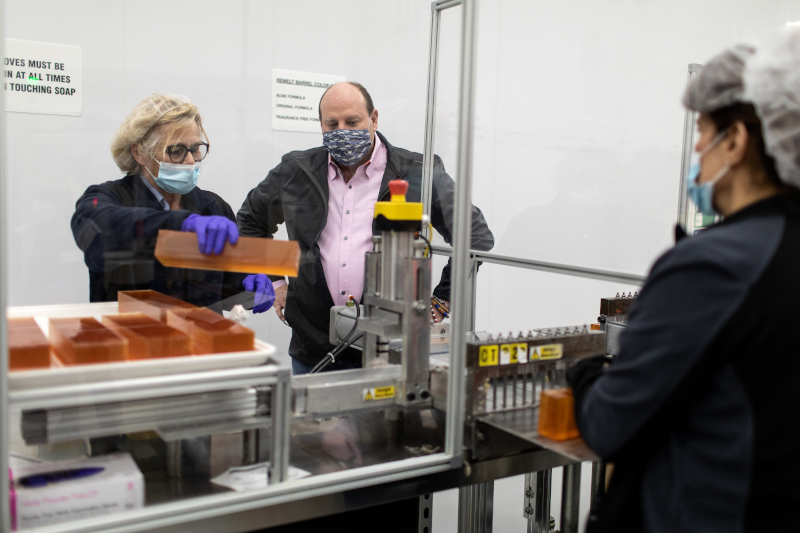 About six years ago, the company began talking to its customers about water, specifically about long-term water-level declines. "The conversation was really about sustainability, but the first thing we brought to light was that water was going to be an issue," Benton shares. "We'd go into meetings at that time and, quite frankly, I don't think they took it to heart. Now we talk about Cape Town, the capital of South Africa, running out of water; how lakes in India are evaporating. Between that and COVID, I think the skepticism is starting to wane."
Looking ahead at the stakes in the feel-good, sustainable suds business, Bradford Soap Works is teeing up to promote more solid products as rising stars in the hygiene category. "We'd like to continue to advance the concept of solid, waterless, concentrated personal care products because of the sustainability factor," Benton says. "Then we'll likely focus the next 12 months on the microbiome and try to target some all-natural products to that. Our biggest living surface is our skin, and we don't pay as much attention to it as we should."
In the short term, Bradford's pilot R&D lab has plans to launch the latest version of its conditioning bar.  "Everybody with a shampoo bar wants a conditioning bar," Benton notes. "And we're very close – we've hit upon some formulations that we believe work just as well as liquid."
In the end, Benton says, "We are more than a Bar Soap company, we positively impact people's lives… at Bradford, in our communities, and globally."
AT A GLANCE
The Original Bradford Soap Works
What: A leading global manufacturer of specialty bar soap, cleansing poufs, and anhydrous products
Where: Headquartered in West Warwick, Rhode Island
Website: www.bradfordsoap.com