Invisors
Elevating Perspective + Transforming Results
Business View interviews Will Hardy and Keith Diego, Co-Founders at Invisors, for our focus on Innovation & Technology in Professional Services
As a leading provider of enterprise cloud applications for finance, HR, and planning, Workday is used by thousands of organizations globally, including more than 50% of the Fortune 500. But while the many benefits that Workday can provide are not in doubt (including access to real-time data, talent development insights, and streamlined processes), gaining access to these benefits requires some level of expertise – the kind of expertise offered by a company like Invisors.
Invisors was founded in 2016 by Will Hardy and Keith Diego, with both leaving large global organizations to start a new Workday deployment partner option – one where consultancy focuses on genuine business transformation for customers.
"We started Invisors with a blank sheet of paper, "Diego says. "Will and I asked ourselves if we wanted to work on Workday deployment again or if we wanted to do something else. As we started looking closer at different platforms that were leading the market in analytics, we kept on coming back to Workday. So that really convinced us that engaging with Workday again would be a great way of meeting our interests in analytics."
"Since 2016, we've grown very rapidly," Hardy adds. "We've gone from two people in 2016 to around 250 today. And a lot of this growth is a testament to the kind of company we have and the culture we've created. Of our staff today, about 42% were hired directly from college campuses. So Invisors is a very young company, which brings a lot of new ideas and energy."
In taking on new staff at such an early stage of their career, Invisors is able to nurture new talent, training individuals to be the types of consultants that match the company's values. "We're very focused on the success of our customers and helping them be successful in ways that go beyond simply getting a project done as quickly and cost-effectively as possible," Hardy notes. "At the end of a project, we want our customers to feel like they've truly transformed their business and can move forward even after we're done. And our employees are a major part of that."
It's worth pointing out, however, that many of the client relationships that Invisors develops are long-term ones. A significant portion of the business involves supporting both those companies where Invisors has deployed Workday, as well as other organizations that have been live for years and work with Invisors for the ongoing support of their platform. So the company relationships don't just end suddenly once a project is complete.
"Workday is a complex piece of software and our job is really about conveying to the customers how they can use it on a daily basis," Hardy explains. "Workday is a robust suite of tools that continues to grow. There are usually two fully functional releases every year. We help clients with support and figuring out how to best utilize any new functionality to help them continue to grow as an organization."
The clients that Invisors supports increasingly come from a broad spectrum of industry sectors. While previously most customers would generally reside in the financial services, technology, or media industries, more recently many companies in the retail, hospitality, logistics, and other sectors are moving to Workday. "Our market includes companies with anywhere from about 3,500 to about 50,000 employees," Diego reports. "Another change is that it's now hard to find a company that only does business in one country. So we work with customers that are in 20, 30, or 40 countries. In terms of industry, we work across all of Workday's commercial industries. We currently have a number of clients in Retail, Hospitality and Professional Services.."
Typically, Invisors' work with these clients involved spending around 30 to 35% of project time on-site. That was the model that was working well for the company, with key periods like the kickoff, initial designs, and prototype review stages involving more in-person collaboration, with remote work coming to the fore the rest of the time. That was until the COVID-19 pandemic hit.
"As soon as COVID came in March of 2020, we pulled back to working completely remotely, which was quite straightforward for us because our employees were used to working this way," Diego recalls. "The challenge was more for our customers that had to immediately move their entire organizations online. But our customers did a great job of managing this transition and we're starting to see on-site travel again in 2022."
Part of the reason why Invisors was able to manage the pandemic's disruption so well is due to the flexibility and teamwork that forms such a core part of the corporate culture at the company. "We foster a collaborative environment, where everything is about the team," Hardy comments. "Our staff like spending time with each other – both inside and outside the office. We are conducting some college recruitment at the moment and we're going to take some of these recruits for a quick happy hour drink after the interviews are finished. There is a lot of social interaction in the office and that starts right at the onboarding stage."
"One of the questions I often get asked by students that looked at our social media accounts is, 'are you a real company?'" Diego says. "It looks like we're having too much fun." Those potential new recruits soon discover that Invisors certainty is a real company and one with major plans for the future. For example, Invisors recently announced a new expansion into the European market. "It's an exciting development, one that we'll be scaling up throughout the year," Diego notes. "We want to make sure we have the right leadership on the ground, so this is going to be a big investment theme for the company this year."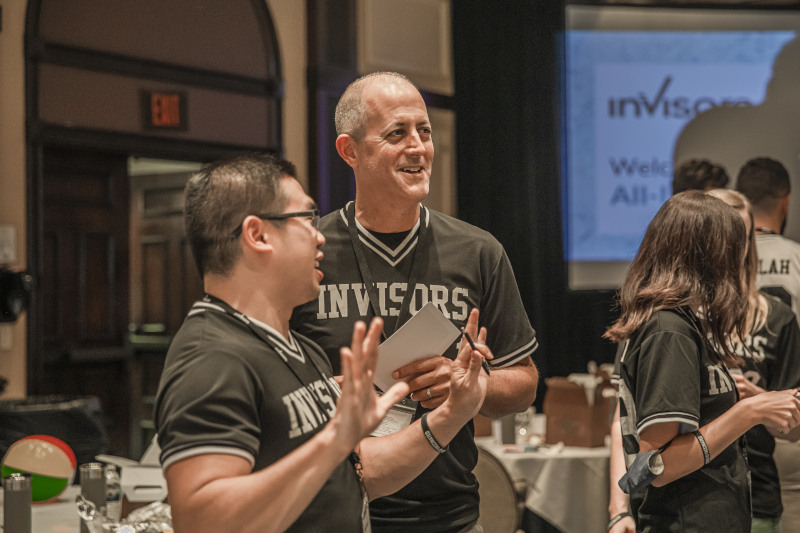 "As well as our geographic expansion, we are also investing internally," Hardy adds. "We experienced a lot of growth in a relatively short period of time, so we are investing in the infrastructure that supports us as we scale – things like our financial operations and our human resources teams. We are ensuring that we can seamlessly transition from a tiny start-up company to a rapidly growing one."
The growth that Invisors continues to experience does not only reflect the company's internal efforts but also those of its partners. The main one, of course, is Workday itself. The platform continues to invest in its product and evolve to meet changing market and customer demands. "We also owe a debt of gratitude to WestView Capital," Hardy says. "The company made a minority investment in Invisors last year, which will help accelerate our five-year growth plan, and support us as we bring greater services and solutions to our clients."
Perhaps the most important relationships for Invisors, however, are the ones that exist among its staff. The company works hard to empower its partners and in return, they provide the support system that makes Invisors tick.
At the heart of Invisors operations is a quote that reminds the company's employees of the importance of their work: "It doesn't matter how well the Workday system is configured if nobody knows how to use it." Invisors may have an uncompromising focus on Workday, but without its culture and expert personnel, it wouldn't be able to meet its customers' needs – and they wouldn't be able to achieve their goals.
AT A GLANCE
Invisors
What: A boutique consultancy and Workday-certified services partner.
Where: Atlanta, Georgia
Website: www.invisors.com