Columbia Bank
Better Community Banking Starts Here
Business View North America interviews Thomas Kemly, President of Columbia Bank, for our focus on Growth in Community Banks in New Jersey
Since 1927 Columbia Bank has been a trusted community bank, with its beginnings as a Building and Loan in Fair Lawn, New Jersey. "If you think about the holiday movie, It's a Wonderful Life, the main character of that was a banker in a building and loan in a local community – That's our origin," describes Columbia Bank President Thomas Kemly. Following that, the bank became a mutual organization, serving New Jersey residents through savings, loans, and mortgages, and eventually commercial products. Today, Columbia is a community bank with 61 branches, operating in 12 counties throughout New Jersey.
Kemly recounts, "In April 2018, we made the decision to issue stock. We issued 47% of the potential stock of the company, which makes us a minority mutual holding company. We are now a public company, and it has put us on a growth pattern. When we made that decision we were almost $5 billion in total assets, and since then we've been growing. We sit today at about $9.3 billion in total assets. We've nearly doubled the company and continued to maintain our focus as a community bank."
Acquisitions have been part of the recent growth, with Columbia Bank acquiring Atlantic Stewardship bank in 2019 and Roselle Bank in 2020. "We just recently announced another transaction that we hope to complete before the end of the year," says Kemly. "It's a combination with Freehold Bank. So, we've grown organically, but we've also had a great opportunity to add three franchises through merger and that's helped us accelerate our growth pattern."
As Columbia Bank has continued to add branches, there has also been an effort to expand digital banking options, knowing that face-to-face transactions are becoming less common. "A few years ago, we met with our board and talked about how as a community bank, we want to continue to expand the physical footprint of the company," shares Kemly. "Our board was very much interested in making sure we matched that expansion with the technology investment. We have increased our budget for new products and services in the digital world, making ourselves accessible to our clients where they want to bank."
This expansion has included online applications, offering instant access to data, and rapid decision making on online loan applications. Oliver Lewis, Columbia's EVP and Head of Commercial Banking, explains, "We have very robust online reporting tools, both desktop and mobile applications, so clients can bank with us anywhere. Internally, we use systems like Salesforce and a product called nCino, which helps us to manage our client relationships, and helps our branch managers, our commercial lenders, and our back office customer service team to stay on the same page with the ability to understand what's going on in any given client relationship. We all have access to the same information."
Between 2020 and 2021, Columbia Bank issued 4000 Paycheck Protection Program (PPP) loans, providing $725 million to both existing and new customers. With the program saving an estimated 60,000 jobs within the state, this was a very busy time for the bank. Lewis recalls, "When the SBA rolled out the PPP loan program, they essentially gave us instructions on what the program was at nine o'clock on a Thursday night with the program going live at 8 am the next day. We were reacting as quickly as we could, while doing everything on a manual basis, because at that point there was no ability to automate anything. Within 12 hours, we were up and running, taking applications from clients for PPP loans."
More than 200 employees worked on that process over the next few months because of the manual effort and the volume. An unexpected advantage of the PPP program has been the new customers gained, clients who were happy with the excellent service they received and have brought more of their business to Columbia Bank as a result.
Another way in which Columbia Bank supported their communities during the pandemic was the quick approval of a loan to turn a convention center into a field hospital in Edison, New Jersey. "We approved that loan within 24 hours of the original request and had the money made available to the client within days," reports Lewis, adding that the bank expediated the normal procedures to make the funds available as fast as possible, contributing to the hospital being opened within a week. "It was at a time when the COVID events were really expanding in the state, right when the hospitals were under tremendous pressure. We are really quite proud that that we did our tiny part to help relieve that," says Kemly.
At the same time, the Columbia Bank Foundation granted more than $200,000 to local hospitals for the purchase of PPE, which was a desperate need. Minoska Mateo, Community Development Manager, describes, "At that time, there were no masks or gloves to be found, so our foundation was able to come in and provide this grant so that they could purchase these items. We donated to hospitals throughout the whole state of New Jersey, such as the Newark Beth Israel, the Chilton Memorial Hospital Foundation, in South Jersey, we donated to the Virtua Vorhees hospital, as well."  The foundation, which provides $2 million in grants to non-profit organizations annually, was able to offer another $400,000 to organizations in need during the pandemic.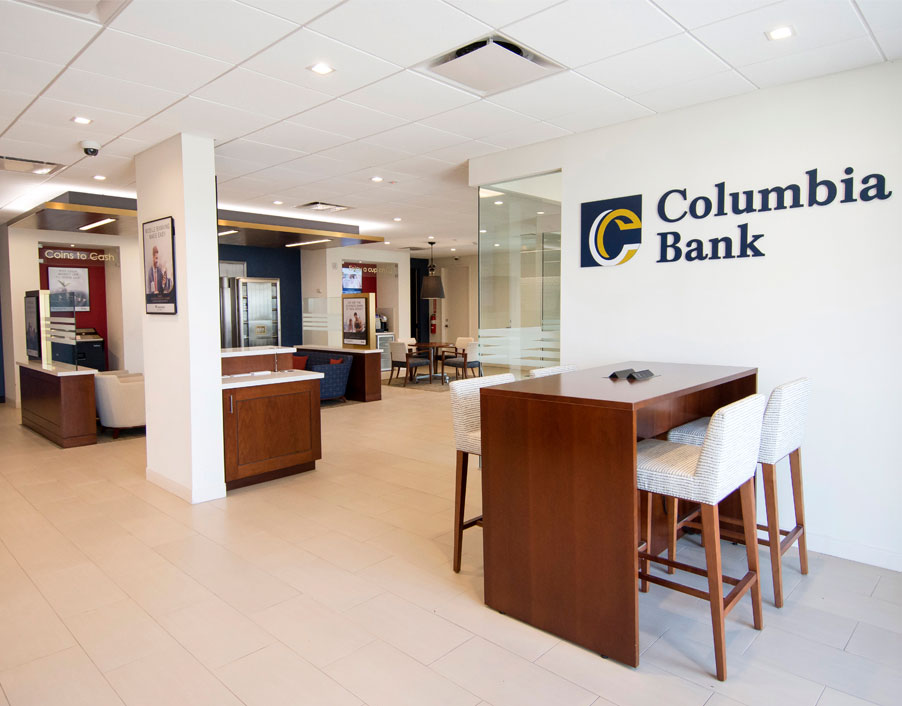 While many employees were focused on PPP, the bank also kept all branches open, with staff there to provide in-person services to clients. "We don't always get credited as being essential workers during the pandemic, but we kept all our products available, all our services available. We also spent a lot of time making sure that our staff stayed safe. We had all the protocols in place to have a healthy environment for not only our staff, but our clients as well," say Kemly. "We also realized everybody was under financial stress. We waived all the fees throughout the pandemic so that people didn't have any financial hardships on things that they were troubled with. We hope we don't have to do that again in another pandemic, but we are really proud that our staff stepped up and took care of the customers and our communities."
Clients of Columbia Bank know they are not only receiving top quality banking services, but they are also helping their communities. "When people come to Colombia, it's not that they are just coming to a bank for a checking or savings account. They are actually coming to a bank that's going to make an impact on them, but also the community that they live in," explains Mateo, who shares that this community service is one of the reasons she has been with Columbia Bank for eight years.
Through Team Columbia, a volunteer program which aims to have all employees volunteer at least once a year, the bank offers over 100 events annually, including toy and food drives in local communities. Last year, the bank donated 100 turkeys to be distributed to those in need, and more recently Columbia took part in a golf tournament to raise funds for the Oasis Organization, a group which supports women and children. "We talk a lot about being a caring organization," Kemly relays, "We try to define that as caring for our employees, caring for our customers, and caring for our communities. And now we're public, so, we care about our shareholders. Really, all the decisions we make keep that basic premise in mind, making sure our decisions demonstrate we care about each of those four constituencies."
Looking ahead, Kemly anticipates a continued growth in commercial products and services in the coming years. He also expects to see Columbia Bank expand throughout New Jersey, as well as the metropolitan New York, Philadelphia, and Pennsylvania areas, creating a need to hire more community bankers. Technology upgrades will be a priority as the bank moves into the future. He shares, "As we get bigger, we do think maintaining the presence and the philosophy of being a local community bank is important. We are going to stay connected to our clients, connected to our communities, while we add technology and other features that people want."
Lewis notes, "We will continue to actively recruit additional lenders, we will continue to approach our New Jersey market aggressively both on small business and middle market, and on the investment real estate portfolio sides." Mateo adds her thoughts, "We won't forget those in need. We will continue to help the low and moderate income communities and individuals, as we keep growing and expanding our products and services."
AT A GLANCE
Columbia Bank
What: A thriving community bank with 61 branches in 12 counties
Where: Headquarters in North Fair Lawn, New Jersey
Website: www.columbiabankonline.com
Harwood Lloyd, LLC – www.harwoodlloyd.com

Whether working with a large national business, a small Bergen County company, a financial institution, a top U.S. insurance company or an individual, Harwood Lloyd follows a service-oriented philosophy, offering clients personal attention and the advantages of a large firm. We believe personalized service is the key to resolving our clients' legal matters as expeditiously and economically as possible. Our clients appreciate this and often remark that our service compares very favorably with New York law firms.
In 1975, Richard Ryan, the late Frank V. D. Lloyd, and the late Victor C. Harwood founded Harwood Lloyd. Today, our practice boasts an impeccable reputation and a team of more than 40 attorneys that can meet the increasing demand for high levels of sophistication in every segment of New Jersey and the metropolitan area's expanding market. Headquartered in Hackensack, New Jersey, the firm has branch offices in New York City and Ridgewood, New Jersey.
Continuing our tradition of offering both private individuals as well as businesses a broad base of services, our major practice areas now encompass five categories; and given the breadth of knowledge of our attorneys, there really isn't any legal matter we can't handle.
We've grown and added new areas of practice but never lost sight of our mission: to provide high-quality legal service to our clients.
A distinguishing factor in the success of Harwood Lloyd is our team approach. No matter how large the team working with a Harwood Lloyd client, one attorney is always assigned to act as lead counsel. A comfort level must be achieved between attorney and client in order to work closely and effectively. Providing a single point of contact enables our clients to access their team with one phone call.
The result of this philosophy, organizational structure and gathering of talent is that Harwood Lloyd is now recognized as one of New Jersey's premier law firms and has gained the respect of its peers throughout New Jersey.
Our clients recommend us to their associates, friends and families; and we are determined to continue to expand our talents and to attract new clients that are making a home in the New York metropolitan area.
Harwood Lloyd is proud of its association with Columbia Bank, both as legal counsel and as a customer, for nearly two decades.  We wish Columbia Bank and its President and CEO, Thomas J. Kemly, much continued success in the future.
TRICARICO ARCHITECTURE and DESIGN PC – www.tricarico.com
Instagram: @tricarico_architecture
Facebook: @tricaricoarchitecture
LinkedIn: Tricarico Architecture and Design PC
(TAD) is proud to have been an integral part of Columbia Bank's recent major renovations at their corporate headquarters in Fairlawn, NJ. Our team developed designs and provided contract documents for Columbia Bank's lobby, open offices, collaboration spaces, employee café, executive board room and dining room. Our talented team of Architects, Interior Designers, Directors & Managers, LEED accredited professionals, M.E.P. Engineers, and CAD Designers worked together to deliver an amazing project for Columbia Bank. This project is just one of the 500-700 successful projects that Tricarico completes per year both nationally and internationally.
Our scope of services includes concept design, construction documents, project management, and construction administration. We offer construction project management services from bidding, to punch list and project closeout. Our projects over the years have consisted of automotive dealership design, experiential retail, luxury retail flagships, commercial development, fashion optics, prototype design, cigar lounges, workspace design concepts, cannabis dispensary prototype designs, food & beverage, commercial redevelopment, travel retail, and veterinary hospitals.
While our portfolio is impressive, our greatest design is our reputation.
Delta Interior Construction Inc. – www.deltainteriors.com
For over 25 years, Delta Interior Construction has provided customers with superior quality design and construction expertise, and personalized service. We specialize in creative solutions for commercial projects, whether you are building from the ground up or renovating. Customer satisfaction is guaranteed with our collaborative approach and by never letting 'no' stand-in our way.
Delta Construction of New Jersey – www.deltaofnj.com 
Delta Construction of New Jersey offers an end-to-end client experience that includes seamless communication, budgeting, staffing, on-site organization, and quality handiwork. DCNJ commercial projects include new construction and repairs/restorations. We work with architects and designers to produce beautiful, functional structures. Call us today and bring our extensive construction experience to your next project.

Cates Electric – www.cateselectric.com 
Since 1981, Cates Electric Corp. has been providing our commercial, industrial, and residential clients with professional installation of top quality materials at a fair and reasonable price. Our polite, knowledgeable staff, both in our office and out in the field, is ready 24/7 to help with electrical services and emergency calls.
Connell Foley LLP – www.connellfoley.com
Connell Foley, a leading full-service law firm of 145 lawyers, provides sophisticated counsel in established and emerging areas of law, including banking, bankruptcy, construction, corporate law, cybersecurity, employment, environmental, franchising, immigration, insurance, intellectual property, litigation, professional liability, real estate/land use, taxation and estate planning, transportation, and white collar criminal defense.