Laricy
Making big real estate waves
Business View Magazine interviews Matt Laricy, Founder & Managing Broker of Laricy, for our focus on the U.S. Residential Real Estate sector
To say that things change rapidly in the real estate sector can be thought of as an understatement. The only constant in the American housing market is change. Although many real estate experts were quick to assume that record high housing prices, multiple offers on a single property, and offers well over the asking price for a given property over the last several years were here to stay, the second half of 2022 has taught industry insiders otherwise.
Despite a global pandemic, for the better part of 2020 and 2021 and through the first quarter of 2022, housing prices continued to escalate quickly, and year-over-year appreciation numbers rose into the double-digit territory in some key U.S. markets. Tempting as it was for many realtors to rely on quick closings and offers far surpassing the listed price on many properties, what goes up will eventually come down.
As 2022 kicked into high gear, inflationary signs indicated an eventual shift in the red-hot real estate market. With a hike in the Consumer Price Index not seen since 1982 along with rate increases through the Federal Reserve, the days of quick closings and offers on the table before a realtor got to his/her desk were yesterday's news.
For Matt Laricy, owner of Laricy (formerly the Matt Laricy Group), the housing market shift was not only anticipated but welcomed. Positioned as one of the top real estate companies in the Midwest and ranking very well nationally, with its headquarters based in Chicago, Laricy specializes in the condominium market with listings ranging from $150,000 to $10+ million. The firm has a corner on the condo market and a unique vantage point to capitalize on the changing U.S. housing market conditions.
"I sell mostly in downtown markets in Chicago, and downtown Chicago pretty much encompasses the South Loop up until the Edgewater area and then north center down to the West Loop," Matt details.
Tracing its origins back to the late 1970s, Laricy has become a boutique company and leads the real estate pack when it comes to specializing in buying and selling condos of various sizes within the city limits of Chicago. "My company was started in 1978 by my father in the south side of Chicago. That's where I started with it. We took the company downtown in 2008, and we are making very big waves in the industry here in Chicago," Matt describes.
Working exclusively with residential clients, Laricy has more listings than any other competitor in the city, and its team works tirelessly to keep one step ahead of the market trends. Matt points out that his realtors always work to keep their valued client base armed with the best property information to help make strategic buying and selling decisions in an unpredictable condo market. He shares, "I love what is happening in the market right now because it is starting to get tough to sell again, but I love it because it has already been tough to sell in 55 to 60% of my markets, and this year has made the Great Recession look like a walk in the park."
While the outlying residential areas of large cities across the country have seen a housing boom of historic proportions during the last few years, the condo market took a decisive hit. "Most of America has been seeing this unbelievable residential real estate market, and real estate brokers have increased with many new brokers coming in," Matt says. "I have been telling people for years that real estate was never designed to sell in a day, and these people are going to get reality checks because at some point things are going to normalize."
Matt highlights that factors merged during COVID to create the opposite housing effect in the condo markets. While offices shut their doors and buyers moved en masse to the suburbs to snap up larger properties to work from home in, condos lay vacant and sales slowed to a trickle. "Downtown Chicago and high rises have been the worst in history with the highest amount of inventory of all time," Matt explains. "The reason why the inventory was so high in the condo market was because the media and publications have been telling Americans for almost three years now that nobody would ever go to work again and that offices won't exist, and that cities are not going to exist. People drink the Kool-Aid."
Mortgage rates now on the rise on the heels of moves upward by the Federal Reserve may have slowed down the record pace of single-family home sales, however, it has helped lift the condo market as buyers are now slowly returning to their office roles and contemplating moves back into the city.
"I'm looking forward to this increasing rate environment because what is going to happen is that some of the suburban properties that sold in a day will take 160 days and are going to go back to normal," Matt determines. "All my business in the past 60 days has been people relocating to go back to the office. When we look at the stats, we had 24 months of inventory in 2020 in half my markets. Last year, we had 12.4 months of inventory, and today we have more than six months of inventory. So while the rest of America's inventory is growing, ours is getting smaller. I am looking forward to this rate bump."
When looking at the numbers, market conditions favor the condo market, providing a stark contrast to the last several years at the height of the pandemic. "We are crushing it this year. We have sold over 550 places and I've already closed and pending about $275 million with another five months left," Matt outlines. "I'm on pace to do $330 million to $350 million in sales. I might hit $400 million if the downtown market picks up even more."
While Matt is quick to point out that the vast majority of realtors tend to be very reactive and reluctant to predict market trends, he takes a more proactive and focused approach to doing business. "I look at what's happening in the economy and other factors across the world and just pivot to make changes. It doesn't matter how bad the economy is or how bad the rates are, you will crush it," Matt says.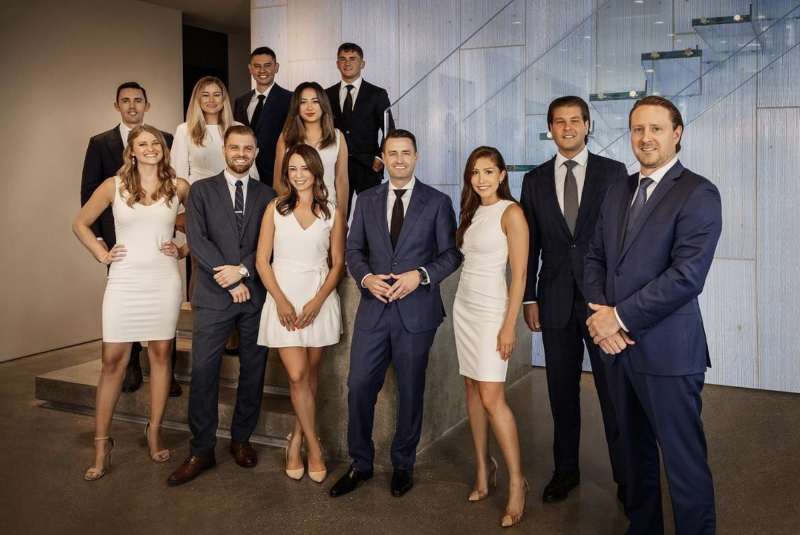 He also surrounds his team with the best lenders in the business and top real estate lawyers to help close the deals. Having the right mindset also helps Laricy rise above its competitors. "I am good at just understanding people in general. Right now sellers are panicking, so again it's understanding what type of person you are dealing with and then catering to their needs," Matt explains. "I just talk to people about the facts and I say to them that here are the stats to back it up."
To aid in his overall client approach, Matt utilizes a wide variety of marketing and promotional mechanisms to inform and educate his buyers and sellers. "Every Monday I send the longest email and I tell them exactly what happened to the market last week, as well as here is what it means for next week, and these are the trends that we are watching. I include inventory levels across the city," he elaborates.
Laricy also uses other social media platforms, including Facebook, Instagram, and TikTok to promote its listings. "We are always at the forefront of technology. I was the first person to use Matterport, which is 3D tours, as well as drone tours, and we started podcasts before other people started doing blogs," Matt outlines.
Looking ahead, Matt is confident that the future looks promising. He maintains, "We are only going to continue to get bigger. I've never had a year where I had fewer sales than the year before. So I am going out on a limb and saying that we're going to continue to increase. This year we are projected to do over $330 million. The numbers just keep going up."
The secret to Matt Laricy's success? "I just focus on what I can control. What we can control is what our work ethic is going to be and what we can do to help people sell. Whether it's a good or bad economy, it doesn't matter to me. It's all just noise in the background," he concludes.
AT A GLANCE
Laricy (formerly Matt Laricy Group)
What: A highly successful residential real estate firm
Where: HQ in Chicago, Illinois
Website: www.mattlaricygroup.com

Lincoln Title Company – www.lincolntitlecompany.com
A proven leader and partner in the title industry
For 25 years, our dedicated team of professionals at Lincoln Title Company have been focused on one key premise – to get you the best outcome for your situation. To truly protect the long-term value of your investment, where you do your title work makes a big difference. Lincoln Title Company offers our clients a distinct advantage, based on personal attention and a wealth of experience and success dealing with complex title issues.
We proudly work with the nation's top developers, law firms, and attorneys to get residential and commercial properties closed, insured, and protected. Every title and deal is different, that's why we use our decades of experience and collaborative approach to resolve the most challenging title issues and ensure a smooth transaction. No surprises, only results.
The team at Lincoln Title Company is made up of industry professionals and a talented team of national underwriters with a combined 50+ years of experience. We find and resolve title issues that other companies can't. We're known for our practical approach to underwriting and specialized treatment of our customers. We listen, understand, and make decisions with your best interests in mind.
We are proud to serve and support The Matt Laricy Group and wish them much continued success!
For more information, please visit our website
Forde & O'Meara LLP – www.fordellp.com
Our lawyers have been lead counsel or co-counsel in some of the most important cases in Illinois. We are a boutique law firm that focuses its practice on commercial litigation, including appeals, real estate, and government affairs. We represent major corporations, partnerships, individuals and some of the leading lawyers and law firms in Chicago. We are consistently rated a top-tier national and local commercial litigation and appellate firm. Virtually all of our engagements come to us through referral or recommendation by other lawyers or law firms. We have successfully represented clients ranging from individuals and small businesses to Fortune 500 companies, including financial institutions, e-commerce companies, manufacturers, material suppliers, commodities traders, and some of the leading lawyers and law firms in Chicago.
Lisa J. Saul who heads the Real Estate group at Forde & O'Meara LLP has represented clients in residential and commercial real estate transactions for over 20 years. Lisa every year successfully negotiates over 1,000 real estate sales and purchases. Personal attention is what sets Lisa Saul apart from other real estate attorneys. Purchasing or selling a home can be very stressful, Lisa and her team aim to make this process seamless and have their clients feel comfortable and at ease during the entire process.