Ward Village
Discover the Wonders of Ward
Business View Oceania interviews Doug Johnstone of Ward Village for our focus on the U.S. Construction sector
Nestled between Downtown Honolulu and Waikiki, just moments from the stunning Hawaiian ocean, lies the perfect location to live, shop, dine, and explore: Ward Village. The village's journey began over 175 years ago as the home of the honourable Victoria Ward. Known fondly as a champion of Hawaii and steward of the land, Victoria Ward welcomed many into her estate of 100 acres over the years, which served as a hub for the enjoyment of traditional Hawaiian culture.
In 1930, Mrs. Ward and her daughters founded Victoria Ward Ltd – an organisation designed to preserve, protect, and develop the Ward estate as the local environment evolved alongside it. Fast forward to 2010, Victoria Ward Ltd transitioned to become part of The Howard Hughes Corporation, and the master planning of Ward Village began.
Today, Ward Village is proud to be a location like no other. A team of over 80 talented, passionate individuals, the vast majority of whom are Honolulu born and raised, Ward Village staff are steadfast in their commitment to honouring the Wards' legacy through the creation of an architecturally designed, thoughtfully built, and community-focused neighbourhood that will provide a modern, sustainable environment for residents, businesses, and industry stakeholders alike.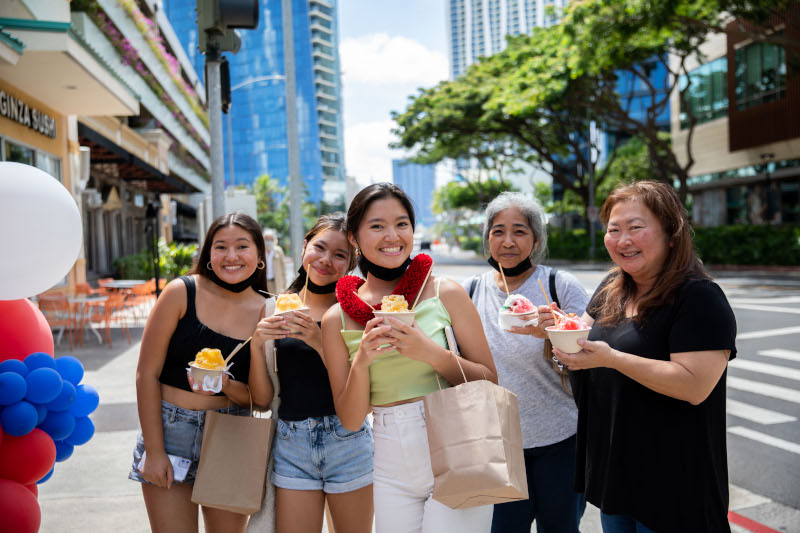 Doug Johnstone, President of the Howard Hughes Corporation, is delighted to showcase everything Ward Village has to offer. He begins, "Ward Village sits right in the heart of Honolulu. So far, we have nearly a thousand homes under construction and more on the way. Howard Hughes is focused on advancing the redevelopment of this neighbourhood into an integrated residential, retail, and commercial environment that is fuelled by smart and sustainable growth. Ward Village is very much a product of the amazing lineage of the Ward family, who were directly connected to the growth of the area for almost a century. It's our responsibility to pay homage to that rich history, we are very proud of it."
Ward Village is known for its eclectic restaurants, vibrant commercial and retail district, and picturesque ocean frontage. "We spent the first few years on the Ward Village project transitioning older retail spaces into truly mixed-use, progressive environment that can support thoughtful residential growth." Mr. Johnstone says. "A lot of the groundwork was converting parking lots and small retail facilities into dynamic redevelopments, with streetscaped recreation spaces outside, multi-purpose retail on the ground floor, and residences above. Our master plan is very carefully designed to allow a coordinated progression- we have the incredible opportunity to curate an environment and experience from start to finish that will bring fantastic prospects for everyone who lives in and visits the area."
He continues, "Something that is really compelling about this project is it touches so many different disciplines and brings together people from all fields and walks of life to work towards a common goal. Many of our core team members have built their careers around this redevelopment, and externally, the impact on jobs and economic investment has been huge. For any given project, we could easily have 400 people on site for construction. Factor in engineering, architecture, legalities, retail, manufacturing, and it's quickly in the thousands."
Such a courageous undertaking would be impossible without the support and dedication of Ward Village's collaborative partners. In thanks, Mr. Johnston says, "Our local general and subcontractors have been incredible partners in the construction of Ward Village. We've been fortunate to partner with some really impressive teams over the years, and the expertise they bring to the table has an incredible impact on the future generations here. We also work with a lot of community stakeholders, including city and state agencies, who are integral and reviewing our work to further advance economic impact, and local cultural leaders and descendants, who ensure that our approach remains thoughtful and an example of good stewardship. I cannot emphasize enough how wonderful it is to see Honolulu coming together to do something truly progressive that we can be proud of for years to come."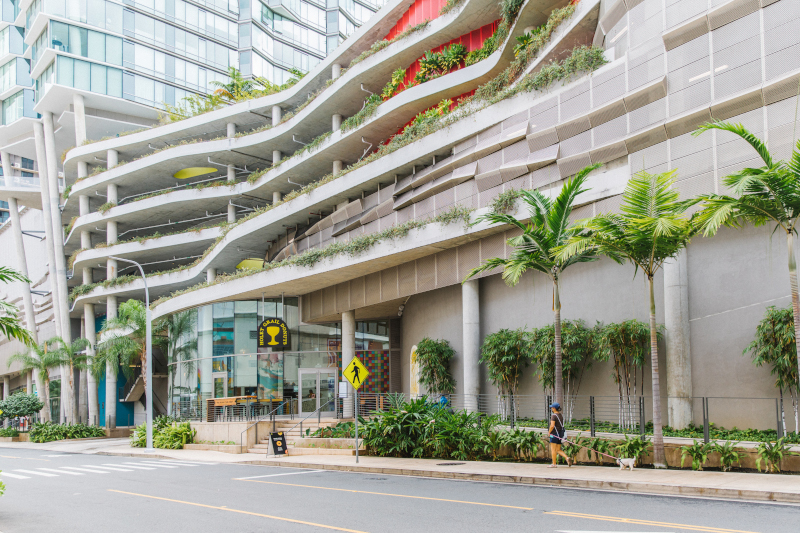 The Howard Hughes Corporation has doubled down to tie in their philanthropic and charitable community efforts to the progress of Ward Village. Mr. Johnstone explains, "We have established a partnership with the Hawaii Community Foundation that helps to identify impactful causes, primarily in urban Honolulu, that we can contribute to- whether it be overseeing the completion of local projects or contributing financially to their progression. When we grow, the community grows."
In addition to their dedication to Honolulu's community, the Ward Village team always has sustainability front of mind. Mr. Johnstone shares, "Sustainability has obviously been a really important concept for a number of years, but if you go back decades, there's always been a real thoughtfulness of how we best utilize our land on Oahu. For many years, we have operated on the idea that in order to keep open spaces around our island intact, we need to have concentrated, smart growth centered around the urban environment. Ultimately, we are striving to thoughtfully deliver mixed-use environments on far less land – say, less than 5% of what would be used for a more suburban environment."
But it's not just about initial construction and land use, Mr. Johnstone continues. "We have paid very close attention to how we can mitigate energy usage and water usage by employing data-collecting technology and best environmental practices- for example, our buildings are specifically designed to save heating and cooling costs. We look at the data to make informed decisions in design, ensure people are paying appropriately for their usage, and also to advise building management. There's some very sophisticated technology out there that Ward Village engages with- it's important to us that we do our due diligence and maintain environmental responsibility."
Mr. Johnstone concludes with a note on the future. "In the next five years, you're going to see some significant streetscape improvements throughout Ward Village as we continue to advance our master plan. These will include roadwork and landscaping projects, as well as the delivery of Victoria Ward Park, which will be the main open space in the center of the community. Hundreds of new homeowners will become part of the community over this time, and additional retail concepts are coming online also. At Ward Village, we will continue to find ways to make a positive impact. At the end of the day, we want to be a truly impactful developer that can be known for our thoughtful and deliberate approach, as well as the communities we create and develop, for decades to come."
AT A GLANCE
Ward Village
What: Master-planned village offering a vibrant, welcoming atmosphere between Downtown Honolulu and Waikiki
Where: Ward Village is located in Honolulu, Hawaii
Website: https://www.wardvillage.com/
Aon Risk Services, Inc. of Hawaii – www.aon.com
Our world is more volatile – economically, demographically and geopolitically than ever before. Decisions around protection and growth have never been more critical. At Aon, our purpose is driven by insight into client needs and we exist to shape decisions for the better to protect and enrich the lives of people around the world.
We believe that businesses thrive when the communities they serve and the people they employ also flourish. Across Aon, we create a culture of opportunity for our colleagues — driven by collaboration and innovation. Our culture enables us to bring our best each day and do great work for our clients.
Delivering value, we provide advice and solutions that give our clients the clarify and confidence to make better decisions to protect and grow their business. To do this, we focus on unmet needs in four key areas where we know we can help our clients the most.
Navigating New Forms of Volatility
Building a Resilient Workforce
Rethinking Access to Capital
Addressing the Underserved
Aon is proud to be a business partner of The Howard Hughes Corporation. We've been involved with them in almost every condo project in the Ward Village area and look forward to continuing our relationship in many future endeavours.
The Audio Visual Company – www.theavco.com
The Audio Visual Company specializes in the design, installation, and service of integrated audiovisual systems. Our company has experience installing systems for many clients and organizations in many facilities including classrooms, gymnasiums, auditoriums, hotels and resorts, meeting rooms to executive boardrooms, command control rooms and full facility A/V construction.
Our company has staff dedicated to serving Corporate, Resort/ Hospitality, Education, and Government clients. Our staff are factory trained and certified to ensure that clients in Hawaii receive the best possible service and support for the maintenance of their installed technology. As a member of the InfoComm / AVIXA certification process, our company's employees have achieved Pro-AV CTS Certification with credentials to ensure that our projects include the highest standards in our industry.
The Audio Visual Company applies the most advanced technologies available in our proposals and projects. We maintain industry affiliation and manufacturer relationships to maintain market intelligence and knowledge of AV technologies and engineering requirements for our customers.
Hawaiian Building Maintenance – www.hbmhawaii.com
HBM is the comprehensive leader in facilities services on Oahu, Maui, and Kauai offering janitorial, maintenance, building engineering, HVAC, LED, and restoration services. Our multitude of services is well known throughout the islands as the reliable, industry professionals servicing commercial buildings, retail shopping centers, residential AOAO, financial institutions, and schools.
Hawaiian Dredging Construction Company, Inc. – www.hdcc.com
Hawaiian Dredging Construction Company, Inc. is the largest and most diversified general contractor in Hawaii.  Building since 1902, with a portfolio that includes many of the State's iconic building and civil projects, Hawaiian Dredging performs across the spectrum of commercial, residential, hospitality, retail/entertainment, healthcare, education, and infrastructure projects.