4Front Credit Union
Truly member-centric
Business View Magazine interviews Andy Kempf, CEO of 4Front Credit Union, for our focus on Michigan Credit Unions
Mergers are commonplace among credit unions. Like any business or financial institution, credit unions can merge as part of a business growth strategy, or a means to implement a business strategy. But unlike traditional bank mergers that may potentially embed a competitive agenda, reduce lending, or shrink assets, 4Front Credit Union is that rare end-product of what happens when two member-centric cooperatives find each other, come together, and organize themselves to advance the collective interest.
4Front Credit Union is located in Traverse City, Michigan (whose name comes from the bordering Grand Traverse Bay where 18th-century French explorers made their "long crossing" – la grande traverse – from Northwood to Northport). The backstory of 4Front CU, much like the context of its historic location, is steeped in the tradition of setting out to probe the big unknowns. "4Front is the culmination of the joint vision, effort and support of two credit unions—one being Members Credit Union, the other being Bay Winds Federal Credit Union," says CEO Andy Kempf. "We've got about 140 years combined of being in business at this point, serving our Northern Michigan markets."
Members Credit Union began its life as Governmental Employees Credit Union in 1954. Membership was available to families in Traverse City and its surrounding communities. Three years later, in 1957, Bay Winds Federal Credit Union began operating out of Charlevoix, MI, less than 50 miles north up the U.S. 31 highway corridor, under the name Saint Mary Catholic Credit Union. It would be 57 years before the two institutions would stumble upon each other and recognize they were kindred spirits, but in that time they would have built their reputations as capable, proud, and fiercely caring financial cooperatives on their own terms. Today, 4Front membership is available to anyone living, working or attending school in Michigan, and their immediate family members.
"In 2014, it became apparent we'd be stronger together and could offer a lot more to the members and the constituency here in Northern Michigan," Kempf recalls. "The recently retired CEO and I were able to work with our staff to put 4Front together, and from there it's somewhat been the sky's the limit. We've rolled out a contact center that's superior to what both of us had, released top-of-the-line online banking products, and are giving our membership a better banking experience overall."
4Front currently has 15 branches throughout the northwestern lakeshore employing 200 staff and serving roughly 90,000 members. They're the market leader for indirect auto loans in their area and have been for the past 20 years. "We're extremely efficient at what we do," says Kempf. "We're really good at putting together that lending product and getting it out there. We can turn around a decision in under six minutes."
With the COVID-19 pandemic forcing the closure of so many workplaces, 4Front has used the opportunity to firm up its plans for providing online banking solutions. "Our technology, especially our member-facing technology, has always been forward-thinking and if not first to market, then a fast follower," says Zach Eychaner, Senior Vice President of Strategic Innovation. "When the pandemic hit and businesses started shutting down, we had a fleet of interactive teller machines (ITMs), a state-of-the-art mobile app, and a virtual banking platform already in place to support our members. Since then, we've rolled out online scheduling to keep things easy and focused, leveraging the technology to make things simpler. We've seen spikes in mobile deposits that have stayed strong even after our branches re-opened." Despite some of the pandemic's challenges, Eychaner insists 4Front has lost no ground with members. "We let members handle their finances the way they want to," he says. "We've seen higher adoption rates and we didn't have to figure out how to start delivering these things on a digital channel. We'd been building that for years. But we've really reaped the benefits of it over the last few months."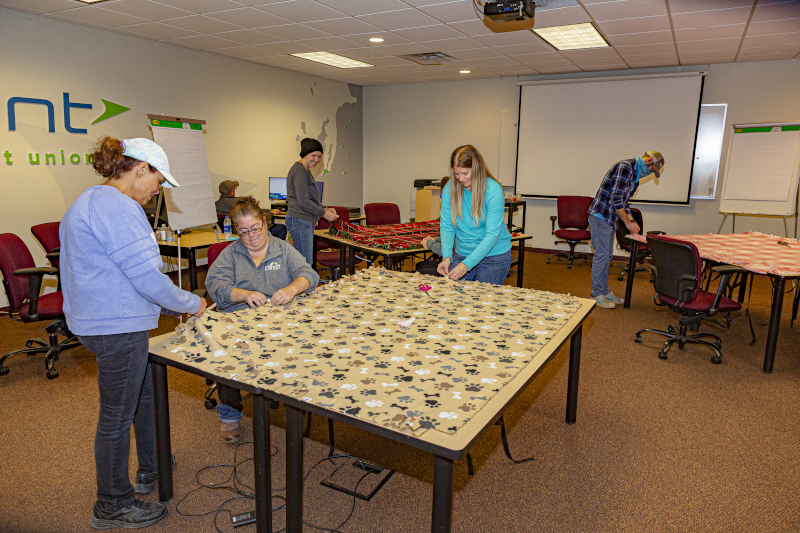 Putting their people first has been part of 4Front's DNA from the beginning, and they have a list of accolades to show for it. They've been recognized as a Red Hot Best awardee in the category of Bank or Financial Institution every single year they've existed and, in 2020, both their Traverse City and Cadillac locations earned the title of 'Top Financial Institution' in their respective communities. They've even been honored across multiple years (2017-2020) as both a regional and national Best and Brightest Companies to Work For by the National Association of Business Resources.
"What makes us different and what allows us to continue earning Best and Brightest awards is our team," says Shelley DeYoung, Senior Vice President of Human Resources. "With what we've navigated through COVID-19, the feather in our cap was the conclusion that we're in this together. Though we were closing branches to the public, we survived the pandemic with zero layoffs. Staff members were repurposed. Their skills were allocated to support and assist in other departments. We really are a 4Front family."
As for their friends and neighbors, 4Front participates in a range of programs that invest in the communities they feel privileged to serve, always embracing the credit union philosophy of 'People Helping People'. "Our team members are represented through all levels of our communities," says Keith Carey, Senior Vice President of Marketing. "We possess a collective servant's heart. 4Front is able to harness that spirit to not only ensure our members are treated with respect and provided with tremendous service, but that our communities enjoy the same."
At 4Front, volunteerism is something that grows out of passion, as over 2000 volunteer hours were committed in 2019. "We were well ahead of that pace in 2020, however a little thing called the pandemic put the kibosh on that," Carey quips. "This year, we chose to convert what would typically be our Professional Development Day in mid-October to a Community Service Day. We had each one of our team members in their communities choosing to support a project that would make a difference for the folks that they serve."
"We gave significant dollars to food banks, local healthcare, and elsewhere," Kempf adds. "Members wanted to help out with all that, but we didn't have an avenue for them to really do it, other than to just drop it into an account. In the first quarter of 2021, we plan on launching a foundation. We'll be able to provide a tax-deductible way for the public, even businesses, to give bigger dollars back to the community where they're needed, whether that be for at-risk children, financial literary, healthcare, or any other community stewardship prerogative that merits them."
Today, 4Front Credit Union encompasses the same notion of partnership of responsibility that inspired its inception through merger five years ago. "The promise of that original partnership was offering the best of both worlds" says Carey. "We wanted to deliver the big bank technology with the community financial institution personality. That might sound a little bit cliché, but it seems to guide us in virtually all our decisions. We talk a lot about experiences and how it's incumbent upon us to value the experiences that have brought our members to us. And it's important for us to value the experiences we offer them once they've found us."
*Pictured at top: Andy Kempf at the Administrative Center Work Cafe.
AT A GLANCE
4Front Credit Union
What: Experience-based community credit union
Where: Traverse City, Michigan
Website: www.4frontcu.com
Avtex – www.avtex.com
Design + Orchestration =
Member Experience Transformation
Delivering the exceptional experiences your members expect requires the precise alignment of strategy and technology. Unfortunately, developing the necessary harmony between your Member Experience strategy and the technologies necessary to support it isn't always easy.
Avtex can help. As one of the only Member Experience consulting and technology providers with a dedicated credit union practice and IP, we understand the unique challenges associated with the CU industry. We have a proven track record of helping Credit Unions overcome these challenges to achieve competitive differentiation through Member Experience. Our proprietary SmartApps suite was developed specifically to address the common challenges facing Credit Unions, including fraud prevention, information delivery, member interaction management and more.
Our innovative approach combines the most critical elements of Member Experience – Design and Orchestration – to help you deliver the exceptional experiences your members deserve. From journey mapping and member analysis to deployment and support of cutting-edge technology, we provide the comprehensive support you need to elevate your MX strategy and execution.
We are ready to help you take your Member Experience to the next level.
Visit Avtex.com to learn more.

Informa Business Systems – www.InformaBusiness.com
Founded in 1965, Informa Business Systems provides and services financial institutions with banking equipment. Today FI's require cutting-edge technology and dependable servicing to keep up with consumer demands. Our partnership with industry leaders brings you the best solution mix that is perfect for your strategy.
Millennial Vision Inc. – www.mviusa.com
Millennial Vision Inc., (MVi)  provides World Class Enterprise Content Management Solutions and Document Management Systems by Laserfiche to the Banking, Credit Union, and Financial Industry.
MVi develops integrations into various core data processing systems by leveraging our industry expertise and Laserfiche's experience providing cost effective solutions to customers throughout the world.
MVi's integrations streamline operations and improve service via Workflows, Forms, and Business Process Automation providing cost-saving technologies enterprise wide.
MVi's current integrations include e-signatures, C21, Mobile document access, COLD Reports, Document Tracking, and Home Banking Access. MVi also specializes in Cloud, Virtual Machine, and SAN environments.