Merck Sharp & Dohme Federal Credit Union
70 years young
Business View Magazine interviews representatives from the Merck Sharp & Dohme Federal Credit Union, as part of our series on American credit unions.
The Merck Sharp & Dohme Federal Credit Union (MSDFCU), based in Chalfont Pennsylvania, was established in 1950 as The Drug Workers Federal Credit Union to serve the employees of Sharp & Dohme, the Philadelphia-based, biopharmaceutical company. In 1954, its name was changed to Sharp & Dohme Federal Credit Union; and in 1956, the name was changed again to Merck Sharp & Dohme Federal Credit Union to reflect Sharp & Dohme's merger with Merck & Co. In 1963, MSDFCU moved from its Philadelphia location to Merck's new West Point facility.
"We started working out of a closet in one of the offices at Merck, having collectors go around collecting shares," recounts current CEO, David Whitehead. "They had a rather large manufacturing facility in West Point, with about 12,000 employees. Those who were unable to get loans elsewhere, we were more than happy to provide them with the financing needs they were looking for. As Merck grew here in Pennsylvania, so did we; we've come all the way to the full-service credit union that we are today."
Today, Merck Sharp & Dohme FCU has two onsite branches at Merck – one in their main West Point office, and one in a subsidiary office in Upper Gwynedd. "We have five other branches supporting our operations, and 85 employees," Whitehead adds. "We want to serve our members where they work and where they live, so we've been putting branches out in the community where the Merck employees reside. We're still a Merck-based credit union; Merck makes up 90 percent of our membership. The other ten percent are small companies that encompass our branch network."
MSDFCU also has two wholly-owned subsidiaries to better service its members' needs – a mortgage company, New Britain Mortgage, and an abstract company, CU Abstract, which offers title insurance. "Our mortgage company is doing phenomenally," Whitehead notes. "With the rates down as low as they are, the housing market is doing well. We're getting a lot of re-finances and lot of purchases. So, between the mortgage company and the abstract company, they're providing a lot of income, currently."
In the competitive banking and credit union marketplace, Senior Vice President, Dana DeFilippis, believes that MSDFCU stands out because of its superior customer service. "I know everybody says service, but I think we really do walk the talk," she maintains. "About two years ago, we instituted a real-time survey system that allows us to survey our members right after they do a transaction or have some sort of service with us. And our net promoter score, and other measurements, have been off the charts. We rarely have issues; our members are always giving us good scores and good comments – even through the COVID period."
"The surveys were all positive," Whitehead adds. "We've also done secret shopper research and we were ranked No. 1 in the country for 14 quarters in a row for the great service that we provided. We have a wonderful culture where the employees want to come to work and our employees show that they live the mission."
Whitehead reports that at the beginning of the COVID-19 pandemic, the credit union did close its lobbies in order to safeguard the health of its members and employees. "There was no foot traffic coming in, except by appointment if somebody had to close a loan or open an account," he notes. "We emphasized electronic transactions – online and mobile banking, bill pay, remote deposit capture, and ATMs were available for cash. We did send about 10-12 percent of our workforce home to work and that worked out nicely for us. We did close two branches that were onsite at Merck facilities because Merck closed their operations, but we did not furlough anybody; we re-allocated those employees to our other locations. We now have reopened our lobbies. The membership is still a little reluctant to come in, or maybe they started using electronic means and the drive-thru and are more accustomed to doing business that way, now. But lobby traffic is down a little bit. It may come back. Otherwise, we're back as a lean, mean, fighting machine."
Going forward, both Whitehead and DeFilippis see an ever-increasing use of technology for providing member services. For example, the credit union began incorporating the Zelle app so that members could transfer money to people they know; accounts can be opened online; and consumer loans can be obtained via e-signature. "Normal, in terms of banking, has changed," Whitehead states. "I do think it's going to be more electronic and we're going to have to emphasize the technology-driven banking that we do. We do have ATM machines and we're looking at using ITMs (Interactive Tell Machines) in the future and having those at branches so people can use them off-hours."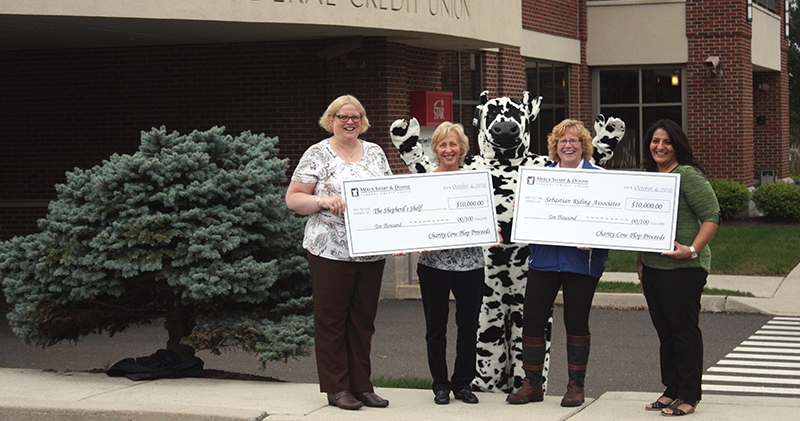 MSDFCU also participates in the local community in several ways. Since 1971, it has celebrated the success of graduating high school seniors by honoring several with the Raymond O. Hoffman Award, named after the founder and first president of Merck Sharp & Dohme Federal Credit Union. The awards are based on the graduates' volunteer efforts over their four-year high school career, mirroring the countless hours of volunteer service that Hoffman contributed to the credit union's formation and success.
In 2016, The New Britain Charitable Foundation was established by MSDFCU to serve recognized charitable organizations, community organizations, and other entities who serve the communities in Bucks and Montgomery Counties. Various events and promotions are held throughout the year to support local charitable organizations that provide individuals and families with the needs required to exist in society.
Now celebrating its 70th year, Merck Sharp & Dohme Federal Credit Union has grown from a small organization to one of the largest credit unions in Pennsylvania, with assets of $750 million. And, according to DeFilippis, its future is bright. "We've been here for 70 years," she declares. "And I see us serving our members for another 70 years."
AT A GLANCE
Merck Sharp & Dohme Federal Credit Union
WHAT: A federally-chartered credit union
WHERE: West Point, Pennsylvania
WEBSITE: www.msdfcu.org

PSCU – www.pscu.com
PSCU, the nation's premier payments credit union service organization, supports the success of 1,500 credit unions representing more than 3.8 billion transactions annually.
Committed to service excellence and focused on innovation, PSCU's payment processing, risk management, data and analytics, loyalty programs, digital banking, marketing, strategic consulting and mobile platforms help deliver possibilities and seamless member experiences. Comprehensive, 24/7/365 member support is provided by contact centers located throughout the United States.
The origin of PSCU's model is collaboration and scale, and the company has leveraged its influence on behalf of credit unions and their members for more than 40 years. Today, PSCU provides an end-to-end, competitive advantage that enables credit unions to securely grow and meet evolving consumer demands.