Environmental Products Group
The southeast's choice supplier
Environmental Products Group, based in Apopka, Florida, is the southeast's largest dealer for Vactor Sewer Cleaners, TRUVAC vacuum excavators, Elgin Street Sweepers, Envirosight Inspection Systems, Labrie Refuse Trucks, Petersen Grapple Trucks, PB Asphalt Patch Trucks, and other products, tools, and accessories. Its customers include government agencies, general contractors, and industrial clients throughout Florida, Georgia, Arkansas, Alabama, Tennessee, and the Caribbean.
"Our business began in 2001," recounts President and Owner, Chris Haase. "We began as a Federal Signal Dealer representing Vactor and Elgin in Florida. We opened our doors in 2002 building our team and introducing ourselves to our customer base throughout the state. Our first branch was in Central Florida, soon followed by a South Florida location. In 2010, we expanded our territory to include the State of Georgia with a branch in Atlanta. At this time we also added the Envirosight Inspection Systems."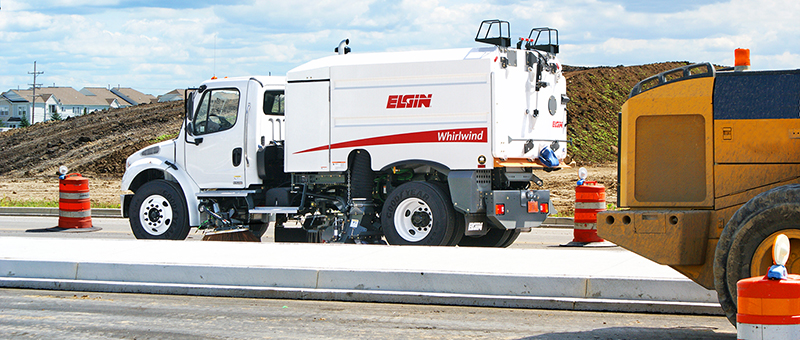 "In 2014, we started our rental truck business, EP Rents, renting the products that we sold and serviced," Haase continues. "We started with a few Vactor sewer cleaning combination trucks, and we realized that the rentals were a fantastic opportunity to support more customers. And although we started our business as a predominantly municipal house, we realized that to maintain and grow the business, it was necessary to be much more contractor-focused with private contractors that are involved in road building, sewer maintenance, and refuse collection. That's helped us grow. We've gone from a very heavily concentrated municipal business to being much more balanced. And rentals is one of those solutions for both contractors and municipalities.
"Our next expansion in 2016, is when we were assigned the Caribbean territory. As luck would have it, we had a friend in the industry living in the Dominican Republic. We added him to our team because of his knowledge of the industry and the Caribbean Islands. Starting Environmental Products Caribbean, we service this territory from our South Florida and Atlanta locations. In 2016, we also rebranded our business as Environmental Products Group to better identify our business with its larger footprint and product breath.
"In 2017, we were awarded the Arkansas and Western Tennessee territory. We were excited to have this territory because the City of Memphis is a great Vactor user and there are many opportunities in that territory. We opened up our shop in Memphis to further expand our parts, service, and rental outreach. It's a centrally located branch to support the mid-south area."
"At that time, the economy was flourishing, and we experienced fantastic growth. We continued to invest into our rental business and, in 2018, we expanded into the vacuum excavation world with Vac-Ex trucks. We hired a specialist for Florida, and a specialist for Georgia to specialize in the utility business segment. So now, we're dealing with the telecom groups, power utility – both electric and gas, as well as clean water utility. With the TRUVAC trucks, you can dig safely with vacuum trucks because you're using high powered air and/or water to expose various underground utilities. And once you've vacuumed down and removed the earth, you can visually inspect the underground utilities. It's non-disruptive, and you're not going to cause gas explosions or compromise any telecom lines. We see this as the wave of the future for safe digging, and for us, additional ways to support the marketplace."
In addition to selling and renting equipment, EPG provides parts and maintenance service to its customers and offers a special maintenance package to its municipal customer base. "We offer a program called Turnkey Maintenance Solutions," Haase explains. "When we sell a unit, we will also sell a maintenance package that takes care of everything from headlights to taillights. We also offer our customers a program where we will go to their site where EPG factory-certified technicians take care of all the work. We even give them loaners in the event their equipment is down. So, we are responsible for getting their equipment repaired, whether we do the work onsite, or whether we take it to a dealership. This has been a fantastic solution for our customers. We can do it because we offer the industry leading products." EPG also offers free re-training for the life of the equipment it sells, even if an operator leaves due to turnover, promotions, etc. The company's TurnKey Program guarantees to buy back the unit at the term's end.
Today, EPG has approximately 80 employees – sales teams, parts and service teams, mobile technicians, rental teams, and marketing teams. "We've grown from a mom-and-pop type of dealership to a fully-scaled business," says Haase, stressing that the company culture is still very congenial, and management is firmly devoted to its employees. In fact, when Haase was looking for a new location for the company's corporate headquarters, he made sure to find a site close to its current venue because he didn't want his employees to have to travel farther or longer in their daily commutes.
"We started as a family-based business," he states. "My father started the business and my brother-in-law and I worked for him. Over time, we have brought on a number of college friends and family. So, when you look at the profile of EPG, you see a family-minded model of people who have been together for quite a few years. And if you take care of your employees with the life services they need – health insurance, retirement package, etc. – taking care of the customer should be easy because you really empower them to be the best operators in your area. Our employees are fantastic assets and one of our major competitive advantages. And we think the proper way to handle a customer is to treat them like family."
Director of Sales, Chris Vanderhof, believes that another one of EPG's advantages is focusing on our area of responsibility and being committed to our customer and supplier partnerships . "Our sales team is dedicated to specific products," he notes. "They're not selling 20 products out of a catalogue, they are product experts. We're focused on staying dedicated to what we do best within our region with a goal of being one of the most trusted equipment suppliers within the southeast region for both municipalities and contractors"
Haase agrees. "We're a customer-focused business. We realize that you have to serve the customer and you have to offer them the parts they need when they need them. And we want to make sure that we are their choice supplier in the southeast. Our focus is on our regional network. We don't like to spread ourselves thin by being everything to everyone; we want to be everything to those that matter within our very specific part of the southeast United States."
In continuing to serve its regional clientele, Vanderhof says that the company recently took on some new product lines. "In Florida and Georgia, we have Old Dominion Brush Company leaf loaders," he shares. "It's a great product and it fits in with our municipal niche. So, we're excited about that. And in Alabama, we represent Petersen Lightning Loader Grapple Trucks. We were also recently appointed the Labrie, Leach and Wittke distribution rights in Georgia, Tennessee and Alabama. We are proud to offer such an exceptional refuse product line that will allow us to offer even more to our customers."
Going forward, Haase reports that EPG is working on another expansion project. "We just acquired some land – eight acres in Central Florida near our current location in Apopka – and we're looking to expand our corporate headquarters with a new facility that will be three times bigger than our current facility. It will be a 45,000-sq.-ft. building to break ground the beginning of next year. There'll be more square footage for greater parts and service capabilities. So, we continue to invest in our business, whether it's service trucks for making sure our mobile truck service is always upgraded, to making sure our facilities are upgraded. And we want to make sure that we're always employee-first minded. There are always opportunities to continue to grow and to reinvest and as they present themselves we react."
AT A GLANCE
ENVIRONMENTAL PRODUCTS GROUP
WHAT: A municipal and infrastructure maintenance equipment provider
WHERE: Apopka, Florida
WEBSITE: www.myepg.com