Dannemora Federal Credit Union (DFCU)
keeping its valued members in mind
With flexible financing options available, Dannemora Federal Credit Union embraces its members' needs and those of the community it serves
At Dannemora Federal Credit Union (DFCU), all company decisions are made with its customers in mind. That's because as a credit union, DFCU's customers are also members and owners. Headquartered in Upstate New York near the Vermont border and serving the North Country region, DFCU has a mission to be its members' primary financial institution by providing quality services and exceeding member expectations while supporting the local community.
DFCU was organized in 1958 by a group of employees working at Dannemora State Hospital. Those individuals wanted to establish a financial institution where they and fellow employees could save and borrow money safely, confidentially, and at a fair rate of return. Membership has grown over the years to include anyone who lives, works, attends school, or worships in Clinton, Essex, Franklin, or St. Lawrence Counties in New York. The credit union has more than $290 million in member assets.
Its bottom line is focused on reinvesting into the credit union and services that help its members, says CEO and President Chris Hay. He says that DFCU has proven over the years that it can focus on members and finances at the same time and still have a successful corporate structure. It's a model that Hay enjoys executing.
"Traditional banks have stockholders. Those banks have a fiduciary responsibility to serve stockholders, but our only responsibility is to our members," Hay says. "We focus less on numbers and more on member stories."
One example of how this impacts finance is that the focus on members allows DFCU to carry certain loans on its books much longer than it otherwise would. Hay referenced one example where a member hadn't paid her mortgage through the credit union in over a year and in most circumstances the foreclosure process would have started. However, DFCU's lending team knew the member had a unique situation where her spouse had recently died, and she was waiting for insurance to help her with the overdue mortgage payment.
Says Hay, "We knew her story and we knew that she would be able to pay her loan, which she eventually did. It's a heartwarming story." Without the credit union model, that scenario would not have been possible, and the member may not have been able to stay in her home.
Community Focused
One of the hallmarks of DFCU within the local community is how the organization and its employees are involved with community organizations. This includes both volunteering and financial support. Since DFCU is not a huge credit union, it may not be able to help support every charitable organization in the area with dollars, but it gives back more than many large financial institutions in the area, Hay says.
DFCU recently committed its largest financial donation in the credit union's history with a $350,000 pledge to support the renovation of a local YMCA facility, Hay says. He sees many similarities between the two organizations with a focus on members, flexibility, and local community. "It's one of the reasons we made that commitment," Hay says.
DFCU has supported several veterans' charities with volunteer support and financial donations anywhere from $10,000 to $20,000 annually over the years. Employees also can take part in Jeans Day one Friday a month where a $5 minimum donation allows them to wear jeans to the office. DFCU matches all donations, which usually raise a few hundred dollars each month for a variety of organizations ranging from the United Way to a local organization that provides therapeutic pets for individuals with disabilities.
Additionally, DFCU has been giving away ten $1,000 college scholarships for several consecutive years. The credit union updated its total giving to $15,000 in 2023, offering both $2,000 and $1,000 scholarships. Says Hay, "The hope is that it helps to make college a little more affordable. It's just so darn expensive right now that every (scholarship) helps."
The credit union's commitment to financial literacy remains strong as shown by one of its partners. Banzai is an award-winning, interactive content platform that teaches real-world finance to more than 100,000 teachers in over 50 percent of U.S. schools.
DFCU works with Banzai to access customized financial literacy programs it presents through its team members to students at area schools. Hay believes there is a clear void of financial literacy within our community and reviewing such topics with students – or even adults – on such topics as budgeting, the impact of credit card debt, and more is important. "The goal is to help consumers and our members make a decision that fits what their goals are," Hay says.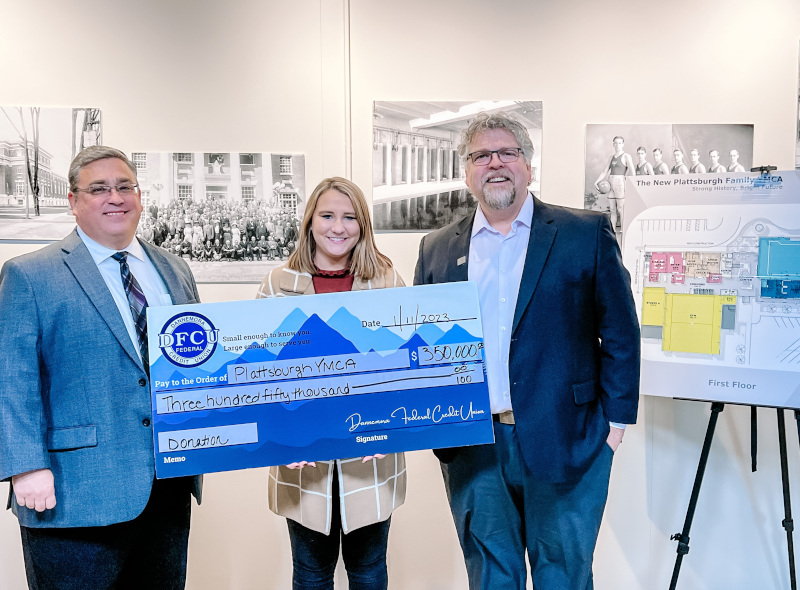 Treating employees like family members
Like all businesses, DFCU experiences employee turnover, but Hay says it happens less frequently than for many other businesses in the financial services and retail sectors. One reason for this is the level of flexibility that employees have to experience a work/life balance that is convenient for them and their families. DFCU allows employees to work remotely when necessary and feasible. The executive team understands that employees have life challenges from time to time and that caring for a sick loved one, finding daycare options, and even putting down a pet are important life moments.
According to Hay, this flexibility is important because it gives people time to recover from a challenge or take care of a family member in a way that other employers may not allow. This mindset also helps to retain top-performing employees, which members appreciate. As Hay says, some members will wait longer to meet with their favorite teller, a telltale sign of customer loyalty.
Another example of treating employees well is giving them the ability to advance their careers and industry knowledge in a way that helps members. Three DFCU team members have recently been certified as financial counselors through the Credit Union National Association, the industry's leading trade group. DFCU is committed to educating members of all ages, and consumers in general, on financial literacy topics. It's a part of DFCU's "Live Well" theme to better support members for everything from first-time home buying to retirement planning.
Investing in technology on behalf of members
DFCU is working with its core banking system vendor Fiserv to continuously upgrade its core system, giving members more access and providing them with more conveniences than ever before. One example of this is the streamlining of loan applications and closing which can now be handled online.
In fact, this and other system improvements coincidentally were up and running just before the COVID-19 pandemic hit in March 2020. Because of this, DFCU was able to address most member needs even when in-person activities were canceled.
Enhancements have also been made to the credit union's mortgage platform, providing members a similar number of features – or more – as many of the regional or national banking institutions have in place, Hay says. Members can chat live with DFCU professionals during business hours.
"We offer the same types of online benefits as larger (financial institutions), but we also are committed to our branches and providing in-person service," Hay says. He adds that a large percentage of members still want to conduct transactions in a branch setting, and/or prefer to speak with a representative on loans or longer-term needs face-to-face.
The rest of 2023 will see DFCU continue to improve its online platform and engage in local efforts to support deserving community charities. Hay wants the credit union to take several steps to "optimize the member experience." DFCU is accomplishing this by implementing predictive analytics into its system. This essentially uses artificial intelligence to better predict future member needs on an individual basis.
In short, members "want products and services that are more customized," Hay says. They don't want to see emails or even digital ads about mortgages if they just paid off their mortgage, he added. With "smart" messaging DFCU executives expect even higher member satisfaction scores, retention, and more direct member referrals.
AT A GLANCE
Dannemora Federal Credit Union
What: A leading credit union with a member-first focus and financial solutions to fit the bill
Where: Upstate New York
Website: https://www.dfcu.net/

Kasasa – kasasa.com
An epic funding crisis is crushing the industry.
In the last year, $211B has left the banking system. And 5% ($1T) of all industry deposits have shifted from demand deposit accounts to CDs. The urgent need for liquidity has created an ever-growing funding gap between what institutions are paying on deposits and what's available in the market. This gap is the widest in modern banking history and has led to compressed net interest margins (NIMs) and declining ROAs that, in some cases, are at unsustainable levels.
With NIMs tighter than ever, bringing in new core deposits while controlling cost of funds is a must. Kasasa high-interest checking attracts quality, stickier deposits while reducing funding costs and the reliance on timed deposits like CDs. It also creates deeper relationships leading to more engaged consumers. In fact, Kasasa checking accounts have helped community financial institutions:
Grow and retain deposits 1 .
• 2.25% net-increase in deposits
• 50% less deposit bleed-off
Lower funding costs.
• 64% cost of funds discount 2
• 1/3 less reliance on high-rate CDs 1
Deepen relationships 2 .
• 64% more debit card transactions
• 38% more ACH transactions
Learn how you can offer 5% high yield checking accounts that cost less than 2%.
Visit growdeposits.kasasa.com for more information.
1 FDIC and NCUA Q1 2023 for Kasasa partners compared to Q4 2022.
2 Kasasa Analytics for all Kasasa partners, 2022.
Fiserv, Inc. – www.fiserv.com
As a global leader in payments and financial technology, Fiserv helps financial institutions achieve best-in-class results through a commitment to innovation and excellence in areas including account processing and digital banking solutions; card issuer processing and network services; payments; e-commerce; merchant acquiring and processing; and the Clover® cloud-based point-of-sale solution.