Calibre CPA Group PLLC
Delivering a difference
Business View Magazine interviews representatives from Calibre CPA Group PLLC, for our focus on best practices of America's Top Professional Accounting Firms.
Calibre CPA Group PLLC is a full-service accounting and advisory firm with a strong collaborative culture and big capabilities. The firm focuses on helping tax-exempt organizations and business enterprises nationwide make a difference through proactive and value-added accounting, audit, taxation, forensic and risk advisory, and payroll compliance services.
Calibre CPA Group was formed in 2003 by 10 partners, resulting from a spin-off from a predecessor firm. The firm began with about 60 employees. Today, Calibre has 23 partners and approximately 200 employees in five offices in four cities. Some of the growth is a result of geographic mergers. The dedicated specialists at Calibre offices in metropolitan Washington, DC, Chicago, IL, New York, NY, and Los Angeles, CA, work closely with associations and other non-profits, labor unions, employee benefit plans, and business enterprises to guide them through complex accounting and reporting regulations. Serving as auditor, advisor, and valued partner, Calibre CPA Group delivers a custom action plan to each organization, so those clients can strengthen their financial controls and achieve their goals.
Karen Roche, a partner in the Calibre CPA Group, runs the accounting and financial services (AFS) practice. She explains, "We serve as contract controllers and CFOs for our clients and we do a lot of consulting and project-based work. Recently we've worked with a lot of smaller non-profits to help them understand the CARES Act (Coronavirus Aid, Relief, and Economic Security). We were busy showing them with how it applies to them, how to complete applications to get funding, assisting them with revised budgets and cash flow forecasts, and really helping them with forward thinking to determine where they were going to be. Some organizations we work with rely heavily on conferences and meetings as a major revenue stream and key component of their business. When meetings and travel were cancelled, it had devastating effects. Others were much more able to convert and do what they needed to do while working remotely."
When COVID-19 first hit, Calibre helped a number of clients take their operations from predominately in-house to remote; helped them understand how to maintain internal controls and leverage the technology; and even trained clients, some that still utilize paper-based accounting, on new types of technology that allowed them to keep their business active in a remote setting.
Jim Kokolas, Managing Partner of Calibre CPA Group, has been with the firm for over 30 years and has led Calibre for the last nine. He admits, "This pandemic has been a challenge for us and businesses everywhere, in terms of working with our clients but also for our staff. At the same time, it's been encouraging to see how everybody came together to coordinate with our clients to be able to continue to service them." About 80 percent of Calibre clients are non-profits, both locally and around the country.
Calibre has established long-term trust relationships with many clients and have earned their respect by paying attention to accounting and tax changes and proactively reaching out to explain how different laws and rules and regulations may impact their business. The firm then guides them in strategizing their reaction, so that financial information and reports tell their story through numbers. Calibre is one of the only national firms specializing primarily in non-profit organizations, labor organizations, and employee benefit plans – in auditing, tax and accounting. The firm audits more multi-employer employee benefit plans that any other firm in the U.S.
Roche describes how she brought her expertise to the firm. "I was with a smaller seven person firm, Roche & Associates, and in 2010 we merged with Calibre to bring our AFS services in to complement the audit and tax and consulting services they were already offering, and to grow our overall business together. When you do an audit, you come in after the client has completed their year and you look backwards to verify the accuracy of the historical information and transactions – the financial statements. With the AFS practice, we can serve a broader base of clients and we can add value by working with them throughout the year so they can be better prepared for their audit and also know that their internal financial reporting is accurate and reliable for their decision making, as well as budgeting and forecasting cash flow. Helping non-profit clients properly account for grants they receive and be in compliance with grant funding requirements is another extension of Calibre's value-added services to the client relationship. "
While Calibre's expertise is in working with non-profits, including trade associations, charitable organizations, labor organizations, employee benefit plans, and educational organizations, the firm does have a separate tax practice that deals with commercial entities, in the real estate industry, professional firms (law, etc.), and various types of corporate clients. As for marketing, the majority of growth comes from word-of-mouth and referrals from current clients who work within their network of other non-profit leaders.
Technology is at the top of the firm's strategic plans and one of the major challenges in the industry for CPA firms. Kokolas attests, "There are a lot of data analytics used in auditing processes and a more widespread use of artificial intelligence may be seen in the foreseeable future. Three to five years from now, the auditing and accounting environment may be very different and it's important for us to proactively stay on top of that through various programs we use internally and alliances with strategic partners. Technology is critical both from a client standpoint and making sure our staff are adequately trained. Computer assisted audit techniques over the coming years will impact our industry and we need to be at the forefront. That also goes to capital investment – we're expanding our IT group, and cyber security is increasingly critical."
As to the key reasons behind Calibre CPA Group's continued success, Kokolas says, "Our clients and culture are important factors. Staff are able to work with a mixture of large and small clients, and interact with executives as well as entry client personnel. They work internally with supervising staff, different managers, and partners. We work hard, and servicing our clients is one of our key core values; however, quality of life and work-balance is also an emphasis. Many of our clients have year-ends other than December 31, which tends to spread work out throughout the year. So, from a culture standpoint, not having many peaks and valleys appeals to many employees.
"The importance of our staffing, which entails professional development and opportunities, caring about work-life balance and the culture, is clearly understood by the firm. We were proud to have created WIN (Women's Initiative Network) within the firm, who's goals include encouragement, motivation, and opportunity. Other successful initiatives include our extern and internship programs, as well as building relationships with the various universities we recruit from to ensure a steady pipeline of staffing. I would recommend this firm to anyone who has decided they want to build a career in public accounting. It's a great place to work where employees can develop a sense of pride in working with our clients. Many of our non-profit clients are in business for a mission they believe in. Working with these organization is very rewarding to us."
From a client service perspective, Calibre may be a large firm with an abundance of resources, but it continues to adhere to a philosophy of personal service and responsiveness. Looking to the future, Kokolas states, "A strategic goal of ours is to increase our client base throughout the country and to continue being the nationally-recognized accounting experts in our valued industries of not-for-profits, labor organizations, and employee benefit plans."
AT A GLANCE
Calibre CPA Group
WHAT: Full-service accounting and advisory firm
WHERE: Head office in Bethesda, Maryland
WEBSITE: www.calibrecpa.com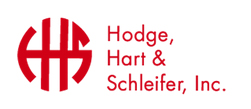 Hodge, Hart & Schleifer, Inc. – www.hhsinsurance.com
At Hodge, Hart & Schleifer, Inc., our mission is very simple: provide strategic risk management and insurance solutions to high-performance businesses and successful individuals to help them achieve their goals while protecting what is most important to them. We certainly appreciate Calibre CPA's confidence in our professional approach to their Insurance needs.