Five Star Bank
A vision for the future of banking
Business View Magazine interviews Martin Birmingham, Pres/CEO of Five Star Bank, for our focus on Excellence in Community Banking
*Top Photo: Martin Birmingham, Pres/CEO of Five Star Bank
There's a good reason why Five Star Bank has been around for more than two centuries. The visionary community bank, headquartered in Warsaw, New York, doesn't allow itself to settle where it's comfortable. Five Star Bank is constantly pushing the boundaries of what a bank can offer, while providing its customers with the most up-to-date technology and services.
"We operate on a foundation where we are continuing to encourage and train and develop our teammates and relationship managers to ensure that we are truly a trusted financial advisor offering the education, advice, and solutions that support the financial well-being of our customers," says Five Star Bank's President & CEO Martin K. Birmingham. "We aim to help our customers connect what they are doing today with the bank in support of their dreams tomorrow – whether for home ownership, educating children or grandchildren, or starting a small business, growing it into a bigger business, and ultimately even a bigger business."
Founded by Wolcott J. Humphrey in the mid 19th century as the Wyoming County Bank, the institution was privately held until going public in 2000. By 2005, four decentralized subsidiaries merged to form the Five Star Bank that exists today. Birmingham was named President & CEO of the bank in 2013, and since then has been diligently working to keep Five Star a step ahead of its competitors. He reports, "I've been working closely with our board and our executive management team, and those that work with and for them, to document a well-articulated strategy that serves as a roadmap for how we're trying to drive the bank forward and achieve the rewards of working together, grounded in a strategic plan. It's been a lot of fun, and so far, we've been making a lot of really meaningful progress."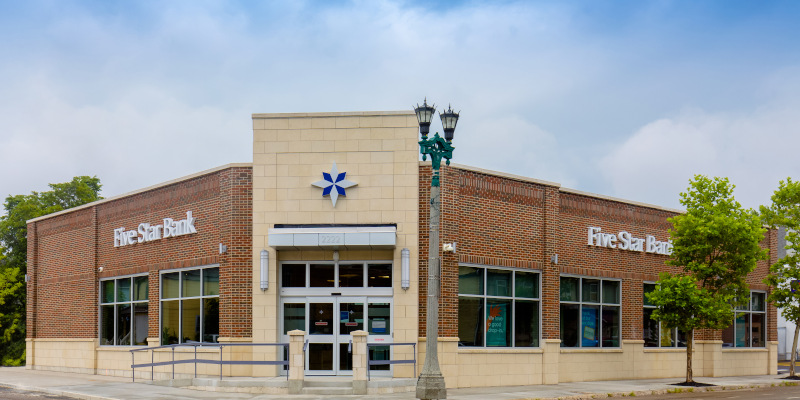 Five Star Bank offers a full range of commercial and consumer banking services, as well as insurance services and customized investment management, investment consulting, and retirement plan services for individuals, businesses, and institutions. They have more than $5 billion in assets and operate 48 branches spanning 14 New York counties and 10,000 square miles. More than 600 employees work hard to service locations that include Buffalo, Rochester, Syracuse, Elmira, and Jamestown. In each branch, they have made themselves a valuable asset to the community, and they have plans to continue to do that for even more sites in the future.
"Every place we turn is an opportunity for growth," Birmingham notes. "We have positioned the bank to take advantage of a very strong connection to the markets where we grew up, and in some cases have been in for over 200 years. These are smaller towns and villages with one traffic light, where our bank is clearly a key partner in the stabilization of the community and the progress that is made in that community. We take great pride in that."
Even over the course of the pandemic, Five Star was able to continue its growth, adding two more branches in Buffalo in a time when many banks were struggling to keep up or having to close down branches. "That demonstrates a significant commitment to Buffalo, where we can assure ourselves and those communities that we are taking care of every economic spectrum that exists in the marketplace," Birmingham says.
Five Star's expansion doesn't stop in New York. The financial institution recently announced the addition of a team in the Washington-Baltimore metropolitan area. According to Birmingham, "This was a team that had been working in a community bank that was sold to a much larger consolidator. This team believes in themselves and they believe in the role that a community bank can play with their commercial customers. We embraced the opportunity to welcome them to Five Star and to support their effort to help us build a viable commercial program in the Baltimore-Washington area."
Five Star's ability to keep up with the latest in banking technology has helped facilitate this partnership, since there won't be a physical branch opening in that area just yet. Birmingham adds, "This team will be empowered to take advantage of our balance sheet capacity to support their customers, but as well, through technology, open up all the traditional deposit and cash management services you could have imagined you would do if we were all sitting in Baltimore."
Technology has been a major factor in accelerating Five Star's growth within the New York region as well. Their technological offerings set Five Star ahead of other community banks that tend to lag behind when it comes to the latest in banking advancements.
"Right now, if there are 5,000 U.S. banks, there are 50 of them that are dealing with this intersection of banking and technology," Birmingham explains. "There's a real opportunity to engage in that market space to continue to evolve and grow the bank in a safe and sound manner. The other thing that's happening with technology is that it's allowing us to become more efficient in the way we operate. I think that's a very important parameter for every operator of a banking and financial institution. The ability to optimize cost structure and to drive operating leverage and technology is the way we've been able to make some of our gains relative to overall efficiency. Obviously, continued commitment and focus will allow us to do more."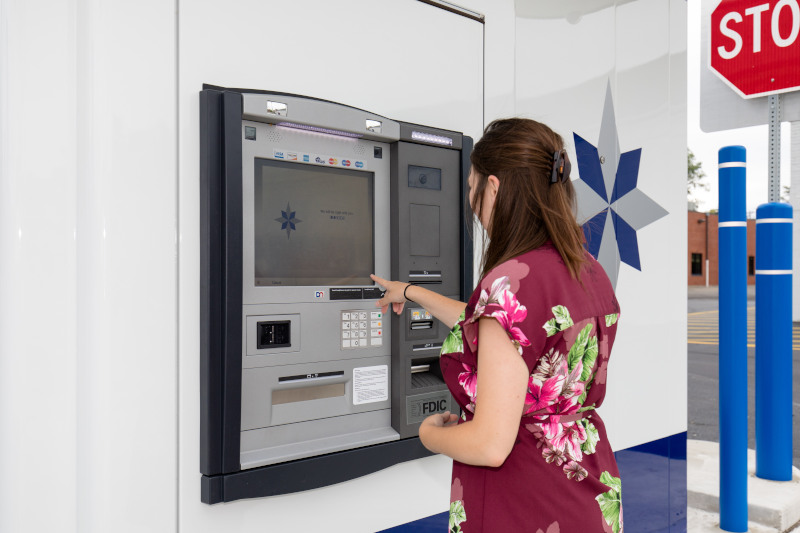 In November 2020, Five Star made a strategic investment in a consortium of 12 mid-sized and community banks called Alloy Labs Alliance, founded by FinTech Forge. The consortium brings these smaller banks together to participate in research and surveys to leverage their combined resources, which will allow them to adopt new technology more effectively and efficiently. Through the consortium, Five Star has implemented a new peer-to-peer payment system for its customers, called CHUCK. The system is an open payments network that allows customers to send money from their Five Star account and it gives the recipient, importantly, the option of choosing where they want the money to go.
Birmingham notes, "It's part of a broader payment strategy that we have. But, it's also a really good example of the power of collaboration. It's helping us, as well as other members, to drive economies of scale in a way that wouldn't be possible by going it alone. And at the end of the day, it allows our customers to have flexibility and be empowered with their choice of how they want to manage their payment system or activities at the bank."
Five Star is leaning even further into the future of banking with a new service that will allow its customers to buy, sell, and hold Bitcoin. The service, run by FinTech NYDIG, has completed the "friends and family" stage of its rollout, and Five Star plans to roll it out  to more customers this summer.
"It's very safe and secure, and from a customer satisfaction perspective, it provides them access to a different asset class that continues to have high adoption in the economy and in society," Birmingham says. "That's not going to necessarily make or break us from what we will earn off of it. We'll earn some modest commissions, but most importantly, it supports a strong customer experience. Since we were one of the first to be able to offer this technology and this service, it gives potential prospective customers a reason to consider switching to a bank like Five Star."
When the pandemic hit, forcing banks to close their doors to customers, Five Star's technological edge kept them ahead of the curve. With the help of the FinTech, Numerated, Five Star was able to get a Paycheck Protection Plan portal up and running overnight. "Even coming out of the pandemic, we continue to talk to them and partner with them to think about ways we can build on and extend our experience in the PPP," Birmingham says. "To help build out the bank and enhance our lending to small businesses in a way that is user friendly, leverages technology, and takes advantage of the world."
No matter what may come in the future, Five Star Bank is dedicated to providing the best service to its customers by being at the forefront of technology and service. "The next few years are going to be a very interesting, dynamic – and from my perspective – exciting time," Birmingham shares, "because the need has never been greater for the fundamentals of being a local bank – being accessible to all aspects of the community, helping them solve their challenges related to banking and credit and financial services, and taking advantage of their opportunities. I think those banks that have the ability to be accessible, that have the capacity and can be responsive and overall competitive, have a very bright future."
AT A GLANCE
Five Star Bank
What: A $5 billion community bank with a rich 200-year history
Where: Headquartered in Warsaw, New York
Website: www.five-starbank.com
Harter Secrest & Emery LLP
1600 Bausch & Lomb Place, Rochester, NY 14604-2711
O: 585-232-6500 | F: 585.232.2152

Harter Secrest & Emery is a full-service law firm with offices throughout New York State. With over 125 lawyers, we offer the depth and breadth of legal talent and experience to achieve exceptional results for our clients. We are proud to support Five Star Bank and send congratulations to Marty Birmingham.

FinMain – www.finmain.com
FinMain empowers financial institutions to transform client-facing and enterprise enabling processes, at speed and scale. Our proprietary platform bridges financial institution's systems of record with best-in-category FinTechs to deliver end-to-end capabilities. Leveraging FinMain, financial institutions can elevate customer experience, introduce new products, improve efficiency, and optimize risk management in months rather than years.