Triangle Credit Union
Community, Diversity, Service
Business View Magazine interviews Scott MacKnight, President and CEO of Triangle Credit Union, for our focus on Top U.S. Credit Unions
In February 2019, Triangle Credit Union's senior management team got together to identify the institution's core values. They broke into two teams to work on their ideas before meeting back to discuss their findings. What they found surprised them.
"The values ended up being the same for both teams," says Triangle's President and CEO, Scott MacKnight. "Community, Diversity and Service." After introducing these values to their employees, MacKnight was surprised at their response as well. He shares, "What came back was, 'this is what we have already been working on'. It was cool to hear that all we did was capture what our culture is, and our values, and I think that was really an eye opener. And a pretty proud moment – that everyone was on the same page. That there was an alignment."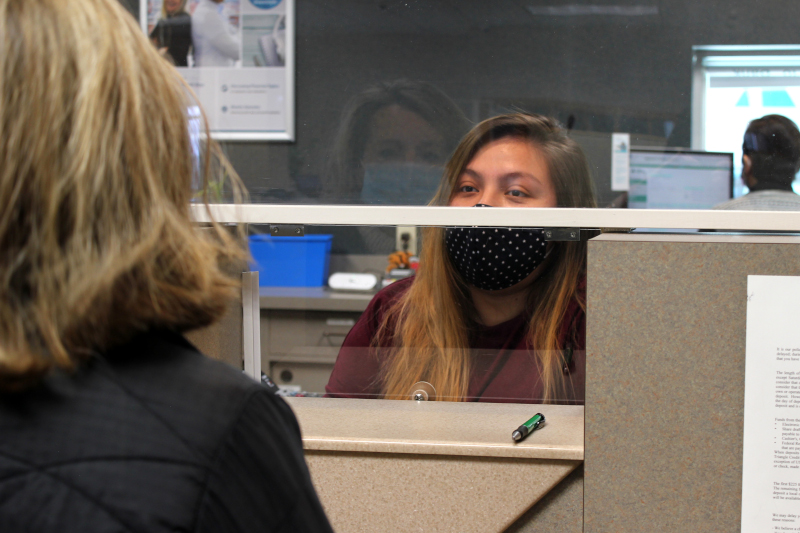 New Hampshire-based Triangle Credit Union was founded on Sept. 16, 1939 for the employees of Nashua Gummed and Coated Paper Company (now Nashua Corporation), a large paper company out of Nashua, NH. They started with 180 members and $2,105 in assets and have grown ever since. Today, the credit union has 10 branches, over 57,000 members, and $817 million in assets. MacKnight acknowledges, "The basis of the credit union was all about serving the members. Some things have changed but the spirit is still there, the stewardship is still there."
Triangle offers a full range of services and products, including online banking, mobile banking, savings, checking, telephone banking, auto loans, mortgages, and commercial lending and business services. Membership is open to anyone residing in the Hillsborough, Merrimack, Belknap, Rockingham and Cheshire counties of New Hampshire, as well as the Franklin, Worcester, Middlesex, and Essex counties of Massachusetts.
The name "Triangle" was chosen because of the logo and cornerstones of Nashua Gummed and Coated Paper Company at the time: Service, Products and Quality. MacKnight has his own idea of how this has evolved: "For us, the triangle is one of the strongest shapes there is and that is one of the reasons why we chose to have the three core values – Community, Diversity and Service. For community, it's not just being an institution in the communities we service, but truly becoming part of what makes the communities special. Although we donate what we can to organizations within our service area, the key for us is showing up and showing our support through volunteerism."
Triangle is involved with several organizations; assisting with events and services run through groups like the Boys and Girls Club and the Salvation Army. "The Salvation Army does an event called Applefest," explains MacKnight. "It's a great time for the kids, very affordable for families. There are so many organizations we support because it's part of our DNA."
For the diversity aspect, Triangle boasts a diverse workforce with employees speaking a total of 23 different languages. "Some people think of New Hampshire as not being very diverse, but that's not true," says MacKnight. "Southern New Hampshire is very diverse and it's getting more so. And when we talk about diversity, that's important to us. That's part of who we are. Our staff reflects the diversity of our membership."
Having such a widely diverse staff helps Triangle build a sense of community and really engage and understand their members' needs. MacKnight explains, "We have a fairly large population of the Muslim community. That community does their business in a different way and so understanding their traditions and working with their traditions, as we would with different communities here, is very important to us. It also builds trust. It's really important to Triangle to continually build those relationships so the member feels that."
When it comes to service, it's all about the member experience. "Member service is really, really important to Triangle," MacKnight declares. "Everybody says service, but for us it's the member experience and really looking at that and changing when it's needed. That could be changing from in-person to more online and making sure we have enough digital capabilities to be able to meet the needs of our members. But not everybody is on that level, so we continue to definitely evolve with our membership and their needs."
One of the ways the credit union evolves is through what they call the "member journey." According to MacKnight, "If you think about it, at my age where I'm at now, I have grandchildren. When I first started back in 1993 my kids were very young. My needs have changed over the years, as they do for everyone, and we need to be in tune with that member journey."
Triangle is bringing in AI and data analytics to help contact members behind the scenes to provide them specific help as their needs evolve and change. "We need to be able to give them some options as they go through their journey, which is really important. Whether it's people needing cars, or starting to think about retirement, or about 529 plans, whatever the case is, we have to be able to suggest specific options because it's just noise for someone if something doesn't apply to them. And we get enough noise already."
Triangle also offers financial education via podcasts, YouTube videos, in-person (when allowed), or virtual seminars. Triangle has more than 60 podcasts and 80 videos available through their website. They also host anywhere between 15 to 20 seminars per year. Topics include information sessions on Medicare or estate and retirement planning, as well as breaking down mortgages piece by piece – including sessions on credit reports and dealing with attorneys and realtors. There are also podcasts on bill payment, online banking, credit cards, savings, emergency funds, budgeting, fraud, and more.
"They are hungry for it," MacKnight says of Triangle's members. "That's what Triangle's mission is. It's not just providing a checking account, or car loan, or mortgage, it's going beyond that and servicing the membership." Triangle has had to go above and beyond since the COVID-19 pandemic began; with lobbies shut down or limited, they had to find creative solutions to service members.
"We have actually been able to implement some new products," says MacKnight. "If I look at what has been positive to the organization from COVID, it really forced us and our membership to seek out different options because not everybody is comfortable with the way they were doing their banking. So, we've added chats – we had chat before but it wasn't as robust as it is now – and we've continued to expand our contact center , and the drive-up  continues to be open."
From April to October, Triangle did 300,000 transactions through their drive-up windows and had 27,000 average monthly withdrawals from ATMS. The contact center took more than 35,000 calls and had 3,000 chats. Changes to the way they have done business during the pandemic can sometimes mean service is a bit slower, but employees have been working hard to make sure members are being serviced within a reasonable timeframe. "This is the dedication that's cool with the contact center," says MacKnight. "The people can't always wait on the phone, so they can leave a voice message. And we are very proud that every voice message is answered before contact center employees go home. They are willing to do that. No one is pushing the team, they know that's just so important. So that's a strength. The strength of not only dedication to the members, but looking at different avenues."
While things have changed over time and through COVID, one thing that hasn't altered is Triangle's commitment to its members. MacKnight emphasizes, "Our mission is very simple: identifying our existing and potential members' needs and servicing them. This year, especially, how we service the members has changed quite a bit but the culture within our workforce means everybody understands what needs to be done and there isn't any question. They are very dedicated to making sure the members are looked after and that's something I always get inspired by."
AT A GLANCE
Triangle Credit Union
What: Full-service credit union in Southern New Hampshire
Where: Headquartered in Nashua, NH with 10 branches throughout the state
Website:  www.trianglecu.org
Bottomline Technologies – www.bottomline.com
The digital channel has provided a vital economic lifeline as financial institutions and their clients navigate the displacement associated with the Covid-19 pandemic and will play an expanded role in the "new normal" for long-term relationship management going forward.
Online applications have increased by over 35% since early February when compared to 2019, based on Bottomline's index including over 30 of our nearly 300 digital account opening customers. Even after a dramatic spike in April and early May subsided, an ongoing 20%-year over-year growth rate speaks to what is likely an enduring migration of application activity online.
Successful financial institutions weathered the initial surge in digital applications by recognizing key shifts in engagement patterns, updating fraud management strategies to re-balance risk and growth across new customer segments, and providing newly expanded support teams with intuitive, integrated administrative tools.
One trend which has outlasted the initial Covid-19 surge is a migration back to desktops as a large number of applicants continue to stay closer to home. Up to 40% of recent new applications originate from desktops at FIs who also offer mobile capabilities, increasing the value of an omni channel approach.
A sharp increase in the personal saving rate and reduced branch traffic are also changing funding patterns and increasing the share of applications initiated by existing clients. Financial institutions can capitalize on this new dynamic by ensuring tight integration with digital banking and tailoring streamlined workflows for existing clients.
Maintaining growth through 2021 will require timely, intelligent re-targeting of abandoned applications to better convert real interest in high value products into new or deeper relationships.  Managing attrition for recently acquired accounts is also critical to maximizing the long-term value of newly sourced or expanded relationships.
Digitally sourced clients will have little patience for friction and fragmentation in onboarding and use of their new accounts. Thus, navigating the "new normal" will not only demand that digital teams understand and engage a higher volume of online applicants that behave differently than those of the past. It will also require them to coordinate more closely with the rest of their financial institution to unlock the overall value of new relationships that involve higher expectations and increased digital engagement throughout their lifecycle.

BranchServ – www.branchserv.com 
BranchServ is a leading security/automation equipment and service provider for banks and credit unions nationwide. As an employee-owned company, our team is invested in your success and provides comprehensive, cutting-edge solutions to ensure your institution's ability to Put Your Best Branch Forward. BranchServ is a Hyosung Preferred Partner. www.branchserv.com