Wallkill Valley Federal Savings and Loan
"Not Just a Bank… An Experience"
Business View Magazine interviews Wallkill Valley Federal Savings & Loan President/CEO, Peter Kitzmiller, for our focus on New York Community Banks
It was 1913 when Wallkill Valley Federal Savings and Loan began operations in the Terwilliger General Store in Wallkill New York. Since that time, they have continued to honor the original goals of promoting thrift and homeownership within the communities they serve. In 1950, the bank moved to a stand-alone location, continuing to operate as a single branch until 2011, when a second location was opened in Milton, New York. In 2016, Wallkill Valley Federal brought on four more branches through a merger with Walden Federal Savings and Loan. That growth has continued, and today Wallkill Valley Federal Savings and Loan has 19 branches throughout New York's Hudson Valley.
President & CEO since 2011, Michael J. Horodyski has been pivotal in Wallkill Valley Federal's growth. He shares, "The idea of the branching was really to bring community banking to other communities, because we do things a little differently than big banks. We look at the person. I always say, give me a good story and, with some support from the financials, we can probably make something work. We were lucky to be able to bring that to other communities in Southern Ulster and Northern Orange County."
Throughout these mergers, Wallkill Valley Federal has continued to employ existing frontline staff whenever possible, an example of the bank's commitment to people and communities. As a mutual bank, there are no stockholders to answer to, making it easier for the focus to be on customers. "Our technical ownership is our depositors," Horodyski explains. "It is really cool when the only focus you have is your customers and your employees. I don't have to maximize shareholder value." Having fun is a main part of the bank's culture – the loan center is set up with a cornhole board, and the overall attitude is relaxed.
Valuing customer relationships is something that sets Wallkill Valley Federal apart from other banks. As Horodyski attests, "I always say that if you know for a fact that you are never going to have a challenge or concern, then you probably could go to any other bank. If what you want is somebody to pick up the phone when you call, if you want to know who the bank President is, if you want to know that when times get tough, we are not just going to run from you, well, that is the experience that we want people to feel when they are here. We are in it together."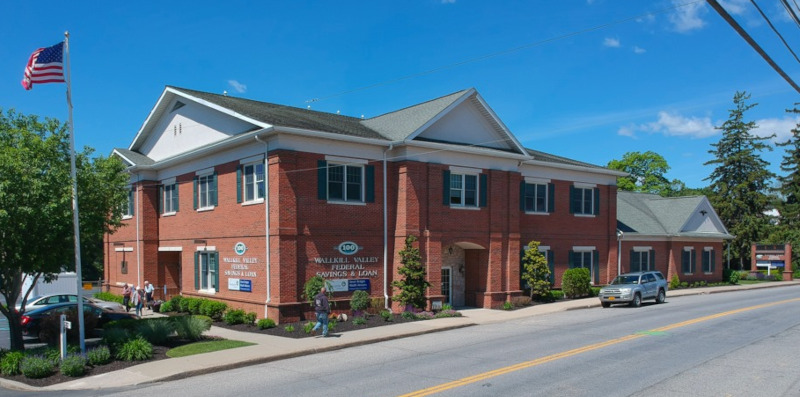 For a bank so committed to its people, COVID brought unprecedented challenges. "We are a small bank, and we were hearing that the economy was going to shut down, that there was going to be a two-week pause and everything was going to close. We were not really geared for remote, and the commercial customer base we had was kind of losing their minds, not knowing what was going to happen," says Horodyski. Approaching things one day at a time, Wallkill Valley Federal had committed to loan deferrals and extensions, when the PPP program was introduced. "The government provided an unbelievable amount of help through the PPP, but again, being small this was all foreign to us," Horodyski adds.
Fortunately, the bank was able to work with Pursuit, an innovative lending solutions company formerly known as New York Business Development Corporation, to help secure PPP loans for customers. Describing the initial uncertainty many personal and business customers experienced, and the efforts of bank staff who were working to figure out the changing situation, Horodyski relays that the focus on customer service remained. "They were able to get to somebody, they weren't put on hold. I think that helped soothe a lot of people, knowing we were on it."
After setting money aside for anticipated loan loss during March of 2020, Horodyski reports, "At the end of the day, we didn't need any of it. Loans kept paying, deposits flew into the bank. It made us feel good that we were there to help so many people. The multiplier effect was, we helped the business that was our customer, but then the employees of that business were also helped because we helped the business. It really was a pretty impactful thing for a small little bank like us."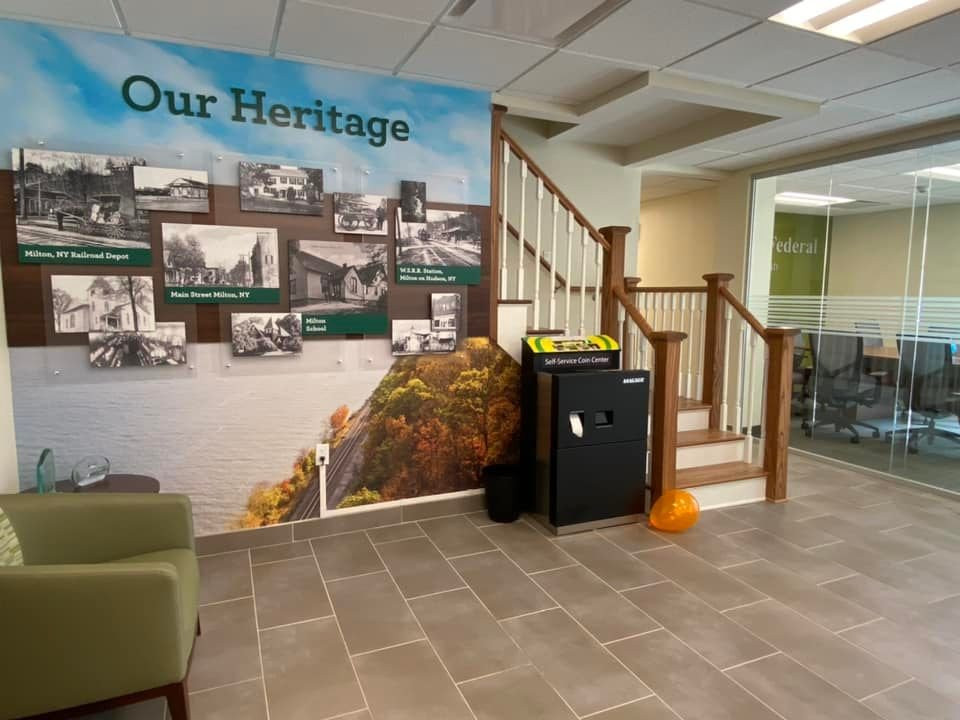 Setting up a remote environment in only eight days was another surprise, which Horodyski says could not have been accomplished without a great team effort. "If you were to tell me in March of 2020, that we were going to put most of our staff at home in eight days, and not only were they going to be home, but they were going to be productive, work was going to get done, and we were going to continue doing closings, I would have said you have lost your mind. My staff, my Chief Operating Officer, everybody just stepped up to the task." Financial data processing company COCC, was also a major source of support for Wallkill Valley Federal through their remote set up and operations.
As a community bank, Wallkill Valley Federal makes it their duty to give back to the neighborhoods they serve, in whatever way they can. Sitting on the Dutchess County Vassar Foundation Board, and chair of a local 4-year college, Horodyski shares, "We encourage our staff to get involved and use what we call our gifts, in not-for-profit organizations, helping them grow and manage their finances. It is a big thing here to get out in our communities and honestly it brings us closer to all the communities that we are in, which helps in a lot of ways."
Working with Pittsburgh design build firm PW Campbell to revitalize several recently acquired buildings, the bank has made good on their commitment to bring in local contractors, ensuring some of the investment stays in the community. "They were able to perform both the design and the construction piece, it was a one-stop shop," Horodyski explains, adding, "They work with our local subcontractors. So, if we have customers that we would like to see get some work, we can work with them. In these uncertain economic times, it's a big circle. We lend money over here, they pay us that money back, we go to their businesses to get services. All just helping each other out."
In terms of future growth, Horodyski suggests that although there is always the possibility of more expansion, the intention is to remain true to the values of community banking. He suggests, "We think there is always going to be a niche for community banks, and we want to be in that niche. We want to grow, we want to be bigger, because scale and size matter, but we want to make sure we do that and remain true to where our roots are. That means being a community resource. I want to go to closings. I like to know my customers, I like to get out and shake hands, we don't want to ever lose that."
Wallkill Valley Federal Savings and Loan has been offering customer focused, community-minded banking for more than a century, building relationships, and helping businesses and families reach their financial goals. They are, not just a bank… they are truly an experience.
AT A GLANCE
Wallkill Valley Federal Savings and Loan
WHAT: A community bank with 19 branches, serving Ulster and Orange County, New York
WHERE: Hudson Valley, New York
WEBSITE: https://www.wallkill.com/

COCC – cocc.com
At COCC, we deliver core solutions with a true partner­ship mentality, listening to our clients to bring them the technology they need to suit their unique strategic initiatives. As a privately held, client-owned cooperative, we work for our institutions in every phase of our business, from contracts to conversions to product develop­ment to service and beyond. This is what a core partnership should be.
Launched in 1967, COCC was founded by its clients to provide them with more control over features, costs and the delivery of their technology needs. This unique cooperative structure has set COCC apart from the competition and is one of the driving forces behind the success of COCC and the financial institutions it serves.
Today, COCC is the fastest-growing financial data processing company in the United States and recognized as a leader in delivering innovation and high-quality service that financial institutions demand and deserve.
No other company combines state-of-the-art technology and a client cooperative ownership structure. We strive to provide industry leading client service, engaging our clients for real-time feedback measured against our corporate defined service goals. The result is that COCC's clients have come to realize the best of both worlds: advanced technology backed by 100% focus and dedication to superior customer service.
For more information, please visit our website: www.cocc.com.
O&D Electric – +1 845-691-9494
In these days when it's so difficult to find a reliable, available electrical firm, O&D Electric Corp is here for you.
O&D Electric Corp is a family owned and operated electrical contracting corporation based in Highland, New York and backed by over 35 years' experience. Their team is well trained and highly motivated to deliver outstanding performance in Dutchess, Orange, Ulster, Sullivan, Columbia, Putnam, Westchester, and Greene counties. Fully insured and bonded, O&D Electric Corp's goal is to provide exemplary service to every customer big or small.
O&D Electric Corp specializes in public and private sector work, whether it's a new build, alterations/renovations, interior fit-ups, service work, and repairs. The company is your trusted partner when it comes to: Budget & Cost Controls, Electrical Design/Build, Low Voltage Installation & Distribution Systems, Medium Voltage Installation & Distribution Systems, Fire Alarm Systems, Security Systems, CCTV, and Phone/Data
Led by President Matthew Canale and VP Michael Canale, the O&D Electric Corp team offers extensive knowledge and experience working in Hospitals & Health Care Facilities, State & Government Facilities, Retail, Data Centers, Distilleries, and Hotels. Since its founding in 2008, O&D Electric Corp has built a fine reputation – growing and evolving from a one-man shop to the thriving and successful corporation it is today.

PWCampbell – www.pwcampbell.com
PWCampbell is regarded as the best design-build firm for financial institutions with the highest reputation for quality and personalized service. With four generations of leadership, PWCampbell has been delivering proven innovative solutions to its clients for 112+ years. As true experts, they specialize in providing a comprehensive end-to-end experience which includes strategic facility planning, demographic research, branded environments, interior design, furniture coordination, and architectural and construction services, and a multi-award-winning Technology Solutions division; all under one roof, delivered on time and within budget.
PWCampbell has renovated thousands of branches and transformed millions of square feet of retail space into unique, state-of-the-art experience centers. And, with their award-winning Technology Solutions team, they've quickly established themselves as leaders of in-branch technology. This extensive history has enabled them to form longstanding successful partnerships with many financial institutions – just like their partnership with Wallkill Valley Federal Savings & Loan.
"Over the past several years, we have had the privilege of working together with the team at Wallkill Valley Federal Savings & Loan on numerous projects. From strategic space planning services that increased efficiencies to reimagining their retail environment, our full range of design-build, branding, and technology solutions have helped them to improve and expand their retail branch network. We value the loyalty and commitment they show their customers and are honored to play a key role in helping them to create inviting banking environments within the communities they serve. We are thankful of our wonderful partnership with the Board of Directors, Management, and Staff, and look forward to many more successful projects in the years ahead."
-Carlin Campbell
Principal & COO
PWCampbell