SeaComm Federal Credit Union
Members are the whole equation
Business View Magazine interviews Scott Wilson, President & CEO of SeaComm Federal Credit Union, for our focus on America's Best Credit Unions
From the day it opened its proverbial doors as a cooperative operating out of the then-aluminum casting foundry in Massena, New York, SeaComm Federal Credit Union has never lost sight of its priority to take care of others in need and help communities grow. Now in its 59th year of operation and with nine branches to its name, SeaComm's success has heralded a new era of financial services, in addition to the resources needed to accelerate support for home ownership and all forms of lending and investing.
"We've been really committed to our roots since day one," insists President & CEO Scott Wilson. "In our headquarters and in all of our branches we have a toolbox, which is symbolic for us because it represents where it all comes from the then Chevrolet Foundry plant, which later became General Motors. The men and women who started this cooperative really got together for no other reason but to help each other. Back in 1963, it was difficult to borrow small amounts of money – you couldn't borrow $50 from the local bank. This co-operative gave people that opportunity to get those small loans. Some had money to deposit, some had needs to borrow, and SeaComm was really born of that spirit of give and take. The toolbox is just a nice reminder of that. It's very iconic."
Today, the credit union mantra of 'People Before Profit' is nowhere more palpable than at SeaComm. "Our members own us, honestly," Wilson maintains. "I occasionally get phone calls from members who start out by saying, 'I hate to bother you…' and my response is always, 'I work for you'. That's really important to recognize – that the end user really owns us. Therefore, everything is focused on exceptional member service."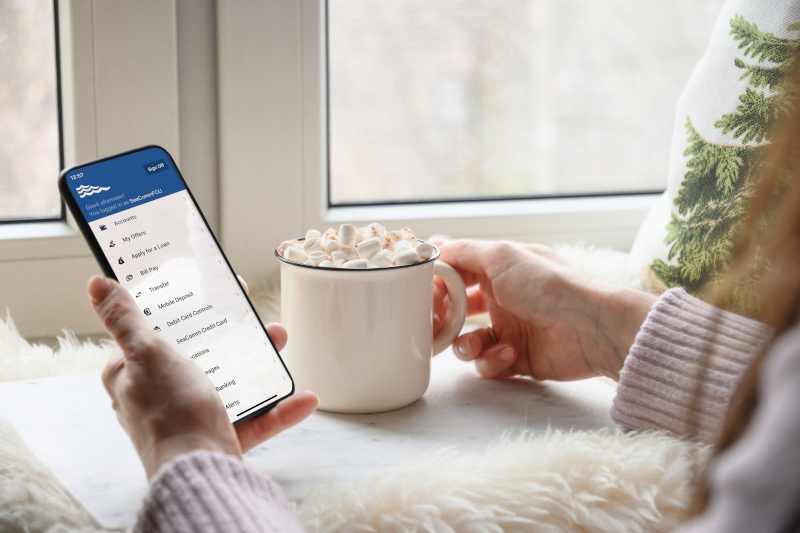 On par with other credit unions, SeaComm is governed by a Board of Directors fulfilled by volunteer positions and elected by the membership. When members open an account, they get a share of the cooperative valued at $5 which earns them a vote at the annual meeting. "When you think about it from that perspective, what I'm talking about in terms of 'ownership' is extremely important," says Wilson. "Our culture is built upon that. We obsess over service, and that means that our employees are also giving exceptional service to each other. We have a very respectful, warm, and inviting environment here at SeaComm – it's all around service."
When people come to work for SeaComm, there are certain service promises they have to agree to that are designed to foster that culture of caring and teamwork. "One of the ways we gauge how well that's working is with an engagement survey," shares Wilson. "We've contracted with an engagement survey of some sort for the last 12consecutive years. We've also participated in the Best Companies to Work for in New York program. We were on that list for those 10 consecutive years. When we opened our Vermont operations, we went out and got the Great Place to Work survey company, which is internationally recognized, and we've earned that certification for the last couple of years, as well. That conversation for us is built upon that level of service and respect. That's how we value our employees and pay close attention to their needs."
Another point of pride for SeaComm are the ongoing efforts to enhance delivery channels like online banking, mobile banking, and self-service kiosks to better serve their members. "Last year, we started rolling out different pieces to our mobile application, to make it more robust," Wilson explains. "One of our challenges was password resets. We implemented something that made it much easier for members to reset their passwords, to shut down their debit cards in case of travel or fraud, and to see their ACHs coming in. The premise here is that we're always enhancing what we have, because we never think it's exactly the way it should be. But at the end of the day, it's not about what we think. It's about what our members want from us."
SeaComm has recently developed a workflow engine to render instant credit decisions as part of a program that provides automatic loan offers to members. "They're done in waves of campaigns, like when you shop, sometimes you get an offer based on your buying habits," Wilson explains. "Maybe your car loan is coming up, or maybe a credit card. We're now able to push those offers out and members are already pre-approved when they get them. Members just log in through their e-mail or via our Internet banking provider, which is NetTeller. They click on 'Accept' and that immediately starts the process. It makes it so much easier and almost seamless for our members to be able to go out and shop, whether it's for a new car, a new RV, or any of those types of things."
Although the cooperative is aware that there are operational risks inherent with these kinds of online transactions due to the potential for identity theft and fraud, Wilson believes that the rewards far outweigh the dangers. "We're staying on top of the technology," he assures. "We put a lot of money into it, to add all of the security features. We recognize that there are still risks, so we have to make sure we're balancing that. Those types of programs are helpful. You can open an account online. You can do a loan online. You never have to set foot in the credit union unless you need cash. You can do it all electronically."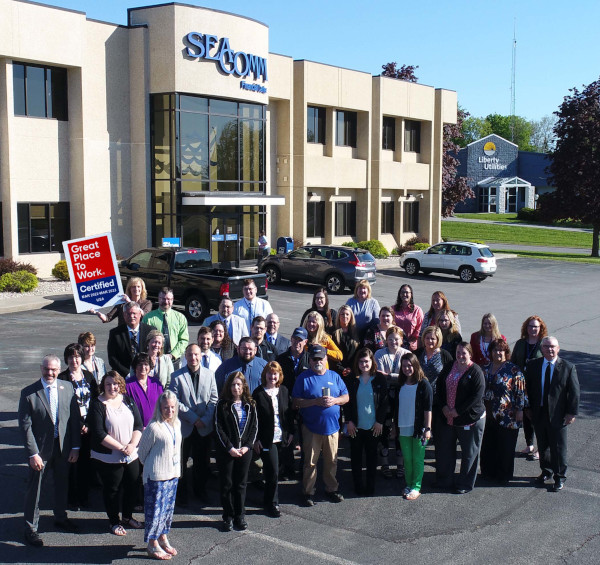 SeaComm also reaps the benefits of having "a plethora" of vendor partners who assist with their CRM, technology updates, and enhanced online offerings. "One thing about a smaller institution is that you need good vendor partners to help you transition," elaborates Wilson. "We're not a fintech. We don't develop our own software. So we need to have those types of companies to assist us. Diebold Nixdorf is one of them – they provide ATMs, electronic cash recyclers (ECRs), all of our banking equipment so to speak. They're important to us because we couldn't provide that level of service with speed and accuracy without those types of technology systems. You can walk up or drive up to one of our ATMs. You're able to put cash in and deposit checks and withdraw money. It's a lot more interactive than it used to be, but those staples are still important. And having peace of mind that when you put your card into the ATM, you know it's secure. Our ECRs are 100% accurate, so whether you're drive-through or in-branch, we're able to move our members along fairly quickly with that type of technology."
Access Softech is another SeaComm vendor partner – looking after the mobile application. Wilson notes, "One thing I love about them is that they're always willing to develop. They're looking for that next level. Jack Henry is our core operating system, and it's a premier system. We couldn't do much of what we do without that." SeaComm also has partners that help build out their new branches. Wilson adds, "We have a trusted partnership with PW Campbell out of Pittsburgh, PA. We're building a new location in Watertown, New York and it's going to be our sixth project with them since 2014. We really rely on them to get our branches up and running on time and under budget, and they hit the mark every time."
Wilson recognizes that service delivery within the credit union industry is a lot different than it was 20 years ago. From digital platforms to brand and tech integration, reaching out to members is both easier and more challenging than ever. "You have to deliver on demand," asserts Wilson. "People expect things much faster. Let's face it, our lives are busy! If you need to apply for a loan at 10 o'clock on a Saturday night, you should have the ability to get that process started. If you want to open an account at SeaComm, or deposit a check, you should be able to do that electronically. Anything you can think of, we have to be able to offer a solution to that. It's about a total relationship with our membership."
Stating that lending is an opportunity, Wilson adds, "Not just for us, but for our members. We still lend on character. One thing that SeaComm prides itself on is that we don't reduce people to a FICO score. It sets the rate because of truth in lending, but we still lend on character. So, maybe you've had some slow pays. Maybe you've had some issues with your credit. You're looking to upgrade your automobile and your FICO score isn't really where you think it should be. We don't judge on that. We look at it as a promise, because we believe in you as a member. I think that being an owner gives you that ability to say, 'I'm part of this'… It's a partnership."
AT A GLANCE
SeaComm Federal Credit Union
What: Community credit union with over 52,500 members and nine locations. Asset Size: $767 million
Where: Headquarters in Massena, New York
Website: www.seacomm.org
PWCampbell – www.pwcampbell.com
PWCampbell is regarded as the premier design-build firm with a high reputation for outstanding quality and Best in Class service. With four generations of leadership, PWCampbell has been delivering proven innovative solutions to the financial industry for over a century. As true experts in the industry, they specialize in providing a comprehensive end-to-end experience which includes strategic facility planning, demographic research, branded environments, interior design, furniture coordination, and architectural and construction services: all under one roof, on time and within budget. With their award-winning Technology Solutions team, they've quickly established themselves as leaders of in-branch technology. A design-build firm like no other, PWCampbell has renovated thousands of branches and transformed millions of square feet of retail space into unique, state-of-the-art experience centers.
Their extensive history of providing effective solutions has enabled them to form longstanding successful partnerships with many financial institutions – just like their partnership with SeaComm Federal Credit Union. "We have been long-time partners with SeaComm and have helped them achieve their facility goals in so many ways. From strategic space planning to ensure optimal space usage now and into the future, to increasing efficiencies and reducing functional obsolescence, evaluating new branch locations and new markets, to creating dynamic, engaging environments for both employees and members, we have enjoyed working with the SeaComm team to bring success to their many projects. We are very appreciative of our fantastic partnership with the Board of Directors, management, and staff, and look forward to working together on future endeavors."
Jim Caliendo
President & CEO
PWCampbell
CUNA Mutual Group – www.cunamutual.com
Built on the principle of "people helping people," CUNA Mutual Group is a financially strong insurance, investment and financial services company that believes a brighter financial future should be accessible to everyone. Through our company culture, community engagement, and products and solutions, we are working to create a more equitable financial system that helps to improve the lives of those we serve and our society. For more information, visit www.cunamutual.com.