Workers Credit Union
Strength & Trust
Business View Magazine interviews Douglas Petersen, President & CEO of Workers Credit Union, for our focus on Top U.S. Credit Unions
In the early 1900s, Fitchburg, Massachusetts was home to a healthy population of immigrants from Finland. Among them was John Suominen, who owned a successful local printing company. Suominen was concerned about the economic welfare of his fellow immigrants from Finland, so in 1911, he met with state officials about launching a credit union for his countrymen. Three years later, a charter was granted for Workers Credit Union, which declared that the board of directors could only recommend members who were "honest, industrious, and of good habits." There was no difficulty finding such people then, and that holds true to this day.
Douglas Petersen, President & CEO of Workers CU, shares, "We were formed in 1914, which makes us the fifth or sixth oldest credit union in the country and we're very proud of that long history. To this day, Workers has continued to expand, while staying with our founding premise of improving the daily lives of our members. Our membership has grown and diversified through the years and we're proud to be a credit union that supports our entire community."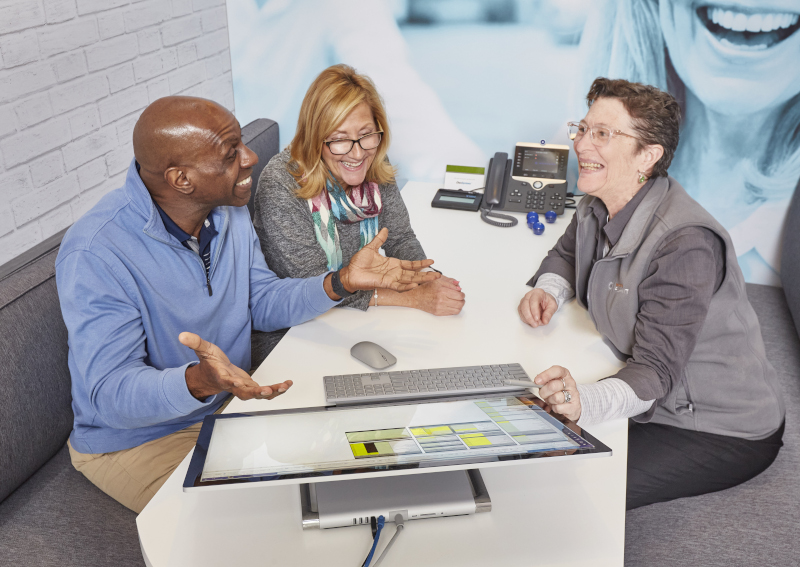 More than 105,000 members do business at 16 branches of Workers Credit Union throughout north-central Massachusetts. Two of those branches were opened in 2020 with two more planned in 2021. And while members love the call center and digital solutions, like opening an account in five minutes online or paying their loan via mobile, branches are still a key part of Workers' overall retail strategy as they expand their footprint with a new federal charter.
During the pandemic, the credit union's members easily adapted to the new normal. As Petersen attests, "All our branches have drive-ups and many have Video Teller ATMs. And though our call center had three to five times the normal volume, we were able to meet our members' needs in a responsive way doing the best we could and adding extra resources." Workers also has an online system for members to schedule an in-branch appointment. Before the appointment date an employee will reach out to see if they can help over the phone. Many times, they can save the member a trip and eliminate the risk of exposure altogether.
In 2020, they began rolling out a new branch strategy, focusing on partnering with members to help them make the best financial choices, which in turn will help them improve their financial wellness. Over the last year, all the Workers retail staff have become certified as Financial Wellness Coaches.
New branches are outfitted with the latest technology, including a hologram that greets and directs visitors; high-tech robots; Video Teller ATMs – all to free up time for Workers teammates, so they can spend time with members creating a game plan for them to achieve their financial hopes and dreams. "We call it The Workers Way," says Petersen. "It's a process where we help them create a budget to manage their monthly expenses and save for emergency bills, so they're not living pay check to pay check. We want our members to know where to turn. It's not about selling Workers Credit Union products and services. It's about helping them improve their financial wellbeing, no matter where they are in life. That's the change we're going through now; rolling out the Workers Way through all our branches. We're taking it slow because members are used to teller lines, so we're introducing them to our Video Teller ATMs, etc. Ultimately, we want it to be our members' decision how we serve them, whether its in-branch, online, mobile, or through the call center."
Technology has been ramped up in all business sectors during COVID-19, but Workers Credit Union already had an agile structure in place to advance projects quickly. The appointment software, for example, was slated for later in the year and was quickly moved up. Workers is also installing a new state-of-the-art Artificial Intelligence bot on their website and phone system, so members can easily find information, reducing call volume and wait times. In addition, IT was able to move quickly to get most employees working from home with few hiccups even in the face of higher volume in many operational areas.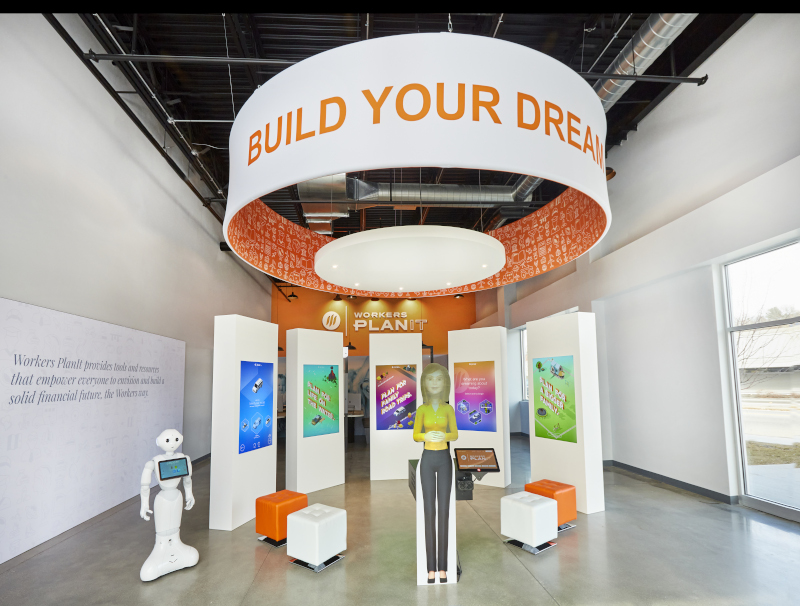 With lending rates being at record lows, Workers has seen a tremendous uptick in mortgages, including refinances and new home purchases. Petersen relates, "We were concerned about our consumer loan volume going down but, after a bit of a lull, it came storming back. In the summer months, we wrote more loans than last year, which we weren't really expecting. The volume has been really strong. On the business banking side, we are proud to say that we saved over 1,600 local jobs by providing SBA Paycheck Protection Program loans to our business banking members. On the large commercial loan side, we're continuing to make sure the credit quality is there for every commercial application, as we underwrite those risks for the new economic environment."
To aid members through the crisis, the credit union deferred about $150 million in loan and mortgage payments for more than 2,000 members who asked for assistance.  "It's very rewarding to help our members in such a difficult time," says Petersen, "and we're so fortunate to be positioned where we are able to help. Like a lot of credit unions, we're financially strong with a lot of community ties – we have the ability to weather the storm. We'll get through it and our members know that, so they're not afraid to reach out to us. Because if a member has a problem, the sooner they reach out, the sooner we can help and the more options they have. "
Along with focusing on improving the daily lives of their members through financial wellness, the credit union is committed to giving back. In 2020, Workers Credit Union gave over $350,000 in support of community organizations. Petersen explains, "Another way we help is through volunteering. We're very fortunate that our employees also generously volunteer their time to causes such as the Relay for Life, the United Way of North Central MA, and Habitat for Humanity, to name a few." WCU also gives back through the annual Workers GiveBack program – through which they give back a percentage of the profits to members. Last year that was over $3 million. Petersen notes, "Every member gets a deposit into their account because we want them to share in our mutual success. It all goes back to our members, our culture and our employees, which is the strength of Workers Credit Union."
AT A GLANCE
Workers Credit Union
What: Progressive, member-focused credit union
Where: Headquartered in Littleton, Massachusetts
Website: www.wcu.com
Enterprise Cleaning and Restoration – www.enterprisecleaningcorp.com
There's clean, and then there's ENTERPRISE clean
Locally owned, Worcester, Massachusetts-based Enterprise Cleaning & Restoration Corporation specializes in Commercial and Residential Emergency Cleaning, as well as Post-Construction Cleaning, Water Damage Restoration, Fire Damage, Mold Remediation, Disaster Clean-up, Crime Scene Clean-up, and Storm Damage. With 18 years of experience in tackling commercial cleaning needs, plus a team of highly-skilled employees and advanced procedures, Enterprise ensures you'll have a clean and healthy environment for your employees, customers, and guests.
Enterprise is actively monitoring the COVID-19 situation and our primary concern is to ensure the health and wellbeing of our clients and staff. Always adhering to strict protocols, we will disinfect all areas of your facility that the human hand touches. Using electrostatic disinfection sprayers to access hard to reach areas, we are making every effort to ensure your safety.
There are always nuances that need to be taken into account for different spaces. For example, those assigned to clean a manufacturing site will be educated in the appropriate methods and products for that facility, which may differ from those needed to clean offices or residences. When creating your service schedule, we pay attention to the details including traffic flow and work schedules to address any issues, and you can receive real-time updates through our app to follow the progress.
Cleaners are often in a facility after the office staff has gone home. Part of our hiring process involves background checks and references. We are usually the only service that will visit every square foot of your facility on a nightly basis. If any of our cleaning technicians notice something unusual, it is reported to our management. Our entire team wears uniforms and badges that make it easy for your staff to identify they are ours. Once cleaners are on the job, they receive periodic evaluations to make sure their work meets the high standards set by us and that you expect. We manage our cleaners, so you won't have to.
We wouldn't have been able to grow as quickly as we have if it weren't for Workers Credit Union. It's great to have one-on-one banking and deal with a credit union that understands our growing needs. Workers Credit Union have been incredible to work with and we look forward to continuing our relationship in the years ahead.
BranchServ – www.branchserv.com 
BranchServ is a leading security/automation equipment and service provider for banks and credit unions nationwide. As an employee-owned company, our team is invested in your success and provides comprehensive, cutting-edge solutions to ensure your institution's ability to Put Your Best Branch Forward. BranchServ is a Hyosung Preferred Partner. www.branchserv.com

ConRes – www.conres.com
Private, Family, Women-Owned IT solutions provider bringing best-of-breed technology solutions together to solve business problems. By combining top-level manufacturer partnerships, dedicated managed services and a state-of-the-art Integration & Logistics Center, we bring value by delivering end-to-end solutions across cloud, collaboration, cybersecurity, data center and DevOps