First Weber
A Dynamic Home Services Company Offering a Top Notch Real Estate Experience
With the expertise to match the market, First Weber provides a one-stop realtor service that outmatches the competition
Changing market conditions is par for the course for seasoned real estate professionals. For those that have the experience and know-how to navigate the expected real estate ups and downs, it is smooth real estate sailing.
This is certainly the case for the dynamic and leading full-service real estate company, First Weber, who we were fortunate to catch up with to discuss the particularities of the Wisconsin housing market and the company's comprehensive approach to selling homes.
First Weber is a real estate company serving most of Wisconsin, and parts of Michigan, Minnesota, and Illinois. With a team of over 1,200 real estate professionals in 50 offices, they offer a wide range of services to assist clients in buying or selling property. While residential real estate is their primary focus, they also serve clients with commercial, agricultural, recreational, and second home needs.
Navigating Unprecedented Challenges
When addressing the roles for both her and CEO Shawna Alt, President Tamara Maddente emphasizes the responsibility to educate and support their real estate agents, who are at the forefront of the day-to-day operations. "This has been a very challenging market," she portrays. "I have 36 years in this business, and I've seen a lot. This one is different from anything I've seen."
Maddente describes a real estate market that has experienced a significant shift, driven by various factors.
She says it was initially the COVID-19 pandemic, which led to a surge in demand for homes as people adapted to working and learning from home, noting, "The market just took off and went crazy. Along with that, people also realized they didn't need to live five minutes from work, they could live anywhere. That lasted a couple of years, and then obviously, we all knew that it was going to come, the inflationary part of this equation."
Rising interest rates have presented a new challenge, with many potential sellers hesitant to move from their homes. Consequently, there is still a shortage of available housing inventory, and prices continue to rise. "We still are seeing lots of multiple offers, but people are a little more cautious. We still have things going way over asking, but not to the magnitude we had during the COVID market when the money was free," she says.
In this complicated market, real estate professionals must be well-informed and equipped to guide clients effectively. Education plays a crucial role in ensuring that they can navigate shifts and provide valuable insights to buyers and sellers.
"They have to go through lots of history about what's happened in the real estate markets over the years. A six-and-a-half percent rate is still a very good rate. People don't realize that. You have to take them way back," Maddente recounts. With forecasts from leading economists and the National Association of Realtors suggesting that rates will decrease into the five percent range in the next year, she says it is important to encourage people to keep moving forward.
"You just have to let people know, it's fine, don't disrupt your life by not doing what you need to do. Like everything else, this too will pass. It's really about educating our agents to make sure they are well equipped to be out there and so they can educate and meet the needs of their clients."
Ongoing Inventory Shortages
The challenge of limited housing inventory persists, and Alt emphasizes that a significant portion of the population either owns their homes outright or enjoys interest rates below 5%. "They're sitting on a ton of equity. The COVID years were all about buying a house because you wanted to. Now, the people that are buying have to, so we're back to a traditional market in that regard."
Another emerging issue is the prevalence of property investors. Alt acknowledges, "Back in the recession, we didn't have the Airbnb's, you didn't have Wall Street getting into the real estate market and buying up all sorts of residential properties and turning them into rentals. There are a lot of different factors that are playing into our inventory issue."
She highlights that Wisconsin is not prone to the same extreme fluctuations as coastal regions and has maintained a strong market despite interest rate increases. "It is true that we don't have enough homes to sell to the people that want to purchase them," she admits.
Embracing Technology in a Relationship-Driven Environment
First Weber is a very relationship-focused company, as Maddente stresses, "There is no transaction without the relationship." Alt continues, "Our people are not numbers, our clients are not numbers. Real estate is incredibly important. It's the basis of wealth in this country."
Technology is seen as a means of enhancing the client relationship, rather than replacing it. Alt points out that real estate, especially residential real estate  is about emotion.
"It's where you raise your family, it's where all of your memories come from, it is your home. It's where your security comes from. It's where your future is built. Technology helps us communicate better with a buyer and a seller, it makes a transaction smoother, more streamlined," she asserts.
"We don't have to get face to face at times when it's inconvenient for people. It allows us to provide them information when they want it, and in the way they want it. When it comes right down to it, this is the biggest investment most people will make, and it's not like buying a car or ordering something on Amazon."
Currently, First Weber is highly focused on refining operations to adapt to changing market dynamics. The company recognizes the need for a fresh perspective, acknowledging that traditional methods, which served them well for many years, may no longer be the most efficient.
To address this, physical office spaces are being reevaluated. Originally designed to accommodate 70 to 80 agents, these offices often have only a fraction of that number present on any given day. For this reason, when leases expire, office space is downsized, with a focus on creating modern, inspiring work environments that agents will genuinely want to return to.
These revamped spaces will embrace a contemporary, collaborative design, replacing traditional cubicles with innovative huddle zones, glass walls, and a cool modern vibe, while reducing the required space.
"That goes back to getting people back to work. Culture is built in the offices. Culture is human presence with each other. You can say you have a great culture, but if there's nobody around, there's no culture. You have to get these people back," Maddente stresses.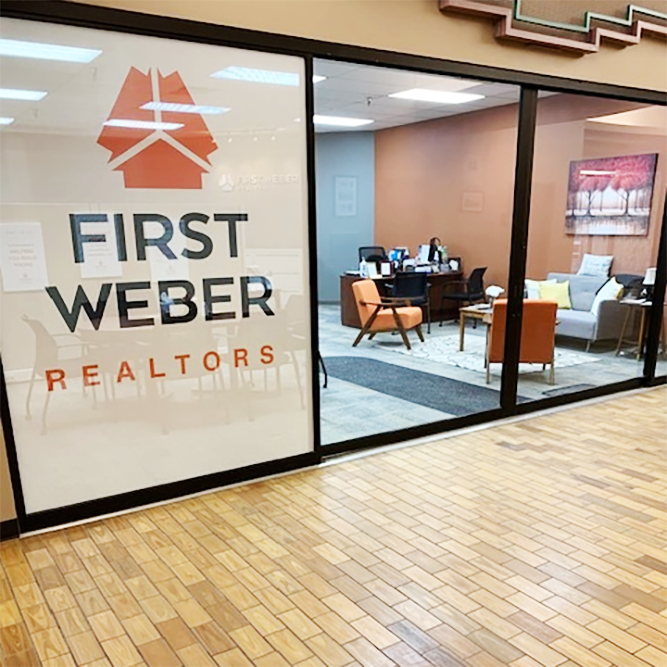 Four Pillars for Prosperity and Success
As a complete home services company First Weber offers more than just brokerage. It operates across four core revenue streams: brokerage, mortgage, insurance, and title services, all of which are critical to the company's revenue and more importantly meeting the needs of their clients. People want a streamlined experience. They want ease of use. They want to work with a team that is dedicated to dealing with all the details, a team that can eliminate as much stress as possible from what can be a very stressful time in their lives.
Currently, each of these four pillars is experiencing distinct trends based on market conditions. According to Alt, mortgage services are currently facing challenges due to slim margins, while the brokerage segment holds relatively steady, although it is impacted by the ongoing inventory shortage. On the other hand, she says the insurance arm is thriving, offering highly competitive products to its clients, and title services remain resilient.
The complexity lies in managing and optimizing these diverse revenue channels, a task requiring constant attention and adaptation. "We manage all of these all the time, and when we can get everything running on all cylinders, which is what we saw during COVID, then life was great. But with the inventory issues, combined with the interest rate issues, we're down about 20%," maintains Alt.
First Weber works with Prosperity Home Mortgage to offer an in-house mortgage solution. On the insurance side, quotes are obtained from the major players, including Travelers, Erie, and Hanover. Sharing that the title company is also in-house, Alt notes,
"Our agents have relationships with mortgage lenders, insurance providers, etc. outside of First Weber, and we respect all of that. They are independent contractors, and they have the right to choose to work with whoever they want to work with. The beauty of having something in-house is that we're able to control the experience that happens. There are a lot of details that are addressed by those service providers that our agents don't even have to get involved in. And so, things tend to run much smoother."
First Weber also partners with agencies such as Universal Home Protection, a home warranty company.
She elaborates, "After closing something always seems to go, the furnace dies, the dishwasher doesn't work, there's always some issue that pops up. So, it's nice to have a home warranty as part of the whole process, because then the buyer knows that they can make a call, and it'll either get fixed or replaced."
"I would add to this, all of these providers have to be top-notch. If we are asking our agents to place the trust of their clients in our mortgage, in our title, or our insurance, we have to feel confident we've got the best products available. I know we do. It's all about the consumer experience. That's the beauty of having a home services team. When the buyer and seller work with our family of companies, the experience is good, and that's what we strive for," Maddente concludes.
AT A GLANCE
First Weber
What: A home services company serving the state of Wisconsin
Where: 50 offices throughout the state of Wisconsin and surrounding areas.
Website: www.firstweber.com