Scott Credit Union
Banking Simplified.
Business View Magazine interviews Frank Padak, President & CEO of Scott Credit Union, for our focus on Strength and Growth of U.S. Financial Institutions.
Founded in 1943, Scott Credit Union (SCU) is a member-owned-and-operated, not-for-profit institution providing financial services for individuals and businesses at 19 branches throughout Illinois and Missouri. Those services include free checking accounts with interest, ATMs, credit and debit cards, new and used vehicle loans, mortgage loans, unsecured lines of credit, savings products, online banking, free online bill paying, and much more. What makes SCU truly special: any revenue generated after expenses and reserves is given back to the members in the form of better rates and more services. With all that, plus the exceptional attention given to members by the caring SCU team, it's no wonder that Scott Credit Union was just recognized in 2020 by Forbes for the second time in three years as one of America's Best Credit Unions.
Frank Padak, President & CEO of Scott Credit Union, has been with the organization since 1994; stationed on the financial front lines as it weathered such economic storms as the 2008/09 recession and the current coronavirus pandemic. The bold, even gutsy, moves that SCU has undertaken to support and protect its members and staff during both good and tough times have set this innovative credit union well apart from its competitors. And everyone involved loves them for it.
As Padak recounts, "We originally started at Scott Field in 1943 to serve civilian personnel out at the Scott Air Force Base. That quickly evolved into serving the military and their dependent family members. The credit union SEG (Select Employee Group) back then was Scott Field. When I came here in Feb. 1994, we had just started to transition to zip codes. At that time, we were about $150 million in assets and had five branch offices. And that was the beginning of our transition from a single employee group to a geographic field of membership."
Not long after zip codes arrived in the '90s, regulators started to allow expansion by counties, which enabled SCU to stretch its territory. Today, they serve three counties in Missouri and 26 in Illinois. Padak reports, "In 2005, we had $350 million in assets. Then in 2008/09, with the Great Recession, when a lot of other financial institutions hunkered down and got very conservative, we decided to serve our members and make loans. And we started to see some really explosive growth. Now we're right at $1.4 billion in assets with 145,000 members and serving 29 counties."
It was a bold and scary decision to continue lending during a recession, having to worry whether members would be able to pay back loans if they lost their jobs. But as a not-for-profit cooperative, SCU knew they had a responsibility to support their members in good and bad. Padak admits, "As a very well capitalized organization, I think we took a calculated risk in knowing that even if this does go south, we were capable of handling it. At the same time, we felt we should give our members credit that they would be responsible. No one else would lend them money, and we needed to be there for them. That was really the mindset – how we take care of our members during very difficult economic times. Fortunately, it worked out very well for us."
Now, that COVID-19 has thrown the economy into turmoil again, SCU is facing new challenges. Like many companies, they were already looking at different options for employees to work remotely, but when the pandemic started they had to quickly adapt. "We knew members would be a lot more forgiving and understand that we're all in this together," says Padak. "That it won't be perfect but we're trying to do the right thing for our employees and our members. So, in about two weeks, we were able to go from none of our 300 employees working from home to about 165 working remotely. Along with that comes the economic challenge and the quick reduction in interest rates, which is a significant negative impact for financial institutions because margins shrink even further. Trying to make money in this environment is a lot different than under a normal interest rate environment."
With so many people out of work, the concerns are similar to 2008/09 about whether people can make their payments. SCU did loan extensions, loan modifications to help members out for three to six months, hoping that the crisis would be over by then. But now that the respite period is over, if people can't make payments in August and September, some loans will go delinquent and Padak acknowledges that the credit union will start to see if its loan loss reserve is sufficient based on the estimates made.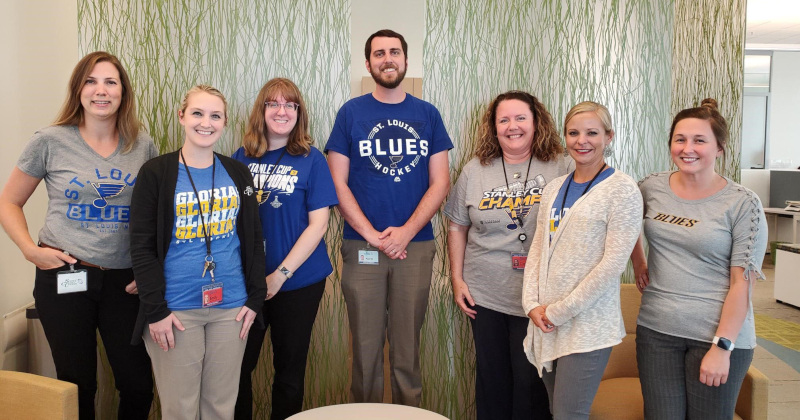 In more positive news, Scott Credit Union opened a new branch in Ballpark Village in July. Prior to the pandemic, they acquired several previous bank branches which were priced to good to pass up and negotiated a lease in Ballpark Village. According to Padak, "We wanted to grow in St. Louis, in particular, and we now have four offices there. Of course, Ballpark Village was hit by the pandemic because it's right there where the Cardinals play and all the entertainment happens and that's not happening at the pace we saw prior to the pandemic. Same with the St. Louis Blues home games. We know the traffic won't be what we expected but there is some activity. It's still great brand recognition, it will just be a slower start. But we're excited to be down there and we're looking to grow more this year. We remain very confident that brick and mortar is critical to the Midwest and our business in particular."
Keeping up with technology is key to the success of financial institutions. In that regard, SCU is in the process of converting to a seamless integration between its mobile and online, so the experience is identical on a phone, tablet, or PC. "What's been very interesting," says Padak, "is that the number of phone calls into our call center have doubled since the pandemic started. Where we averaged around 1500 calls a day, it's now 3000. And we haven't seen any significant increase in our mobile or online activity. So the members that use that technology continue to use it but we're not seeing our other members go to that. Whether they're intimidated, or fearful that it's not as secure as it really is. Or, it could be the personal connection. In fact, our MCC staff say they sometimes can't get people off the phone because they just want to talk."
When it comes to efficient cash handling solutions, Welch Systems is a great technology partner for Scott Credit Union. According to SCU's facilities manager, "They are very customer centric and always willing to work with other vendors involved in a project to ensure that no page is left unturned. Their Support Services is wonderful. Cathy Setterlund, Director of Support Services, is very knowledgeable about Welch's products and eager to share her knowledge with customers."
From a philosophical perspective, SCU's mantra revolves around taking good care of its employees, so they will, in turn, take good care of its members. That culture is a top priority in the organization and creates a new challenge with people working remotely. Padak notes, "We've got a lot to learn over the next few months to maintain that culture, as communication becomes even more critical and you don't have that day-to-day interaction. We're looking as far out as the first quarter of next year to solidify the work from home model and give our employees the best work/life balance. Making sure the technology is good; that the bandwidth is there. Also the metrics – how we measure productivity. The end game is having a lot more people working from home when this is all said and done. Giving us a lot more flexibility for hiring from anywhere in the country. We're excited for that."
Speaking to the most important attributes of Scott Credit Union, Padak shares, "First and foremost is the overall value we provide our members. It's about having low loan rates, higher deposit rates, low fees. For 28 years, we've done a bonus dividend, so when we're successful we share that with our members. Over the past 12 years, we've paid out over $12 million to our members via the bonus dividend and loan interest rebate. You don't see that at a conventional, for-profit bank. I feel this is the purest business model; our members are our owners. And our members comprise our volunteer Board of Directors. It's pretty simple. If we do a good job for our members who are directing us, then more people will want to do business with us. And we're not driven by profit, per se, where we're trying to squeeze every nickel out of people. We're trying to create the most value we can for our membership. It causes us to be incredibly efficient and that's a great challenge to have."
AT A GLANCE
Scott Credit Union
What: Full-service, member-owned, member-operated financial institution
Where: Home office in Edwardsville, IL
Website: www.scu.org
Welch Systems, Inc. – www.welchsystems.com
Transforming the traditional 
The days of "banker's hours" are long gone, but so are the days of long lines for depositing checks.  Consumers today expect to be able to do what they want, when they want, where they want, and there is more variance than ever in what they want.  Many consumers do most of their banking digitally, and only visit branches to open new accounts, or for loans, problem resolutions, or non-digital transactions (i.e. cash).  Others prefer, or need, to do even basic transactions in person.  Merely increasing or decreasing teller staff and drive–up hours is not sufficient for meeting consumer's expectations or maintaining necessary efficiency.   
In order to meet today's complex challenges and not burden your cost structure, traditional methods must be supplemented with automation.  At Welch Systems, our branch transformation solutions – teller cash recyclers and self-service coin machines – automate time consuming manual processes, enabling more flexible and effective branch staffing models.  Core integrated ITMs mark another leap forward in efficiency and service, providing consumers with 24–hour access to teller–line like transactions and funds availability via self-service, as well as the option for personal assistance from a live person through video or tablet.   
Branches may not be getting busier, but they are still very important to your customer base and for attracting new customers.  Branch impact – the customer experience you deliver – will continue to be the competitive edge for your financial institution. Welch Systems is more than just one product, more than just one solution. Discover how our team can deliver comprehensive cash-handling solutions that connect with your business goals… for today and the future.   
Mickes O'Toole, LLC – www.mickesotoole.com
Mickes O'Toole is dedicated to serving clients as a valued counselor and advocate. We have enduring relationships with our clients because we take time to understand their unique needs and craft personalized solutions.  We are proud that our Banking, Public Finance, Education and Labor and Employment practices have been recognized for their excellence.  As the largest minority-owned law firm in Missouri, we value diversity and recognize the competitive advantage our diversity provides to our clients.