American River Bank
The difference is great service
American River Bank is a full-service community bank founded in Sacramento, California in 1983, by a group of 12 local business leaders who wanted to establish a locally owned, service oriented, independent bank. Today, the bank remains headquartered in Sacramento, with ten branches in four northern California counties, Sacramento, Placer, Amador, and Sonoma. The bank provides commercial real estate, business equipment, agricultural, municipal, and small business and government guaranteed loans, and lines of credit, in addition to full service banking products for business owners and consumers, alike. American River Bank is a subsidiary of American River Bankshares, a publicly-traded company on the NASDAQ Global Select Stock Market Exchange.
"Our focus is small and medium sized businesses," says American River Bank President & CEO, David E. Ritchie, Jr. "And, like many other community banks, our territory tends to dictate what we do. So, because it's flush with a lot of real estate opportunities, we do a lot with real estate lending. We have 107 employees and our success is a result of the extraordinary service they provide. And that's what we build on, every day. We are blessed to have a super group of people who take care of our clients. We're profitable and we're well-capitalized with assets in excess of $800 million. Our plan is to continue to grow the bank; meet our shareholder goals; retain our people; and keep up our incredible service levels."
Gregory N. Patton, Executive Vice President of Commercial Banking, has worked at American River Bank for over 15 years, and has successfully seen the bank through the economic recession of 2008 and most recently the COVID-19 pandemic. He explains that, like many financial institutions during the Great Recession, the bank faced challenges. However, through knowledgeable leadership and strong portfolio management, American River Bank successfully maintained its capital levels during that time, while other financial intuitions did not. "After the downturn, American River Bank continued to meet our client needs, and assist in the economic recovery. As a community bank, we strive to provide new credit opportunities to benefit our local area. And, in the last two-and-a-half years, we have steadily been in the marketplace, and funded new loans. This year, even with the COVID pandemic, we have seen reasonable growth without counting PPP loans. Going forward, we are committed to continue to provide the financial resources to encourage recovery and growth in the communities we serve."
"Another American River Bank distinction is that we still maintain a very strong faith-based portfolio," adds Patton. "We have helped churches and synagogues with their lending and banking needs when other financial institutions do not. So, I believe that what you're seeing from us is a return to the bank's founding principles to build a bank to serve our community. By working in partnership with the bank's retail team, we continue to meet those goals."
Lisa R. Cisneros, Executive Vice President of Retail Banking states, "I lead the retail side of American River Bank, which includes the branch teams, our client-facing teammates. It has always clearly stood out to me that the bank's differentiator is our people; we have a service-oriented culture of teamwork and accountability. Additionally, our team is empowered to make decisions when helping clients, which means they don't have to ask permission to do the right thing for our clients. When you tie all that together, it creates a successful work environment where people know what they're expected to deliver, and they're committed to doing it."
That commitment remains steadfast during the COVID-19 pandemic. According to Ritchie, the bank initiated its pandemic plan in March. "American River Bank had 40 to 50 percent of our staff working remotely within 24-48 hours," he recounts. "As an essential business it is critical to our clients and our communities that we keep business functions going, without interruption. At the same time, our priority is to keep everyone healthy and safe and keep our branches open during the pandemic. Due to the commitment of our exceptional teammates combined with our digital and electronic capabilities, we have accomplished this."
Cisneros continued on that vein, "2020 has been very challenging. Not only have we battled COVID, but our clients and communities have been impacted by fires, evacuations and PG&E power outages, and despite all this, our team's commitment to our clients never wavered. We send out client satisfaction surveys every month and we get a 26 percent response rate, and in the survey world, that's off the charts. For the last ten years, we've consistently been at over 90 percent positive client satisfaction. That is world-class. This team delivers, and our clients tell us that we earn this score by establishing strong relationships, finding out what's important to them, and, proactively taking care of them even before they reach out to us with a need."
This is the result of our hiring the right people, people who are committed to excellence, who deliver extraordinary service to our clients every day, and stay with the bank. In fact, our employees have an average tenure of nine years; for a company that's been around less than 40 years, that is pretty impressive. American River Bank and our teammates stepped up and took care of our clients throughout the pandemic. We listened and drove out to people's homes to pick up documents to get their loans funded, set special client appointments, and did whatever we could do to help alleviate or reduce their stress. Between PPP loans and the challenges that business owners have faced, our teams worked around the clock, taking care of clients and reminding them 'we are all in this together.' It's impressive."
Jennifer Held, Vice President and Director of Marketing agrees. "The challenges we are facing in 2020 showcase that all banks are not the same; that service and relationships are important. Digital banking has made banking possible and more convenient, especially now; however, the personal relationships and concierge service provided by our team continues to make the difference. Our clients are highly satisfied with American River Bank, and that's because they know that we have taken care of them, and we will continue to take care of them."
Another differentiator of American River Bank is their commitment to help vulnerable populations in the communities they serve. Every full-time employee receives 40 hours of paid time off each year to help non-profit organizations. Additionally, in 2004 the bank established the American River Bank Foundation, whose purpose is to support organizations that provide food, shelter and safety for the most vulnerable women and children in the communities served by American River Bank. The Foundation is solely supported by American River Bank, its employees, clients and partners. Since its founding, the American River Bank Foundation has donated over $1.4 million to local, non-profit organizations.
American River Bank employees and shareholders take great pride in knowing that the services they deliver help improve the lives of individuals, businesses, and communities, and that makes all the difference in the world.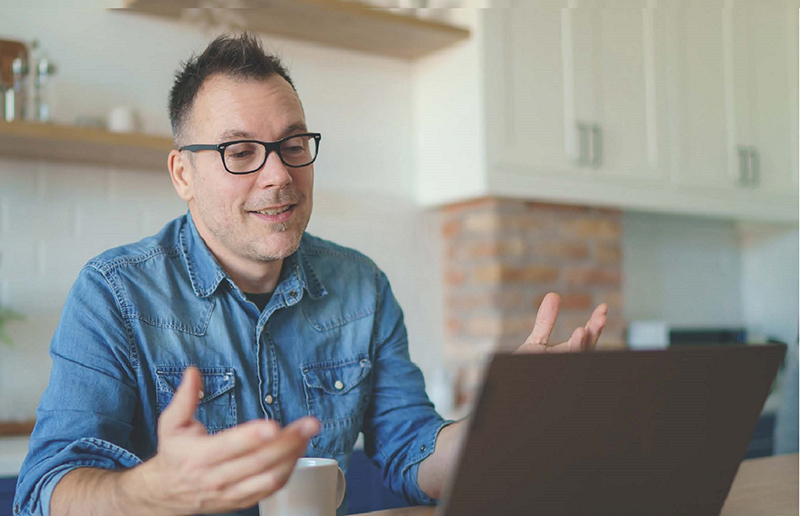 FIS – www.fisglobal.com/en
Managing information technology operations gets more complex every day.
Information security, risk and compliance, and forecasting future infrastructure capacity needs create a significant strain on resources.
What if there was a partner with decades of industry experience? A company that significantly invests every year in technology, with 80% of their computing power in the cloud in North America? What if that partner and provider was highlighted by Forbes Magazine for their ability to enable and empower more than 90% of their employees in the pandemic to securely work from home with NO interruption to client service level agreements?
It's why American River Bank chose FIS to outsource their managed technology needs.
FIS' experience and extensive investment in innovation, technology and best of class compliance practices provided American River Bank the peace of mind of outsourcing their critical infrastructure needs.