Vision Credit Union
serving the community one member at a time
Putting the community first, Vision Credit Union offers products and services tailor-made for their members
Vision Credit Union's management and employees are proud of their role – exceeding the financial needs of many underserved, rural communities in Alberta. With 24 branches, Vision continues to grow both its member base and its brick-and-mortar presence in small towns and farming communities throughout the province.
Despite its rural location and humble brand, Vision Credit Union is a powerhouse. Over the past 73 years, Vision has evolved from a single branch in Camrose with assets of $178, to become the province's third-largest credit union with 24 branches and assets totaling more than $2 billion. It has 36,000 members, a number that has grown since the start of the COVID pandemic, something few banks and credit unions in the province can claim. Vision is, and always has been, headquartered in Camrose.
There are many advantages to members joining a credit union versus a traditional bank because as members they are also owners. Vision's brand has a local and rural feel to it, with all the online banking and in-branch products and services available that members need.
What makes Vision Credit Union more unique than most financial institutions in Canada is its Profit Shares co-op program. When the credit union is profitable, it returns many of those profits back to its members. It is managed using a classic co-op business model, which many consumers might be surprised to learn is one of the most proven economic models for sharing profits a business can choose, says Vision Credit Union COO Dan Hautzinger. Simply put, the more loans and/or deposits a member makes into personal, business or agriculture accounts, the more money they receive back in profit shares.
In 2022, Vision Credit Union returned $14.25 million in profit shares to its members, an allocation that represents one of the highest returns paid by any Alberta credit union.
"The co-op movement is so powerful, I'm not sure many people understand," Hautzinger says. "We've never lost the small business identity we have or the personal touches. The co-op model is a part of that. We never want to forget where we came from."
That is a reference to a focus on communities and hometowns. Vision Credit Union is rooted in rural Alberta communities. Their team works hard to provide flexible account options and services made especially for farmers and ranchers. "We've become faster adopters of technology as it has evolved," Hautzinger says.
Maintaining full-service branches is important to Vision's members, as more low-volume transactions are processed online. The high-volume transactions are still largely processed inside branches, by Vision's member service team members.
Says Hautzinger, these brick-and-mortar locations "support small cities with jobs, property taxes, services, and one-on-one support."
Community focus is at the heart of Vision Credit Union. Its four pillars include financial sustainability with profitable operations, but also staff, member, and community engagement. Vision has a saying it uses: "we are them". That references the fact that members are like employees, and vice versa. "We really are in the shoes of our members," Hautzinger says.
Employees who volunteer in the communities are eligible for variable pay and are encouraged to take time off to support local charitable causes, often without the need to use up vacation time. Vision Credit Union's management has established relationships for financial and volunteer support for food banks throughout Alberta.
Vision's Helping Hands Grant was instituted this year to provide non-profits with an injection of funds for nonprofits needing to pay for capital projects. This year there were 105 applications submitted by the January deadline for an estimated $184,000 available in funds that do not require a repayment. That program will continue in 2024 and beyond, and the $184,000 in funds will be distributed later this year.
"It can be hard for a non-profit to raise money in a small, rural community, so we're just trying to make it a little easier," Hautzinger says.
That's another common theme with Vision – encouraging employees to have a strong work/life balance. When COVID first became a major concern, all employees were told they would be paid their entire salary throughout 2020 even with shutdowns, and that employees who didn't feel safe could take time off without stopping their paycheques. Practically all employees were working their full schedules within the first week, although many were able to work remotely.
All employees also received more than two full weeks off for COVID or other illnesses, so they could recover without having to use the time off without infecting co-workers.
Nearly eight-in-10 employees and almost half of the executive team are women, which is another area of focus, Hautzinger says.
There are challenges to the rising interest rate environment that Canadians face, but there are advantages, too. The Profit Shares co-op arrangement for example will offer higher returns. Vision's executive team prepared for this by stress testing its systems and scenarios before and in the early days of the COVID pandemic, before interest rates rose. "We're trying to get ahead of the curve and really educate and prepare our members," Hautzinger says.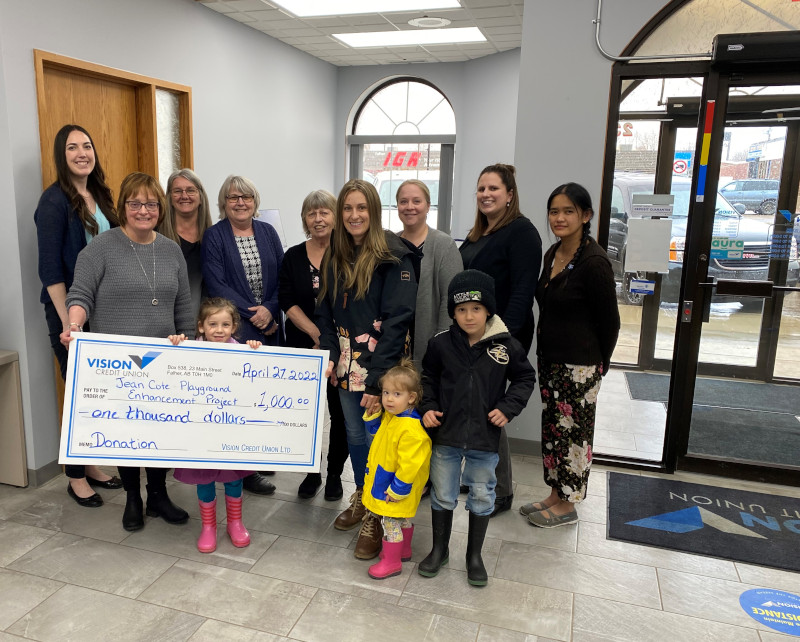 Vision Credit Union values its branches and the in-person service it can provide but recognizes the importance of investing in online banking technologies. The credit union has hired a brand-new position – VP of Digital Transformation – this year. Hautzinger says it wants to be a "fast follower of technology" at the rate and with the services members want.
In essence, Vision seeks to use a digital net to cast which will pull more members into its branches, he adds. One way to do that is with the Future Farmers program, which offers incentives to members for succession planning and other activities, along with preferential rates for loans and lines of credit. It also offers a Breeder program for cattle producers, and has a department of commercial/agricultural specialists whose only role is to conduct business with members working in the agricultural field.
Says Hautzinger, "We will come to them and do business at their farms because we know it can be tough for farmers to come to a branch in the middle of the day."
The number of products and level of services offered to members would not be possible without important partners. Ivy Design has collaborated with Vision Credit Union to produce its "real people, real results" campaign. Celero Systems is Vision's IT and account security partner and Third Stream provides account origination support. CUSource is a third-party training partner while Aviso Wealth Management offers financial services support.
Hautzinger says that Vision will continue to consider other partners as needed whenever the need arises.
Vision Credit Union has many initiatives for 2023 and beyond, according to Hautzinger. One is that it will continue to invest in digital transformation with online features. One of its goals with that effort is to become "paper light," highlighting the use of fewer printed materials.
Management also wants to increase its use of in-house training and employee development programs, and to empower team members with career and goal advice. This means the incorporation of employee maps, which can create a path for team members to get promoted from within.
Vision Credit Union also has, and will continue to make, capital investments to improve its branches, with renovations and modifications to modernize and streamline. Management also continues to finalize its merger with Encompass Credit Union, which was first announced in June 2022 and transitioned on November 1.
Before the merger Encompass served approximately 8,800 members with an employee base of 65 full-time equivalents. As of fiscal year-end 2021, Encompass had approximately $540 million in assets with branches in the communities of Wainwright, Irma, Hardisty, Hughenden, Edgerton, and an Agency in Consort. Three of its branches were part-time, and Vision changed those to full-time and full-service branches following the merger.
AT A GLANCE
Vision Credit Union
What: A community-first credit union serving unique rural concerns
Where: 24 branch locations across Alberta with headquarters in Camrose, Alberta
Website: www.visioncu.ca

thirdstream – www.thirdstream.ca
Vision Credit Union deployed thirdstream's online retail account onboarding platform in 2020, building on the thirdstream in-branch member experience introduced in 2017. Prospective members can open accounts remotely without staff interaction, and thirdstream's identity verification ecosystem approves applications in under five minutes. The cloud-based platform integrates with the credit union's core processing systems, providing a real-time experience for consumers, while streamlining employee workflows. This approach has contributed to thirdstream's growth among financial institutions across the country, with a remote deployment capability delivering solutions in weeks.
Prosci Inc. – www.prosci.com
Prosci is a global leader in change management. We work with organizations around the world to achieve change success and develop change capabilities throughout your team. Through our research-based, easy-to-use tools and methodologies we offer advisory services and training which will support your change needs. To learn more, visit Prosci.com.