Quorum Federal Credit Union
Quorum Federal Credit Union
Delivery online banking with flexible financing options, Quorum Federal Credit Union embraces the future of banking
Quorum Federal Credit Union is an institution that operates differently compared to other credit unions. With over 75,000 members, the credit union knows it is the number one source of excellent quality, unique banking products.
The credit union is an entirely online operation, redefining the sector they operate in, and allowing them to have members across the country. This means that Quorum Federal Credit is not a segmented or community-based operation.
"We like to convey to our members that we've redefined our community as one that operates and lives online," says Carlene Armetta, Chief Marketing Officer at Quorum Federal Credit Union.
Quorum Federal Credit Union has invested in its user interface and offers its members a frictionless online and digital experience that is also robust and easy to use for business. The union has also ensured that they drive as much of their loan business as possible by establishing robust partnerships with mortgage brokers.
The credit union also has an account executive force that works with these brokers, enabling the company to drum up more business. Quorum Federal Credit Union prides itself on being a credit union that will always offer flexible services and product suites in loans and deposits.
As a low-income designated credit union, the company services members across the spectrum.
"Quorum Federal Credit Union offers products and solutions throughout the members' lifecycle, or stage of life, via a plethora of product suits," says Armetta.
With the domestic macro-market going through a number of dramatic changes due to the pandemic, labor shortages, and supply chain issues, Quorum Federal Credit Union's business model has allowed them to meet these new needs quickly.
The credit union was well positioned for COVID-19, with employees working from home and having the remote infrastructure in place several years before the pandemic.
"Being able to position ourselves to meet these changes quickly, meant we were able to support our members throughout the pandemic," says Diane Slifstein, Chief Servicing Officer at Quorum Federal Credit Union.
Armetta adds, "We prided ourselves on being pandemic-ready before we knew it was going to happen. Over the last several years, we've made significant investments into digital transformation, which eventually positioned us ahead of the competitive curve."
Recently, the banking environment has seen raised interest rates, but again, due to the unique business structure of Quorum Federal Credit Union, the company was able to pass on savings and bolster product offerings due to its lack of infrastructure costs.
As a low-income designated credit union, a little more than half of Quorum Federal Credit Union's clients fall within this designation. The rest of the establishment's clientele varies widely and spans many demographics.
Capturing this large group is a result of reinvesting into the Union's digital footprint. Which has created a service that is frictionless, self-service, and allows for remote access. Another digital element introduced is the "Ask Bruno" service.
Bruno Sementilli was the CEO of Quorum Federal Credit Union until 2022 and retired after 35 years at the company. The new service was named after him and is designed to answer members' questions and educate them on various offerings.
The education of members is vital for Quorum Federal Credit Union, which is why they developed and launched a learning hub that is being expanded on constantly.
"We have over 400 articles that are very concise. They are also timely and informative, and 70% of the content in this learning hub is exclusive to Quorum Federal Credit Union. This content is developed for the members at every juncture in their life stage," says Armetta.
Topics in the educational section include home and family, money management, careers, retirement, cybersecurity, tools, and technology. These articles cover a comprehensive range of topics, ensuring that no matter what stage of life a member is at, there's an educational article to inform them on the subject matter.
Quorum Federal Credit Union also partner with balanced financial fitness companies that assist members in repairing their credit scores if they find themselves in a problematic financial situation. These partners also offer counselors to guide these individuals if and when needed.
With so much material being produced, Quorum Federal Credit Union's learning hub was awarded a Credit Union National Association (CUNA) Diamond Award in 2021 in the content category. And this year, the company was awarded another award by CUNA in the category of financial education.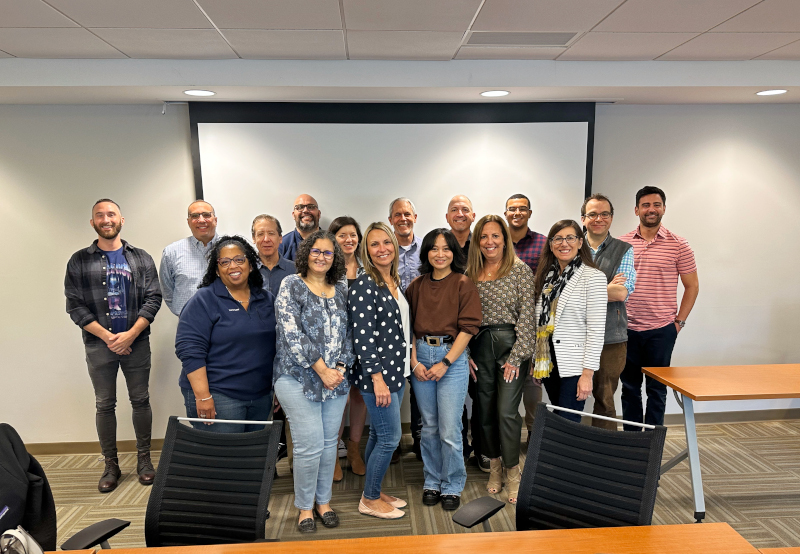 "Financial education empowers our members across the spectrum of demographics. Once they understand what options are available to them, they can take advantage," says Armetta.
As a credit union that operates in the digital sphere, accessibility to self-service options is essential for its members. A major focus for the company is to ensure that the user experience is easy to understand and intuitive so that members can conduct their business with ease.
"We want to put a frictionless experience into members' hands so that they handle their financial matters at their own pace and on their own timeline," says Slifstein.
Quorum Federal Credit Union offers call center support for members who need assistance navigating the online interface. Additional help is also supplied in case clients need help with more complex activities.
Transformation is important to the company, which is why there's now a transformation department that reviews and implements new technologies.
Quorum Federal Credit Union partners with Alkami Technology, a company that assists the bank with online and mobile platforms. Using other partnerships, the credit union does have a network of co-op, shared physical branches for those members who need face-to-face assistance.
The bank offers a unique feature for its Home, Equity loan, and Line-of-Credit (HELOC) members: the ability to draw from new lines when needed. Members can also transfer this money and manage it online.
As a credit union, the company is invested in uplifting local communities. Quorum Federal Credit Union is focused on financial literacy, compiling awarding content, and has thus put together a donation to The Council for Economic Education.
"What we love about this scholarship is that it is awarded to a teacher who uses the cash to gain more financial literacy and upskill themselves, which is then taken back into the classroom. This is a full-investment circle for us," says Slifstein.
Another organization the bank supports is JJP Medical Center which focuses on supporting veterans. Over the years, these donations have been given to a number of deserving charities that are close to employees.
Over the last three years, the company has offered employees gift cards that would allow them to take an extra day off, or select a charity of their choice to invest in, which was then done by the company.
This evolved into rolling out a program called Volunteer Time Off (VTO), where employees are able to take a working day to give back to their community. Having remote operations has allowed the company and employees to give back to local communities where they see the need for additional capital.
With an employee footprint of 160 staff members across multiple states, the reach of these charity investments is vast.
As it is fully online, Quorum Federal Credit Union takes security very seriously. The company ensures that it has a fully-equipped IT department, which works in collaboration with specialized partners who are able to assess threats and mitigate any potential risks.
The bank hires companies every quarter to assess the vulnerabilities of the system. Quorum Federal Credit Union gets the feedback on these tests, and so far, they've only received excellent results.
Also, the bank has found the best method to prevent cyberattacks is education. All employees are taught up-to-date information about cyber security and they're required to pass five tests a year on what they've learned. These cyber security lessons and tips have also been included in the members learning hub section.
As a progressive banking institution, Quorum Federal Credit Union offers a number of mortgage products at attractive rates. The company also has a second mortgage portfolio, which has been a source of a lot of growth for the credit union.
Outside of mortgages, other products that the company offers are student loans and home equity loans. The company has taken advantage of the low rates they've been able to offer clients.
A large portion of the company's business is HELOC, and Quorum Federal Credit Union was able to reduce some of its rates there. They also made enhancements to the underwriting guidelines, which would allow more clients to apply for services.
"We investigated every step of the journey and tried to address members' potential needs, like allowing for a HELOC on a second home or a property with two units. Also, we've either waived or lowered the origination fee, which many organizations have stuck with. We want to make our offering more attractive and helpful to members," says Slifstein.
Quorum Federal Credit Union works with a number of companies, like CUNA Mutual. CUNA Mutual is an insurance company that also ensures the Union and offers different insurance packages to the Union's members.
Another insurance company that Quorum Federal Credit Union collaborates with is Bindable.
Moving into the future, Quorum Federal Credit Union will focus on continuing to offer an innovative self-service that is frictionless for its members, constantly evaluating themselves to add to the members' experience and needs.
AT A GLANCE
Quorum Federal Credit Union
What: Completely online banking putting its members first
Where: Purchase, New York
Website: https://www.quorumfcu.org/
Engageware – https://engageware.com/
Engageware provides leading member engagement solutions for 400+ financial institutions. Intelligent appointment scheduling, digital communication and knowledge management software enable credit unions to deliver the functionality needed to provide world class experience across every channel. 60 credit unions named to the 2022 Forbes' Best-in-State Banks and Credit Unions use Engageware. Learn more at engageware.com.