Abdo, Eick & Meyers LLP
People + Process: Going beyond the numbers
Business View Magazine interviews Steven McDonald, Managing Partner at Abdo, Eick & Meyers LLP, for our focus on America's Top Accounting Firms
Any profitable business knows, there's more to your story than balance sheets and bank statements. As one of the fastest growing Certified Public Accounting firms in Minnesota's Mankato and Minneapolis areas, Abdo, Eick & Meyers (AEM) is ready to deliver the solutions you need to empower the growth of your organization. Abdo, Eick and Meyers leverages its "People + Process" by partnering with businesses to increase value, helping government audit clients operate more efficiently, and providing the very best in tax planning and preparation services.
Since its earliest days, the Abdo, Eick & Meyers team of certified public accountants, auditors, and consultants has carefully listened to its clients and then developed new areas of expertise and service lines to meet their needs. Established in 1963 in Mankato, Minnesota, the firm has evolved into a mid-sized leader in the regional accounting industry through a combination of steady organic growth and key mergers and acquisitions. Company founder Joe Abdo was able to establish the firm thanks to a $15,000 loan from his hardworking, Lebanese-immigrant mother. Today, Abdo, Eick & Meyers is ranked as a "Top 25 Accounting Firm" by the Minneapolis/St. Paul Business Journal. Under Managing Partner Steve McDonald's leadership, the company delivers creative, one-of-a-kind business bookkeeping solutions to help individuals, businesses, and organizations solve their challenges.
According to McDonald, "Our founder, Joe Abdo, started the business in 1963 with just a single client and built the practice over the next several years, until his son, Jay, and Gerry Eick came into the firm. They grew the Mankato location and then Jay opened an office in Owatonna, Minnesota, just a small town of 25,000 in the early '80s. In the next major stage, Jay opened an office in Bloomington, Minnesota and that evolved into what we are today – a 100 person shop in Edina and a 70 person office in Mankato."
McDonald was hired out of college and came into the firm in 1991, when Abdo, Eick & Meyers had less than $2 million in revenue and fewer than 20 people. As the company grew, so did McDonald's career. When he became Managing Partner in 2004, the firm was still doing $2 – 3 million in revenue. Currently, it's budgeted for about $26 million for 2020. The head count of employees has grown tremendously over time, as have the types of clients. But the character of the company has remained the same. The firm currently has 170 employees with 20 partners and about 30 managers, 20 support, and the rest are accountant seniors. Thirty percent of business is serving local government, but the largest growth over the last five years has come from small to medium sized businesses that are mostly owner operated, or owner/board controlled.
Territory-wise, for both offices, a 50-mile radius would cover 90 percent of the firm's clients. McDonald reports, "We do have several individual clients around the country; quite a few in Florida and other areas where people retire to. As for primary revenue drivers, the core had always been compliance services – tax and audit. But that's changed a lot in the last three or four years. I feel that clients are looking for a business partner, so we've had the opportunity to develop a greater consultant mindset. We strive to help solve whatever challenges our business owners are facing beyond just tax or audit issues. Profitability concerns, growth in their client base, those are things we've been fortunate to weigh in on. Mergers and acquisitions – if they're looking to acquire a company, the work we can do on due diligence to help them through that process has been well received."
The company has done a lot of process evaluations, asking business people such questions as how they can improve through their technology and people processes. McDonald adds, "It's interesting that in government, what's really grown has been the advisory part of what we do. Outsource CFO work; comptroller; some account work – that pretty much mirrors where some of the growth has come on the business side. Government just takes longer to make a decision."
Specific to governments, McDonald notes, "When we go to a City Council and ask them what they're going to look like five years from now, they shrug their shoulders and say, "I have no idea." We help them see what that picture is. The thing I find most fun about our business right now is that we're not just historians; we're starting to help show what the future looks like. And that's where we engage really well with our business owners."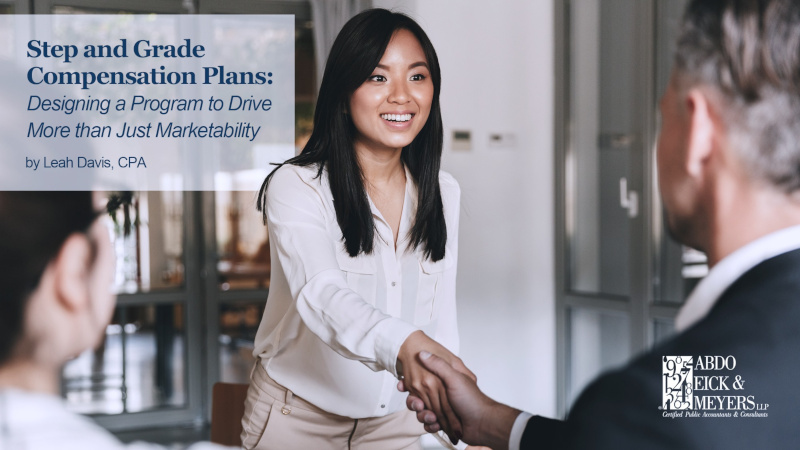 AEM believes that one of the growth drivers in the firm has been the use of technology. McDonald acknowledges, "We learned through the last few months of COVID that this commitment is very valuable and will always be a priority. Our technology foundation is built on a hosted solution provided by Right Networks. They have been instrumental in creating and supporting a work anytime/anywhere environment and this gives us a strategic advantage over our competitors".
To keep up with the changing financial landscape, Abdo, Eick & Meyers is working on projects that revolve around data. They belong to a CPA association called DFK that has 30 firms across the U.S. as members and about 400 CPA firms, internationally. Members meet as a Managing Partner group twice a year to share information and resources. In May of 2019, they discussed how many firms were working on data analytics, Microsoft Power BI software, but they hadn't anything teed up to build a project around it. Then in October, when they met again, every firm was focused on it.
"That's one of the areas I'm most excited about," says McDonald, "building data skills in the firm. I think that's going to be a critical skillset for people coming out of school to have. Colleges are starting to build data programs in support of their accounting programs and that's an area, where if we understand data and what is clean data and what it all means, we can really help our business owners and our governments."
What McDonald finds intriguing is that CPA firms are having the opportunity to be advisors sitting at the table alongside clients' leadership when decisions are being made. He recounts, "A few years ago we bought an outsource HR firm with a component of payroll to it, along with HR consulting. It's been really interesting to watch that because all of our clients have some form of HR issue. It could be performance pay plans, or a compliance issue, people development, those kind of things. Those questions continue to come up and when we look at our top 10 clients, almost all of those clients now have some HR services in our delivery."
Overall process is another area where the company gleans good insights on how things should work. When they're able to map out a process for their clients showing the current state, they can then describe what the future state may look like, and that may result in great efficiencies. It isn't about reducing head count; it's about getting people doing what they're best equipped to do. Abdo, Eick & Meyers has some great success stories helping clients reengineer their finance department or other processes.
When it comes to a competitive edge, McDonald says, "Relationships are the most important part of the equation. In the past, when we were so focused on the compliance work, we would only see our clients once or twice a year, and if we delivered the tax return or the audit on time, we thought we were delivering great client service. But we've come to the realization that that doesn't do anything to establish a deep relationship. It's about how much contact we have with that client throughout the year. So we started a 'listening call' process about five years ago, where we targeted all of our A and B clients and scheduled a meeting with them, at a time when we weren't providing the compliance service. It was all about the clients – what were their pain points – and we started listening better. That got us off to a good start."
As a result, the company found the best relationships they have are ones where they see the client four to ten times a year to talk about their business. If they can meet quarterly, or even better monthly, and be part of their finance team, that's where a lot of the opportunities are identified that help solve problems and increase profitability for clients' businesses. And that's a big competitive differentiator for Abdo, Eick & Meyers. They listen to what the issues are and that seems to be their formula for success.
McDonald explains, "We went through this exercise last fall of identifying our top ten clients and they all had similar attributes. They all had multiple touches by multiple people in our firm and we were providing multiple services. So, we came up with this concept of three by three by three: every client should have three people in our firm that know three people in that company and we're providing at least three services. If we do that, we have a good chance of a deep relationship. We've invested in a state-of-the-art, onsite training facility and a full-time learning coordinator to ensure our team is prepared to exceed client expectations. We work hard for those who matter most—clients, employees, family, and community—and celebrate their successes as our own."
AT A GLANCE
Abdo, Eick & Meyers LLP
What: Progressive Certified Public Accountants and Consultants firm
Where: Edina, MN
Website: www.aemcpas.com
ADP® – adp.com/accountant
At ADP®, we're designing better ways to work through cutting-edge products, premium services and exceptional experiences that enable people to reach their full potential. HR, Talent, Benefits, Payroll and Compliance informed by data and designed for people. Learn more at adp.com. 

Right Networks – www.rightnetworks.com
Right Networks has provided CPA firms with award-winning technology solutions and services for more than 20 years. From supplying productivity tools that turn hours' worth of work into minutes, to cloud-enabling desktop applications, to managing a CPA firm's IT infrastructure, Right Networks delivers the capabilities accountants need to maximize growth.