Parker School
The beauty of a fine education
Business View interviews Head of School Stephen Dunn, of Parker School, for our focus on Education & Independent Schools in Hawaii
Located in the town of Waimea, on the Big Island of Hawaii, Parker School is a non-profit day school with more than 300 students, spanning grades K-12. Established in 1976, it began as a high school, and was the result of community leaders coming together in partnership with local businesses and philanthropists to create this valuable resource.
A middle school was added in 1977, and by 2005, Parker School had expanded to include kindergarten to fifth grade. With small classes and a focus on 'ohana', which means family in Hawaiian, the school takes a personal approach to learning – creating an atmosphere that is diverse and nurturing, while also providing a challenging educational experience. Parker School gives students the tools to successfully pursue post-secondary education, contribute to the world around them, and strive for a rewarding future.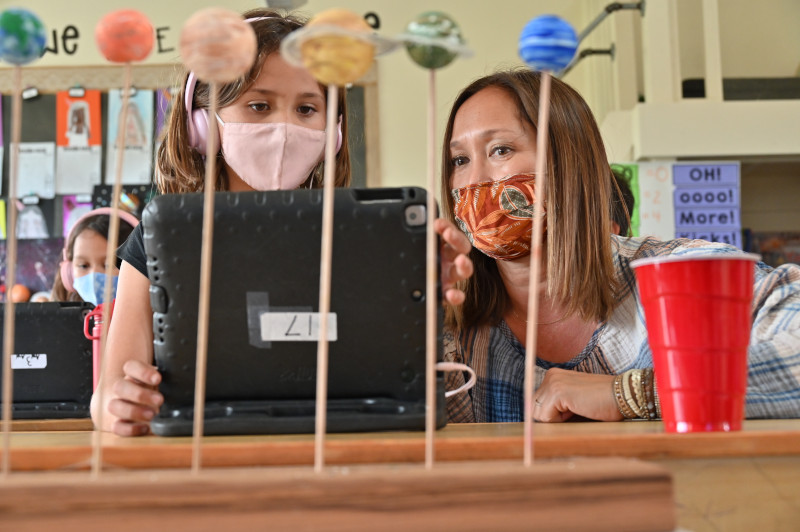 Head of School Stephen Dunn describes the setting: "We have a 23-acre campus in the heart of Waimea. It's a very open-air campus, with almost every classroom open to the outdoors. We are so privileged to be in such a beautiful location with extraordinary weather." Operating out of a 100-year-old building known as Kahilu Hall, the school shares deep historical connections to the community of Waimea. "It was known as a community gathering place," Dunn explains, "People would come to Kahilu Hall to hear the news of the day. It also served soldiers during their preparation and training in Waimea. The building has been a significant structure in the community for a very long time. We hope and expect that we are doing it proud by continuing to educate generations of Waimea residents."
With 90 percent of the student population living within 30 minutes of campus, Parker School truly is part of the small community of Waimea, which has 12,000 residents. Honoring a long-time commitment, the school strives to keep tuition costs low, providing an opportunity for as many students to attend as possible. This can have its challenges, as Dunn reports, "The mission of the school, the founding conversations, were to provide high quality alternative education at a low cost. The challenge is having intentions of high-quality education as cheap as possible, and being independently funded. You can see how those layers don't necessarily work in concert with one another and often are at tension." Parker School does provide tuition assistance to students in need, which is approximately 50 percent of its enrolment.
Throughout the pandemic, protecting students and staff while continuing to provide quality education is a point of pride for the school. Aside from one emergency closure, and a two planned weeks of virtual learning for transitions, Parker School has remained open for in-person learning throughout 2021, and the first part of 2022.
Dunn recounts, "Students wear masks, we have a vaccination requirement for employees and students, we do weekly testing, to make sure that there aren't any cases in the community, and we isolate those as quickly as possible. Like other educators around the world, our faculty are ready to go remote if we need to, and have integrated hybrid learning into the classrooms. We did some work early in the pandemic to think about how to be prepared to support our students. We have covered most issues related to COVID, and feel really fortunate and successful in keeping our kids here, which has been our top priority." He adds that the ability to keep classroom windows and doors open, due to the beautiful climate of the island, added a significant feeling of protection for staff and students.
The pandemic has also posed some challenges for the school in terms of community involvement and interaction. With no guests visiting the campus, and students not venturing into the community, Parker School has still managed to offer a few activities for the locals to participate in, including a drive-thru trick or treating event on Halloween. Community connection has always been an important value for the school, with events like a weekly farmers' market hosted on the campus drawing thousands of people. Each year, the school holds a Thanksgiving food drive that results in a donation of two to four tons of food. Another opportunity for community outreach is a day the school has titled 'Ohana Day', where students from grades 7 to 12 are out in the community donating their time to various causes.
Krista Anderson, Director of Communications for Parker School shares, "In a town of 12,000, our families and our students are just naturally a part of the community. We value our small school being a part of our town where everyone knows each other. Our relationship with the Waimea community is something we are excited to pursue and grow in the future as COVID starts to hopefully wind down."
As a major employer in the town of Waimea, Parker School worked to ensure that all of its 65 employees were able to continue working during COVID, with no reduction in compensation. "This notion of ohana, of family, is really important to us and we work hard to live up to the expectations that our employees and the community have for us," says Dunn.
Staying true to the values of excellence, integrity and compassion, Parker School makes it their mission to ensure that students feel known, valued, and nurtured. Dunn acknowledges, "We care deeply for our students and for their development. Kindness is something we talk about a lot. Parents are so appreciative that their children are in a place where kindness is a priority."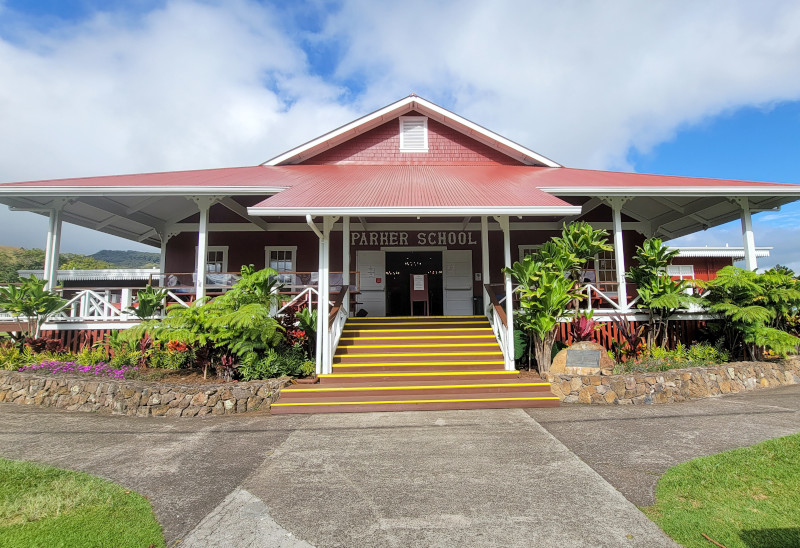 Zoom has become a valuable tool, offering a chance for parents and educators to meet virtually and stay informed of student successes and progress. A newly introduced parent academy brings parents together to learn and engage, focusing on pertinent subjects such as social media use, and social and emotional learning. "It's an opportunity for the school to put a highlight on a subject," says Anderson, "giving parents some support so they can have these conversations with their children."
In planning for the future, Dunn notes that Parker School is exploring new and innovative ways to prepare students for a constantly changing world. He explains, "We live in a world that is changing extraordinarily fast, and we don't have a full grasp on the scope of that change. That is driving lots of conversations about instruction, assessment, interdisciplinary work, and hands-on work. Those are exciting conversations to have."
Maintaining an authentic connection to Hawaii, and exploring the extraordinary resources all around them is another priority Dunn sees for Parker School going forward. He elaborates, "We do have the headquarters of two international observatories within a very brief walk from our campus. With internships and partnership with organizations like the Canada-France-Hawaii Telescope, the W. M. Keck Observatory, and Parker Ranch, they can help our students really get hands on authentic learning, which could happen no other place than here."
With some new building projects on the horizon, which Dunn says will enhance the student experience, there is also some attention directed at sustainability, working to reduce the carbon footprint on an island with minimal recycling. As a final thought Dunn adds, "Our teachers are excited about the future and are really working with our students to make sure that they are prepared."
AT A GLANCE
Parker School
What: A non profit, independent day school
Where: Big Island of Hawai'i in the small rural ranching town of Kamuela
Website: www.parkerschoolhawaii.org
Cades Schutte LLP – cades.com
Cades Schutte is a full-service law firm with over 80 attorneys, providing superior service in over 40 practice and industry areas from five offices across Hawai'i. Since our founding in 1922, our attorneys have been called on to represent some of the most notable cases and transactions in the State of Hawai'i.