Impro Industries USA Inc.
A one-stop-shop solution provider
Business View Magazine interviews representatives from Impro Industries USA Inc., as part of our focus on the high-precision manufacturing sector.
Impro is a global, integrated manufacturer of high-precision, high-complexity, and mission-critical components for diversified markets, including the Automotive, Aerospace, Medical, High Horsepower Engine, Construction Equipment, Agricultural Equipment, Hydraulic Equipment, and Energy sectors. The company was founded in 1998 in by Reb Lu, a mechanical and industrial engineer, who still serves as its Chairman and Chief Executive Officer. "We started as an investment casting foundry, and, later on, we expanded our business into other areas, such as precision machining, sand casting, and surface treatment," says Ina Wang, President of Impro Industries USA, the company's North American subsidiary.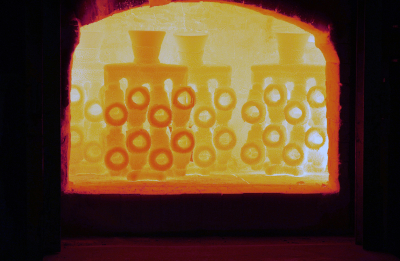 Investment casting is a process of forming metal that typically uses a wax pattern surrounded by a ceramic shell to make a ceramic mold. When the shell dries, the wax is melted away, leaving only the mold. Then the casting component is formed by pouring molten metal – cast iron, stainless steel, low alloy or carbon steel, aluminum or copper alloys – into the ceramic mold. Investment Casting comprises 41 percent of Impro's business portfolio.
The sand casting process involves creating a mold from a three-dimensional sand pattern, then filling the mold cavity with molten metal, which is then cooled and solidified. The benefits of sand casting are numerous. There are minimal restrictions on the shape, size, and material. The process is extremely efficient by using dry sand, green sand, or chemically bonded sand. Sand casting is a better option over die casting because it allows for low or high-volume production. Sand Casting comprises 16 percent of Impro's business portfolio.
Precision machining is the process of cutting metal parts to make them fit today's modern technologies. Impro specializes in hydraulic spools, pistons, engine fuel injectors, and assemblies using computer numerically controlled CNC machines, and other tools. Precision Machining is responsible for 33 percent of Impro's business.
Finally, surface treatment involves electroplating, a process used to change the surface properties of a metal pat by adding a metal coating onto its surface through the action of electric current; and non-electrolytic coating, which involves the application of corrosion resistant materials, lubricants, and other functional materials to the surface of the objects to improve their corrosion resistance, wear resistance, and for decorative functions. Surface Treatment comprises 10 percent of the company's portfolio.
Currently, according to Rex Sun, Group Vice President of Business Strategy and Integration, Impro is ranked seventh in the world in the investment casting sector; fourth in precision machining for high-end high precision parts; and sixth for complex, high-performance sand casting, especially for high horsepower engines and related parts. That rapid growth in just two decades has resulted largely from the company's "twin growth engine" of organic growth plus strategic acquisition. "From 2012 to 2014, we made acquisitions in each of our four sectors," Sun reports.
Today, Impro Precision has a worldwide workforce of around 7,000 people, and plants, logistics centers, and offices in many different countries, including: China, where there are offices, warehouses, and nine manufacturing plants; Germany, where there are two plants and offices; Turkey, where there are two plants; the Czech Republic and Mexico, with a plant in each; and North America, where there are Sales and Service Centers and Warehouses in Los Angeles and Chicago.
Another reason for Impro's success, according to Sun is "the diversified end-market strategy that we have tried to adopt over the past 20 years of development." The company has customers in over 30 countries and regions: the United States comprises 39 percent of its market; Europe comprises 34 percent; and Asia, 27 percent, with most of that in China. Impro's key market segments include: Passenger Car (31 percent), Commercial Vehicle (16 percent), Industrial (44 percent), and Aerospace& Medical (9 percent). Moreover, through two decades development, Impro has established strategic and long-term relationship with well-recognized, global industry leaders. Seven out of the company's top ten customers are Fortune 500 companies.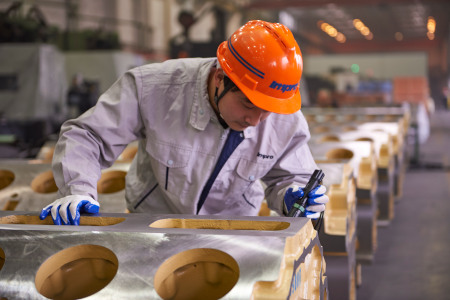 Wang believes that in the highly competitive casting and precision machine sectors, Impro Precision stands out because it positions itself as a one-stop-shop solution provider. "We have vertically and horizontally integrated manufacturing capabilities to serve our customers," she explains. "So, in terms of the scope of our offerings of products and services, we cover almost the entire value chain of precision components, which our customers value a lot. In addition, we have been in business for 20 years, and we have established our reputation as a reliable company in terms of product quality and financial standing. We also have been very flexible in terms of the type of products and services that our customers are looking for; we can always tailor to their needs. And also, we have strategically deployed our manufacturing base through acquisition and through Greenfield establishment. So, we have a global footprint. Our customers see a lot of value in this, as well."
Impro also stands out as a socially responsible corporate citizen. "We are very conscientious about environmental protection," says Wang. "Green and low-carbon emission are our environmental principles, and we adhere to the highest standards within the industry, and according to the local and national standards in the countries where we operate our business. In terms of our China subsidiaries, we have been given Green Enterprise status – that's the highest class in terms of environmental compliance."
The company is NADCAPISO 13485 Medical Devices, ISO 14001 Environmental Management Systems, and ISO 9001 Quality Management Systems-certified. It also has certifications and awards for its Automotive, Marine, Aerospace, Health & Safety, and Transportation and Power Generation products from various companies and credentialing organizations. "Beyond the certificates and the standards that we have obtained, we look at it on a daily operational level," says Sun. "We constantly reduce energy waste and emissions."
Going forward, Sun believes that Impro can continue to increase its market share by being that one-stop-shop solution provider – "by having tooling, casting, heat treatment, secondary machining, cleaning, painting, electroplating – the whole process under one rooftop to supply to our global-leading, blue chip customers. Another strategy, for five or ten years down the road, is to expand our footprint, globally, in order to service our global customers in a better way."
Wang says that the company will "continue its business model as a one-stop-shop solution provider to provide integrated services and products to meet our customers' needs and demands. Also," she adds, "we will continue to operate our business with a focus on high precision, high complexity, and mission-critical manufactured components. And we will continue our working relationships with our customers in terms of being flexible and reliable, offering products and services from the global manufacturing base that we currently have and will continue to expand. We will continue to seek opportunities to grow our company and to achieve sustainable profitability in this turbulent, global business environment."
Check out this handpicked feature on Aluminum Extruders Council (AEC) – Shaping solutions together.
AT A GLANCE
WHO: Impro Industries USA Inc.
WHAT:  A manufacturer of high-precision, high-complexity, and mission-critical components
WHERE: U.S. headquarters in Los Angeles and Chicago
WEBSITE: www.improprecision.com