Ice Castle Fish Houses
Your home is your castle
Business View Magazine interviews Brett Drexler, President of Ice Castle Fish Houses, for our series on Automotive/RV Manufacturers
The concept of "fish houses on wheels" has only gained in popularity since the urge to 'get away' during pandemic has skyrocketed. This soaring demand for these high quality RV-type options has positioned Minnesota-based Ice Castle Fish Houses to be poised for ongoing growth in the years ahead.
The family-owned company, which is also known as American Surplus & Manufacturing, has sold more than 32,000 products through its nationwide distributors during the nearly 30 years it has been in business. After first being established in 1993 in a concrete building that housed surplus items for sale, and produced sheds and doghouses, the company caught a break in 1997 when its owners were asked to build 10 sheds on wheels. They sold right away and the Ice Castle Fish House was born. Ice Castle has pioneered many new and innovative features that have shaped the wheelhouse industry. By adding air conditioning units, as well as water and wastewater holding tanks, the fish house has been transformed into an All-Season RV.
With more than 50 models to select from, Ice Castle's fully customizable units include eight-foot high and 6.5-foot-high options that can be built to specification. Several traditional but still customizable RV models are available with all products representing ideal options for not just cold winter months on the lake but warm weather travels for camping.
Today, the company is run by President Brett Drexler, who works closely with his father Jeff, the founder of Ice Castle Fish Houses. From its headquarters in Montevideo, Minnesota, 140 employees custom build and manufacture an average of 140 houses each month. All are sold through a network that includes more than 32 dealers worldwide. "There's a great deal of interest in our products," Drexler explains. "While the majority of dealers are in Minnesota or throughout the Upper Midwest, we have expanded to Tennessee, Colorado, and Utah. Demand has been so strong in recent years that it's been difficult to further expand our dealer base. We're getting orders in just as fast as we can make them."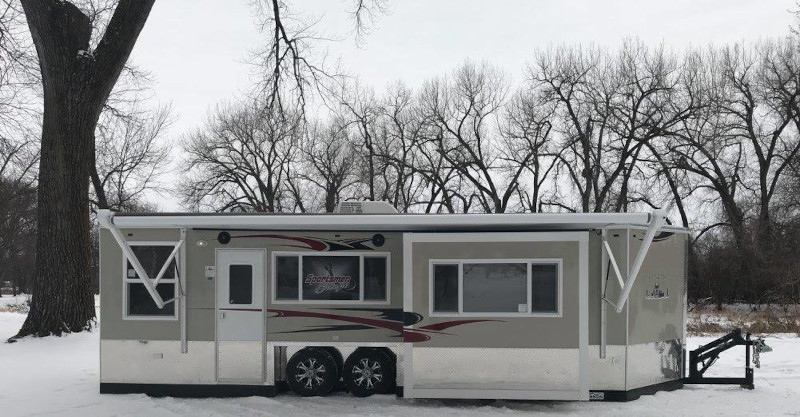 The pandemic has created challenges and new demand
Company growth slowed down briefly at the start of the COVID-19 pandemic in 2020 when the company's manufacturing facility was shut down by local and state mandates. But once Ice Castle Fish Houses opened back up, demand skyrocketed due to the sudden public interest in safe activities that families could enjoy in the midst of coronavirus concerns.
One of the customer demands that changed at this time was that many customers wanted bigger houses, prompting Ice Castle to create some new models. The company lost just one of its more than 140 employees in the early months of the pandemic, never having to lay off any team members. As growth has continued, Drexler has found that many customers are repeat buyers looking to upgrade existing ice houses or RVs. A sizeable percentage of buyers are new customers, coming from all ages and demographics.
While sales have been strong, the increase in demand pushed lead times back to around eight months, as the company cranked out products – 80 percent of which are customized from its core models. Lead times have remained long, since materials have become harder to get and more expensive with inflationary pressures mounting in 2021-22.
When asked about current challenges for the company, Drexler reports, "Our biggest challenge is keeping up with pricing changes. The price of raw materials increases daily. Rising costs of steel and lumber are the biggest issues since those are the two main materials used to build Ice Castle's products."
The much sought-after units offered by Ice Castle Fish Houses range from $9,000 to $60,000 retail but that price is dependent on the types of custom amenities desired by the customers. Some of the more popular options include a washer and dryer, stainless steel appliances, using multiple slide-outs for convenience, and creating more headroom and cabinet space inside the unit. All the models have the capacity to add more height when needed.
A 35,000 BTU furnace is standard with most Ice Castle houses and RVs. Customers are willing to spend money on these units because they truly will live in them for weeks, months, or more at a time. Many customers will travel to campsites around the country during all months of the year. Two of the more popular models include Ice Castle's 8 x 17' crank down and its 8 x 21' hydraulic chassis option. All houses are towable by half-ton or above pickups. Drexel notes, "We have customers who will rent space at a campsite or a camping resort in the summer and then will wait there for the ice to come in the winter."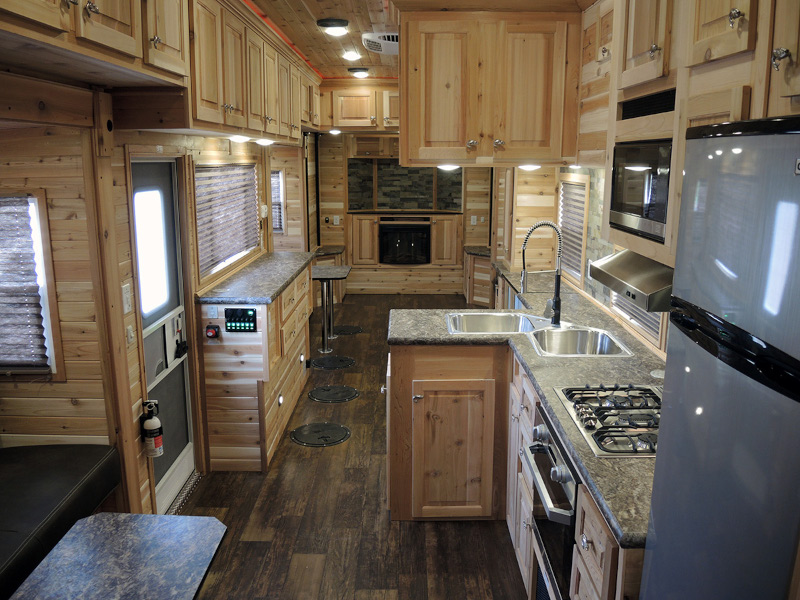 Employees make the difference
Treating their staff like family is one of the main reasons that Ice Castle's employee turnover is so low. Many employees have built long-term careers with Drexler and his family. That has been specifically important over the last couple of years, when the pandemic caused some short-term staffing challenges because of illnesses. "We always try to stay very positive here," Drexler says. "Our employees are proud of the products we make. That pride is shown in the quality of work that is produced. It has also led to many opportunities for staff promotions over the years. One thing we believe in here is that the more motivated you are the more money you can make."
That strong employee presence is on display in the amount of community support that Ice Castle as a company, and its employees individually, display in the Montevideo community. In fact, during the pandemic, Ice Castle was relied upon by many local municipalities and organizations to help set up mobile COVID-19 testing centers using one or more of the company's model designs.
The Ice Castle team has also raised money and hosted events to support local fire departments, and the company has hosted tours for area high school students interested in pursuing a career in a trade. Some former high school students who took a tour of the company's facility in the past have since become employees.
The future looks bright
Drexler admits that it is difficult to envision what the company's future will look like three to five years from now because of how busy they right now filling orders and designing new options for its growing customer base. One of his main goals is to expand their dealer network to the West Coast and Southeast, so that the company can grow its RV sector. In fact, Ice Castle has created another division called Rugged RVs that it will continue to market to its dealer networks. The belief is that the RV sector should hold up very well and may be a source for significant growth. These Ice Castle products are very durable and offer higher quality materials than many competitor options on the market.
Drexler shares, "The outlook is very positive. If the fact that were able to survive COVID as successfully as we did is any indication, then the future really looks good. That was a huge challenge. It has been a grueling two years but we are very confident in our plan going forward."
AT A GLANCE
Ice Castle Fish Houses, aka American Surplus & Manufacturing (AS&M)
What: Largest manufacturer of 'fish houses on wheels' in the world
Where: Montevideo, Minnesota
Website: www.icecastlefh.com