Monaco Ford
A century of family success
Business View Magazine interviews Chrissy and Mike Monaco, sibling co-owners of Monaco Ford, for our focus on Top Connecticut Auto Dealerships
Since opening its doors in 1922, as Monaco's Garage, Monaco Ford in Glastonbury, Connecticut has been owned and operated by four generations of the Monaco family. This inspiring legacy began with visionary mechanic Peter Monaco selling a variety of vehicle models – he was even licensed to work on horse-driven carriages! As the business grew, Peter's sons Sonny, Albie, Johnny, Billy and Charlie were actively involved and it officially became a Ford Dealership in 1957.
In 1972, Charlie's son, David Monaco, joined the business fulltime and was named President of the company in 1988. David has grown the business tremendously and helped Monaco Ford earn its reputation as a top-level Ford Dealership in New England. His children, Chrissy and Mike, literally grew up in the dealership, learning from their Dad how to run the business, how to treat customers, and how to make a positive impact on the community. Today, as co-owners of Monaco Ford, the siblings share their passion for the family biz – working closely together for the benefit of everyone they befriend and do business with.
Chrissy shares, "We grew up at the dealership in different capacities. Mike was always 'the worker bee', even from a very young age. I would come here and hang out and wasn't positive I wanted to be involved until the last 10 to 15 years. My father became President of the company when Mike was four and I was two, so this is all we know. Obviously, we've seen tremendous change in the business over the years, especially in the last five. The car business seems to be changing every day and the challenges are so far out of our control that we have to focus on continuing to grow the aspects that are within our control."
Mike agrees, noting, "We've definitely ridden the rollercoaster in the last 20 years. I got home out of the Marine Corps in 2007, when the car business was pretty poor. We got to see that things will change if you keep pushing and try to be a bit above your peers and competitors and that there is opportunity out there."
Chrissy and Mike worked their way through most departments in the store, learning from the professionals. Being extremely close as siblings made it easy. Currently, Chrissy handles much of the back end of the business – the day-to-day logistics. Mike is more at home on the sales floor, being super active in the community, specifically with veterans. He adds, "I'm also pretty involved with our truck business. We have a lot of construction guys, landscapers, arborists and that sort, so we're trying to stay engaged with our customer base."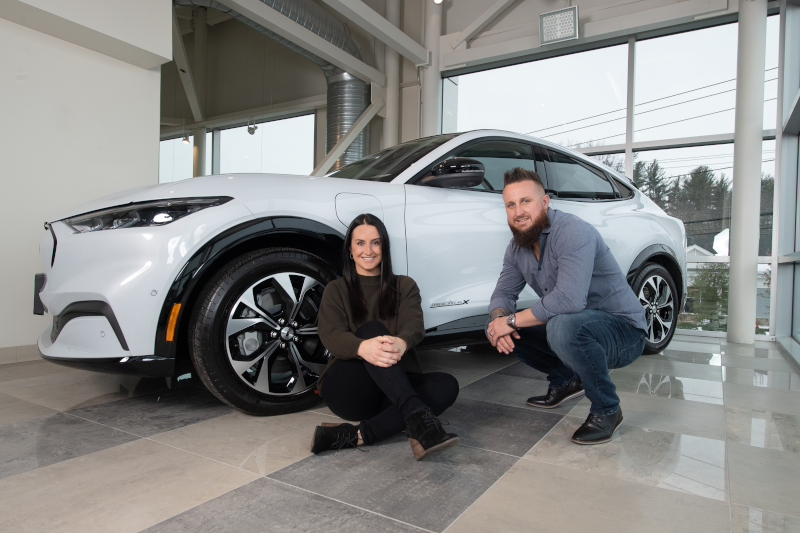 Monaco Ford is being creative and proactive when dealing with lower inventory levels since the pandemic began. "We've been what we consider old school here, in that we were used to ordering vehicles for retail," Mike says. "We did do some swaps two years ago, but if somebody was willing to wait for a vehicle, where a lot of dealerships wouldn't want to hold off, we would, and retail that vehicle. So that process wasn't that new for us. Since the beginning, we've been pretty good out of the gate to order a ton of vehicles that were sold. That backlog of vehicles has been very beneficial for us, and we do have a good of amount of retail units showing up in the course of a week. That has helped our retail business, but it's definitely more challenging trying to sell from stock and be with the market value.
He believes the inventory issue is going to get worse this summer, especially for Ford, because it's so popular, so they are trying to increase their certified business and used vehicle business, in the meantime, and focus on some of the other departments in the store. They use ACV auction, people coming in off the street to buy vehicles, any source that's out there for used vehicles. Chrissy emphasizes, "We're definitely trying to make the deals happen that come into the store. Obviously the trade-in is going to be the best thing."
After a century in the business, Monaco Ford has developed a real trust factor and are very well branded locally. Being a standalone Ford store, people realize how invested they are in the brand, and know that the company stands by the work they do. Mike says, "It's getting more rare now, but occasionally somebody will come in and talk about how they used to work for our Great Grandfather. And we have four generations of families coming in here and buying vehicles. If someone does have an issue, they can talk to Chrissy or me, and I think that means a lot to our customer base. As opposed to a lot of stores that have branched out and gotten quite a bit bigger into the dealer groups."
The original building at the Glastonbury location of Monaco Ford, known affectionately by staff as 'the big store', dates back to the early 1900s. An unorthodox piece of land for a dealership to be on, it is built into a hill and started with numerous homes on the property, which have been removed over the years. Mike admits, "We're built into a hill which makes it really challenging. We're unable to have a service drive; snow removal is a complete nightmare. On the plus side, it's a big parcel with two flat pieces of land in a really great, busy area." A second Monaco Ford store was opened in Oct. 2021 in Niantic, about 40 miles from Glastonbury. The property and building are significantly smaller but it is a flat piece of land of about three acres.
"We're really enjoying the size of that store," Mike says, "being able to control your overhead and trying to figure out what the market is. The fact that we have a challenging time getting new inventory, it's hard to just say we want to expand. It's going to be a gradual thing. We can do a lot of retail expansion under that same roof, we don't need to do a ton to the facility itself to grow. Physically, it can handle a lot more business than we're doing right now."
Between the two stores, Monaco Ford has 115 staff members and takes pride in having generational employees. Many have over 30 years of tenure; they've seen Mike and Chrissy raised in the business and the siblings find comfort in that. At the same time, the company is always recruiting. According to Chrissy, "The shop is younger than it's ever been. The technicians must be Ford Certified but we believe teaching inhouse has numerous benefits as well. There is always room for advancement for new employees."
When COVID hit, Monaco Ford already had a lot of technology ready, they just had to put it in place to make things easier, more convenient, more comfortable for the customers. Chrissy reports, "We were very lucky in Connecticut where we didn't have to shut down. We did need to keep the doors closed, so a lot of business was done remotely over the phone, through email, via text, in the parking lot… but we were fortunate that we could still offer our services to the public.
The Monaco Ford dealership has had a ton of interest in the F150 Lightning (electric) and a lot of orders, but only had allocation for 20 percent of those orders. Mike confirms, "There is a huge demand. People are really excited for it. That and the Mach E (the all-electric Mustang). We sell every Mach E as soon as it lands, if we happen to have any for stock. We're really into renewable energy; we have two charging stations at each store, we also have solar at the big store."
Giving back to the community is a time-honored tradition for the Monaco family and that commitment held strong during COVID. As Chrissy shares, "That's one thing that was passed down generationally to us. We are actively involved during the community – it takes a lot of time, energy, and effort but we are passionate about it. We sponsor youth teams, and the 'Y', Oak Hill, and we're heavily involved in the veteran community, because generationally it's been such an important part of the Monaco families' lives, most recently with Mike. Our staff are also strongly aligned with our involvement. Child development, families, veterans – that's what we're all about."
Mike sums up the future with some keen insights: "We strive to be better than our peers, so that will keep us sharp and I think only the strong will survive. Just like in 2008, it will continue to make us better and that's what the customers deserve. Our Great Grandfather, Peter, was very innovative for his time and I think today he'd say there's plenty of opportunity out there for us."
AT A GLANCE
Monaco Ford
What: 100-year-old New England Ford dealership
Where: Headquarters in Glastonbury, Connecticut
Website: www.monacoford.com
Procyon Partners – www.procyonpartners.net
Procyon Partners is proud to serve Monaco Ford. As an independent financial advisory firm, we deliver deep expertise through a collaborative approach, empowering clients to focus on what is most important to them. We are our clients' trusted partner, so they have peace of mind while achieving exceptional outcomes.