Harrison Ohio
poised for growth and welcoming new opportunities
Blessed with an enviable setting and attracting new residents, Harrison, Ohio welcomes new commercial and residential growth
There are big things happening in the city of Harrison, Ohio. With an annual population increase of nearly 40% since 2010 the city now boasts a population of more than 13,500 residents and has experienced tremendous residential and commercial growth over the last decade.
Bordering the state of Indiana, this uniquely positioned community is part of Hamilton County, and is home to the natural beauty of the Whitewater River, designated as a scenic river by the state of Ohio. With soft rolling hills to the east and flat even land on its western edge Harrison's diverse topography offers much to explore.
Development of the I-74 continues to bring new opportunities, Harrison is rolling out the red carpet to welcome and showcase the wonderful amenities that are offered right in the city itself, while maintaining a strong link to the Cincinnati metropolitan area.
Harrison Mayor William Neyer shares that the community is looking forward to the completion of a 535,000-square-foot building, located within a quarter mile of I-74, which will be a draw for distribution or  light manufacturing. Working with regional economic development organization REDI Cincinnati, in partnership with Jobs-Ohio, Harrison is connected with companies who are seeking requests for information (RFI's).
Economic Development Director, Shannon Hamons reports, "We've recently responded to five RFIs,, and all five companies would take the entire building and employ anywhere from 250 to 400-plus employees. It just so happens that most of these companies that are looking at this building are all high-tech manufacturers. That would be a great boost for our local economy, and our local city budget as well."
This relationship with REDI Cincinnati and Jobs Ohio has also helped to secure $700,000 in grants for roadway improvements which will facilitate an expansion at Harrison's largest employer, JTM Foods. "They employ 600 people, and they completed an $80 million expansion four years ago. Now they are getting ready to launch a $50 million expansion, and they'll probably go from 600 to 700 employees," reports Hamons.
Other employers in the community include Crown Plastics, manufacturers of high-tech materials, who are also planning an expansion in 2023. Cincinnati Test Systems, providing critical leak testing, data management, and analytics to manufacturers, is preparing to add 30,000 square feet to their facility, while Stop Stick, makers of tire deflation devices used by law enforcement, and Heartland Steel, are both considering growing their operations in Harrison within the next year.
"Those are some things that are looking very positive for the community in job creation. We have some other sites as well, that could also contain industrial or warehousing distribution facilities in the neighborhood of 200,000 to 400,000 square feet," Hamons adds.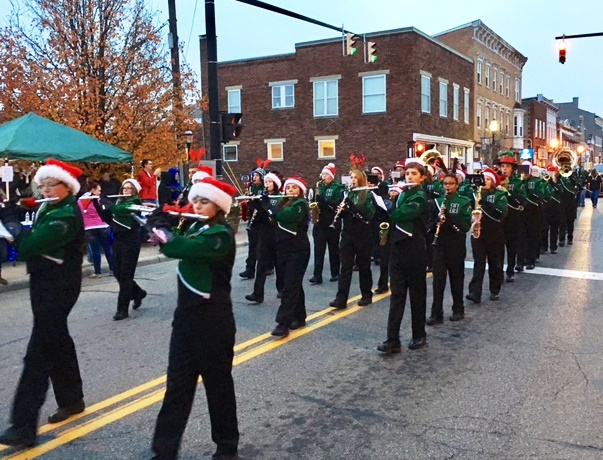 On the workforce development side, the mayor describes a valuable partnership between the Greater Harrison Chamber of Commerce, Cincinnati State College, and William Henry Harrison high school. He relays, "We all partner, and the high school is the focal point. We have a workforce development program where students can attain skills and workforce certifications and continue on to Cincinnati or the two-year college that's adjacent almost to their campus, then transition with co-oping jobs into the workforce locally."
The city works closely with the Southwest Local School District at all levels, and career training is emphasized in the community. This is evident by the demolition and rebuilding of three elementary schools and a junior high school, and a major renovation of the high school, as Neyer explains, "The purpose of that was to provide state of the art opportunities to all the students K through 12 for learning. There was a significant amount of modernization added to the building so that students would have state-of-the-art equipment to learn on. The statement was made, 'We are training for something in the workforce that we don't know is there yet'. The school district is very good at preparing students for whichever avenue they choose."
Preparing for residential expansion, the city is focusing its efforts on a development by Drees Homes expected to break ground in late 2023 that will bring 481 residences to the northern edge of the city. "We have some work to do with extending the sanitary sewer line to the site. We and the developer are going to be doing that together, they are cost-sharing that extension," says Hamons.
"With those homes, we will be adding several thousand more residents to the community." Adding a joint fire/police services facility to this area is also up for discussion, with the city currently negotiating with the developer to acquire a piece of land to build on. "This would be important because our community has grown to the north, and that would give us a safety services facility on that edge of the town, which we don't really have at this point," acknowledges Hamons.
Plans are also underway for a modification of the I-74 interchange at the city's Dry Fork Road. Neyer remarks, "That's actually a 2024/25 project. Funding is in place and we're beginning the engineering on it now because it is a state project. It's a very long process."
Other road work includes reconstruction and safety improvements on Harrison Avenue, the city's main thoroughfare, which extends from the eastern edge to the western boundary, through the main business district.
"That road has two large sections scheduled for reconstruction and some safety improvements. There is an overpass halfway between exit one and exit three. The interstate bisects the city, east-west, from the north side and the south side, and that is one of the three major areas to cross over. That overpass does not have sidewalks currently on it, and so we have a safety project that will occur in 2023 to add sidewalks," says Neyer. Improvements along the Campbell Road industrial area will provide better access for transport, while also making it safer for pedestrians and other traffic.
Greenspace and parkland are treasured and protected in Harrison, where a process has been initiated to ensure developments leave natural areas for residents to enjoy. Neyer elaborates, "We encourage new residential developments to use that process so that we can save green space within the community, and then we trade off some other things in the process to entice them to do that."
A project to update a 13-acre park surrounding Harrison Community Center is another initiative underway in the community. Harrison employs a recreation commission manager, who works with a staff of volunteers to organize and implement recreational events throughout the year. Also on the city outskirts of Harrison is the largest of the Great Parks of Hamilton County. Spanning nearly 6,000 acres, The Miami Whitewater Forest has a large lake,campground, golf course, and hiking trails that connect to residential neighborhoods.
"Our Recreation Commission is given a fairly nice budget to operate on, and part of that budget includes capital improvement funds so that they can look at each of our parks and identify which one needs attention and then address it." Mayor Neyer says, "We also have an Impact Fund, so for every new bedroom in the city, there's a fee collected, and the city matches that. That fund is set aside specifically for the maintenance, operation, or construction of recreational facilities or projects. There are roughly a million dollars in that fund currently."
Focusing on two key initiatives, Mayor Neyer sees a strong future for the city of Harrison, suggesting that a restructuring of the tax code to remove the need for a fire levy every five years would be a valuable strategy going forward.
He maintains, "A fire levy is not a guarantee, they're tentative and it's flat funding for five years, and then it adjusts if you pass a new one. If we revise a tax code, that funding will adjust annually, and we will not need to request a levy in the future. I think that's critical to maintaining our safety services on the fire front."
Returning to a system that handles income tax in-house is another change that he believes will be a benefit. "For years we did our tax collection in-house, and I feel that there's more value to that. Things change, the boundary of the city might change, and it can take a very long time for that third party to keep up with that, and we're losing revenues. If we bring it back in-house, we can control those revenues and ensure that they are being collected timely," he says.
In alignment with those two initiatives, Hamons says the exit three interchanges is also a priority, conveying, "That is a link to that 500,000 square foot building, and other developable industrial ground in that area. Relieving the pressure from the new residents that will be using that to go to the north end will make the truck traffic flow much better for our industrial users. We did get a $4.4 million grant, and the city, the county, and the township will be adding approximately $1 million each. That will enable us to really keep up with our industrial growth."
Eying the future with optimism and laying the groundwork for further economic development, Harrison, Ohio clearly is a city on the rise.
AT A GLANCE
Harrison, Ohio
What: A community of 13,500 experiencing tremendous growth
Where: Hamilton County Ohio
Website: www.harrisonohio.gov
JTM Food Group – www.jtmfoodgroup.com
Founded in 1960 by Jack Maas, Sr., J.T.M. originated as Maas Brothers Meats and in 1974 was renamed Jack Maas Meats. To be reflective of the continued growth of the business, in 1980 the company became known by its present name—J.T.M. Food Group.
J.T.M. has remained a family business with participating members including JoAnn and Jack Sr. (Mom and Dad) and their seven children, Jack Jr., Mike, Mary Lou, Joe, Tony, Kathy and Jerry, in addition to the recent involvement of 15 grandchildren. And keeping it in the family, the initials "J, T, and/or M" are part of each family member's monogram!
JTM Food Group is an international, multi-segmented, forward-thinking food processing company rooted in the same principles of the original butcher shop: quality and value. For four generations, the food professionals at JTM have provided great-tasting, quality foods and the highest level of customer service to customers who demand the best.
Partnering with JTM means working with some of the industry's best, including a dedicated team of support professionals. JTM is proud to offer support through research & development, sales, customer service, product distribution, transportation, in-house culinary experts, in-house marketing, and a design department.