Balch Springs, Texas
"Growing a community"
Business View Magazine interviews Susan Cluse, City Manager of Balch Springs, Texas, for our focus on Economic Development in U.S. Cities
Getting into a city on the ground floor can have exciting prospects for dedicated and patient people, it can also have definite rewards and a great return on your investment. The City of Balch Springs, Texas is a sea of opportunity just waiting for people and companies to jump in and explore everything it has to offer – while watching and helping it continue to evolve and prosper.
Although small, Balch Springs is anything but sleepy. This city of 26,000 is growing at a quick pace, with people migrating from all over the United States who are slowly discovering the benefits of living in suburban Texas. Benefits that include marginal cost of living increases, low home costs, low property tax, and the fact that Texas has no state tax. The rewards for people who consider moving to Balch Springs, and companies who locate there, are endless. What's not to love about easy access to interstates, close proximity to Dallas for the big city vibe, and the sheer joy of getting outside and strolling, jogging, hiking, or biking on some of the town's many trails and walking paths.
For the past eight years, Balch Springs City Manager, Susan Cluse, has advocated for and guided the city council through a strategic community growth plan and much of her work is coming to fruition with projects springing up all throughout the nine square mile city. She declares, "Balch Springs is a residential community, a really small town. It has farms. There are people who have been here for years and many who are new and loving it. We have a lot of growth, but we're monitoring that growth to make sure we grow wisely and sustainably. People are starting to take notice of Balch Springs and that is great!"
Balch Springs is in the inner-ring suburbs of Dallas and is part of the Dallas Fort-Worth metroplex. In 2010 the city's population was just over 23,000 and that has increased by more than 3,000 residents over 10 years. In the not-too-distant future, Cluse is expecting a large influx of people migrating to her region from California to escape the rising cost of living and cost of real estate. The city is only about 16 miles from Dallas, where residents of Balch Springs will find all the amenities a large city has to offer – including a wide spectrum of entertainment and cultural options. Balch Springs on the other hand is a great place to come home to, with its diverse choice of restaurants ranging from fine dining to casual family-friendly meals at chain restaurants, and boutique retail shops with a wide variety of options.
Three major highways run through Balch Springs to help residents get where they need to go for work or play and businesses to ship their freight across the country. Interstate 635 runs through the center of the city, while Interstate 20 and U.S. Highway 175 run along the southern border. Logistically, these highways make Balch Springs an attractive place for companies to set up shop, with easy access to in the city's light industrial Commerce 635 business park by Hillwood Development. The location certainly attracted Amazon – they've completed construction on a 130,376 sq ft building in phase one and Hillwood is in the process of moving forward into phase two of their project which includes over400,000sf of Class A light industrial space. The massive warehouse facility and business park will add between 200 and 3,000 jobs to the city, which in turn will help contribute funds for infrastructure projects. Cluse boasts, "Seeing all the growth come about in the city is amazing, I'm so excited about that! It's mostly warehousing that we have there and it's what we would like to encourage in Balch Springs."
More good news… the city recently struck a deal with Bloomfield Homes Development to build a new $300 million, 173-acre master planned mixed-use development with more than 1,000 residential units including over 500 single family residential homes and a wide range of housing opportunities, including a seniors' living facility, housing for veterans, multi-family homes, and single family detached homes with price points from $200,000 to $400,000, mix of amenities including trails, decorative lighting, park greenspace, an amenity center with water features and over 12 acres of commercial and retail space. In order to steer responsible growth, attract a skilled workforce, and meet the demands of a diverse demographic, the city needs houses to offer. "So, we have a lot of housing on the go," says Cluse. "While preparing for the growth around us, we're mostly focusing on residential housing, but also looking toward more industrial expansion. And we want to sprinkle in some retail, family dining, and entertainment for families."
The city also just finished building the 216-unit Timbers at Hickory Tree Apartment community in partnership with Dominium Development, with units specifically geared toward workforce affordable housing. That project is scheduled to open by the Summer 2021 and take on tenants. And two other mixed-use developments that showcase new quality apartment housing developments with designated commercial and retail space for future phases by LDG Development have been completed at a cost of $38 million each.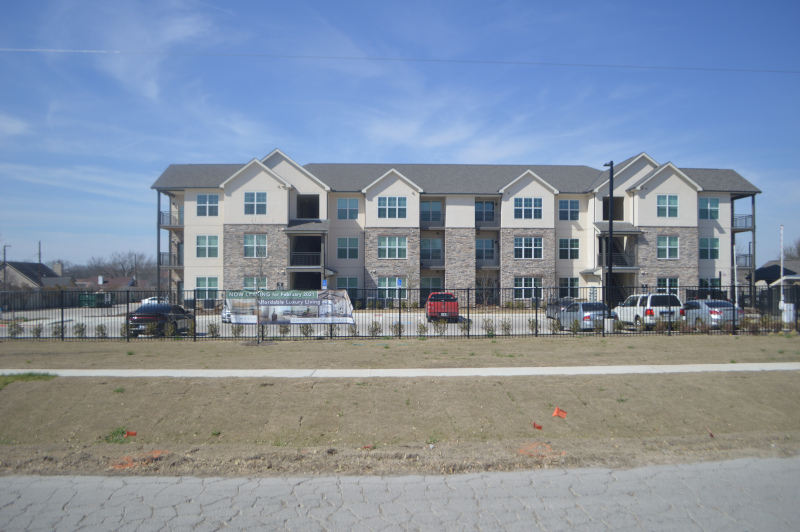 Balch Springs already has a great amount of greenspace, but they are working on adding even more parks, including a $1.4 million pirate-themed splash pad and a skate park. They've also added an abundance of walking trails and plan to link them up with other trails to connect to bordering cities, so people can walk, bike, and run from place to place without being near busy roads. Although Balch Springs currently does not have a downtown district, they are looking into what it would take to build one near the city-owned public safety building on Elam Road. They are currently in the process of finding a consultant to make that happen.
There are several new restaurants coming to the city, which Cluse wasn't able to name due to non-disclosure agreements, but she promises that people will love the offering. And two new hotels have just been completed, which will hopefully help the city's efforts to host baseball and other sport tournaments. Cluse admits she is constantly searching for new additions to the city to help give both long-time, new, and potential residents a great quality of life. She shares, "We're looking forward to having events, dining, shopping, and entertainment for all ages, so you don't have to leave. You can just live here in Balch Springs area and not go outside the area to spend money… we're want to keep those retail sales tax dollars here."
Although the broadband internet situation is a bit lacking, the city is working on adding fiber throughout its borders to help attract new people and businesses, and give current residents the ability to work from home. Sudden Link is the provider making that possible. "We have the need for that," says Cluse. "Some of our citizens are asking for it now, they want to get high speed and broadband connectivity. It's not a luxury, it's a necessity these days, with everything that's happening and children having to go to school at home and adults working remotely. We're not there yet, but because of all the development going on here, we'll have to get that done."
There are so many positive opportunities on the horizon for Balch Springs. The future is indeed bright and the city is headed in the right direction to become one of the most desirable suburbs of Dallas.
AT A GLANCE
Balch Springs, Texas
What: A growing suburban community; population 26,000
Where: 15 minutes southeast of downtown Dallas
Website: www.cityofbalchsprings.com