Glass City Center
A jewel in the crown of Toledo
A gleaming convention destination to keep an eye on, Glass City Center offers competitors a run for their money
When it comes to conventions and events, Toledo, Ohio is earning its piece of the convention pie even though up until recently the city may not have been traditionally viewed as a top convention-based destination.
Thanks to an over $60-million convention center renovation that is putting Toledo on the map, the city is giving other 'traditional' convention-based cities a run for their money. The Glass City Center has recently undergone a complete facelift making it the jewel in the crown of what they call the "urban trifecta," in downtown Toledo that also includes The Huntington Center, an 8000-seat multi-purpose arena, and the Fifth Third Field baseball complex.
"The existing convention center was opened in 1987 and hasn't been touched for quite some time," says general manager Steve Miller. "Now, after the investment that we put in, we're going to have a brand new space to be able to really feature the City of Toledo and Lucas County and make sure that we're really able to capture the convention business that we probably should have been capturing for quite some time."
Renovations began three years ago and started with a fresh new name. Formerly known as the SeaGate Convention Centre, the new Glass City Center name suits the 75,000-square-foot building that features floor-to-ceiling windows. The centerpiece of the renovations is a brand new 16,000-square-foot grand ballroom addition that can seat up to 900 people in a banquet setting.
"That makes us the largest facility in Northwest Ohio to accommodate those types of things," Miller explains.
In addition to the new ballroom, renovations were done throughout the entire existing building that includes new elevators, new carpet, new paint, new lighting, new flooring, and new technology.
"We've upgraded all of our technology, we now have fully Cat6 wiring throughout the facility," Miller says. "All the technology is there, we have a full fiber backbone now. You could do a video game convention in here very easily because we have the bandwidth that we didn't have in the past. It's really become a brand-new facility and that's really exciting.
"We have everything now that can accommodate pretty much any event that wants to come into our facility and I think that's something Toledo didn't have for quite some time. Now that we have that type of thing, I think you're going to see more types of events actually coming to our facility."
Sustainable measures have also been put into place, including a full recycling program, locally-sourced food for catering, and a large reduction in the use of Styrofoam, paper, and plastics.
"We have really tried to use our China, glassware, and silverware so that we can just wash it and reuse it," Miller says. "We really take the sustainability thing very seriously."
The new convention center can host events large to small, with 26 meeting rooms that can accommodate groups as small as 20, all the way up to the use of the full 75,000 square-foot exhibit hall that can host up to 6000.
"It's really turned our facility into a truly multipurpose space," Miller says. "If it's a big convention they can use the entire convention center and if it's a small one, maybe we have two or three of them going at the same time. That's what's unique about our facility."
Construction took place largely during the pandemic, so that meant the center faced the supply issues that plagued many during that time. But thanks to the work of dedicated construction partners, Miller says they were able to get the site finished close to schedule. Miller cites the hard work of their main architects The Collaborative, as well as general contractor The Lathrop Company, concrete business AA Boos, Westfield Electric, technology companies CTI and New Era Technologies, and glazers Toledo Mirror and Glass, for the speed at which construction was completed.
"It was definitely a huge challenge, but they stepped up to the plate," he says. "They worked very hard and made sure their staff was ready to go when the material was ready. The partnership on the whole project was really pretty awesome."
The newly renovated center opened its doors for the first time in September and has had a steady stream of events coming through and booking into the future. The events range from association gatherings to corporate events. The Ohio Library Association held the first event since the reopening, and the center will soon host a boat supply group event called Land and Sea in November. Botswick-Braun Hardware, SoFo Foods, and the Jehovah's Witnesses are also booked in for upcoming events.
"There's just a lot of great things happening," Miller says. "We're also doing a lot of local business, with fundraisers and different events that people haven't been able to utilize at our facility in the past."
So far, clients have been impressed. The facility has already seen a strong contingent of groups that are planning to come back and have booked for the future.
"We've had some very strong responses and some very pleased clients that have come into the facility," Miller says. "So whether they are booked every year, every two years, every three years, or every four years, our goal is to get on that rotation.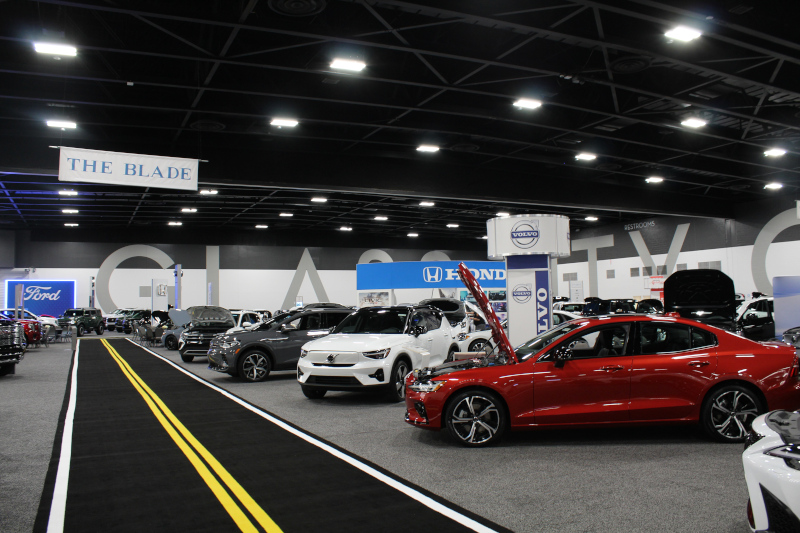 "Toledo has not typically been on a lot of rotations around the state of Ohio. They typically rotate between Cleveland, Columbus, Cincinnati, sometimes Dayton, sometimes Sandusky, and Toledo was kind of left out a little bit and frankly, it was because some of our facilities were not as up-to-date as they probably should have been. But now we are getting into those rotations."
Being on that rotation will have a big impact on the City of Toledo and the Lucas County area in general. The uptick in events will bring more dollars to the city, which has also been undergoing a resurgence of its own recently, Miller says.
"Once we get them here to see the facility, they are amazed," he adds. "But they're also amazed by what our downtown atmosphere is like now, too. In the convention world we are doing business during the day – learning and networking and things like that – but at night you have got to have things to do. Now we have all the bars and restaurants and things to do outside of the facility and it's really made it a complete package for us."
Attached to the convention center are a 309-room Hilton Garden Inn and Homewood Suites that add to that complete package. The hotels have recently undergone their own $65-million renovation and make it a convenient one-stop shop for attendees coming to the convention center from out of town.
"The convention center is the central hub that makes things happen, and then there are things to do once you get done doing your business. Now we have the complete package. We have two brand-new hotels downtown now and we have had great success in recruiting people to come to Toledo. Now that they're seeing it, I think they want to make sure to bring their business back."
Glass City Center works with the local hotels as well as with Destination Toledo, the city's visitor's bureau, to help market the facility and draw new eyes to the region.
"I frame it as a three-legged stool," Miller says. "All three of us are constantly working together to try and leverage Toledo and Northwest Ohio to make sure that when people come to town, they have a place to do their meetings, they have a place to stay and they also have a place to have fun when they're done with their business.
That 'three-legged stool' has its benefits for the clients coming into Toledo as well.
"The relationship has become very close and very strong. We make sure that we are working very closely with them so that the client feels like it's kind of a seamless opportunity for them," Miller says. "They don't have to talk to three different people. They can work together with all of us to make the event successful."
To continue making Glass City Center an attractive option to clients, Miller works hard to stay ahead of the trends. He's an active member of the International Association of Venue Managers, which hosts monthly calls to look at trends in the industry.
"I really think that the trends are constantly changing and we're paying close attention to those to make sure that we're able to keep up and make sure that people are having not only a good experience, but a sustainable experience," Miller says.
While Miller isn't a fan of the saying "if you build it, they will come," he admits that it's been true in the Glass City Center's case. The newly renovated facility has been attracting a lot of attention, with about 125,000 people coming through the center in the past year. Over the next five to seven years, he's hoping to see that jump to 250,000.
"I really think that's a goal that is really attainable based on the interest so far," he says. "We are going to keep developing those relationships with clients that haven't been to Toledo in a long time or have maybe been here but haven't come back in a while. We want to make sure they know that Toledo is a new downtown. It's a new community. It's a new convention center. There's a lot of things to do here."
AT A GLANCE
Glass City Center
What: A state-of-the-art convention facility that is putting the region on the convention map
Where: Toledo, Ohio
Website: https://www.glasscitycenter.com/