Washington County Airport
A dynamic economic engine
Business View Magazine interviews representatives of the Washington County Airport, as part of our series on regional American airports.
Running in a diagonal swath southwest to northeast, about a mile under more than half of Pennsylvania, is a massive pocket of fossil fuel known as the Marcellus Shale. Previously thought to be impenetrable, its untapped natural gas reserves became accessible around 10 years ago as a result of hydraulic fracturing. Washington County, Pennsylvania became home to the first Marcellus well and there is more drilling and production happening there now than in any other county in the state.
Sitting right at the heart of Marcellus Shale country is the Washington County Airport, a 401 acre, 92 aircraft, publicly-owned general aviation facility located 30 miles south of Pittsburgh.  It has enjoyed an upward trajectory of growth over the last number of years in connection with the rebirth of resource extraction in the mid-2000s. "Washington County has been dubbed the Energy Capital of the East," shares Bill McGowen, the Executive Director of the Redevelopment Authority of the County of Washington. "It has worked out very well for us. We get a lot of business to our Airport with the energy revolution that is happening around gas.  It's not just the shale gas, but all the fluids that come along with that." Gas extracted from the Marcellus Shale contains natural gas liquids – ethane, butane, and other "-tanes" – that can be separated and sold on their own.
"We also have the Meadows Racetrack and Casino here, which turns over a portion of its revenue to the County," McGowen continues. "When we want to build another set of T-hangars or get something done to improve the Airport, we are able to provide matching dollars for grants from the Bureau of Aviation and the Federal Aviation Administration. That has allowed us to grow at a very nice pace in terms of upgrading the airfield and providing infrastructure for additional hangars."
Originally owned and operated by the Washington Airport Association, the Washington County Airport started out in the 1940s with three sod runways, the largest of which measured 2,700'. It was sold to Washington County in 1953 and their first paved runway was constructed two years later. Since then, it has become a full-fledged asset under the guidance of the three County Commissioners and the Redevelopment Authority, the designated agency that manages and operates the Airport on behalf of the County. "Our Board of Commissioners and local officials have been extremely supportive," declares Bob Griffin, Economic Development Director. "Not only in making important infrastructure improvements at the Airport, but also in helping to grow our local economy by encouraging job creation and private investment."
"We've formed a strong bond between the private side and the public side," says McGowen. "It makes for a very strong team. What sets us apart from other airports our size is that we attract quite a bit of business. For instance, one of the companies that leases hangar space is Dallas Airmotive. They are headquartered in Dallas and have several facilities around the country. They put one of their major engine overhaul facilities here in Washington County because of the Airport's proximity to major east coast markets, our improved infrastructure and other amenities."
"Most airports our size might have a couple of jets," McGowen adds. "In conjunction with the fixed-base operation (FBO) Skyward Aviation, at last count we are up to 15 jets stationed here at the airfield. We also have another business that used to be called Cheyenne Air. It is now called Friend AirCare. It does major aircraft work on turboprops and jets and they get aircraft flying in from all over the world because they have the reputation of good, strong maintenance services and quick turnarounds. Those are all good, high-paying jobs. That is where we have the advantage. We have these extra businesses that have really grown and when we jump in and say, 'We'll keep the runway in good condition for you,' that keeps people coming back."
Pennsylvania is one of several states that performs an economic impact assessment every 10 years. In 2010, the Washington County Airport sustained 247 jobs with a payroll of $11.2 million and a total output of $42.7 million. "Next year, there is going to be another impact study to update that," McGowen discloses. "Our figures will go up because we have increased the number of aircraft we have on board and the number of jets we have based at the airfield. We feel it's gone up about 20 percent."
The Airport's strategic mission is to be a premier general aviation facility, with safety and service as its top priorities. Together with its aviation business partners, the Redevelopment Authority and the County of Washington, the facility will expand its current infrastructure to include a runway extension to 5,500′, parallel taxiway extensions, and additional hangar sites. "We have recently purchased some acreage that was once called off-airport," McGowen reveals. "We are in the process of developing that for a combination of corporate hangars and some additional T-hangars. On the northside, the County owns enough property to develop some large hangars there, too. Our goal is to keep increasing the number of turboprops and jets for which we can provide services on the field. We have a 5,004' runway right now, 100′ wide. That will take any corporate jet that is out there. But we also want to provide a longer runway so that they can go out with full fuel even on a hot day."
Although future expansion projects are anticipated to forge a new direction for the Washington County Airport, their existing amenities are no less impressive. "Our facilities are a fundamental part of what is attractive in what we do and what we take pride in," asserts Griffin. "We've undergone several runway improvements already and will continue to do that – runways, taxiways, navigational aids. These are all funded and regulated by the FAA, and it is all updated equipment that is crucial, not only to safety but for folks being able to get in and out of our Airport consistently."
"Since we have taken over the operation and management of the airfield for the County a few years ago, we have improved our FBO – our terminal building – substantially," adds McGowen. "Skyward Aviation took over the management of the FBO and runs transient and fueling operations at the airfield from the terminal building. They have also made numerous additional improvements to that building and their hangars.  When you land at Washington County, you are very impressed with it all." The Airport will look at moving its terminal building to the property's northside as part of its long-term plans, in addition to developing a business and manufacturing park to be christened Skypointe.
Airports have traditionally been viewed as public utility providers, with little potential to develop market opportunities. But business is often easier with an airport on site. It's an ideal location for expansion, and companies on airport land benefit from access to cost-efficient services that aren't found in other industrial settings. Washington County Airport is always receptive to business development opportunities and will work with potential aviation business partners to accommodate their needs. "On the corporate side, which we emphasize a lot, the County leases land to corporate entities that build and own their own larger corporate hangars," Griffin explains. "We also have 34 T-hangars and a waiting list of about half of that. Those hangars are not for large corporate aircraft; they're for smaller airplanes. The County owns them and leases them out. The T-hangars hold business airplanes, too. A general aviation aircraft used for business will lease a T-hangar.  The corporate entities that have jets and turboprops have the option to lease space in a corporate managed hangar or build their own hangar." Washington County Airport currently houses 10 corporate hangars and 7 aviation businesses.
The changes to the aviation market have been wide-ranging over the last 20 years, encompassing the deregulation of airline markets, more cost-focused airline business models, technological developments and, of course, more business focused airports. The resulting competitive pressures on airports have required a form of management which allows for the institutionalization of constant improvements. "We are definitely in competition with other Airports in the surrounding Pittsburgh area," admits McGowen. "And we – the Redevelopment Authority, the County, the FBO, and the aviation businesses based at our Airport – collectively compete. We do it in a lot of different ways. For instance, we as the County always want to keep our airfield open during the wintertime; to make sure we keep our runways and taxiways free and clear of snow and ice. The businesses on the airfield want to get more jets and turboprops in their quiver of managing, maintaining and fixing major aircraft. We have people affiliated with the companies that are here maintaining the aircraft.  On the other hand, we have the County that works closely with them, making sure the Airport is well-maintained by making investments in its infrastructure and equipment.  We feel we have an advantage because we have good people on both sides of the house."
AT A GLANCE
WHO: Washington County Airport
WHAT: A publicly-owned, general aviation facility
WHERE: South Franklin Township, Pennsylvania
WEBSITE: www.washingtoncountyairport.com
Washington County Tourism Promotion Agency – www.visitwashingtoncountypa.com
There is a place far from the city, yet just down the road. A place where likes and shares mean more. You can feel it in every swing, each performance and every bite. Where the sun rises and sets as if on purpose. Where the miles of trails we ride together, become the memories we share forever. We dream, because our forefathers fought for it. We give, because they worked for it. The American Spirit Lives in Washington County, come and share it. 
While you are here, discover the many faces of Washington County! Visit The Meadows Racetrack & Casino, Tanger Outlets, S&T Bank Music Park, the Pennsylvania Trolley Museum, Meadowcroft Rockshelter & Historic Village, The LeMoyne House, Bradford House Museum, The SpringHouse, Sarris Candies, and much more! 
Consider this an open invitation to break away from the everyday, take a deep breath and dream here. Unplug, unwind and just be here. Plan your trip today at VisitWashingtonCountyPA.com.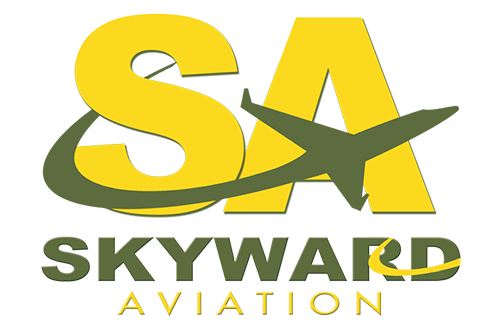 Skyward Aviation – www.skywardaviation.com
When it comes to private aviation, Skyward Aviation does it all!  Our comprehensive services include: private jet charter, aircraft sales and management, full service FBO, aircraft interior/exterior refurbishment, and aircraft maintenance.  Furthermore, our friendly customer service representatives are available 24/7/365 to assist you in all of your endeavors.