Yakima Air Terminal-McAllister Field
Planning for progress
Business View Magazine interviews Jaime Vera, Interim Airport Director at Yakima Air Terminal-McAllister Field, for our focus on U.S. Regional Airports
In the shadow of Mount Rainier, situated on the highest slope of the Yakima Valley, the City of Yakima, Washington holds pride of place as county seat for Yakima County in a region noted for apple, wine, and hops production. It is a beautiful, lush area named after the original Yakama people. European settlers came when Lewis and Clark arrived in 1805 and the expedition established homesteaders on the rich fertile soil. A storied history of conflict and tenacity led to moving the entire city (which was then only 100 buildings) on rollers with horses, so as not to be bypassed by the Northern Pacific Railroad.
The Yakima Air Terminal-McAllister Field (YKM) is located three miles south of Yakima and is owned and operated by the city. It traces its history back to 1939 as a Northwest Airlines site. The airport served as an air force base during World War II and over the years a variety of airlines have come and gone, including Howard Hughes Airline, Republic Air, Bonanza, Pacific, and many others. These days it sees twice daily service by Alaska Airlines operated by Horizon to Seattle.
Throughout the 20th century, agriculture was at the center of commerce, with Yakima producing stone, fruit, melons, peppers, corn, beans, and of course hops. In some ways, the city exists to support the agricultural economy – also a volatile and changing landscape. Perhaps it is this history of change and ups and downs that have created resilience in the people of Yakima, so that no matter what happens, they can adapt and move on.
The Yakima Air Terminal-McAllister Field is also constantly adapting to meet the needs of changing demographics, while overcoming obstacles gracefully. The recent departure of their Airport Director left a void, and in the meantime, Airport Operations Manager, Jaime Vera, stepped in as Interim Director – ensuring airport operations and upcoming Capital Improvement Projects (CIP) stayed on schedule.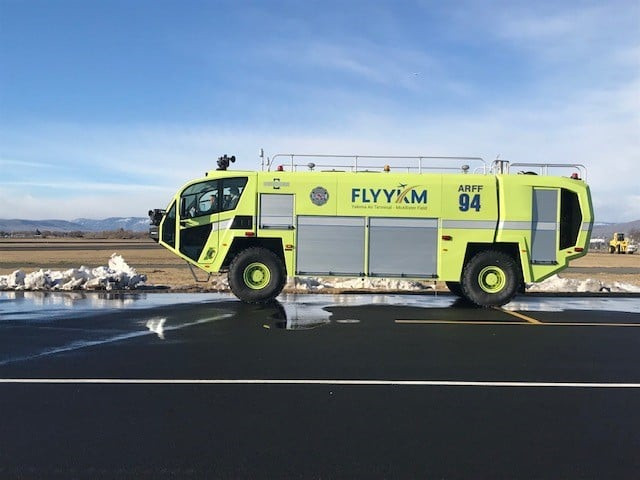 "Our Airport Master Plan has certain projects identified and we have been working away at them while at the same time engaging in a search for a new Director," explains Vera. "The first project that we are scheduled to complete, for example, is a complete redesign and re-engineering of our East General Aviation apron. It is going to consist of 30,000 square yards of asphalt. We're doing the mill and overlay, and this project is also going to include drainage improvements, lighting improvements that meet new aviation safety standards, as well as new tie-down markings. It is a project that is projected to cost $2.2 million when it is completed and will be paid through a federal grant."
The project is set to begin near the end of April and is expected to last two and a half months. Vera says there could be some interruption in traffic to aircraft operations, but it is being minimized as best as possible through a four-phase construction plan which will allow the current tenants to continue to operate.
"We are hoping to get back up to three flights by the summer of 2022." Vera reports. "COVID shut down our two charter flight services and cut into commercial travel, but at the same time, we have seen an increase in general aviation traffic and a lot of support from that community for the airport. We have one FBO – McCormick Air Center – which has been here for a long time and contributes in so many ways. They have great amenities such as fuel, maintenance, and even a flight school. We also have a self-service fueling station that is managed by McAllister's museum that makes it easy for transient pilots to self-fuel."
The airport works in partnership with Central Washington University, which is 40 miles North of Yakima, and has an Aviation Management and a Professional Pilot Program. According to Vera, "We are always promoting aviation in general, as well as our airport, when given the opportunity. We offer internship and project opportunities to students during the summer months. There is a lot of interest in aviation, and that can be as simple as local kids wanting to see the planes. We realized this, and so we created a viewing area right on site, beside one of our restaurants. There is a parking area and picnic tables, and people can come and just watch aircraft coming and going. When the weather is good, people will sit there for an hour or two."
The City of Yakima itself has been growing. In the last few years, they have done well to position themselves and attract new businesses, while growing those already established. The incentive programs they offer make it a wonderful place to start something new. As for the airport, it functions both as an economic driver for the area and as an incentive and opportunity for growth. That means being ready for whatever direction that growth may take.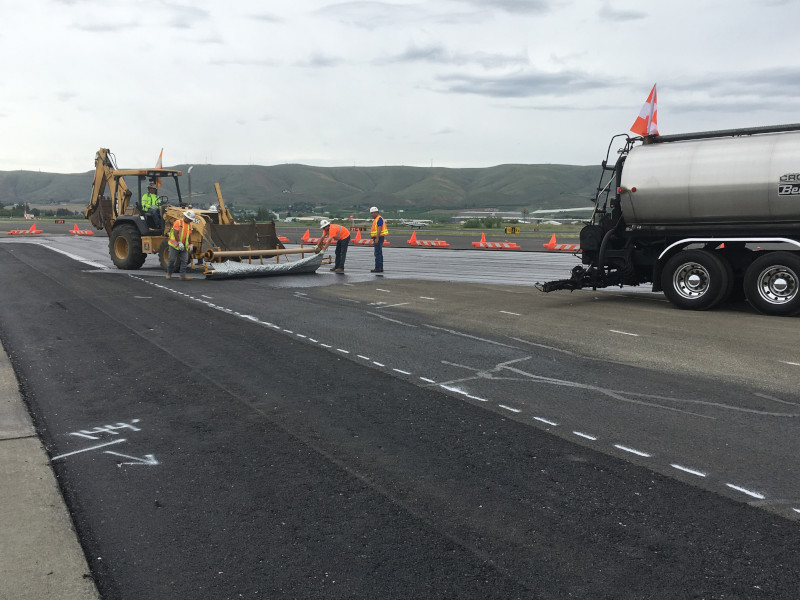 "We just wrapped up an ARFF (Airport Rescue and Fire Fighting) procurement project which began in 2020," says Vera. "We purchased a new Striker from Oshkosh Airport Products which became our primary response vehicle, making our 2005 striker vehicle our secondary response and back up – which also means we are now in the process of auctioning off our 1987 Oshkosh T-1500. This is a huge improvement for the airport."
Two other major projects are beginning to fall into place at the airport. One is the creation of a taxi-lane Charlie stub. YKM is in the process of design and engineering, having completed an environmental study last year. This project will create a new area on the south side of the airport for commercial aeronautical development. Construction on this is scheduled to start in 2023. He adds, "We continue to find ways to continue to build new infrastructure to attract new businesses and keep up with the growing demand in hangar development. That is part of why the south taxi-lane stub is so important. It is going to open up new areas of development for businesses to come in and build new hangars."
Secondly, the environmental study is now complete for a reconstruction of the terminal building. "We are now engaged in a concept study," Vera explains. "We know that we need to replace our terminal building but want to ensure we build a new terminal that will accommodate future growth, and to prepare for that, a concept study is being done to help us identify alternate layouts and funding opportunities. Our current terminal was built in the 1950s and has been added onto throughout the years, and due to its old infrastructure, it's been a challenge to maintain and upkeep to current federal and state standards. We are hopeful to receive funding through the Terminal Program under the Bipartisan Infrastructure Law (BIL) to help fund the construction of the new terminal building in the near future."
The airport's five-year plan is to work hard and lay down the infrastructure that will take them forward. Vera explains, "Soon we will begin construction on our new east GA apron and finalize the design and engineering for our south Charlie taxi-lane stub. We have also started our terminal's building concept design study. In 2023 we plan to construct the new south taxi-lane Charlie and finalize the terminal's concept study."
In 2024, the airport will begin efforts in acquiring two high speed runway plows and start the design and engineering for an expansion of the current Snow Removal Equipment facility (SRE) to house the growing fleet of Snow Removal Equipment. Vera adds, "We also plan to finalize design and engineering of our new terminal building by the end of 2024. In 2025, we would like to start doing some pavement rehabilitation for our crosswind runway 4/22 and in 2026 we are hopeful to start the construction of the new terminal which will be phased out to minimize impacts to air service operations. In addition to the terminal construction, we would like to begin efforts in the design and engineering to expand our existing Aircraft Rescue and Fire Fighting (ARFF) facility. This will secure growth to our ARFF department and house new future fire apparatuses. Finally, by 2027 we hope to secure discretionary funding for a full reconstruction of our crosswind runway 4/22 and finish with the construction of the terminal building."
There is much to be excited about as YKM looks to the future!
AT A GLANCE
Yakima Air Terminal-McAllister Field
WHAT: A general aviation and commercial airport
WHERE: Yakima, Washington
WEBSITE: www.flyykm.com

McCormick Air Center – mccormickaircenter.com
McCormick Air Center is Yakima's only full-service FBO providing hangars, maintenance, flight instruction and fuel. AvFuel fuel dealer with AvTrip points. Hertz rental cars. Flight training for private pilot license through CFI. New addition of Redbird Flight Simulator. McCormick Air Center is available for your aviation needs.