Rogue Valley International-Medford Airport
taking off with operational upgrades in full view
Recognized as a key aviation hub, Rogue Valley International-Medford Airport is setting its sights on landing more commercial airport-based businesses as flight numbers rise
"We are a small hub commercial service airport with good general aviation activity here." These are the words used by Amber Judd, Airport Director with Rogue Valley International-Medford Airport (MFR) to describe this Oregon-based airport.
One could argue that this is a modest description of an airport that is clearly thriving as we put the height of the pandemic behind us and represents just the tip of the iceberg when it comes to encompassing the aviation activity affiliated with this widely-recognized "small" aviation hub.
Located in some of the most beautiful scenery in the Pacific Northwest, and home to many short-haul connecting flights, MFR offers so much more. The airport, albeit small, is a hotbed of aviation activity and has ambitious plans to welcome increased aviation traffic, both commercial and cargo as well as much-needed rescue and firefighting flights well into 2023 and beyond.
Aware of its limitless potential, the airport is busying itself with a host of upgrades, some completed and others in the pipeline. Among a list of priorities outlined to Business View, the Airport has plans to add additional hanger capabilities and is focusing its efforts on continuing to attract aviation-related business to the airport grounds as it welcomes a steady influx in aviation traffic throughout 2023.
Welcoming increased aviation traffic
In fact, with an impressive number of cargo flights flying in and out of the airport, connecting commercial services to airports including LAX, Denver, SLC and Seattle, Rogue Valley International has more than enough flight activity to keep busy. Add-in regular fire-fighting and EMS flights, and the airport is truly a west coast center of aviation.
"Last year in 2022, we had just over a million passengers," Judd relays. "We were just shy of our 2019 record and we are really excited to be back up there again ."
"We like to think of ourselves as the gateway to the Rogue Valley and the larger surrounding area. The airport serves Southern Oregon, a large part of Northern California, and from Brookings north along the Southern Oregon coast," she adds. "We have a very large catchment area."
Judd points out that MFR is located half-way between Sacramento and Portland. "We are right in the middle of those two major airports and if you don't like long drives, we would love to have you fly out of Medford."
Top-tier airlines and Fixed Base Operators
Listing the commercial carriers affiliated with the airport, Mike Doil, Business Development Manager with the Airport, mentions a number of recognizable airlines. "We have Delta, United, Alaska, and American Airlines."
"We also have Allegiant that flies direct to LAX, Orange County and Las Vegas, Phoenix-Mesa, and San Diego," Judd expands, "as well as Avelo with service to Burbank."
As for its Fixed Based Operator (FBO), Judd relays that the airport is in the envious position of enjoying a great working relationship with two top-tier FBOs.
"Both MillionAir and Jet Center are wonderful partners. MillionAir handles all the fueling, most of the charters and military activity, while Jet Center focuses primarily on maintenance and avionics," Judd states.
With all of its aviation-related needs being met, the airport is able to not only operate at the highest levels of efficiency but also turn its attention to other items that it has pinpointed as being top priorities as we enter the second half of the 2023 calendar year. Top of this list is the upgrades that are in the works as well as utilizing those already completed to further streamline its flight operations.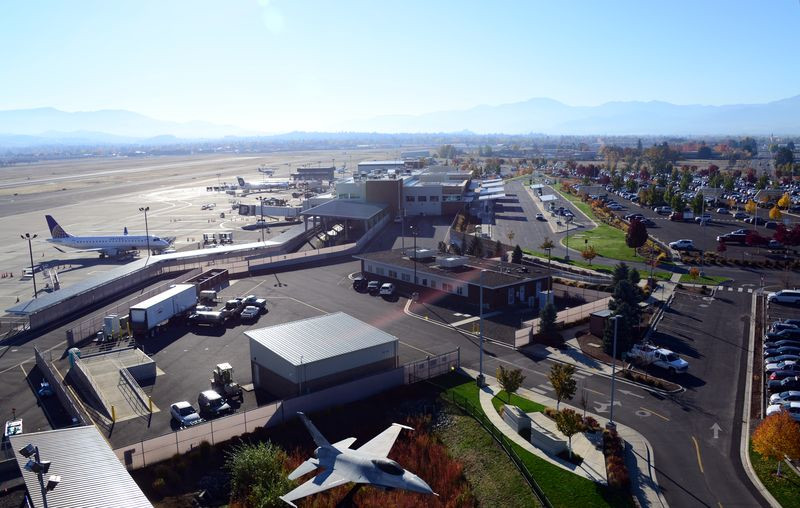 Operational upgrades in the 'flight plan'
"We just resurfaced our runway so it's in great shape." Judd states when asked about recent upgrades and those in the works.
"Currently we are under construction on expanding our general aviation apron area so that we can accommodate more hangars," she adds.
"There is a waiting list for existing hangers, and people looking to build. We are also expanding our heavy aircraft apron on the east side of the airfield. This area is used primarily for large cargo and military aircraft, as well as the DC-10s which are vital to this area of the country and  used to fight wildfires.
"Plans are underway to develop the northwest corner of the airfield where we have room to expand for general aviation as well as an education center," Doil states.
"This is definitely still in the works" says Judd, "and is much-needed to train pilots, mechanics, Emergency Air ambulance personnel, and EMTs right here at our airport. We are excited to get that going."
"There is also a possibility of a flight school as we do have a lot of colleges in the area, as well as private flight schools that are interested as well," Doil continues.
Expanding on the emergency services flights affiliated with the airport Judd explains that "Mercy Flights is based here at the airport and they operate both air and ground emergency services." Between aircraft used for fire-fighting, emergency medical flights, and rescue, Judd highlights that the Airport serves as a first-rate hub to carry out these extremely important functions.
MFR is also home to Erickson, Inc. Located on the airfield, they are an original equipment manufacturer of air cranes, and operate their aircraft around the world.
Commercial and tourist links to the airport taking flight
It isn't only emergency medical and commercial flights that give lifeblood to the airport, so too do the lands around the airport that are ripe for leasing and carry with them prime commercial opportunities for not only the airport but the city of Medford and surrounding areas.
"There is a lot of available property around the airport for lease. We have a hotel, a Hilton brand Home2 Suites, going in that will be located a short walk from the terminal," Judd enthuses. "This should be under construction by next spring.
Serving as a gateway to the city of Medford and the surrounding area, the airport takes tourism potential very seriously among its list of pressing priorities.
"We work closely with Travel Medford and the Medford Chamber of Commerce as well as an economic development organization called SOREDI," Doil specifies. "The goal is to attract businesses to Southern Oregon. We are looking at several initiatives to bring people into the Rogue Valley," Doil explains.
Doil's enthusiasm is clearly an indication of the high hopes that the airport has to draw in some of these businesses and ensure economic ties are maintained and strengthened with the city and the county through tourist initiatives.
"The natural beauty of Oregon as a state is just phenomenal, Southern Oregon in particular. The Rogue Valley is known for its stunning natural beauty, and several top wineries that are world-renowned. MFR is the gateway to all of it."
Describing the climate of the area, Doil makes a case for those who haven't sampled what the Rogue Valley has to offer, to stop what they are doing and book a flight into the area.
"The climate here is more aligned with a Mediterranean climate. We don't get heavy snows in the winter and summers are fairly mild compared to the South West US."
"We have lots of outdoor activities with the Rogue River running through the valley," Doil details. "Everything from water sports, hiking, ziplining, and other outdoor activities. The airport plays a vital part in bringing visitors to our area."
Looking down the future flight path
It is no secret that both Doil and Judd are more than aware of the untapped potential the airport possesses, not only in the probability of adding more flight options but also in the commercial and tourist draw of the area itself.
So what do the next few years look like? Both Doil and Judd are quick to answer.
"We definitely want to grow our general aviation area to allow for more growth there and push that growth towards an education center," Judd predicts." We also want to see that hotel get built as well as seeing the land around the hotel be filled by anybody that's interested in that- possibly restaurants or retail, but we are open to all options."
"We are here to partner with you so that you can basically go explore the world. We have a gem of an airport right here in Medford just bustling with activity," Doil adds.
"We are here to serve you and connect you to the world," he concludes.
AT A GLANCE
Rogue Valley International-Medford Airport
What: Commercial and General Aviation airport with commercial and tourist links to the city and county
Where: Rogue Valley, Jackson County, Southern Oregon
Website: https://jacksoncountyor.org/airport