Indianapolis Executive Airport
Courting business travel
Business View Magazine interviews Samuel Sachs, Airport Director at Indianapolis Executive Airport, for our focus on U.S. Regional Airports
The Indianapolis Executive Airport lies on the northern outskirts of the City of Indianapolis – set in the suburbs but actually at the heart of the region's expansion. Think of it as the little airport that is becoming a big deal. Developed by Campbell Aviation in 1957, it was originally known as the Terry Airport and had two runways that were just over 3,000 feet; one on a north-south approach and the other east-west. In 1965, the Campbells sold the airport to the Van Sickles and a decade later the north-south runway (Runway 18-36) was lengthened to 5,160 feet. Three aircraft turnarounds were also constructed.
"And that was it," explains Samuel Sachs, Airport Director. "It was a small general aviation airport, designated as a reliever airport for Indianapolis International. But it was, and is, in an interesting location. It straddles the line between two counties: Hamilton County which is who we are owned by, and Boone County where we are technically located. What is even more interesting is that both of those counties are the fastest growing in the state, as well as the two wealthiest counties. That makes a really good combination for an executive airport. We have a fast-growing area and a lot of money, so we've seen a huge shift from what the airport used to be to what we are now. Basically, we've grown up over the years as the two counties have grown up, and now we see ourselves shifting to more of the executive and business travel."
The Indianapolis Executive Airport sits on 567 acres with a 5500-foot runway that will be extended to 7000 feet by 2023. They are currently halfway through the $11M runway extension project, with much of the grading and drainage work already completed as of last year. This is a testament to the changing demographics. Not only are there jet owners based at the airport, but Netjets, Flexjet and Wheels Up can regularly be seen operating from the airfield. "Then there are the businesses that are using our airport just to fly in and out for projects," says Sachs. "There was a grocery store being built near here, for example, and the company has been flying employees in multiple times a week during April. We've had home builders fly their private jets in to look at their development projects. The constant growth in the area means people are coming and going a lot. We've also seen many new companies exploring corporate aviation and looking at our airport as a perfect location to be based… where we are straddling the two counties."
To optimize attraction of that type of business, a full complement of hangars and top-notch services need to be offered. The Airport FBO, First Wing Jet Center, currently operates two large hangars on either side of the terminal and subleases a maintenance building and other storage buildings and T-hangars. Another company, Taft Aviation, manages the T-hangars.
"It is kind of exciting that our FBO is in the process of developing 12 new executive hangars, as well," says Sachs, "These are going to be somewhere in between our large hangars and T-Hangars, at 60×65 feet. So we are going to have a huge variety of spaces. We also have one large corporate hangar here which is owned by Beck's Hybrids, one of the largest seed companies in the country. They have a Corporate Aviation Department with three jets – a Falcon and two Learjets – which they fly all over the Midwest to pick up farmers and bring them back to the company headquarters. It's like a well-oiled machine… they're flying five days a week all over the place."
In essence, the Indianapolis Executive Airport is shifting direction; becoming a corporate hub. Sachs adds, "We are constantly developing new hangars, and we even have what I call our 'taxiway to nowhere' – a taxiway to an area where we can develop three to six new hangars on either side and continue growing." To grow as a corporate airport, however, means to grow the infrastructure in a way that highlights the biggest and the best. Sachs comes to the Airport Director role from the Air Force where he was running large Air Force bases with all the latest in modern technology. He describes coming to a general aviation airport, not as a shock, but as a definite change of pace.
"I am taking that background and applying it here," he explains, "I hope to give it a more futuristic look just by catching up a little. An example of this is that the airport currently runs with a GCO Radio system. Pilots click a couple of times under frequency and it dials the phone for air traffic control. It's a phone line, and it's old technology. So, one of our main focuses at the moment is to upgrade that to a newer direct line that goes straight to air traffic control. It's a good example of how the airport has outgrown some of the technology associated with it. I want to bring it up to a 21st-century standard."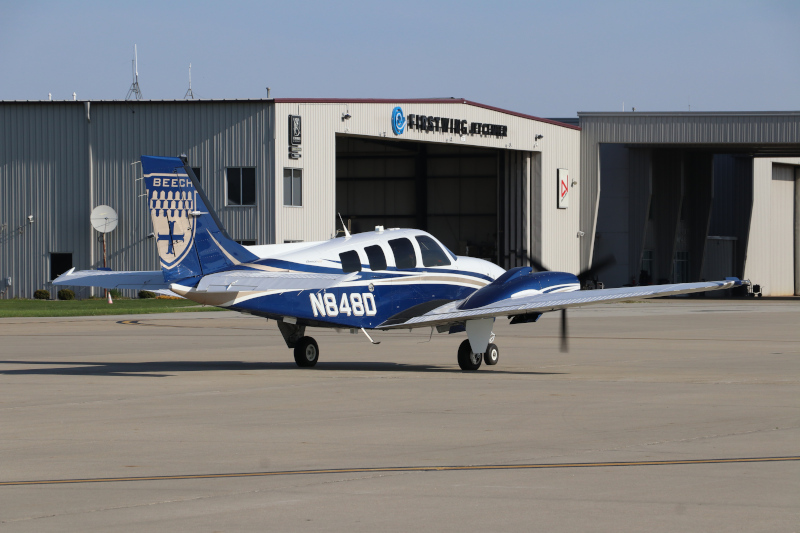 2021 is going to mark one of the biggest years for construction that the airport has ever seen, which is being pushed by the drive to become modernized. First off is the runway expansion – a huge project involving significant federal and local investment. This year alone will see more than a quarter of a million dollars of local funds going to infrastructure. That includes upgrading the water lines for the new hangars and other developments which will change the whole north side of the airport over the next five years. They are also expanding the parking lot to increase capacity by 70 percent. In addition, there is asphalt repair work to be done on some of the hangar apron space. All in all, a lot of work, and a massive upgrade happening in short order.
"Our terminal is only 15 years old," Sachs reports, "so it is not that old, but we are outgrowing it. The apron is simply too small for the size of the jet we are now seeing. As we rehabilitate or demolish a large portion of the north side of the airport for these upgrades, we are going to have to be working on the terminal and the terminal apron as well. This is the oldest part of the airport, and you can see the remnants of the older sections which have been added onto. There will be a lot of changes, and I think this will be a whole different airport in a decade or so."
Sachs points out that Hamilton County, as a whole, has been amazing to work with. He notes, "The Economic Development Corporation has worked closely with us, and it is because of the work the county already put into the airport since buying it in 2003 that we are in as good a position as we are. They see the benefit and want to invest in the future not only of the airport but of the county."
There is a huge sense of civic pride in this area of Indiana and you can see that wherever you look. It is people taking care of people and wanting the best for each other. For the last 14 years, the airport and the FBO has sponsored a 'Fly In' in support of Down Syndrome Indiana. Not only are there warbirds and other speciality planes that come in, but food, bounce houses, music, and other entertainment that draws 5,000 local people to the airport.
"We are on the verge of being so much more – and I've got so much on my wish list that it's crazy," Sachs laughs. "The airport has morphed so much already and it's hard to picture exactly where we are headed. But we are headed up. We crunched our numbers for 2020 from the FAA's TFMSC website and we were one of the busiest non-tower general aviation airports in the country. We were sixth in terms of jet traffic alone. And with the new 7,000-foot runway, those numbers are just going to continue to grow. The airport is going to grow physically, as well, and it is a very exciting time to be involved!"
Invest Hamilton County | Hamilton County Tourism, Inc.
InvestHamiltonCounty.com | info@hamiltoncountytourism.com
Opportunity awaits in Hamilton County, Indiana, a great place to live, work, learn and play. Just north of Indianapolis, Hamilton County is one of the fastest-growing counties in the country and has earned national designations like "Best Place to Live." 150+ headquarters including insurance, finance, tech, ag, logistics and healthcare. Home to Grand Park Sports Campus, Ruoff Music Center and Conner Prairie.