Thomas County Airport
Welcoming the future
Business View Magazine interviews Jack Johnston, Manager of Thomas County Airport, for our focus on Regional Airports in the U.S.
In an area well known for its wide expansive plains, majestic national parks, and outdoor activities, the Village of Thedford, Nebraska – county seat of Thomas County – is a popular destination for visitors. Not surprisingly, Thomas County Airport (KTIF) welcomes pilots from all over America. The small, picturesque airport has been described by many stopping in to refuel as the nicest rural airport they've ever had the honor of landing at.
Thomas County Airport, owned by Thomas County Airport Authority, is a real gem and is becoming a vital connector for the region. Over the last year, the airport has seen a number of exciting developments to attract more pilots traveling cross-country to stop in. Between March and July 2021, Thomas County Airport was closed due to a major runway replacement. This included tearing up the entire runway, taxiways, hammerhead turnarounds, and the apron. All the asphalt was replaced with concrete to ensure that heavier aircraft could land there going forward.
Thomas County Airport was one of the select few Nebraska airports to receive 4.5 million dollars in federal grants, through the Federal Aviation Administration (FAA) Airport Improvement Program (AIP).
While the project was a success, there are still plans for even more exciting work to be completed at the airfield. Jack Johnston, Airport Manager at Thomas County Airport, reports, "We wanted to lengthen the runway by 600 feet to get a total of 5,000 feet, but this wasn't possible. This being said, we've been able to get teacup handle turnarounds. The new turnaround allows aircraft to maneuver without having to get into and get back out of the old cramped hammerheads. While a mild inconvenience for some aircraft, for jet planes that small 60 x 60 foot space with 25 foot taxiway was very tight. By simply adding these new teacup handle turnarounds, there's no hassle for the jets and turboprops to turnaround – making it far more efficient."
Another completed renovation that's helped to streamline efficiencies on the airfield is the widening of the old taxiway for larger planes, which had to taxi down a narrow taxiway carefully to keep out of the sand. This expansion took the taxiway from 25 feet to 35 feet, which now allows for better maneuverability for aircraft of all sizes. In addition, the ramp at the airport was very small, but after providing some photographic evidence, Johnston was able to convince the FAA that they needed more space.
One project the airport has undertaken without Government funding is upgrading the fuel island. In the past, some jet-powered aircraft would land discharge there passengers then go to another airport for fuel, now with the availabilty of JetA+ Fuel, pilots can land and refuel with self-serve credit card pumps. With the airport being 65 miles away from any other airport with a 4,400 ft or longer lighted runway, this addition of fuel has attracted new clientele to the airport. "The airport is not manned so we have installed 12 security cameras so we can see who comes and goes. We are excited to see the number of transits stopping.  Four helicopters have stopped for Jet fuel while in transit across the country, one was a medevac helicopter transporting a patient. We were excited to be able to help these pilots out by having Jet fuel available" says Johnston.
During the extensive renovations at the airport, the aircraft stationed at the airfield needed to relocate. While the work took a few months, pilots are already thankful and excited about the completed upgrades. Johnston gives credit to Paulsen Inc. and Olsson Engineering – two firms that were vital to the success of the project.
Like all rural airports across the country, space for aircraft parking is at a premium, and there are  plans to build additional hangars in the future. According to Johnston, "Many young people are interested in getting a pilot's license, which we hope will bring more planes to our field." Jack was a CFI in the past and instructed eager new pilots himself, one of his past students now flies 737 MAX aircraft for UNITED AIRLINES.  He has now decided to take a back seat in that particular area. But he won't be resting. Since the airfield has no fixed base operators (FBOs), Johnston and his lean crew are responsible for picking up the slack.  He adds, "I'm retired and live ½ mile off the west end of the runway ,so I know when a lot of the planes come in and go out over my house.  If I know a plane is coming in, I like to go meet and greet the pilots and passengers and welcome them to Thedford."
While Thomas County Airport is small, the management team have started to work on their 20-year master plan for KTIF. Overall, the projects will cost in the millions. In the near future, possably as early as November of 2022, the airport will be installing a glide slope lighting system called PAPI. This system will inform pilots, on landing, if they have the correct glide slope, or whether they are too high or too low.
Recently, Thomas County Airport has welcomed two new businesses to the airfield – Jay Jones Car Rentals, that leases quality vehicles to anyone stopping at the airport, and Sandhill River Trips. Sandhill provides tubing, tanking (large floating cattle tanks), and kayaking trips down the Middle Loup River in the Sandhills of Nebraska. The Middle Loup River, which is north of the airport, is the world's second most constant flowing river, meaning that seasons don't affect its height as it is spring water fed.
Currently, the main demographic flying into the airport is golfers, sportsmen, livestock buyers, hunters, and anglers who want to explore the many lakes on the massive government-owned National Game Refuge, 35 miles to the north, where you can fish and hunt. Also Halsy National Forest, 17 miles east – second largest hand-planted forest in the world – for hunting and ATV riding. The most jet trafic coming in are with golfers for the two world class golf courses.  The Sandhill Golf Course and the Dismal River Club are just west of Thedford and South of Mullen NE.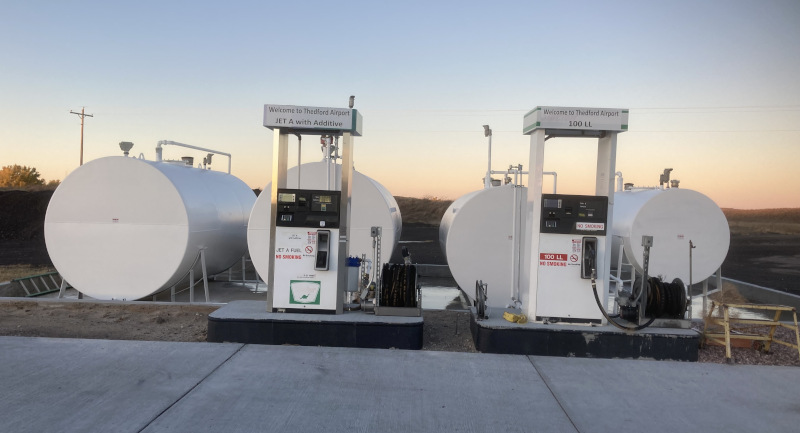 With all the upgrades being done, more and diverse air traffic are landing at the once sleepy airport. Johnston elaborates, "I'm excited to see more jet traffic and big turboprop aircraft landing at the airfield." Management hopes that the new renovations and offering of jet fuel will attract more pilots, such as those who want to be able to self-serve, skipping the wait at other airports. This is different from the surrounding airports, where they may have higher traffic and could have to wait to be fueled from fuel trucks.
With inclement winter weather and stronger storms becoming a norm, Thomas County Airport is ready for heavy dumps of snow with plows and blowers to ensure that operations carry on. Through a self-funded project, they have also added the 12 new security cameras with microphones that can record 24/7.  While the airport is based in a remote region of the state, that doesn't mean there's no need to ensure the safety of pilots staying over. These new high-tech cameras on the field have now created a really secure environment for any planes on the Ramp.
In the next six years, Johnston and the Airport Board hopes to get the additional 600 feet to the runway. Once the airport has a 5,000 foot runway, more jet traffic will be able to land, as most insurance companies will only cover certain jets landing on less then a 5,000 ft runway. The airport is already home to one of only two LED beacons in the country. And because all the lights at the airfield are LED, they can be left on at night. These lights can also be controlled by the pilots for IFR conditions. One click of the microphone button and the LED light goes to 10% power, five clicks and the power goes up to 30%, and with seven it rises to 100%.
All these developments and the integration of new technology means that Thomas County Airport will be well positioned for a bright future.
AT A GLANCE
Thomas County Airport
What: A general aviation airport
Where: Thedford, Nebraska
Website: www.KTIFThedford.com