Huronia Airport- Township of Tiny, Ontario
The thriving Gateway to Georgian Bay
A dynamic aviation hub in Simcoe County, Huronia Airport's services maximize revenue and fuel economic growth in the region.
The Township of Tiny, situated in Ontario's Southern Georgian Bay region, spans a total area of 344 square kilometers. This beautiful township is home to 70 kilometers of picturesque coastline, providing residents and visitors with breathtaking views and abundant recreational possibilities.
Whether it's enjoying water activities, exploring beaches, or simply taking in the natural beauty, the Township of Tiny offers a wonderful environment for people to appreciate and enjoy. While it has traditionally been known as a vacation destination, the community is experiencing an increase in full-time residents, as the appealing surroundings attract those embracing remote work opportunities.
"I believe Tiny Township is the best township of the 440 in Ontario," says Mayor, David Evans. We have unmatched natural features and vacation opportunities. The permanent population is a reflection of people realizing they can work full time and still be in this beautiful environment that they would visit as a cottager." Showcasing the growth and abundant possibilities within the township, the mayor emphasizes the significant role played by Huronia Airport.
Airport Ownership and Assets
With its central location in the community, the airport is known as the 'Gateway to Georgian Bay' and is part of a tri-party agreement between three municipalities, Midland, Penetanguishene, and Tiny. The Huronia Airport Commission, consisting of Mayor Evans, along with the mayors of Midland and Penetanguishene, and four community representatives, effectively governs the operations and development of Huronia Airport. The Huronia Airport Task Force operates as a subcommittee of the Commission and focuses on business development, bringing forth initiatives on a case-by-case basis.
Currently, the airport boasts several assets, including 350 acres of airside and ground-side development, an impressive terminal building, a 3,996 X 75-foot runway, a 2,000-foot taxiway for operational efficiency, commercial and private hangars, and green hangars which are shared spaces.
Recent developments at Huronia Airport include the installation of a state-of-the-art fuel system in 2021, enhancing the efficiency and reliability of aircraft fuel services. Additionally, there has been an investment in snow removal equipment, contributing to Huronia's capacity to maintain excellent winter operations for the entire facility.
Airport Manager, Zachary Premate shares that the airport also hosts various on-site tenants including Xstream Sport Aviation who offer advanced ultralight flight training. "He's also a David Clarke headset dealer, and he does Rotax repair, which is the engines that go into those advanced ultralight aircraft. He repairs the engines himself," he relays.
"We've also got Aircraft Sales, which buys and sells jets, helicopters, and small piston aircraft. And then we've got a Tee hangar here on site, which houses eight tenants and is a great revenue generator for the airport, along with 30 private hangars, and more coming."
The combined hangar space at the airport will total approximately 91,000 square feet, providing ample storage capacity. Additionally, Zenair operates on-site, specializing in the construction of kit aircraft. With approximately 30 employees in the North Simcoe area, the company sources materials locally and distributes its planes globally, acting as a significant economic driver for the region.
Community Support and Vital Services
Huronia Airport also serves as a valuable community partner, as Premate emphasizes, "We had 16 medivacs, 8 military aircraft, and 48 police services that used the airport last year. We also have partnerships with Raytheon, because we have a big parcel of land, and they can use our airport for research and development purposes."
In addition to its aviation services, the airport plays a vital role in various community and emergency support functions. Gypsy moth control is one such responsibility, with helicopters being utilized to prevent the proliferation of invasive moths in the area. The airport is equipped with a backup generator, which provides essential support during emergencies such as severe weather conditions.
For instance, during a recent snowstorm, Hydro One accessed the airport to restore electricity for North Simcoe County. "We also provide services for the Canadian Coast Guard," elaborates Premate. "Being so close to Georgian Bay, we help out with any distress calls, and we are a fueling facility for them." Huronia Airport serves as a landing site for Georgian Bay General Hospital, supporting vital functions such as organ transfers and accommodating fixed-wing aircraft for medical purposes.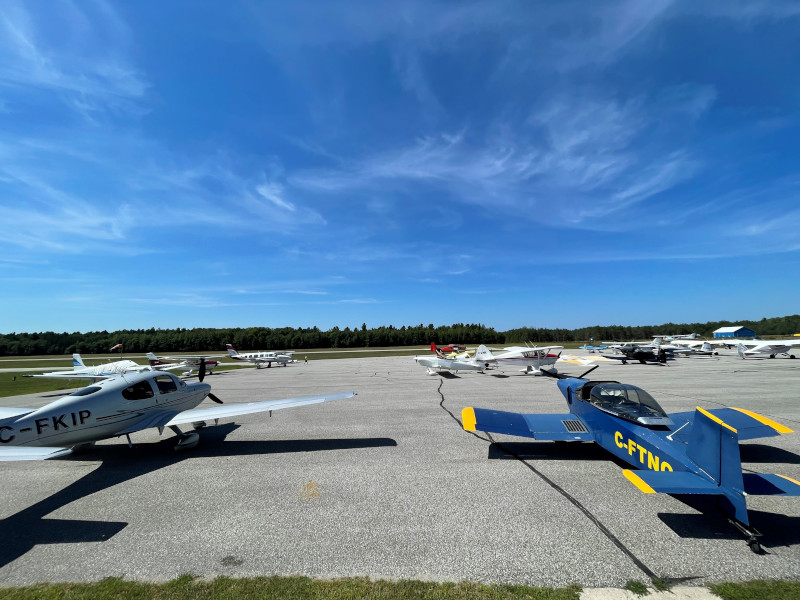 Driving Revenue Growth and Infrastructure Development
Huronia Airport has recently received approval from the three owner municipalities to sell parcels of land, marking a significant milestone in expanding its opportunities for growth and development.
Premate, recounts, "In 2019 we started with the Loomex Executive Summary which was a strategic development plan where we explored things like stakeholder consultations, we did public surveys, regional economic review, infrastructure and foreign investment overview, potential growth opportunities, and cost estimates for future development of the airport." This was followed by the WSP report, which validated the findings of the Loomex report and provided additional insights into the land's potential. Subsequent steps included a review by the Huronia Airport Task Force, completion of a draft plan of survey, and the recent approval by the Huronia Airport Commission to sell lots.
"When presented to the municipalities, we brought Stephen Wilcox from Total Aviation and Airport Solutions. The big thing he was trying to highlight is that we're trying to maximize airport revenue. So, to sell the land, to sell 61.4 acres, we will hopefully maximize airport revenue consistent with industry practices and reduce the net operating costs to the greatest extent possible," Premate explains.
Earlier efforts have yielded significant results in terms of financial growth and benefits for ratepayers. Property tax revenue has increased from $385,000 in 2008 to $1.7 million in 2022, accompanied by a rise in GDP from $58 million to $100 million during the same period. "The biggest thing that everybody feels is the cost to the ratepayer. In 2008, it was $4.70, and in 2022, the cost was reduced to $2.32. When airport activity increases and expenses are managed strategically, such as land sales, the ratepayer benefits at the end of the day. We're currently sitting at $3.43. Once again, we're trying to reduce that to make it less of a burden for the taxpayer," acknowledges Premate.
The planned land sales will be utilized for key infrastructure improvements and capital investments. This includes the construction of additional Tee hangars, an airport equipment garage, an aviation card lock system, and other essential equipment upgrades.
Development Opportunities
Huronia Airport has general and commercial aviation land available, along with non-aviation development opportunities. Premate says the airport is actively engaging potential tenants and exploring opportunities for growth and revenue generation, including aircraft mechanics, flight schools, modular home facilities, HVAC businesses, storage and distillery spaces, and potential expansion by the Georgian Bay Geopark. "We see an opportunity in North Simcoe for this to be not just a destination for commercial air traffic, but also commercial businesses," asserts Mayor
Evans, conveying that a craft brewery has also shown interest.
He concludes, "The three communities, Penetanguishene, Midland, and ourselves, we get along well, and we came together and thought that changing the charter to allow for a sale of land would give us a competitive advantage in the marketplace."
"We see an awful lot of opportunity here, and we want to take a proactive approach, with the help and guidance of our very adequate staff, to make it even more successful. I believe we have a lot of potential to move forward, and we're excited to get started."
AT A GLANCE
Huronia Airport
What: A municipal airport bustling with growth and opportunity in North Simcoe County
Where: Township of Tidy, Ontario
Website: www.huroniaairport.com  | www.tiny.ca