Tennessee Valley Fair
Coming Together for the fun of it
Business View Magazine interviews Abby Villas, Tennessee Valley Fair Marketing & Communications Manager, for our focus on Exhibition & Event Venues
For ten days in September each year, the community of Knoxville, Tennessee comes together to celebrate at the Tennessee Valley Fair. The days are filled with events, entertainment, competitions, and plenty of good food. "This is something that is a great way to showcase our community," says Abby Villas, Marketing and Communications Manager of the Tennessee Valley Fair. It's been going strong since 1916 at the same location – Chilhowee Park & Exposition Center – being canceled only for World War II and two pandemics (1919 and 2020, respectively).
The Tennessee Valley Fair is unique in many ways. For starters, it's not the typical rural county fair. "We're less than five miles away from downtown Knoxville," Villas explains. "A lot of fairs are in the rural community, but not ours. We're very close to downtown and we see that as an advantage. We're able to educate people about agriculture, and I always say that's amazing to see. We have programs for children to come from school and learn about ag. Believe it or not, there are so many people that have never seen a cow in real life and it just blows their mind. It's amazing! We just feel privileged that we're able to do that for our community."
Another thing that sets the fair apart is the property itself. The fair doesn't own the land, instead, they have an agreement with the City of Knoxville. They take possession of the fairgrounds in August, a month before the fair begins. Villas explains, "We assume everything. We take care of the electricity costs during that time; all the maintenance falls underneath us. So all in all, for at least four or five weeks, the park is ours. And then the rest of the year, it's Chilhowee Park and ASM Global runs it for the city."
The fair relies on a strong volunteer base of around 300 people to keep things running smoothly. "So many people are very, very passionate about the fair," says Villas. "We have all ages. Of course, we get a lot of young volunteers through our 4H and FFA student organizations – and then we have people in their 80s still volunteering. So it's really fun!"
The Tennessee Valley Fair is a nonprofit 501 (c)(3) organization. They are operated by a board of directors, an executive committee, and an executive director. They also have a foundation whose mission is to preserve East Tennessee's heritage by promoting agricultural awareness, supporting educational programs, and cultivating youth development. The foundation also provides scholarships, educates kids about the importance of agriculture, and gives back to the community.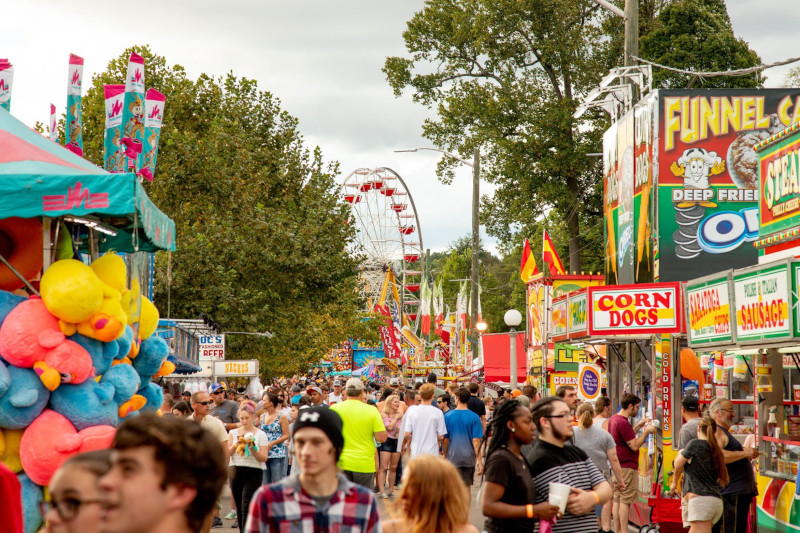 For ten magical days every fall, Chilhowee Park is transformed into the fairgrounds, boasting over 55 carnival rides, food vendors,  trucks, and concerts. They have ground events, too, like the Anastasini Circus and the Marvelous Mutts that feature rescue animals. There is also a petting zoo, a beer garden, an antique engines and tractors exhibit, and ax throwing. Even more fun can be had at a Demolition Derby, the Spru'n S Rodeo, and the popular 2-night Lucas Oil Pro Pulling League Champions Tour – a very popular truck and tractor pull.
In addition to all of those events, the fair holds 3,200 competitions and offers up to $100,000 in premium prize money. "Over half of that actually goes to our youth competitors – kids 18 and under," Villas says. "We truly have something for everybody. It's awesome to see how many people end up participating." A scholarship pageant, as well as student art and photography competitions, are other highlights of the fall fair. Villas adds, "It's just really awesome to see because, in this day and age, it's hard to get a community together. People are coming together and interacting less and less. So this is an amazing opportunity for our youth to be encouraged that they have these talents and that people want to see them, and that they'll be rewarded for them, as well."
A few year ago, some former Best of Show winners were invited back to the fair. Villas recalls, "We had people come back who had won in the '70s, when they were in high school and middle school, and they had the opportunity to get up and tell their story. Some went on to be artists. Others went on a different path. One made her career in the military, yet she was just so proud that she was a Best in Show Winner at the Tennessee Valley Fair for her artwork. She told us it was one of the highlights of her life… it's crazy that something like this could affect people as much as that."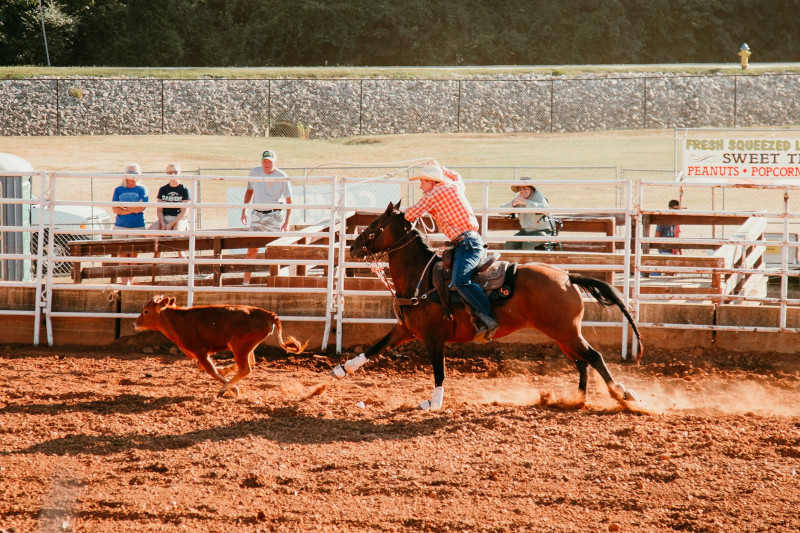 The fair is a beloved tradition that the entire community looks forward to. Both for those who attend and for those who participate. Take, for instance, the Fairview Baptist Church. They come to the fair and sell candied apples – something they've been doing for over 50 years! But the fair welcomes newcomers, too, if you are lucky enough to get in. One food vendor in particular tried to secure a spot in 2018. He had a new taco business. But the fair was full and had no room for him. At the last minute, there was an opening. This man was contacted and jumped on board. "And now, he actually has opened up his very own taco restaurant in downtown Knoxville," Villas explains. "It's really cool to see how we were there for the beginning of that business and letting people know that this is possible."
Giving people the right start and making them believe in the possibilities is a core tenet to those who dedicate themselves to bringing this fair into a reality each year. "We're just always excited to grow and speak our message about agriculture education.," Villas says. "Youth is one of our pillars. It's pretty much our mission. Youth education through agriculture and the arts is very important to us."
When that mission was sidelined in 2020, it hit their hearts and their wallets pretty hard. Villas admits, "The only way that we operate and make money and sustain the fair is by being here over those ten days. Obviously not having the fair in 2020 was very difficult. It was hard for everybody. The fair is something that a lot of people look forward to and it's an affordable place for a lot of our community to go to. And so not having that option was incredibly sad."
That gut-wrenching decision to cancel the fair was made in June of 2020. "It was just going to be too late in the game for us to start the planning," says Villas. "And it was also important for the safety of our fairgoers." The same concerns ushered in 2021 during the normal planning stages of the fair. She adds, "We were super thankful by the springtime. We thought, this is a reality. We can make this happen." And they did – 2021 was a successful fair. While attendance was a bit lower, spending was up. Villas remarks, "I think people were just excited to get out and have a good time. We're very thankful that we were able to come out on the good side of it, for sure."
Looking ahead, Villas is truly excited about the future of the fair. She shares, "I think it's going to be interesting to see in the next couple of years, how technology plays a role. We've seen that in something as simple as online ticketing. That wasn't around ten years ago… and the industry is going cashless. That will be interesting to see, as well. It even trickles down to our competitions. We did not have a lot of technology-focused events and now we have a robotics competition. It's really cool to be able to pick up on things that are happening within our world and our society and show what's possible to our community."
AT A GLANCE
Tennessee Valley Fair
What: Non-profit organization showcasing East Tennessee agriculture & heritage
Where: Chilhowee Park & Exposition Center, Knoxville, Tennessee
Website: www.tnvalleyfair.org