The Keystone Centre
Manitoba's finest event facility
Business View Magazine interviews representatives of the Keystone Centre, as part of our focus on best practices of Canadian venues.
The Keystone Centre in Brandon, Manitoba, Canada strives to be the premier service-oriented, multi-functional, community-minded facility in Manitoba, hosting sporting and entertainment events, fairs, agricultural exhibitions, and conferences, in Brandon's busiest commercial district. As such, it is one of Brandon's largest economic catalysts.
Recently, Business View Magazine spoke with Keystone Centre's Marketing & Sponsorship Manager, Krista Kowaluk, and General Manager, Jeff Schumacher, to see what drives the Keystone's growth and success. The following is an edited transcript of that conversation.
BVM: Can you talk a about the physical aspects of the Centre?
Kowaluk: "The facility was built in 1972. It was built through a series of phases. We started, initially, with an arena and, from there, built another phase with more convention services and additional twin arenas, and eventually ended up with an agricultural center that finalized the complex in 2005. The facility itself is now 540,000 square feet and sits on approximately 90 acres of land. There are 2,500 free parking spaces, increasing wheelchair accessibility, multiple meeting rooms and banquet halls, a 5,000-seat main arena, and a 550-seat amphitheater."
Schumacher: "If you go outside on the roughly 90 acres, you've also got outdoor show rings for equestrian or other equine events. You've got other spaces that are green space, spaces that are used for things like monster trucks or Derby events, and then you have camping. We actually have a serviced campground, onsite."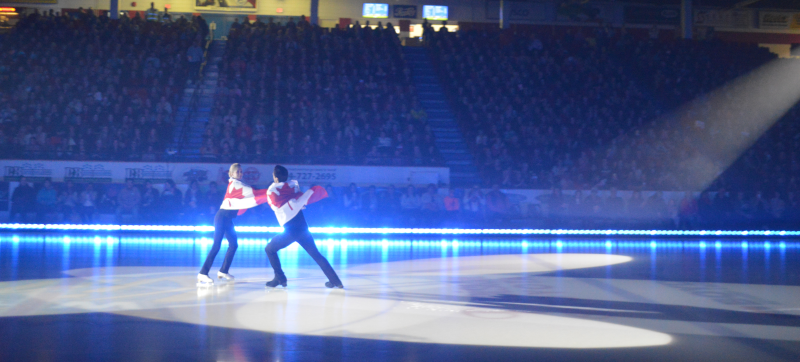 BVM: How is the Centre administered?
Kowaluk: "We are governed by a leadership group of the Provincial Exhibition of Manitoba, which is the local nonprofit organization that hosts the fairs in the city here, as well as our city of Brandon, and the province of Manitoba. We operate as a community center in that we operate with rates that our community can afford, not necessarily a cost-recovery basis at all times."
BVM: Is the Centre self-sufficient?
Schumacher: "We get operating funds from the city and the province in addition to our own revenue. We have all of our revenue streams from pursuing everything from rec hockey to field sports, to convention-meeting-type events, equestrian events, theatrical – you name it – and sponsors, including naming rights partners. We do try to be as self-sustaining as possible. It's a little more challenging with venues like this, when over half the building, overall, is for the public good, keeping your rates so that it's user-friendly; not just here, locally, but even regionally. But then, ultimately, there are those where you focus more on attracting full-on conventions or national and international-level events like the Brier (the annual Canadian men's curling championship) and the Arabians championships. These are a little more for-profit."
BVM: What competition exists in your area and what characteristics, do you believe, give your Centre a competitive edge?
Kowaluk: "Our competition is two-fold. We have local competition convention-wise, conference-wise, and meeting-wise with local hotels and other meeting places around town. Our biggest selling point here is our size and what we're able to accommodate. In particular, one thing that is very beneficial due to our sheer size here at the facility, and particularly in that the agricultural industry is so prevalent in our area, is that we can host large pieces of equipment indoors in a number of our rooms, so that's something that certainly gives us a competitive edge. And then regionally, there's certainly a competition for entertainment events and sporting events."
Schumacher: "Locally, you sort of have competition – but you sort of don't, because we're the bigger facility, with more spaces. We could have 15-plus events going on, on the same day, or there could be one event using the entire facility, so it's pretty unique like that, and very diverse, with the ability to do all kinds of different events. And, because it's a small city, we all interact on some level and with some other organizations. As you open up more regionally, cities that are near here, like Winnipeg, have multiple facilities. Then as you go across Canada and North America, we actually do a lot of networking, so it's not so much competitive, it's actually working together. And you kind of get out how much time you put into it. We are a member of Venue Coalition, a group of over 70 venues around North America that actually work together to attract shows and route them. Then, if you take a look at a Winnipeg, as well, we actually try to work with the bigger building there, because they will actually scale down and do some shows that are small for them, but big for us due to our smaller size. And where I think a lot of people think you're competing, you're actually not; you're working together and there are some events that are back-to-back, where you'll see an ad on TV that actually promotes both markets and we jointly advertise."
BVM: Can you talk about the Centre's technological amenities?
Kowaluk: "We recently had a large investment into the Wi-Fi throughout the entire complex – within the last four months. So, that was a tremendous improvement that was necessary for a lot of the shows throughout the facility; one of the main ones being Manitoba Ag Days, which is the largest indoor agricultural event in Canada. We are constantly working on things like lighting and sound. We've been working on a couple of different lighting projects in some of the rooms, making them more energy-efficient and improving the facility's bottom line as well, with Manitoba Hydro upgrades, particularly, because there are some programs that are closing, so, we're taking advantage of those."
Schumacher: "We actually have a lot of the core things you need here, so time has been spent running fiber everywhere, so that's improvements to our telecommunications. We're adding a new center hung scoreboard which will be state-of-the-art, and again, because we have a lot of the infrastructure already in, this would have been a much more difficult and more expensive project. So we'll be up-to- date with the technology there: a six-meter board and everything that goes with that for a little more interactive, better game presentation."
"We've added a point-of-sale throughout the building for our food and beverage operations. We now have the credit/debit capability, point-of-sale, so that people aren't using cash everywhere. And like most venues, all the events we're managing are on an interactive booking system. We use EventPro currently, and it's got much better reporting and better communication. We have an outside food and beverage company, Centerplate, so we're now in the next phase of how do we get more detail into our budgets and combine the two companies' budgeting with our sales efforts and have it all wrapped together so that we're developing reports, for example, that, in the good old days, would have been manual."
BVM: Does the Center promulgate any green or sustainable practices?
Schumacher: "I'm not going to say that we're state-of-the-art, LEED. But we've got lights that come on and go off automatically, we've got waterless urinal technology, a couple of automatic doors we're working on, so I think we've made great strides. We're converting a lot of lighting; a lot of buildings going to more LED lighting for energy efficiency. We are getting grants for green initiatives and we're upgrading."
Kowaluk: "We did a recent composting trial. We haven't gotten to the point of the evaluation stage yet to see whether or not we will move forward with actively pursuing the full program, but we've done the trial with composting a portion of our kitchen waste. We have events here that have challenged us to become zero waste and we've been up to the task to make them zero waste events and it's been exciting to be part of that challenge."
BVM: What are the Centre's future plans?
Schumacher: "A lot of our focus is going to be bringing in more outside organizations for conventions and conferences. It's a pretty attractive location because we have everything they need. We have an attached hotel, and a lot of hotel rooms, which for any convention is very important. You can fly into Winnipeg, or even into Brandon, depending on where you're coming from. Certainly, we'll be revisiting what other uses we can have for our land, where we're not now taking advantage of the space. As far as venues, we're really just trying to make the best use of the space we have. It's just such a big space and it's so much to maintain. It's more one of these 'do the best with what you have' and grow your business."
BVM: How much bigger can it grow? How many events do you already host, annually?
Kowaluk: "Last I checked with sales, it was somewhere around five to six thousand bookings per year. It is high. We're talking meetings for small events up to the Tim Hortons Brier and the Royal Manitoba Winter Fair like we just hosted."
Schumacher: "It's a pretty ridiculous number. It's so many we stopped counting. It's like McDonald's – eventually you just stop adding numbers."
AT A GLANCE
WHO: The Keystone Centre
WHAT: A service-oriented, multi-functional, community-minded event facility
WHERE: Brandon, Manitoba
WEBSITE: www.keystonecentre.com