York State Fair and Expo Center
rich in history and home to America's First Fair
With top-tier events and activities in the pipeline, York State Fair and Expo Center is looking to family fun in 2023
Steeped in history and with a long-loved reputation behind it, York State Fair and Expo Center have a little something for everyone. With family-friendly activities and an enviable event lineup, 2023 is shaping up to be one of the best years this venerable institution can look forward to.
Located in the heart of York, Pennsylvania, the York State Fair and Expo Center is an 86-acre multipurpose facility offering various flexible locations for events, trade shows, markets, exhibitions, sports, functions, and more.
Home to America's First Fair, the York State Fair, this center combines historic architecture with modern amenities to provide truly versatile spaces across no less than 22 buildings, of which some date back over 200 years. Surrounded by magnificent natural scenery and a plethora of local hospitality and recreation opportunities to choose from, this location has something for everyone.
The York Expo Center offers 12 rentable spaces that include the major Weis Markets Arena (114,000 sq. ft.), All Trans Memorial Hall (East 28,000 sq. ft. and West 29,000 sq. ft.), Old Main (17,000 sq. ft.), Horticultural Hall (13,000 sq. ft.), Banquet Center (Verandah Room 5,500 sq. ft. and Pennsylvania Room 5,000 sq. ft.). Major buildings are complemented by smaller meeting and function spaces ranging from 15,000 to 1,200 sq. ft.
The center uses social media (Facebook) as its primary communication tool, posting regularly to keep clients, partners, and consumers alike informed on upcoming projects and events. The York State Fair and Expo Center website also provides monthly and weekly updates to email subscribers.
Bryan Blair (CEO) and Montgomery Stambaugh (Director of Marketing and Communications) share their deep knowledge of the ins and outs of this spectacular venue.
Blair begins, "Our property lies across three jurisdictions: the City of York, West York Borough, and West Manchester Township. We work continuously with these three different municipalities to provide a complete package location with great success."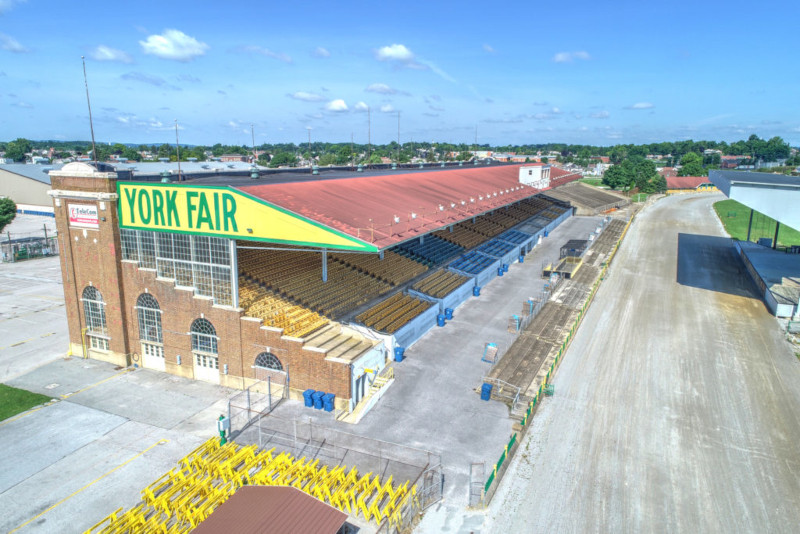 "We are the de facto Convention Center for York, Pennsylvania, as the city itself does not have an official convention center, and are the preferred site for hundreds of year-round events, including the Keystone Farm Show, Pennsylvania Special Olympics, NSRA Street Rods Nationals, York Train Show, Celtic Classic Dog Show, York Gun Show and many more… One being the mighty York State Fair," he continues.
Perhaps the center's most famous event, the York State Fair was founded in 1765. Then known as the York Fair, the event was originally held in what is now known as Penn Park before being moved to the York State Fairgrounds in the early 1800s, where it has remained ever since.
"The York State Fair really pioneered America's tradition of seasonal/annual festivals," Blair explains.
"Early runs spanned over two days and were very agriculturally focused. Today, we run the fair for ten days and attract over half a million people on average. It has certainly maintained that focus on agriculture, horticulture, and husbandry, but that theme is now accompanied by markets, arts and culture displays, parades, competitions, industry exhibitions, education groups, and of course food, rides, and entertainment."
Each of the York Expo Center's facilities features modern climate control, security systems, wireless internet, UVGI air filtration, touchless restrooms, accessibility technology/structures, and state-of-the-art food service areas. Keeping everything up to date in such historic buildings is a continuous effort, Blair says.
"We have made some significant upgrades over the last couple of years following $2 million in county funding. We used this funding to install new HVAC systems in the Weis Market Arena and Memorial Hall buildings. We also included what they call a UVGI (Ultraviolet Germicidal Irradiation), which kills up to 99% of airborne bacteria, as part of our COVID-19 mitigation effort. At the same time, we converted a lot of our restroom faucets and flush valves to touchless, as well as some auto-entry doors."
He continues, "We were just recently awarded a $4 million matching grant from Pennsylvania for redevelopment assistance. In the near future, we plan to start a capital campaign to match those funds and acquire them for an extensive renovation of our grandstand, which is one of the most iconic and historic buildings on the property. It was built in 1926 and seats around 8000 people. The renovation will revamp seating and lighting, and construct a green room backstage. Once the grandstand is complete, we plan to completely renovate the Verandah room and the Pennsylvania room, which are our two Banquet Center buildings. A timetable has yet to be determined since dates depend on when we match funds, but we're hoping to see some movement within the next two to three years."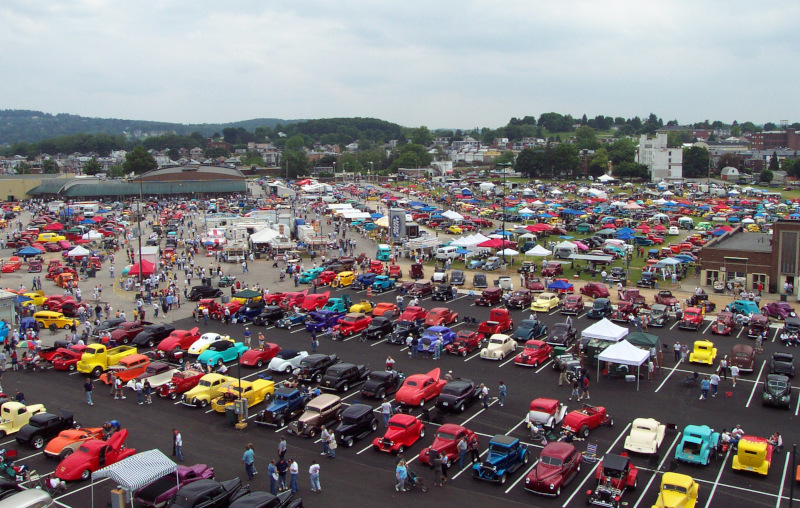 Staff at the York Expo Center pride themselves on communication, flexibility, dedication, and positive relationships. Mr. Blair says these values are key to the center's ongoing success.
"An obvious example of our ability to generate success is the prolific nature of the York State Fair. It's such a varied event that requires a whole lot of time, effort, resources, and skill to host. We are particularly proud of the nationally known concert acts held on our stages- one of the reasons we are so committed to improving our grandstand is so we can look into hosting those concerts throughout the year, rather than just during the fair. We have also covered the cost of our entertainment line-up with ticket sales for the last three years in a row, which is a pretty difficult thing to do in today's concert market given the rising costs of entertainer fees. For us to be able to do that, I think, is a real feather in our cap."
Miss Stambaugh chimes in, "The long-term nature of many of our relationships with events and their organizers speaks to our exceptional customer service and willingness to go above and beyond for our clients. They know that if there's an issue or a problem, we're going to be receptive to their needs. Several of our team have worked on specific events for years on end they're not only considered a staff member for those events but part of the family. A lot of them come back every year and want the same person to be working their event as a go-to, which is wonderful. Sporting events in particular are a big part of what we do here- we have a lot of experience hosting volleyball, hockey, wrestling, and basketball tournaments both indoors and outdoors. Our flexibility and facility range are something these clients really appreciate."
The York Expo Center partners with a number of local businesses, organizations, and governments for sponsorship, planning, and development purposes. They include the local Convention and Visitors Bureau (Explore York) and commissioners for each of the three municipalities in which the property resides. These partnerships, Mr. Blair explains, were integral to the center's continuation during the COVID-19 pandemic.
"The fair's bounce-back in 2021 was huge. We set records all across the board- we did not have record attendance, but we had record spending, and we had perfect weather. Our following events throughout 2021 and 2022 have been booked to almost full capacity time and time again. Obviously, we are still climbing back to where we were pre-pandemic, but we certainly wouldn't be doing so at this level without the support from our partners and the local community."
Maintaining these positive relationships is a priority moving forward. Plans to install a larger security camera system are also on the cards to service historic building renovations and provide an opportunity to collect population metrics for smoother event organization. All in all, the future for this staple of York County looks bright- the York Expo Center promises to be an essential venue for events of all kinds for years to come.
AT A GLANCE
York State Fairgrounds and Expo Center
(York Expo Center)
What: Multipurpose fairground and exhibition center hosting events of all kinds
Where: The York Expo Center is located in the heart of York, Pennsylvania
Website: yorkstatefair.org
TeleCom Business Solutions, Inc. – www.telecomyork.com
TeleCom Business Solutions has been servicing Central PA for over 30 years providing technical support for this ever-changing technological world in which we live. From small to large infrastructure cable and fiber optic runs to MSP services plus the security and VoIP phone systems…TeleCom can be your one stop IT support.

Bricker's Famous French Fries – brickersfries.com
Bricker's Famous French Fries operates multiple Kitchens and Mobile Units at the York State Fairgrounds. We offer The Dog House Grill, Stacey's Fresh squeezed Orangeade & Lemonade, Gyro's, Hand dipped & Soft serve ice cream and Milkshakes. We also offer a wide variety of food and catering services for many events.