Healthcare Convention & Exhibitors Association (HCEA)
Promoting the healthcare marketing mix
Business View Magazine interviews Sean Feehan, President of the Healthcare Convention & Exhibitors Association, for our focus on the Healthcare Events Industry
The Healthcare Convention & Exhibitors Association (HCEA) is a trade association representing industry stakeholders, including healthcare exhibitors, healthcare exhibition and meeting organizers, and industry suppliers, who are instrumental in promoting healthcare conventions and exhibitions as vital components of the healthcare marketing mix. HCEA is the only association solely dedicated to improving the effectiveness and promote the value of all conventions, meetings, and exhibitions for the healthcare industry as an educational and marketing medium.
HCEA offers members a continuing opportunity to become more knowledgeable in their profession through meaningful communication, the exchange of ideas with other members, and many exclusive membership services. The association's 2022 annual conference, Growing Stronger Together, took place March 2-4, 2022 in Louisville, Kentucky, with a packed schedule of leading speakers, networking, and interactive roundtables to solve members' unique challenges.
Business View spoke with Sean Feehan, President-Elect of the Healthcare Convention & Exhibitors Association about his insights into this fascinating and valuable industry sector.
BVM: When was HCEA established and what is the current mandate?
Feehan: "HCEA was founded in 1930 and has gone through several iterations. It was originally started with the idea of uniting different industry stakeholders from three primary groups. That would be healthcare exhibitors (medical, pharmaceutical, and device manufacturers), the healthcare exhibition industry (associations that put on the exhibitions, meeting organizers), and the industry suppliers who service that industry. The goal was to bring all of those together to promote healthcare convention marketing and exhibitions as a vital component of the healthcare mix.
"Prior to DTC (direct to consumer) marketing, the primary source for information about healthcare – specifically for physicians – was at these annual meetings. That was where your typical HCP would go to get information on new products, new studies that were happening, where they could enroll patients in clinical studies. As a group, we saw this as a valuable endeavor, so HCEA was formed and has been working to promote healthcare convention and exhibit marketing ever since."
BVM: What benefits does HCEA offer to your members?
Feehan: "There are three groups that make up our membership. The corporate members (healthcare companies, manufacturers), associations is the second group, and the third tier is industry partners or suppliers. All members are equal. Currently, we have about 830 members from all over the world in our organization.
"Education is our primary benefit. So for those who are new to the healthcare exhibiting industry, HCEA is specifically dedicated to healthcare marketing, which has very unique facets. Things you can do at a regular exhibition, you can't necessarily do at a healthcare exhibition because everything we do is geared towards the exchange of scientific material – setting out fair, balanced, and helpful messaging, as well as the exhibiting side of things. So HCEA is a place you can come as a healthcare exhibitor to learn specifically about what it's like to participate in the exhibit industry as it relates to healthcare, as opposed to just general exhibits.
"Benefits of HCEA membership also include access to industry research and studies; networking with your peers and really having a change to connect with people both on the association and corporate sides. That connection is extremely valuable for our members because they have the opportunity to talk to the people who put on the meetings that they exhibit at. And then also the access to HCEA's database of medical meetings and our knowledge base. Things like our webinars and annual meeting sessions, where we partner with organizations like Exhibitor Live and others to keep our fingers on the pulse of the exhibit industry as a whole, but also focusing on the healthcare aspects."
BVM: How have HCEA members been able to adapt during the 'COVID-19 era'?
Feehan: "Obviously, with the advent of COVID-19, the face of exhibiting changed dramatically; the ability to gather in large groups was not prudent at the time. So we saw a pretty quick switch to virtual. One thing about healthcare exhibitions and marketing is that they are very technology forward – these exhibits are always on the cutting edge of what's new. You think of CES as the place to go to see new things, but I would say that healthcare exhibitions are probably as close to CES as you can get in terms of adapting new technology for use in the exhibition space.
"That being said, most of our members were poised and ready to work with their corporate industry partners to switch to virtual. We saw meetings, education, and of course the exhibit hall switching to online platforms. So the ability to create varied experiences – everything from a basic, click-through landing page exhibits to full-blown 3D experiences, which simulate the live experience as close as possible. As COVID continued, we saw innovation playing more and more of a role. Once everyone got up to speed on the technology and the ability to have a virtual platform, very quickly you saw creativity coming into it. Different types of engagements. People venturing away from traditional booths and going into a variety of immersive environments that took you out of the standard virtual platform and into something unique."
BVM: Do you think it will continue to be a hybrid event space?
Feehan: "It seems to me that we've kind of let the genie out of the bottle with the virtual component, and it definitely does offer that ability for people who otherwise couldn't be at the meeting to still participate. But lots of different industry resources and papers have demonstrated that face-to-face and live is really the preferred channel. We've all seen, with the attendance of meetings coming back, that people (particularly HCPs) really do want to meet face-to-face. That exchange and that scientific discourse is better suited to the ability to talk to your peers in a group.
"The ability of the hybrid component to offer that to people who can't attend in person, I think, is going to stay around. But I don't believe it's going to figure as prominently as we've seen in the last two years. Our own annual conference "Growing Stronger Together" took place in early March this year and there was so much excitement amongst our members about being able to get back together again at an official live HCEA event for the first time since COVID began.
"Sessions included 'ROI in the Sky' – getting an accurate picture in the hybrid world. We've seen a dramatic change in how we measure the engagement from the live space to the virtual – and how we look at the data and the web analytics on what people are looking at and what content they are engaging with. There's a lot to take in, and I think that as we return to the live meeting space, we need to be looking at what is the data saying to us, how do we format it, and how do we communicate that message back to our stakeholders."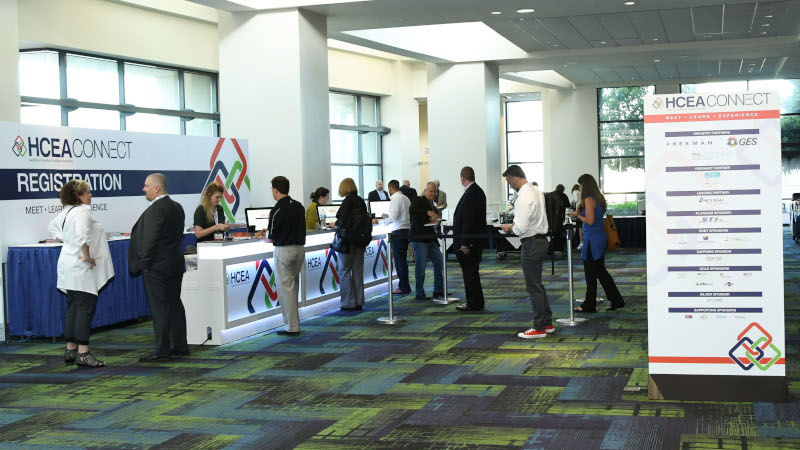 BVM: How are supply chain issues impacting the healthcare exhibition industry?
Feehan: "In the past, we prided ourselves in delivering miracles for all of our clients, but we know now that those miracles are going to take a bit longer – with everything from the price of plywood soaring to the availability of shipping trucks. Shipping is one area where we've seen a big change since the return to live events. Trucks that were previously available for these types of shipments are being taken by other industries in order for deliveries to happen. So it's all about planning ahead. Making sure that our corporate partners are prepared for that and know how to change the logistics in this post-COVID world."
BVM: Over the next three to five years, how do you see the Healthcare Convention and Exhibition industry changing?
Feehan: "I retired my crystal ball somewhere around May of 2020. But if I had to predict what I see coming, certainly the safe and effective return of face-to-face. Anxiety is receding and there is overwhelming relief among attendees. The more people who get out and see how exhibits are being handled, and that it is safe, I think we're going to see an exponential spread of the willingness and desire to return to live.
"I also believe we're going to see a lot of change in what the exhibit hall looks like and how we do things. Innovation is going to fill in the vacuum we've created, by bringing to the forefront new technologies and opportunities. Technology will play a much bigger role in the exhibit space, as a way for us to interact with one another."
AT A GLANCE
Healthcare Convention & Exhibitors Association (HCEA)
What: A trade association helping improve effectiveness of conventions and exhibitions for the healthcare industry
Where: Based in Tinton Falls, NJ
Website: https://www.hcea.org/