Bolton Valley Resort
A beloved family destination
Business View Magazine interviews Lindsay DesLauriers, President & CEO of Bolton Valley Resort, for our focus on Excellence in the Wellness & Hospitality Industries
Lifelong goals come in all shapes and sizes. Some involve travelling the world or building the perfect home; others focus on owning and operating a successful business. The hardworking entrepreneurs who turn these dreams into reality often face the nightmarish potential of closure within the first critical year. According to the U.S. Bureau of Labor Statistics, this can happen to one in five businesses, so while the chances of a company lasting over 30 years isn't rare, it's certainly an accomplishment. One that the DesLauriers family achieved with their beloved Bolton Valley Resort in Vermont's sublime Green Mountains.
Bolton Valley Resort's President & Chief Operating Officer, Lindsay DesLauriers recounts, "It was the vision of my father, Ralph DesLauriers, when he was in his 20s during the 1960s. At the time, my grandfather, Ronald DesLauriers, owned a dairy farm in South Burlington. Interstate 89 was to be installed right in the middle of it, so my grandfather was compensated and bought 8,000 acres in Bolton." Although Mr. DesLauriers Sr. originally intended to use the land for timber, his son had other plans. Lindsay adds, "My father pursued his dream. He developed the ski resort, which opened in 1966, and he successfully owned and operated it for three decades before selling it in 1997 to new owners." After changing hands over the next 20 years, the family and some investors were able to buy back the resort. Mr. DesLauriers Jr. is now Chairman of the Board, with his three children – Lindsay, Evan, and Adam – as the next generation of leadership. Together, they have been running the daily operations with great success.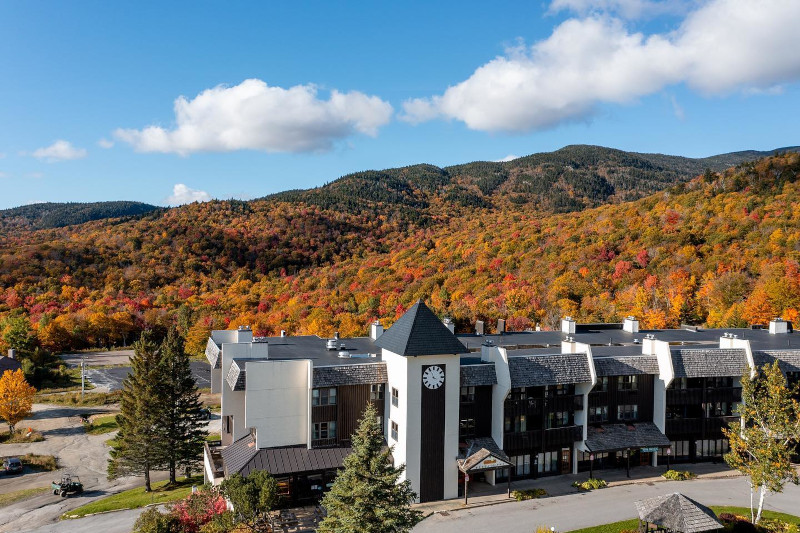 Perfectly situated among 5,000-acres of breathtaking alpine forests, Bolton Valley Resort is easily accessible and only a 30-minute drive from Vermont's largest airport, Burlington International. "Our area is so vibrant being so close to Washington County and our state capital of Montpelier. There's lots of interesting things around us and we benefit from being the only ski area in our county of Chittenden," shares DesLauriers. Scott Pellegrini, Director of Sales & Marketing for Bolton Valley, agrees that the stunning locale sets it apart, especially in terms of natural beauty and outdoor adventure. "With our proximity to the airport, we're a quick escape to the mountains where you can hike, bike, swim, and even play disc golf. The Green Mountains have the most beautiful sunsets. In the summer you can ride the lift to the top for a picnic or you can enjoy the 360° panoramic views from the lookout tower."
Bolton Valley Resort has an impressive 71 ski trails that are balanced between 'easier,' 'more difficult,' and 'most difficult' to accommodate guests of all skill levels. There are five different aerial lifts including two quad chairlifts and three doubles, and one surface lift. Even though skiing is often the main attraction, Bolton Valley Resort offers visitors so much more. The Sports Center at the base village is equipped with both an indoor and outdoor pool, jacuzzi, sauna, an indoor skate park, and even bouncy castles.
The nearby Inn at Bolton Valley was recently renovated and is surrounded by a plethora of restaurants to suit every craving. Timberline Lodge functions as the resort's lower base ski lodge during the winter, but in the summertime conveniently converts into either a wedding venue or conference space. The one primary wedding venue is always The Ponds, located directly across from the Timberline Lodge. In addition, two outdoor tennis courts, that will also serve as pickleball courts, are being installed and should be finished this summer.
Yet another exciting project is the lift accessible Mountain Bike Park. Already underway, this full-service amenity will cover everything from mountain bike rentals and lessons to summer camps and races. "Last year was the first semi-year, since we were still building," details DesLauriers. "At that time, trails were available for both intermediate and advanced riders. We can safely operate while completing Phase One because we partnered with Gravity Logic, Inc. They're the original developers of the Whistler Mountain Bike Park in British Columbia, Canada, which is the world's top bike park. They've designed and built all the major bike parks, so we're honored to have them working with us here. It gives us so much confidence in the product we're offering and the experience we're creating for our guests."
The Mountain Bike Park is not only a great example of diversification, but also of "full steam ahead" management. Ever since regaining ownership five years ago, the DesLauriers family took some time to build an action plan and then raise the capital to implement it. "That's Phase One which we're wrapping up this summer with the completion of our Mountain Bike Park," states DesLauriers. "One of the advantages of being a small family-run business is the simplified corporate structure. It enables you to be nimble and responsive." Her focus was initially building a strong leadership group, which paid off because she now works with a close-knit team. "Even more importantly, we share a vision for the present and the future," she asserts. "For example, one of our investors is the local company Hula, which owns innovative waterfront workspaces. Part of its mission is to recruit businesses in Vermont. They invested in us because they're on Lake Champlain. So, our relationship is symbiotic."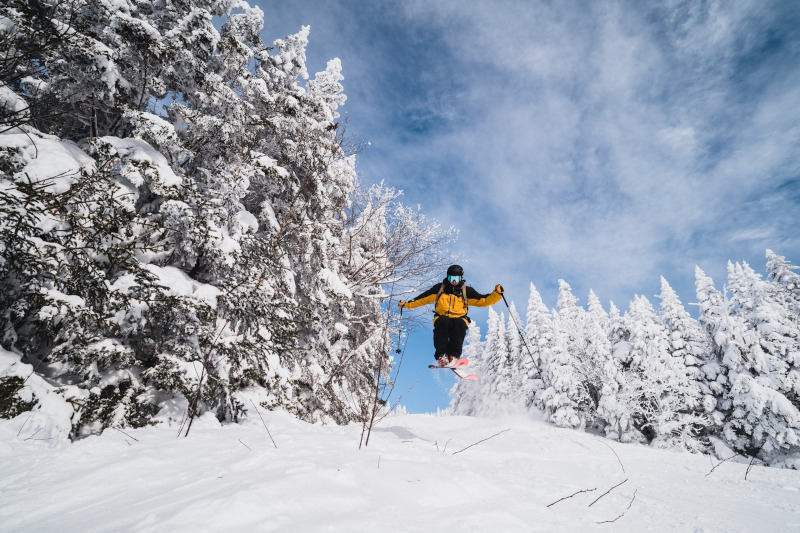 March 2020, with the arrival of COVID, was a bit of a curveball, but Vermont's Payroll Protection Program (PPP) was a big help since the federal loan was specifically set-up to assist small businesses in coping with all the lockdowns. DesLauriers credits the program with helping navigate Vermont's strict pandemic mandates. The great relationship between Bolton Valley Resort and the Community National Bank has been integral to the resort's success, then and now.
While everything was closed during the height of the pandemic, all the hotel rooms were renovated. When hotels and restaurants could reopen at half capacity, management converted half of the Inn's rooms into private ski cabanas. DesLauriers explains, "We rented them out in the winter to season's pass holders; they had their very own base lodge. We saw the shape of our revenue really change since lodging and food sales diminished. We came out okay because people always want to ski." One thing that did explode in both interest and sales was night skiing, since Bolton Valley Resort is Vermont's only ski area offering this perk. During the pandemic it was one of the few safe and socially acceptable ways to have fun with friends.
Visitors travel from all over to experience the exhilaration of skiing at night or taking in Vermont's gorgeous mountain views. These days, many of the guests drive to the Bolton Valley Resort instead of flying, which was the standard four decades ago. One family has been hosting its annual reunion there for 30 years now. Accommodating these lifelong guests is second nature to the resort's employees, especially the ones who have stayed on for decades. Many families work there together. It's become a real community, not just for the 300 to 350 employees throughout the winter, but for the guests, as well as the residents of Bolton and Burlington who were taught to ski by the resort's fantastic trainers.
"We're always thinking of new ways to bring people together and attract new visitors," DesLauriers says. "One of the things we think might draw people to Bolton Valley Resort is renting out Timberline Base Lodge and the chairlift, along with The Ponds venue space. Essentially it would be like having your own base lodge and private ski lift. That is rare and worth flying out for. We're excited to see what happens." The team also want to develop more, but it's hard with environmental mountain regulations. Supply chain issues are a challenge as well. When dealing in a "hard assets business" procurement and cost can be difficult. DesLauriers cites the example of not being able to obtain a new hot tub for the spring and early summer, no matter how far in advance they tried. She notes, "When you can't access what you need as a business to grow and improve, it can feel very frustrating."
But supply chain and development difficulties aren't going to stop DesLauriers from pursuing her goals. Just like her father wasn't dissuaded from his. "Developing on the Green Mountains is a surmountable challenge. Vermont is in a housing crisis, and we want to be part of the solution for our community. We're exploring options right now," shares DesLauriers. "We have a lot of on-mountain improvements we're interested in, such as expanding our mountain bike operation and looking at our ski operation."
Pellegrini adds that for him, just being outside in a scenic mountain environment is key. "There's a lot of beautiful spots in Vermont, but with Bolton Valley Resort it's different. To be driving just off the highway one minute and then the next you're suddenly in a remote alpine destination. That's unique."
AT A GLANCE
Bolton Valley Resort
What: Outstanding family-owned ski resort with full-service amenities
Where: Chittenden County, North Central Vermont
Website: www.boltonvalley.com
Community National Bank, Vermont's Community Bank
Community National Bank has been serving Vermont communities since 1851. Community National Bank's main office is in Derby, Vermont. Other offices are located in Barre, Barton, Derby Line, Enosburg Falls, Island Pond, Lyndonville, Montpelier, Morrisville, Newport, St. Johsbury and Troy. Loan Production offices are located in Burlington, Vermont and Lebanon, NH.