Commonwealth Stadium
Edmonton's emblem
Business View Magazine interviews Jason Fesyk, Supervisor of Major Events at Commonwealth Stadium, for our focus on Canadian Conference & Event Venues
For the last 44 years, the iconic Commonwealth Stadium has overlooked Edmonton's vibrant downtown. As the largest outdoor stadium in Canada, the 42-acre complex seats 56,400. It's the idyllic venue to enjoy a sporting event such as the HSBC Rugby Sevens World Series or a legendary musical performance like The Rolling Stones. The facility was originally built and named for the Commonwealth Games, which Edmonton hosted from August 3rd to 12th, 1978. Queen Elizabeth II even opened the event during a ceremony held within the stadium. After the games concluded, the Edmonton Elks football club (formerly Edmonton Eskimos) permanently moved there from Clarke Stadium. During any Elks events, the arena is known as The Brick Field at Commonwealth Stadium.
"The City of Edmonton owns and operates Commonwealth Stadium; it's a very important part of our community because it's both an economic driver and sports tourism hub," shares Jason Fesyk, Supervisor Stadium Major Events. "It's a place where fans from all over gather to celebrate sports and entertainment. Since we're less than 10 minutes away from the downtown core, we can attract events for Edmonton, Alberta, and Western Canada as a whole. We want to continue that over the next 20 years. We are now imagining what Commonwealth Stadium could look like in the future."
Two years ago, they began working on a Master Plan, despite the stadium looking "cosmetically well" for its 40 plus years. "This project will be more transformative because the stadium is iconic and still useful in its current form," Fesyk explains. "We'll update our mechanical, electrical, audio-visual, hospitality areas, etc. to better align with the other Canadian stadiums built within the last five years."
One such update has been increasing the stadium's overall Wi-Fi capabilities. Working with Telus Communications, the stadium is in the process of installing a 5G network that will better support the myriad of available team- and league-related apps. As Fesyk reports, "it's been a very important piece to focus on. We've done a lot of work expanding our fiber optic networks inside the stadium. Since being built in 1978, many of these modern technologies have passed us by, so we've retrofitted the best we can." Commonwealth Stadium maintains its competitive edge in today's technology-based world by easily sustaining audiences of 56,000 who are simultaneously updating their social media accounts on assorted mobile devices.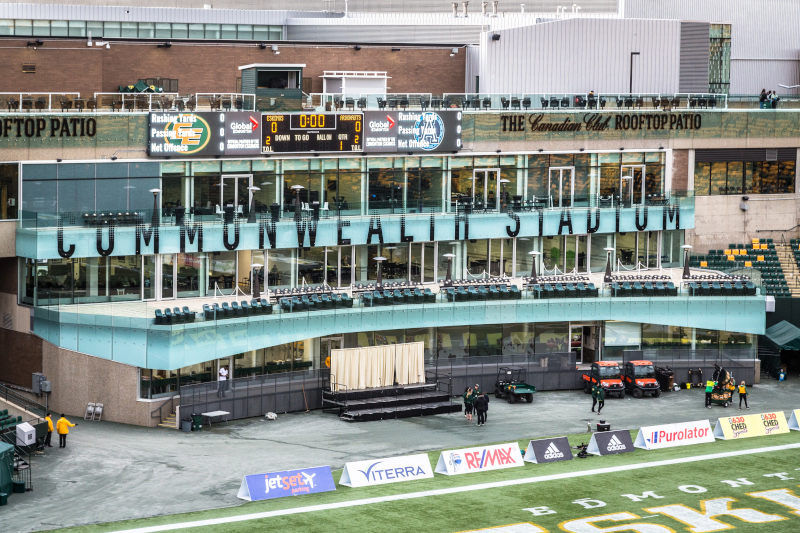 Other modern improvements are green oriented, such as switching over lighting to the more energy efficient LEDs. The stadium has also adopted Edmonton's three-stream waste sorting program, mirroring how waste is separated into recycling, food scraps, and garbage.
Certain sustainable and green accreditations are being investigated too. For instance, the BOMA BEST Sustainable Buildings certification, which is offered by the Building Owners and Managers Association of Canada and recognizes excellence in energy and environmental management in commercial real estate. There's also the Leadership in Energy and Environmental Design (LEED) credential given on behalf of the Canada Green Building Council (CAGBC).
But Fesyk isn't about to stop there. He notes, "We're even exploring solar panels because we're catching up. We want to ensure the stadium and all the buildings connected with it, like the Commonwealth Community Recreation Centre, are moving forward and using all available green technologies. We must support sustainability every time we open the doors at Commonwealth."
These doors welcome attendees in May for the start of the Canadian Football League (CFL) training camp and close in November after the CFL season. But there are always exceptions such as the first Heritage Classic National Hockey League (NHL) game. Played between the Edmonton Oilers and the Montreal Canadians, it was held on November 22, 2003. Currently, there are plans of possibly having an event during the December to February time frame, which would be manageable with the fulltime staff of approximately 13, including Fesyk's role, administration, security, and 10 maintenance positions. The stadium's temporary workforce is around 400 including additional security, customer service, and ushers.
Fesyk admits, "It's been a challenge finding personnel because they either have found other jobs or left the industry. It encompasses everyone, even our volunteer first aid staff. We just finished a job fair with a big focus on licensed security guards and customer service representatives. So far, we're happy with the responses."
It helps that despite the ongoing COVID pandemic, people are looking forward to working again, which is very much needed with the return of major events. "We're going to be active and animated," asserts Fesyk. This is true with the Mötley Crüe & Def Leppard: The Stadium Tour just announced for September 4, 2022, and the football/soccer seasons already confirmed. The city wants to hire about 50 percent more staff compared to previous years to make up for the lack of personnel during the pandemic. It will also help build a bigger part-time volunteer pool.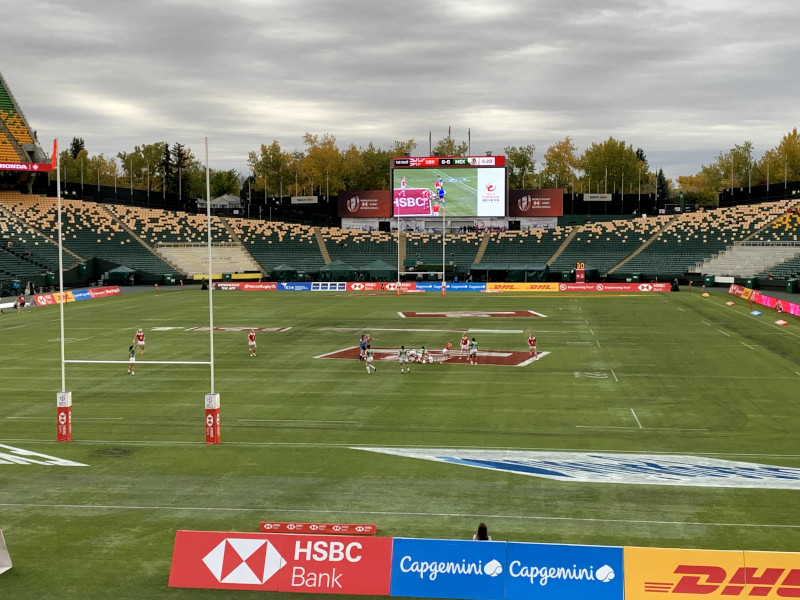 Fesyk hopes people will feel comfortable working at Commonwealth knowing that all federal, provincial, and municipal protocols were, and still are, strictly followed. "Any attendees that were in our outdoor seating area or consuming food and beverage could be unmasked. But when they went to the washroom, bought concessions, or visited the indoor buildings they had to wear masks," he explains. "We also redid most of our wayfinding signage, so it provided clear information at all our events."
Commonwealth Stadium has benefitted from promoters needing venues for events now that people are ready to get out and have fun again. Through relationships Fesyk has built with various promotors and groups over the years, he is confident that the long-term agreements he's signed will continue far past the 2022-2023 season. "Part of our success is working with great local companies within the stadium itself," he says. "We work with Western Food Services Ltd for concessions during football games and city events. Our LED and jumbotron production work is done by Gord Redel Productions and Mr. Mix Audio. They provide great service and help us buoy the football season and now other events. They've been great partners."
Working with local companies is only a small part of Commonwealth Stadium's interaction with the community. Over the years, the mostly residential McCauley neighbourhood has literally grown around the facility. "We really are part of the community," says Fesyk. "People see us as a beacon of downtown and we try to connect the best we can by opening our doors to everyone." The stadium also works with community leagues and local not-for-profit organizations to host events and create a community atmosphere during events. He adds, "The volunteer nature of these shows also give staff, and attendees, a sense of belonging and ownership. They feel part of it, and understand how they can access the teams, artists, and promoters. Being a city-run facility with a community run football team, we have a big part to play."
Over the next five years, Commonwealth Stadium may play an even bigger part – possibly one on the world stage. That's because Edmonton is currently a candidate for host city of the 2026 FIFA World Cup as part of the North American bid. It's been a big side project. According to Fesyk, "A lot of construction projects and upgrades are on the books. Many will run parallel with our Master Plan, but FIFA has its own requirements. So, we're tweaking some of our past plans with their needs. For instance, FIFA World Cup soccer is played on either a pitch that is all-natural grass or a hybrid of both natural and synthetic grasses. We use artificial turf, so that change is part of the plan. We'd also have to upgrade our audio-visual elements in and around the stadium."
The final decision should be made public over the next few months and Fesyk is eager to hear the results. He shares, "FIFA does so many things well, like hospitality and sponsorship. Commonwealth Stadium could use that shot in the arm to help us push forward some of our transformative pieces. Regardless of the bid however, over the next couple of years, we will continue to build our foothold in the market of live entertainment throughout Western Canada, Canada, and North America as a whole."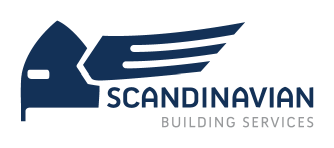 Scandinavian Building Services Ltd – https://scandinavian.ca/ 
Scandinavian is responsible for keeping over 120 million square feet of space clean every day.
Our clients include Canada's largest national retailers, commercial spaces, iconic sports/entertainment facilities, industrial spaces, fitness facilities, shopping centers, and more!
With over 65 years in the industry, no cleaning challenge is too big or too small!