Oregon Convention Center
A Premier Event Center in the Heart of Portland
Representing a dynamic and cultural city, Oregon Convention Center proudly takes center stage
Known as 'The City of Roses,' Portland, Oregon is a vibrant city overflowing with diverse cultural and artistic experiences while embracing a strong sense of place that is second to none. Harnessing this, the Oregon Convention Center (OCC) brings people together in the heart of the community, supporting employment and highlighting the local flavor while also providing a space for large-scale events and drawing visitors from across the globe.
Opened in 1990, the facility underwent an expansion in 2003 and a major renovation in 2018. Today, Oregon Convention Center comprises 255,000 square feet of exhibit hall space, 52 meeting rooms, two grand ballrooms, along with a variety of multi-purpose meeting rooms and office spaces.
"We have roughly 10,000 hotel rooms within what we consider our general geographic area of downtown Portland. Typically, pre-pandemic, we were in the 500,000 to 600,000 annual attendee range across 550 events," describes Craig Stroud, OCC Executive Director.
"Of those 550 events, 50 to 60 would be city-wide conventions or large consumer shows like the Pacific Northwest International Auto Show or Rose City Comic Con. The remainder is everything from a small business meeting to a fundraising gala, a lot of community-related events and support."
COVID paused the happenings at OCC, with the facility canceling all events in March 2020, following public health orders at the time. Stroud recounts, "We stopped doing our primary service to our region, which was hosting meetings, conventions, and events. For about a 15-month window, we were completely out of our normal operating model and mission."
These cancellations led to the layoffs of approximately 75 full-time members of staff and hundreds of variable-hour employees. "It was a really stark time for us; we were down to the minimal crew of folks who knew how to maintain systems, protect the center, maintain client relationships, and begin to strategize how to come out of it, not knowing when and how we would come out of it. That said, I'm incredibly proud of the work that we provided the residents of our region at the convention center," he adds.
To support the community during the pandemic, OCC opened a drive-thru COVID testing center for a local hospital. A physical distancing shelter was also opened on the premises, providing a safe space for the city's homeless population. When extreme wildfires hit the Portland region in the midst of the pandemic, the facility became a Red Cross emergency evacuation shelter. Finally, in the fall of 2021, when the vaccines began rolling out, OCC opened its doors as a mass vaccination clinic for the four hospitals in the region. "We scaled up from 800 or 900 doses a day to peaks of more than 10,000 individuals," Stroud shares. The efficiency of this system was a point of pride, with the regional health authority commenting that the clinic was one of the most efficient in the country.
In February of 2022, the OCC began to rehire staff, slowly building back to pre-pandemic numbers. "At this point, our full-time team is about 95 individuals. Pre-pandemic, we were 117, and then hundreds of variable staff. That's just our direct center employees, not including our contract partners," says Stroud.
"If you took COVID out of the picture, there's no question 2023 would have been a record year, just a phenomenal year for us. From a revenue standpoint, we're expecting to reach near pre-pandemic levels. We think we'll return to inflation-adjusted levels in the next couple of years. We're optimistic but cautious at the same time."
On the operations side, OCC relies on valuable partnerships with Levy, who are well known for their quality and reliable food service, and Edlen Electrical, who provide electrical services for exhibit spaces. Partnering with the destination marketing and management organization Travel Portland, along with the hospitality community is a strength for Oregon Convention Center, helping to create an exceptional client experience.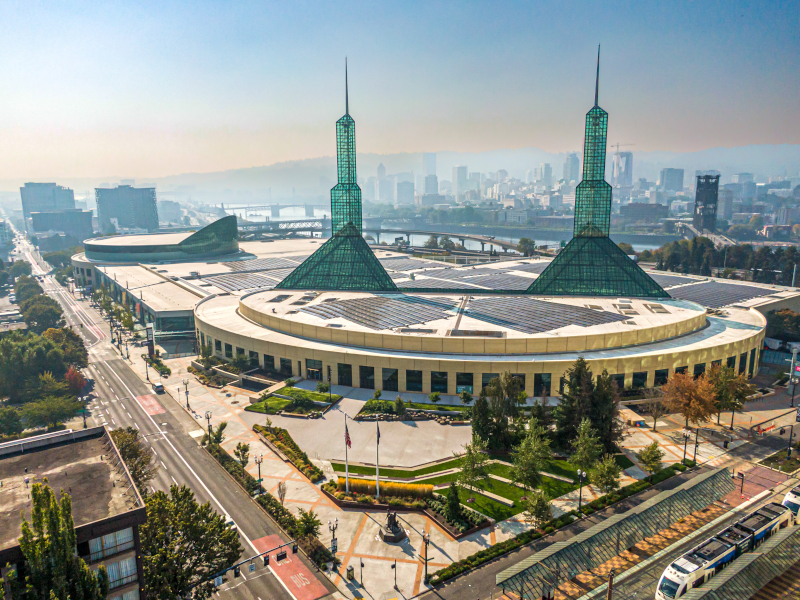 "We are told repeatedly by clients that they recognize how well our hospitality partners work together to provide a great client experience for the convention center and hotel room block contracts; that's all seamlessly managed and supported through Travel Portland and our sales teams. That's a differentiator. We're easy to do business with," Stroud boasts, adding, "We don't compete with one another. Our goal is to get out-of-state visitors into the region, experiencing all the amazing Portland and Oregon offerings, having a great time, and supporting our local businesses.. And everybody's on board with that."
Bringing a client's vision to reality is one of the overarching goals of the OCC, and Stroud says that this approach reflects the overall spirit of the city of Portland. He remarks, "We really step back out of ourselves and listen to our clients and their vision and what they're trying to achieve, and then take all these amazing resources that our center and our staff offer and make that a reality for them. The true ethos of Portland is entrepreneurial. It's adventurous, it's a love of nature, place, and shared memories."
A love of nature and the arts is evident within the venue, where a $2.5 million investment has been made into public art, and nature is reflected throughout. "We're situated with a view of the Cascade Mountain Range. We wanted people to know when they're in the center, that they are in the Oregon Convention Center," he asserts.
"People are curious about Portland; they've heard about our food scene, the distillery scene. They've heard about our wine country, our natural beauty, and the fact you can be at the Pacific Ocean an hour and a half from the city. Sometimes that curiosity is our strength when clients offer a convention or an ability to come visit." The fact that Oregon has a zero percent sales tax is an added bonus for clients and event attendees.
The 2019 renovation of the venue really highlighted the connection to nature, with wallcoverings depicting the texture of a magnificent forest of fir trees and natural wood elements throughout. The pre-function space in the Oregon Ballroom is perhaps the most magnificent area of all, with a three-dimensional depiction of the Cascade Mountain Range suspended from the ceiling.
"The mountain range protrudes down at you as you're walking into the space. You can look up and see Mount Hood, the northernmost snow-peaked volcano in Oregon, all the way south to Crater Lake, just above the California border. It's quite dramatic," Stroud portrays.
Lighting was also updated throughout the building, along with updates to technology. The ballroom features a deeply textured honeycomb pattern, which can be washed with any spectrum of lighting, evoking the illusion of standing in a forest peering up through a canopy of trees. The entire facility is also awash with natural light thanks to the two glass spires that are part of the main building.
"Everything was built around creating a sense of place, nature, a calming effect, where we really set the palette for whatever's happening. We know that unless people are comfortable and feel safe in an inviting space, they're not going to be able to partake fully. So, we've created that space for them to make the experiences they're enjoying as immersive and spectacular as possible," he maintains.
This summer, the Oregon Convention Center is excited to be hosting the Veterans Wheelchair Games, an event that was rescheduled due to COVID. "That would be an example of a national/international activity that happens to be taking place in Portland that we would offer up as a visitor experience for the residents of our region," Stroud acknowledges.
Other events, like Rose City Comic Con, bring close to 60,000 comic fans from throughout Oregon and the neighboring southwest Washington area. OCC is nothing if not diverse, and attracting a variety of events is a priority. This includes everything from cheerleading competitions, and fundraising galas, to the International Taekwondo Championships, fencing competitions, and immersive art such as the Van Gogh Experience.
Moving forward, Stroud says the Oregon Convention Center will continue to optimize services and the client viewpoint, building on the lessons learned during the pandemic. A commitment to an excellent staff experience is also top of mind.
In conclusion, he offers, "I really think that we're going to come out a better organization from a service delivery and an experience standpoint, for the guest, but also for the staff. We're still hiring folks back; we're not quite the same size. But as we're rebuilding, we've been rebuilding better. Everything about us is better than it was pre-pandemic, and we were exceptional pre-pandemic. So, there's a lot to be proud of."
AT A GLANCE
Oregon Convention Center
What: A large event venue in downtown Portland
Where: Portland, Oregon
Website: www.oregoncc.org
GB Manchester, Inc. – www.gbmanchester.com
GB Manchester: Technology Integration and Custom Solutions
Collaboration from Concept to Completion
For more than 75 years, we've been the Pacific Northwest's most trusted and dynamic partner producing tailored solutions that transform and future-proof your technology.
From the planning stages, design, and installation to maintenance, upgrades, and follow-through, we customize our work according to your specific needs.
We design-build and manage projects across a wide range of disciplines:
We are your solution and your support. We're synched, seamless, and at your service! And we're ready to get to work for you. In varied environments — from classrooms and convention centers to cinemas and stadiums — no job is beyond the scope of our team or our services.
Bring your ideas to us. We'll bring them to life!
Local businesses
Government entities
Education service districts
Manufacturing
Healthcare
Corporate
Industrial
We are family-owned and union strong. That means our roots in the Northwest don't just run deep; they run far and wide, too. We are GB Manchester: Custom solutions that overcome communication barriers.