Alpharetta, Georgia
Technology hub of the South
Business View Magazine interviews representatives of Alpharetta, Georgia for our focus on Growth & Economic Development in U.S. Cities
In 1980, Alpharetta, Georgia was just a rural town with only 3000 residents. "There was not really a central business district in the sense of most southern towns," recounts Alpharetta Mayor Jim Gilvin. "It wasn't built on the railroad line. It wasn't built near a river with a port. There was no transportation network. There were 3000 people here and most of them lived on farms."
But then that all changed. Investors, seeing the potential of the city's location just outside Atlanta, decided to install fiber optic cable in the area. What was once a primarily agricultural community quickly drew the attention of data centers and technology companies.
"So the City of Alpharetta has evolved into not only a great place to live, raise a family, and enjoy your life, but it's a great place to do business – especially for technology business," Gilvin says. "We have tremendous fiber optic networks in Alpharetta. We have one of the most highly educated technical workforces in the nation, and we've got a very safe community. That balance of having both really makes Alpharetta unique."
Today, Alpharetta is known as the 'Technology City of the South'. It's a place where you can get the small-town rural ambiance of quaint shops and horse farms right alongside a fast-moving, high-tech industry akin to Silicon Valley. "What really attracted me to Alpharetta is going back to that small-town feel," says Jason Perez, CEO and founder of Yardz – part of the city's tech incubator, Tech Alpharetta. "When you think of technology, all of a sudden you think skyscrapers and big buildings and the Bostons and New Yorks, the Silicon Valleys, San Francisco, whatever it might be. Here, you can still go down and eat brunch at a family-owned restaurant, walk down the street with your kids and feel safe. I've been all over the world and to almost 50 states and Alpharetta truly is a diamond amongst gems."
The city is home to more than 700 technology companies, large and small, including AT&T, LexisNexis, ADP, and Global Payments. "The technology in the city is one of the strongest in the country," says Lance Morsell, the city's Economic Development Manager. "It has about 3.3 times as many tech jobs as the average American city, which puts it right in line with Silicon Valley, which has about 3.4 times as many tech jobs as the nation as a whole. We are right there with some of the leading technology hubs in the U.S."
In 2013, the city founded a technology commission called Tech Alpharetta to attract new technology companies to the area. Today, it's an independent non-profit organization that includes a start-up incubator, a strategic board, and tech events. The incubator is home to more than 50 start-ups, which are offered office space, mentorship, educational programs, workshops and networking opportunities.
"The mentors they have in place, the different classes, seminars, the speakers that they put on in-house, these are all pieces that you get just by being part of the incubator," Perez says.
Tech Alpharetta and the city's reputation as a technology hub are what attracted Perez to found his company within the city. "There's a rich history of tech companies being founded here and when we started looking at options, we wanted to go where we were going to be able to attract talent, to have the right connections, mentorships, companies, and resources to be able to grow our company with the least amount of effort," Perez recalls. "As a founder of a company you're always looking at ROI, whether it's on dollars or whether it's on people or time or anything that you do. Alpharetta just made sense. And so we've benefitted from the hard work of Lance and the Mayor to be able to come here and get credibility by just being founded here."
Alpharetta also has some of the best public schools in the country through the Fulton County School System. That includes the new Innovation Academy, which is a public school focused on STEM education and innovation training. The city is also home to a campus of Gwinnett Technical College. Both educational streams offer programs to train the next generation to join Alpharetta's tech industry.
"We partner with the North Fulton Chamber of Commerce and the Alpharetta Chamber and other organizations to keep that pipeline and communication to help build workforce development, because that is critical," Gilvin says. "Corporations right now, it's all about talent. How do you find the talent? How do you retain the talent? And that's part of what we do as a city. We work with the Fulton County School System and all those private sector organizations that helped build that environment."
The strong workforce and highly sought-after school system have made Alpharetta a very attractive community for families to settle in. Coupled with the influx of people looking to move out of major cities following the pandemic, Alpharetta has seen an increase in population lately. The city has incorporated new developments over the past decade, but the recent increase in population has come with more challenges.
"Our goal long term is to remain the best place in the State of Georgia to raise a family and do business," Gilvin says. "A lot of the challenge, as we continue to evolve and build housing, is that there are fewer spaces around the country that offer what we offer. So the demand is outstripping the development. We have to be careful because at some point, if you over develop, then you've lost what made it special in the first place."
To prevent that from happening, the city has developed a comprehensive land use plan that will help maintain the small town charm. "We have been on the forefront of evolving the suburban atmosphere with urban amenities," Gilvin says. "A lot of our local communities around here and throughout the state are starting to copy the blueprint that we've outlined." That plan includes templates for builders and developers, which help them understand what can be built in certain areas of the city. "It's also not set in stone," Gilvin warns. "I think we've done a great job as a community of helping people who want to invest in this community do it in a way that is consistent with the comprehensive land use plan, without being punitive and driving off people that want to invest."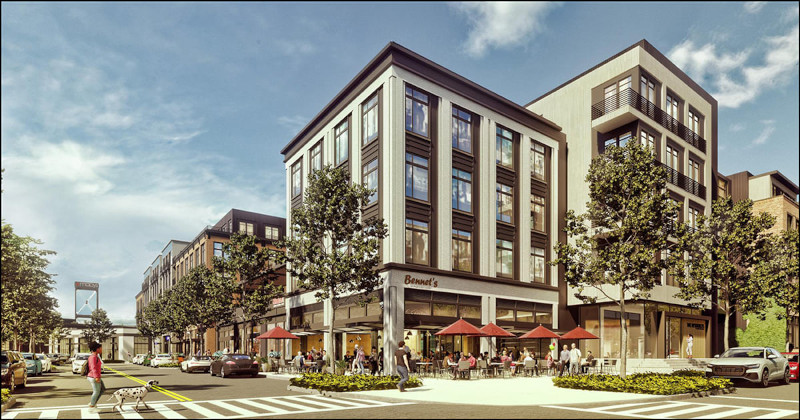 The city was the first to create an Eco District Overlay for a commercia/retail corridor that sets standards for redevelopment that include the creation of new trails and greenspace, sustainable landscape and other green initiatives. What was once a sea of strip malls and parking lots is now being turned into a place where nature is celebrated. It's anchored by the Big Creek Greenway, which offers eight miles of trails for walking, biking, and running and the planned extension of the Alpha Loop, the City's "urban trail" that "connects people to the stuff."
"If a development happens in that district, they have to meet certain standards that are green-focused, more pedestrian friendly for that overlay," Morsell says. "As retail evolves, as office space evolves, there are incentives to break up that asphalt and build structured parking or reduced parking requirements and incorporate pedestrian connections, green space and natural spaces within that whole corridor."
Adding to the city's charm is its downtown area. What was once just a Baptist church, a restaurant, and some run down shopping centers, now appears to be a cute, bustling historic downtown core. "It's a new creation based on an old vision of what a small town could look like if you could start over again," Gilvin says. "In 2008, the city accumulated 22 acres downtown and pretty much started from scratch. City Hall sits where there used to be three 1960's brick ranch houses. We've been really blessed to build something that has the sense of community that always existed in Alpharetta, but on a much grander scale."
The new downtown features historic architecture complete with vast retail options, restaurants, housing, park space and areas dedicated to outdoor gathering and dining. "Alpharetta has done a really good job with the city center of making it look aged in a good way," Morsell says. "It doesn't look like it's all brand new over the last decade. It looks as though it has been here for a while. The architecture is very well done."
Alpharetta is an old city that had the opportunity to start again with fresh eyes. The transformation has been carefully executed according to a vision that has made it an ideal mix of big city and small town life. "You can tell when you walk in – from Main Street all the way to the Avalon – these are spaces that are being created. These are very intentional spaces," Perez says. "This is history, meets technology, meets one of the best places to live on earth."
AT A GLANCE
Alpharetta, Georgia
What: A vibrant tech-centered city of 65,500
Where: North Fulton County, Georgia; a suburb of metro Atlanta
Website: www.alpharetta.ga.us
Taylor English Duma LLP – www.taylorenglish.com
Taylor English Duma LLP is a full-service law firm headquartered in Atlanta, GA. Built from the ground up to provide highest-quality legal services for optimal value, the firm combines the best aspects of a traditional law firm with seasoned attorneys managing their practices throughout the United States.