Raising Cane's River Center
"In the Business of Making Memories"
Business View Magazine interviews representatives of Raising Cane's River Center for our focus on Resilience in the U.S. Hospitality & Events Sector
Located in the heart of Louisiana's capital city of Baton Rouge, Raising Cane's River Center has been fulfilling its mission to "promote an inspiring environment where performing arts will flourish and strengthen Baton Rouge's cultural, social and economic vitality," since 1977. Home to the Baton Rouge Symphony Orchestra, Baton Rouge Ballet, Opera Louisiane, and Broadway in Baton Rouge, the center plays an important role in supporting arts and culture in the city.
Alysia Guin, Sales and Marketing Manager for Raising Cane's River Center, describes, "We are a fairly large property, taking up pretty much an entire block of downtown Baton Rouge. We have a ballroom and exhibition hall, and an arena that seats 10,000 people. Joining all of those spaces together is what we call the Galleria and that's lined with 13 meeting rooms."
A full theater in a separate building on the property has been recently renovated, adding to its value as an asset to the community. Wayne Hodes, Raising Cane's River Center General Manager, shares, "Our theater for the performing arts just underwent an entire renovation to the tune of over $18 million. We've seen much more interest in the national musical and comedic landscape, as well as locally from the performing arts community to perform there." Part of the theater renovation included upgrades to the audio-visual capabilities, making the facility more competitive as a venue option.
With that project completed, there are plans to bring the arena up to date – a necessary investment. As Guin explains, "The arena is the oldest part of our building. Originally, the property was just the arena and the theater, and then in the early 2000s they added the exhibition hall and the ballroom. Now that the theater project is done, we are working on the arena to make all the upgrades that are needed in order for us to be competitive in that area as well."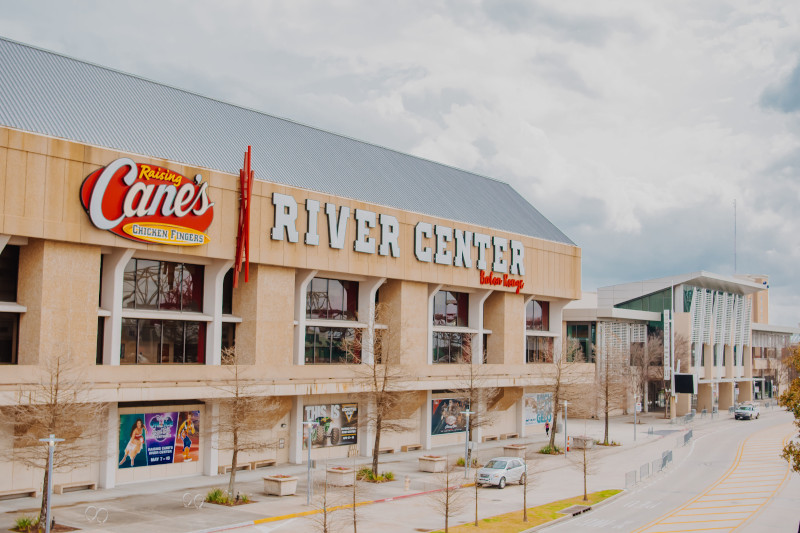 On the technology side, Raising Cane's River Center is working with IT solutions company Transformyx to update the facility's infrastructure. "We're going through a huge upgrade. Our wiring to all of our routers and Wi-Fi probably hasn't been updated since the late 1990s or early 2000s. They are helping us make all of those urgent upgrades so that we can be more secure in our network and have better performance all around, making everybody's lives a little bit easier in the office and on event day," says Guin.
With between 30 and 50 full time administration staff, the center has a very close-knit employee group, which Guin acknowledges is inevitable. "In a job like ours, we spend a lot of late nights, and a lot of weekends together. We all are there to constantly support each other, because we all recognize that the event industry is a very demanding thing. There is always a lot of support there to make each event better." Part-time staff are brought in for events and many of them have been working for Raising Cane's River Center for several years. This includes event staff, food and beverage staff, and security. For larger groups, the center will hire additional people through a temp agency.
Guin, who has been employed at the center since 2019, was fortunate to be able to remain busy during COVID, when the event industry was basically shut down. She recounts, "We still needed to communicate to the community, and to our employees, as to what was going on. I would work every other week and, during those weeks, I would push out messages on social media, using the opportunity to showcase our private event spaces. It was mostly finding ways that we could still communicate with our employees and with the community of Baton Rouge, keeping people engaged when we didn't have much content to have them engage with."
Community involvement is a priority for Raising Cane's River Center, as Guin shares, "We do our best to stay involved. Our naming rights partner, Raising Cane's, is a very active participant in the Baton Rouge community, and it is important to them that our building is also." Owned by the city, the center is managed by ASM Global, who also prioritize the community. Guin adds, "It's very important to them that we report back with all the things that we are doing, not just to bring in money from events, but also what we are doing to make our community a better place to live."
Through events like the annual Slam'd and Cam'd indoor car show, the center raises money for non-profit organizations, choosing a different charitable group each year. Employees also volunteer at the Greater Baton Rouge Food Bank, sorting and packing food to be distributed to local pantries. Raising Cane's River Center is also the location for the East Baton Rouge Parish school board's annual Back to School Bash, where students can receive school supplies, and services like haircuts, and vaccines, to prepare them for the coming school year.
"We offer up our space, complimentary to them as a form of sponsorship," says Guin. "This year, we are also working with them to build a backpack stuffing drive where we will buy all the supplies that they'll need, put them in a backpack, and hand them out to every child that comes to the Back to School Bash." The center has also acted as a shelter for displaced people during major storms and floods – cancelling and postponing scheduled events to allow the American Red Cross to take over, with staff stepping up to help where needed.
Sustainability is another important issue for Raising Cane's River Center, which was one of 10 venues in the U.S. to be selected to take part in a pilot program. Guin reports, "ASM Global has begun a corporate responsibility initiative called ASM Global Acts. It breaks down into three pillars: protect the environment, invest in people, and strengthen communities. Strengthening communities comes in with our volunteer work at the food bank and the Back to School Bash. We invest in people through internships. And the protect the environment component is helping us with more green initiatives." Adding a recycling program to the complex, eliminating Styrofoam to-go boxes, and limiting single use plastics are a few of the efforts being made to create a greener environment. Automatic toilets and faucets have been installed to reduce water usage, and the center is working with electricity provider Entergy, to upgrade to more efficient LED lighting throughout the property.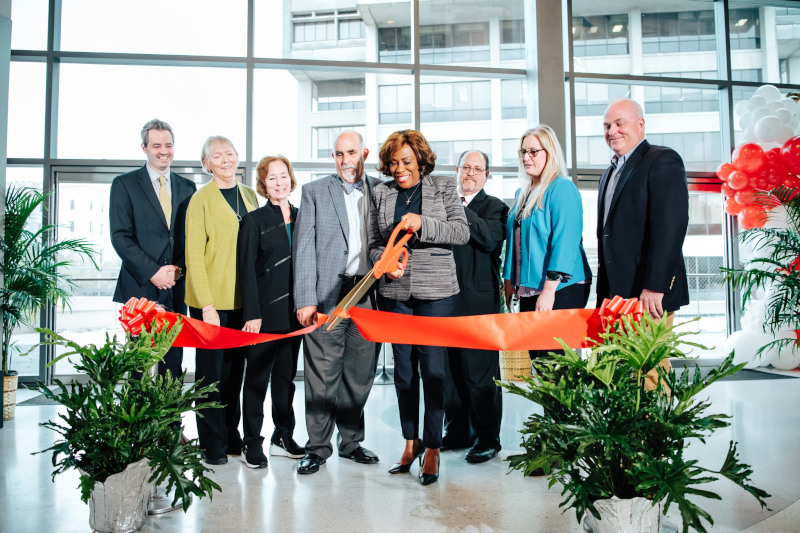 Sharing her thoughts on what comes next for Raising Cane's River Center, Guin asserts, "I'd really love it if we had more competitive concerts and more community programming, to be able to provide Baton Rouge with more content that they love, which will make them cherish Baton Rouge a little bit more." She adds that Raising Cane's River Center works with the Baton Rouge Chamber, who are focused on keeping people in the city, and not migrating to nearby New Orleans. "We are fighting to make Baton Rouge a more desirable place where people really want to stay. As the home of Louisiana State University and Southern University, we have all these great college students that are ready to enter the workforce and a lot of them leave Baton Rouge and go elsewhere. We just want to create something that makes them want to stay for good."
Hodes sees continued growth and enhancement in the future, offering, "We would like to expand our programming opportunities for the community and region at large." He describes bringing an even more diverse selection of music genres, a variety of professional and amateur sporting events, and national trade shows and conferences to Raising Cane's River Center, adding, "We are in the process of doing a facility market study that will hopefully identify facility enhancements for all our venues – the arena, exhibition hall, ballroom and 17 meeting rooms we have here on the property. Since we are in downtown Baton Rouge, we see ourselves as an economic stimulator for the city, hopefully from a regional perspective."
He also envisions increased tourism to the area, summarizing, "On a given weekend or during the week for a conference or convention, we have visitors coming in from out of town, not only to enjoy an event at the Raising Cane's River Center, but to also spend a night or a few days at our downtown hotels and enjoy some of the wonderful culinary options Baton Rouge and its restaurants have to offer."
AT A GLANCE
Raising Cane's River Center
What: A multi facility sports and event complex
Where: Downtown Baton Rouge, Louisiana
Website: www.raisingcanesrivercenter.com

Transformyx – www.transformyx.com
In late 2018, the Raising Cane's River Center's existing technology network infrastructure needed a complete refresh. Not only were the venue's wired and wireless products approaching end of life/end of support, but the desire to modernize the venue from the inside out was top of mind.
The Raising Cane's River Center partnered with Transformyx, a local Louisiana based IT solutions and services provider, who brought engineering expertise and technical support to the discussion. A predictive site survey was conducted to identify dead areas and expand Wi-Fi coverage of the facility. These results in addition to a holistic assessment of the environment prompted Transformyx to design and propose a best-in-class network refresh using Cisco Meraki switches, access points and firewalls.
The Cisco Meraki portfolio provides reliable, high-performance connectivity of the venue's high-density environment while securing access and providing easy, centralized network management. Additionally, the new infrastructure streamlines network analytics, giving the venue comprehensive visibility into their network traffic and performance.
As the entertainment industry begins to resume normal events and scheduling, the Raising Cane's River Center can utilize their newly implemented Cisco Meraki network infrastructure to enhance the venue's offerings and attract new bookings to the city of Baton Rouge. www.transformyx.com