Denny Sanford PREMIER Center
Growing Together with Sioux Falls
Business View Magazine interviews Jim Johnson, Assistant General Manager of ASM Global, for our Events Sector profile of Denny Sanford PREMIER Center
Denny Sanford PREMIER Center is a popular, multi-purpose venue bringing a wide variety of events to the growing community of Sioux Falls, South Dakota. Comprised of a 12,000-seat event center, with an attached 71,000 square foot convention center, and a 6000-seat arena, the facility can accommodate everything from a big-name concert or college sports event to an intimate reception. With easy access from Interstates 90 and 29, Denny Sanford PREMIER Center draws people from across the region, and is the largest city-owned indoor event center in the State of South Dakota.
The facility was named by three title sponsors – First PREMIER Bank, PREMIER Bankcard, and Sanford Health – in honor of T. Denny Sanford, the founder of First PREMIER Bank and PREMIER Bankcard in Sioux Falls, whose philanthropy includes a $400 million gift made in 2007 to what was then called Sioux Valley Hospital.
Owned by the City of Sioux Falls, the Denny Sanford PREMIER Center is managed by event and venue management company ASM Global. Back in 2014, when the city built the 12,000-seat arena, Wi-Fi access was, and still is, a critical component. For that element, IT specialists Connecting Point were proud to partner with RUCKUS to provide the wireless infrastructure at the Center. Designing a solution that would provide wireless access to 12,000 people at the same time was quite the feat.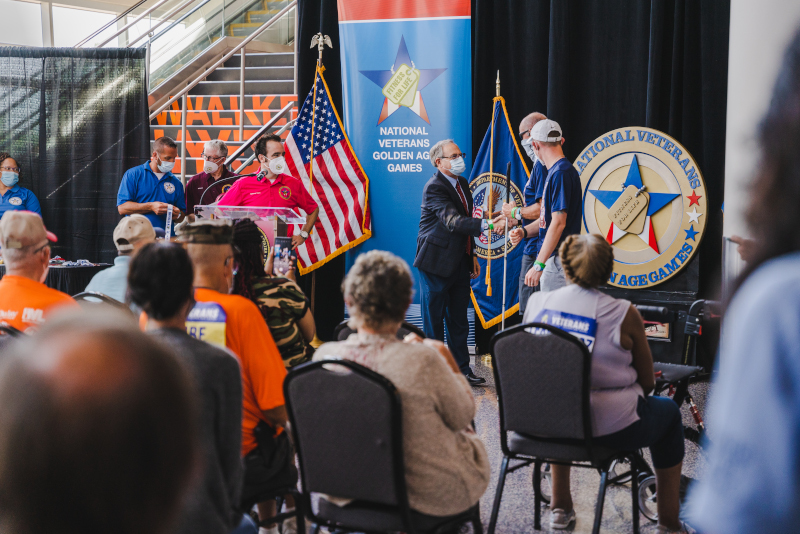 Jiten Gori, Ruckus Networks Channel Manager, shares, "Connecting Point is one of my best partners in our whole 10-state region. We make a great team. Pre-COVID, Paul Simon had a concert in the Denny Sanford PREMIER Center and my wife and I drove down from Minneapolis for it. We were in the "Big Bowl" on the floor and the stands were packed, and while everyone was on their phone posting on social media… I was testing the Wi-Fi. I was getting amazing speeds despite their being more than 10,000 people in the venue. To me, that was proof that the wireless solution we jointly provided was very successful."
Jim Johnson, Assistant General Manager of ASM Global shares, "We took over complex-wide management 15 years ago. We have been going strong for eight years now, and the future looks pretty good as well. It's been great getting back into the event industry coming out of the pandemic. There are always challenges, but we are looking forward to building things back up to how they were back in 2019."
With a study underway to consider taking down the original arena, which was built in 1961, and expanding the convention center, growth is on the horizon for the venue. "As Sioux Falls continues to grow, so do we," Johnson adds.
The role Denny Sanford PREMIER Center has in the community is always top of mind. As Johnson relays, "Locally, we try to set ourselves apart by being a good partner, being active in the community. We also try to excel at customer service, always having a clean welcoming environment here for the guests, because they do have a choice now more than ever on where and if they spend any discretionary income they have. On a more national scale customer service is always number one. We treat everybody that comes into our building as if it's a home away from home, whether that be a country singer or a conference organizer. That's what we really focus on and pride ourselves on."
Host to major musical events such as the upcoming I Love the '90s Tour, The Backstreet Boys, Greta Van Fleet, Thomas Rhett, Iron Maiden, and Walker Hayes, Denny Sanford PREMIER Center was also home to the recent National Veterans Golden Age Games. This week long multi-event sports competition for veterans over the age of 55 brings hundreds of enthusiasts to the City of Sioux Falls to compete.
As for valued partnerships, Johnson shares that the City of Sioux Falls is crucial to the continued success of Denny Sanford PREMIER Center. He recounts, "I've been in the industry for almost 25 years now, and no other city that I have worked with has really focused on making their convention center and entertainment venues as up to date, and cost efficient. They have a great long term planning tool in place, with capital improvement projects, and budgeting for the next 10 years. Along with that, the city purchasing manager and the entire city facilities divisions… their relationships with local contractors are top notch."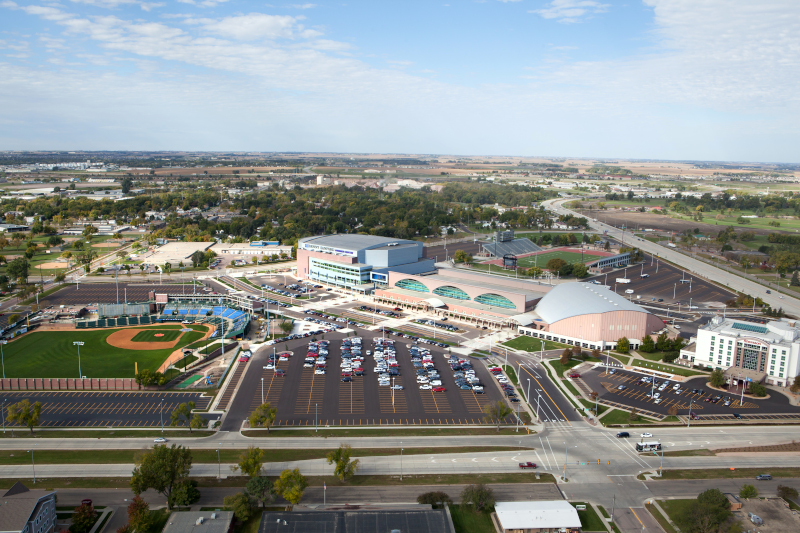 Besides the potential expansion of the convention center, other capital improvement projects included the replacement of all entrance vestibules and doors, a project which was completed by Sunkota Construction. Local company Muth Electric was recently brought in to update all the lighting in the convention center from incandescent to LED, which Johnson reports will result in "tremendous utility savings." Daktronics, a global provider of large format LED display options, is in the process of upgrading  the facility's video system and center hung scoreboard.
Working to keep as many people employed as possible during the pandemic, Denny Sanford PREMIER Center took the opportunity to focus not only on capital improvement projects, but also general maintenance and cleaning throughout the facility. According to Johnson, "We worked on a lot of projects that you typically don't have a week-long window available in a convention center to take care of. So that was our focus, to get the building back looking like it was brand new."
Maintaining relationships within the entertainment industry was also a priority, as well as developing new procedures and efficiencies as the industry began to see a return to larger numbers. "Recently, we've decided to continue with a cashless model at concession stands," says Johnson. "We have seen with the events we have brought back that it greatly decreases transaction time. You can reduce staffing a little bit, and not have to worry about making change. We have also been keeping our safety and cleaning procedures intact that we implemented during the pandemic. A lot of it has been appreciated by our patrons."
Although Denny Sanford PREMIER Center has returned to normal in terms of the number of events offered, Johnson admits that there is still a slight decline in the number of attendees. He clarifies, "Seven to ten percent is what we estimate the no-show rate to be right now. I think that will continue growing and we'll be back to full steam here shortly." In terms of marketing, the center relies on a diverse offering of events to attract audiences. "We have had such a boon in certain concerts, that if we diversify our marketing and our strategies on types of events and the type of audience we're trying to reach, while the per capita spending might be a little bit down, we will be able reach as many people as possible to make up that shortfall," suggests Johnson. Over the past year, the venue has reported great success on the concert side, with Eric Church setting a country music record for ticket sales, followed by Morgan Wallen breaking that record a few months later.
Over the next five years, Johnson hopes to see the concrete plans materialize for expansion of the convention center. He asserts, "We are currently running pretty much at capacity many months out of the year. We would like to be able to continue to grow at the same rate as Sioux Falls."
With the city growing by approximately 5000 residents annually, Johnson sees Denny Sanford PREMIER Center as a draw for businesses and residents wanting to relocate to the area. He explains, "Having a venue like this, with entertainment options, is a big deal to those companies looking for someplace for their employees to want to live. On the financial side, the sales tax revenue generation, the economic impact of the building is huge. Ever since the event center has been open for the last eight years, it's been self funding. We have a positive NOI every year, and all that money goes back into the city for other projects."
As things continue to move forward in a positive direction, Denny Sanford PREMIER Center will continue to attract audiences and events, which Johnson maintains is important for the community. As a final thought, he adds, "It's great for everybody from around the region to have the opportunity to get back together and enjoy themselves. There's a lot going on in everybody's lives, but it's nice to cut loose a little bit and find some entertainment."

Connecting Point – www.connectingpoint.biz
Great people, great products, great service!
Since 1979, Connecting Point has been pushing forward with the latest technologies to provide our clients with the best possible service and experience. Our highly trained staff share a passion and enthusiasm for information technology, and truly care about the organizations and businesses that we serve throughout the Great Plains region, including South Dakota, North Dakota, Minnesota, Wisconsin, Nebraska, and Iowa.
We're a group of IT professionals who have built a business to change the world. For over 40 years, it has been our mission to seek innovation and drive change through technology and we are now nationally recognized.
Connecting Point was proud to partner with Ruckus Networks to provide the wireless infrastructure at the Denny Sanford PREMIER Center. Designing a solution that would provide wireless access to 12,000 people at the same time was quite the feat, incorporating different types of access for areas like "the Big Bowl" feature suites, and the concession areas. In the end, our solution was to provide a combination of indoor and outdoor access points that would make it a very pleasant experience for everyone at the Denny Sanford PREMIER Center. It was a monumental project that has been extremely successful.

Trane – www.trane.com
Trane® is a world leader in air conditioning systems, services and solutions. Trane helps customers succeed by providing innovative solutions that optimize indoor environments through a portfolio of energy-efficient heating, ventilating and air conditioning systems, building, contracting and energy services, parts support and advanced controls for homes and commercial buildings.