American Aero FTW
Best FBO in Texas. Top 5 in the World.
American Aero FTW is shaking things up in private aviation ground handling. The fixed-base operator (FBO) at Meacham International Airport in Fort Worth, Texas, has consistently led the industry in safety and customer service since opening the doors to its world-class facility in 2017, receiving top scores from customers year after year in the Aviation International News FBO reader survey.
We asked American Aero founder Robert M. Bass (RMB) and general manager Angela Thurmond (AT) to tell us what sets American Aero apart.
Q: There are thousands of FBOs, yet American Aero is consistently ranked in the top five worldwide in the Aviation International News reader survey. What is the American Aero difference?
RMB: I have spent my life traveling and visiting FBOs throughout the world, for business and pleasure, and my love of aviation is rooted in those experiences. Most FBOs are mundane. When I purchased a failing FBO at Meacham International Airport in 2012, it was my intention to create something distinctive, something remarkable. I brought in Vice President Bob Agostino, a renowned pilot and creator of the Bombardier Safety Standdown. We understand customers' needs because we know their pain points. We've been there. We set out to redefine the FBO experience to meet the needs of today's travelers.
AT: That vision is our guiding force. My team and I are committed to creating an exceptional experience for every customer. We understand that our mission is to respond to customer needs on the ground so they can focus on their jobs in the air.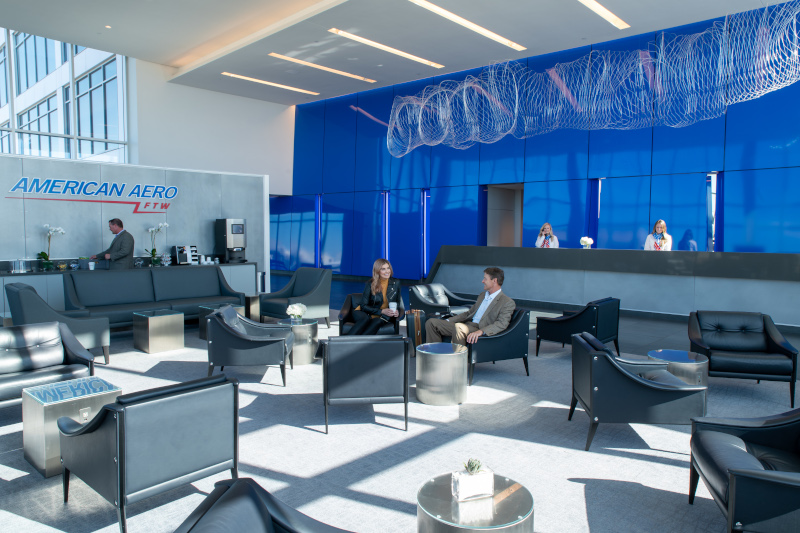 Q: What do customers respond to when it comes to your state-of-the-art facility?
RMB: Every detail was considered for beauty and comfort, from sound proofing panels inside the walls to floor-to-ceiling windows that vary the tint to block the glare and heat of the Texas sun. In addition, I commissioned an original piece of art by Alyson Shotz, a contemporary American artist and sculptor whose work is featured in some of the country's finest museums. The result is an ethereal piece that hangs over the reception desk and is meant to depict the contrails of an airplane.
AT: Guests typically remark on the beauty and exceptional cleanliness of our facility. They enjoy our well-stocked refreshment area with complimentary drinks and snacks. For quick-turn flights, we offer a 90-second dishwasher, and we are always ready to pull up a complimentary crew car for overnight flights.
Q: American Aero is also known for exceptional safety standards. Tell us about that.
RMB: Pilots and flight crew deserve the same focus on safety on the ground as they demand in the air. We were one of the first FBOs in the world to earn accreditation from the International Standards of Business Aircraft Handling (IS-Bah) in 2015, and one of only a handful worldwide to go on to earn Stage 2 and 3 certifications. We strive for safety every day. We are leading the industry.
AT: Our team is Ritz-Carlton and NATA 1st Safety trained. Our culture is focused on extraordinary service and attention to detail, and we are dedicated to protecting our customers and their investments.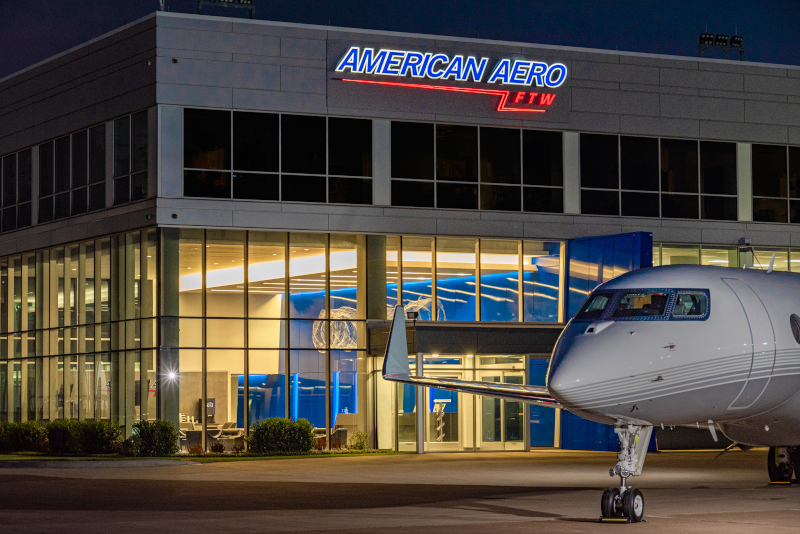 Q: What is your message to private aviation travelers today?
RMB: That is simple. You deserve more and American Aero is committed to delivering on its promise to deliver the extraordinary every day. We are business travelers and pilots, and we strive to provide the services at the level that we expect to be provided to us.
AV: I will add our deepest gratitude to our customers, for trusting us with their business. We are exceptionally proud to serve you and look forward to proving ourselves again and again.
AT A GLANCE
American Aero FTW
What: A world-class FBO at Meacham International Airport
Where: Fort Worth, Texas
Website: https://www.americanaero.com
FBO HIGHLIGHTS
11+ acres of ramp
Multiple lounges/private VIP area
Full A/V conference room
Flight planning room
Crew lounge with ensuite shower
Eat-in kitchen
Soundproof sleep room
Climate-controlled and secured transient hangars
Signature Select/AvFuel affiliated