Fridley, Minnesota
Friendly Fridley
Business View Magazine interviews Scott Hickok, Community Development Director of Fridley, Minnesota, as part of our focus on best practices of American cities.
The City of Fridley is located just north of Minneapolis, and east of the Mississippi River in Anoka County, Minnesota. Its history dates back to 1844, with the construction of the Red River Ox Cart Trail that travelled through the Minnesota Territory, and was used to transport furs to the south and supplies to Red River Valley settlers in the north. In 1847, John Banfill became the first settler in the area, which was known at the time as Manomin, a variant spelling of manoomin, the Ojibwe word for "wild rice," a staple of the local Native Americans' diet.
In 1851, Banfill platted the actual town of Manomin, and a general store and sawmill were built next to Rice Creek, named after Henry Mower Rice, a settler who, just two years earlier, had acquired a lot of land in the area. In 1853, the first town post office was in operation, and a year later, a ferry crossing the Mississippi River was established. In 1855, Abram M. Fridley was elected as the first territorial representative for the area. The Saint Paul and Pacific Railroad reached the town in 1864, and its name was officially changed to Fridley in 1879. In 1949, the Fridley Township was incorporated as the Village of Fridley, which then became the City of Fridley in 1957, encompassing eleven square miles on the northern edge of the Minneapolis metroplex.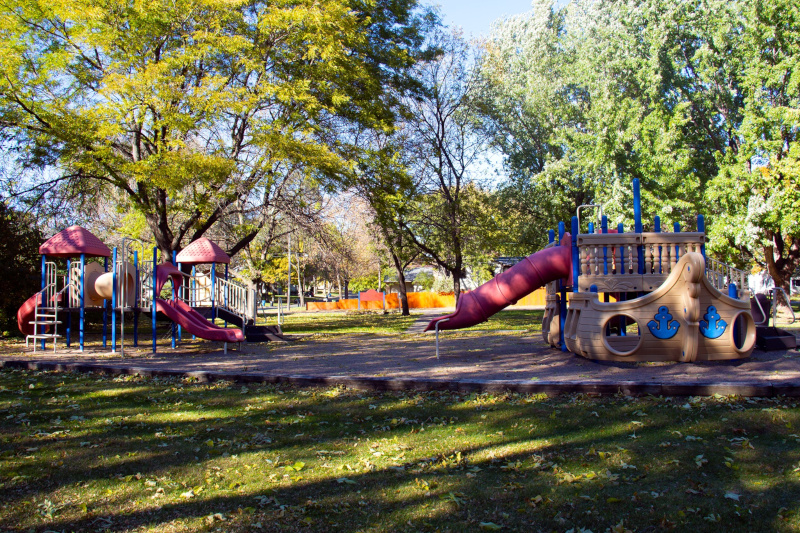 According to Community Development Director, Scott Hickok, during the 1950s and '60s Fridley experienced an enormous amount of residential development, with many one-story homes built in neighborhoods with winding streets, making the city's footprint unlike that of most cities at the time. "Fridley wanted to depart from the typical grid format of the city streets, so it became a city with curvilinear streets and cul-de-sacs and other things," he explains.
The downside to that type of topography was Fridley's limited connectivity. With few sidewalks and an unusual grid pattern, walking and biking was made more difficult for its residents and automobiles became the preferred mode of transport. So, the city has recently adopted an active transportation plan that seeks to get people out of their cars and onto an improved trail system. "We have been working very hard, now, to go back and make the connections," Hickok says, "and we have concentrated on finding those gaps in our trail system that would keep you from being able to get out and travel long distances. It's been very successful – the idea of getting out and walking loops or walking some distance on the trails."
In addition to its many established residential neighborhoods, Hickok reports that the city of 28,500 has a number of new developments planned that should increase its population, substantially, over the next several years. "We have a commuter rail that runs through Fridley, and we've created a Transit Oriented Development district around the train station," he notes. "Within a half mile of that train station is a development called Cielo, with 267 residential units in a three-building complex. It was designed in an atypical fashion in terms of its setbacks; it's closer to the road than you typically see. It puts the emphasis on taking transit as opposed to the car; it does have parking underneath the building and some exterior parking, but the ratios were dropped to allow people to really think about whether they need that second or third car and they sign the leases, accordingly, with the idea that the train and bus are options."
"We also have Fridley Station Village, which is now underway," he adds. "Sherman and Associates is a local developer that is developing 267 units right at the train station. It's going to be a mix of types – market rate, mixed-income, and senior. It will be designed in a village fashion, right when you get off the train platform." Another new development is the 135-unit, Ebenezer Senior Housing, now being built on the site of Fridley's former city hall, which was recently torn down. It will include a mix of independent, assisted, and memory care units, and is expected to be completed by early fall 2020.
Meanwhile, at Fridley's new Civic Campus at Locke Park Pointe, where the city has relocated its police, fire, and public works departments, more residential units are being constructed, as well. Pulte Homes is building 26 patio homes on the south side of the campus and Lennar Homes is building 72 townhomes across the street. The patio homes are designed to attract older residents who want to live in a community where their domiciles are being maintained for them, so that they can even be somewhere else during the cold Minnesota winters, while the townhomes are being built for a mixed-age demographic.
The new Civic Campus, itself, was designed to be a gathering place for Fridley's residents. It has a central water feature (that also serves as a storm pond for the new City Hall, as well as the new townhomes), lighted area fountains, and a half-mile walking loop around it. "We have a small amphitheater for entertainment on that water's edge, and the plaza above it was designed to be multi-purpose for art fairs, small musical events, and movie nights," says Hickok. "We plan to program it for all sorts of things, so it's not just a civic campus for police, fire, and public works, but a place where people want to gather for fun.  And right next to our Civic Campus, and right next to these 98 homes that are being built, is a beautiful forested area with trails for biking and walking, and a creek that meanders through it and ends up eventually in the Mississippi, just on the western edge of our city."
"And when we designed the building, we got rebates through the energy company here for designing an efficient building and we turned those rebates into public art," he continues. "We created a public art fund and there are a number of different pieces inside that decorate the interior walls of the building, but there's also a sculpture that's being worked on, and some other public art elements that will be added as part of that funding. We're proud of the fact that we turned those energy rebates into something that you can see and enjoy."
Regarding the city's infrastructure, Hickok reports that a major project that has been on the drawing board for many years is an extension of 57th Avenue. "Because Fridley was built up along the central spine that was the railroad line, we lacked certain east/west connections, early on," he explains. "The last east/west connection that we have yet to complete is what we call the 57th Avenue extension. It will include a bridge that will go over the Burlington Northern/Santa Fe Railroad tracks and will link the western part of the city to the eastern part of the city. When people come up over the bridge, they will land right in our commercial area – Fridley Market."
Fridley Market is a 142,594-square-foot shopping center, anchored by Cub Foods that enjoys tremendous visibility from Interstate 694 (141,000 vehicles per day). When complete, the bridge will better connect residents on the western side of the bridge to Fridley Market on the eastern side. Currently, cars need to get on and off I-694 and Hickok believes that a new bridge will make access to the Market easier, spurring economic development in the area. "There's a development on the other side of the bridge that has 450 new jobs scheduled to move in," he adds. "Those employees would love nothing more than to have a walking bridge, or a quick drive over the railroad tracks, to get to the commercial area, since, right now, they have to get on the highway and back off the highway to get there."
Recently, Fridley completed development of a 122-acre, former superfund site that once was home to a Naval Industrial Ordnance Plant. "It had a two-million-square-foot building on it and developers would tell us, 'the land is prime, it's in a beautiful location,' but if I got it for free, the demolition of a two-million-square-foot building and the cleanup of a superfund site would still make it too expensive for us to do," Hickok relates. Luckily, the Fridley Housing & Redevelopment Authority, the State of Minnesota's Department of Employment & Economic Development, and the Twin Cities' Metropolitan Council partnered in contributing funds to local developer, Paul Hyde, who had the know-how to get the soils cleaned up and to replace the antiquated, two-million-square-foot building with 1.7 million square feet of modern industrial structures.
"The crowning touch of that development just opened on the 16th of November," says Hickok." That building was Forgotten Star—Fridley's first-ever, licensed brewery, located in the former boiler room of the property's large industrial building. "They left the two large brick stacks coming up from the boiler room, and those brick stacks now, actually, have bottle caps on top of them, so it looks like the necks of beer bottles coming out of the top of what was the boiler room for this large industrial complex." The twin monoliths, which are reminders of the town's mid-century prominence, were once the exhaust valves of the largest building in Minnesota, the Northern Pump Company, recognized by the United States military for its contribution to production during World War II.
"First it was a military complex; then it was Northern Pump, then FMC, then British Aerospace and Electronics," Hickok continues. "And BAE did retain one quarter of the two million square feet; the developer reinvented that one quarter, built the southern wall, and then tore down three quarters of that building to leave BAE and its engineers and researchers in a modern building that looks right in place with all the rest of the 1.7 million square feet that exists now on this campus that's called Northern Stacks. Because the original industrial building had been awarded what was called the 'Battle E' award, on the stacks that remained standing, they have this E banner and then six stars for the number of times that facility was awarded the Battle E award. So, that's one of the recent developments that's been very exciting for us."
Situated just about 15 minutes north of the Twin Cities, Fridley, Minnesota offers its residents a well-established, safe environment, with beautiful neighborhoods that Hickok says is an "enjoyable place to live." No wonder the city has been known for many years by its nickname: "Friendly Fridley."
AT A GLANCE
WHO: Fridley, Minnesota
WHAT: A city of 28,000
WHERE: East of the Mississippi River in Anoka County, Minnesota
WEBSITE: www.ci.fridley.mn.us