Warner Robins, Georgia
The International City
Business View interviews representatives of Warner Robins, Georgia for our focus on Economic Development and Growth in U.S. Cities
What is today, a vibrant highlight of Middle Georgia, the City of Warner Robins was actually born during the Great Depression. Back then, business leaders in the community, once known as the City of Wellston, began to notice the growing defense industry, and reached out to the United States Army about building an aviation field in the region. After many negotiations, 47 local families sold property totaling over 3000 acres, which would become the site of the Robins Air Field in 1941. One year later, the name was officially changed to Warner Robins, after air corps logistician, Brigadier General Augustine Warner Robins.
The air force base brought significant development to the city, including housing, a school, and other civic buildings, as well as creating a thriving business district. World War II saw 23,000 people employed at the airfield, and the city continued to see significant growth. In 1947, the air field was designated as Robins Air Force Base, and it continues to be a major employer for the city today. Proud of its military aviation history and identity, the community is now home to the Museum of Aviation, Georgia's largest tourist attraction outside of Atlanta.
Today, Warner Robins is a thriving city with over 80,000 residents. As Kate Hogan, Community & Economic Development Director, shares, "We are a great family-centric community. We have tons of places to worship, and our school system is by far the best one south of Atlanta. There are lots of fantastic parks and recreation opportunities throughout the city. We've got amazing retail offerings throughout our community, and we are really proud of our strong housing market." Under the leadership of newly-elected Mayor, LaRhonda Patrick, the community is poised for growth and ready for positive change.
A diverse offering of housing options is necessary in Warner Robins, due to the large number of military service members who are on Permanent Change of Station (PCS) assignments (meaning they will move to another base within a few years) in need of reasonable housing options. The city is currently experiencing high levels of multi-family investment, with a 47% increase expected by 2025. Hogan reports, "By the fourth quarter of 2025, we hope to have an additional 3300 units. It's really unique too. Some of those multifamily projects are actually single-family home rental communities. There's such a great opportunity to have that single family approach but in a rental neighborhood."
Capstone Building Corporation and Kitchen & Associates have recently completed Gateway Pointe II, a 90-unit family rental community. This $16.9 million investment brings some low-income options to the city. Adjacent to that property is an area reserved for single family homes, creating more opportunities for home ownership, as well as some mixed-use development. Mayor Patrick emphasizes, "Housing in Warner Robins is going to be a focus of my administration, especially when it comes to workforce housing. There is a drastic need for our teachers, nurses, military personnel, city employees, county employees, police officers, firefighters, etc. to ensure they are able to live, work, and play within our city limits. Housing affordability will be a priority."
Aside from Robins Air Force Base, which currently employs 24,000 people, Warner Robins has several major employers in the community. Hogan reports that the city's top 10 employers include the Houston County Board of Education, Perdue Farms, Houston Healthcare, Bluebird Company, Frito Lay, the Houston County Government, the City of Warner Robins, Fort Valley State University, and Kroger Company. Partnering with Central Georgia Technical College makes it possible to meet the need for skilled labor. As Hogan describes, "They are fantastic and they have helped prepare our workforce, making sure we've got some really good support overall, as far as workforce development and working with our companies." She shares that the college has also been able to leverage assistance for students through the HOPE career grant, a state-funded grant for those enrolled in programs related to specific industries in Georgia. Warner Robins is also home to campuses of Georgia Military College, Fort Valley State University, Mercer University, and Middle Georgia State University.
The Robins Industrial Park has been a joint effort between the city of Warner Robins, and Peach County, since its establishment in 2016. Ideally located along I-75, and development ready, this industrial park is an attractive option for companies like Pete's Greenhouse, the newest tenant, that has invested $18 million into their expansion, and Pure Flavor, who have a cold storage facility on the site. On the retail and commercial side, the city is working with Retail Strategies, a national firm specializing in retail growth and recruitment.
"We saw quite a change in consumer behavior patterns with COVID," says Hogan. "We are really trying to pivot ourselves towards a more proactive approach. Retail Strategies has equipped my team with the necessary data in order for us to move forward." There are 15 quick service restaurants expected by the end of the year and the city is focused on continuing to attract new retail and commercial opportunities. She adds, "We really don't have to worry about trying to make our demographics work with the retailers. Our demographics speak for themselves. We have a great median household income, we have higher education, we have wonderful density. One of the things that's unique about Middle Georgia is we actually have a huge custom trade area. People will drive 45 minutes to an hour just for a shopping destination – and Warner Robins is just that, a destination."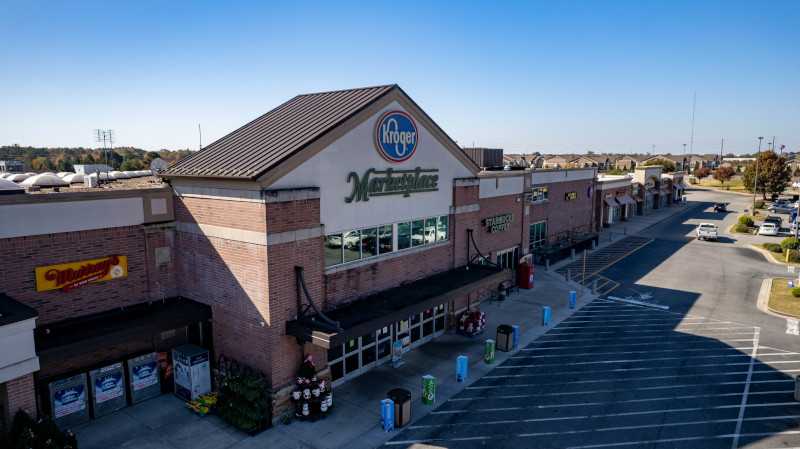 Capacity building is a must to position the City of Warner Robins to facilitate the expected growth. As part of a strategic partnership between the cities of Warner Robins, Perry, Hawkinsville, and Macon Bibb, a large natural gas infrastructure grant has been awarded for MidState Energy to ensure that these communities are able to meet the needs of high demand users as they come online. On the water management side, Mayor Patrick shares, "We have received a grant of $11 million for Water and Sewer from the Georgia State and Local Recovery Fund. These funds will ensure we exceed our timeline for implementation of projects to build greater capacity in the City of Warner Robins."
With capacity becoming a major focus for developers, Hogan admits, "Water and sewer capacity is in every single conversation, whereas it used to be workforce, and it used to be quality of life, and sense of place. Now developers have to have the water and sewer capacity in order to make sure that they can move forward. It's going to really set us up for success." The Constantine Group have been valuable partners in water and sewer planning in Warner Robins. "The Constantine Group has been our water and sewer engineering consultant since 2009," says Hogan. "They specifically focus on long range planning, budgeting and large capital improvement projects."
The North Houston Sports Complex, an $18 million development which was completed in 2021 and includes four softball fields, four basketball courts, eight volleyball courts, 12 pickle ball courts, and indoor track & fitness areas, is a source of pride for the community. "This facility plays a dual role in our community, as an income generator with our sports on a state wide level and also as a community center," explains Mayor Patrick. "Our residents have a safe and affordable option for after school and on the weekends. Rec sports plays a large role in our community culture and the broader region when it comes to this facility." The complex has been so successful that there are already plans for an expansion. According to Hogan, "We are constantly booked as far as traveling tournaments go. There is just so much opportunity to ensure that we are the central location for sports in this Middle Georgia area."
Looking to the future, Mayor Patrick has made it one of her priorities to develop a city center in the community, which currently does not have a downtown. She shares, "We want to develop a live, work, play, type city center. I'm going to be very focused on retail space. Warner Robins is full of restaurants, full of chains, and we don't have enough of those mom-and-pop type shops. I'd really like to find a place where all those can gather, and we can be known for great food right here in our city center that you can't find everywhere else."
Also on her agenda, is bringing events to the city – creating situations where residents and visitors can gather. She adds, "The cities that surround us have many opportunities to do those things, and many of us travel to outside cities to participate in their events. We want to be known for something other than Robins Air Force Base. We have lots to offer here. We are the best place to live in Middle Georgia, and we need more of an identity. We are known as The International City and it is time for us to embody that. I really want to create a fresh new experience in Warner Robins."
AT A GLANCE
Warner Robins, Georgia
WHAT:  A city of 80,000
WHERE: Houston County, in the central part of the state
WEBSITE: www.wrga.gov