Ashland, Massachusetts
A beautiful balancing act
With an easy lifestyle and modern amenities, Ashland, Massachusetts has it all
Ashland, Massachusetts is neither wide country roads, nor is it busy metropolitan streets.
The town of more than 18,000, located in the MetroWest region of the state, is a little bit of both. Sandwiched halfway between nearby cities of Boston and Worcester, Ashland offers a unique equilibrium of rural and city life.
"What we really try to focus on here is this balance of growth and open space," says Ashland Town Manager Michael Herbert. "We have made a lot of strides over the last few years to really try to expand our open space footprint, while at the same time, there's a lot of development happening in previously developed areas."
Ashland prides itself on its green space, with about 30 percent of its land area devoted to protected open space. That includes four large parcels of open space with plenty of recreation opportunities. Ashland State Park features 470 acres of land, including a 157-acre reservoir, which offers opportunities for hiking, fishing, biking, boating, and swimming. Hopkinton State Park includes 1500 acres of forest filled with hiking trails, beaches, fishing, and picnic areas. Meanwhile, the 616-acre Ashland Town Forest and 120-acre Warren Woods offer protection to flora and fauna alongside several miles of scenic hiking trails.
"Since 2016, the town has invested over $10 million in purchasing or protecting almost 250 acres of open space," Herbert explains. "Each of those has a network of trails that people can utilize for passive recreation. We hold events in these spaces and utilize these resources for community enjoyment."
In addition to its protected open spaces, Ashland has several green initiatives underway to help reduce its energy use and carbon footprint. The town has a goal of becoming net zero by 2040. To help achieve that goal, in 2014, the town implemented an energy savings performance contract, which enabled them to convert all municipal buildings and street lights to LEDs, as well as make boiler and HVAC improvements. They also moved forward on three solar projects on town-owned properties and are in the process of converting their municipal fleet to electric vehicles.
While conservation is a priority for Ashland, that doesn't mean business and development have fallen by the wayside. The town is in the process of making a more than $150 million investment into its public infrastructure.
"We're revitalizing our downtown, we are completely redoing a two-mile stretch of highway between Holliston and Framingham, we're putting the finishing touches on a new public safety building, which will open up the police and fire stations downtown in prime locations for redevelopment, we're completing a new school," Herbert lists. "We also have a number of smaller projects with historical properties that we're working on."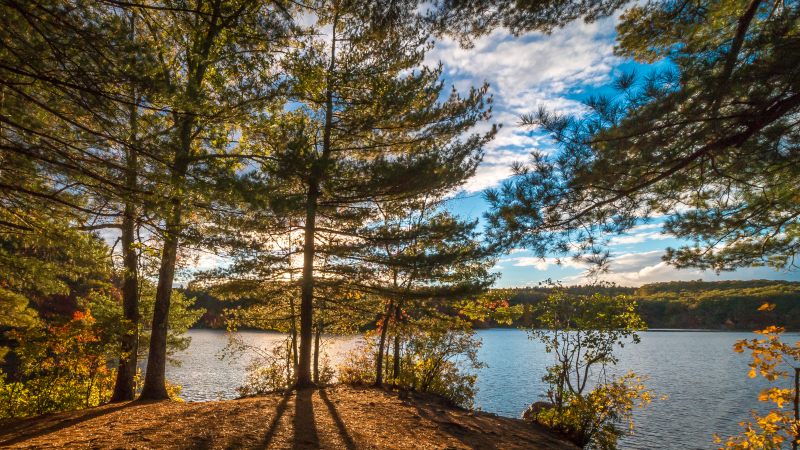 In addition to all of that, Ashland's Economic Development Director, Beth Reynolds, has been busy attracting a plethora of new businesses to the area through Ashland's unique business incentive program.
"Ashland has a very diverse makeup of businesses in town, but one of the things that we really focused on a few years back was how to attract more businesses to Ashland," she recalls. "Available commercial space is limited in Ashland, so we push for the reuse of existing spaces, and adding a business incentive program has proven to be very successful. The program has brought new businesses to town that fit with the town needs, they've become community partners and residents have been welcoming."
The program, aimed at small to medium-sized businesses, focuses on rental assistance, providing rental support while new businesses are getting up and going. The town works with Needham Bank, located in downtown Ashland to offer interest-free loans, and also has an equipment reimbursement element in which grants are able to help cover startup or expansion costs.
"If a business need new appliances or products in order to open their doors, then we reimburse them for that," Reynolds says.
The program also features a sign and façade incentive that encourages existing business owners to enhance their facades to coincide with the upgrades taking place in Ashland's downtown.
"These incentive programs have brought us several new businesses," Reynolds says. "Restauranteurs have taken advantage of this benefit which has added to the diverse dining experiences in town over the past few years."
The business incentive program has been a huge success for Ashland which can be seen in the amount of private investment that has come in as a result, Herbert adds.
"We've put in $250,000 so far and have seen a resulting $3 million investment from the private sector as part of that," he says. "So our $250,000 leveraged $3 million in private capital to come into town."
Ashland now has its sights set on attracting bigger businesses in the form of biotech companies. The Ashland Technology Center, located just blocks away from downtown town, has prime space available that's perfect for biotech, Reynolds says.
"I'm working hard to get the word out that we are open to all business and show that Ashland is a great place to start and grow any business," she adds.
When it comes to housing, Ashland has a bit of everything available and even more coming.
"We have a great mix of different residential options in Ashland," Reynolds says. "There are a great deal of condos, single-family homes, and a large number of apartments are coming into town as well right now. We have some exciting opportunities for growth in the downtown area, especially right now."
There's a large mixed-use project in the pipeline that could see 200 residential apartments and more than 30,000 square feet of commercial space added to Ashland's downtown, as well as even more apartments and mixed-use property, going into the Highway 126 corridor. Many of these mixed-use properties will offer much-needed affordable housing, as well, Reynolds adds.
"This growth will bring in a lot more pedestrian traffic, excitement and vitality to the downtown area," she says.
First established in 1846, Ashland has always been a place of balance. The town was formed by taking pieces from three nearby towns of Framingham, Holliston, and Hopkinton. Framingham had an industrial base, while the other two towns were more agriculturally based, thus leaving the newly-formed Ashland with a unique mixture of both.
"We had a number of manufacturing plants here in the mills, but then we also had a lot of pasture for farmland and agricultural purposes," Herbert says.
Maintaining that balance into the future has been a challenge, but one the people of Ashland are ready to meet head-on. The town's staff are full of passion for the area and work hard to ensure that Ashland becomes the best it can be.
"I love everything about Ashland," Reynolds says. "I find that our community comes together in such a powerful way. People are supportive of one another. We have so many great qualities that are attractive to anybody that would want to live, work and play here."
"The business community itself is very unique in that they're very supportive of each other and they really do work together to better the town."
That community spirit and support of one another inspires Reynolds daily to keep pushing to make Ashland an even better place.
"Keeping everyone communicating, working together and building up the community to the best it can be is really what drives me," she says. "I think there's a lot of potential here in Ashland and we still have more to do, but we're on the right track. We've seen some great growth. It's an exciting time to be in Ashland."
Ashland has a lot in the works for the future – large and small, and Reynolds and Herbert are laser-focused on bringing it all to fruition.
"My main goal right now is to get projects that are underway completed before we tack on any other new challenges or projects, but once we're done with the ones that are currently in the pipeline, we're going to have a transformed community for the better," Herbert says. "We're making investments that should have been made 20-30 years ago, but we've got the team in place to actually get it done and are actually getting it done."
"The work we are currently doing is going to change our town and make it more attractive for private investment in the future. It will continue to bring balance to the community where there is a perfect mix of great businesses, open space and strong sense of community that is supportive and forward thinking."
AT A GLANCE
Ashland, Massachusetts
What: Dynamic and fast-growing municipality in Middlesex County, Massachusetts
Website: https://www.ashlandmass.com/
A.A. Tofani Construction Co., Inc. – www.aatofaniconstruction.com
A.A Tofani Construction has proudly served the Ashland/Metrowest area for more than 40 years, and our team of professionals boasts over 100 years of hands-on experience in all facets of the building trades including  design/planning, project management, carpentry, mechanical integration & finish. We not only strive to deliver the best service, but also a product that exceeds expectations on time and on budget. Visit our website today to learn more!