Rowlett, Texas
a city on the move with growth on the radar
Meeting resident's needs and courting new economic opportunities, Rowlett, Texas is a city on the rise
The city of Rowlett is further east in Dallas County than any other municipality, located just 19 miles from downtown Dallas. Some might say it is as focused on commercial, residential, and downtown redevelopment as any city in the entire state of Texas. Not only is Rowlett "on the water" but it is truly "on the move."
There are many reasons why Rowlett is such an attractive place to live, work and play. It sits on the shores of Lake Ray Hubbard, an active reservoir that doubles as a 22,000-acre recreational lake with more than 1,000 boat slips and great fishing opportunities. The 27-acre Paddle Point Park is filled with lush pecan trees adjacent to the lake while housing a waterpark, kayak launch, and numerous outdoor fields and activities. The park also includes a 6.4-mile walking trail and notable wildlife views of great blue herons and bald eagles.
Rowlett is home to an extension of the President George Bush Turnpike, a large portion of Highway I-30, light rail, and a wealth of road and transportation options that make getting there easy. A newly built Dallas Area Rapid Transit (DART) light rail station was added in recent years to the community with more than 70,000 residents. Rowlett is widely considered to be one of the fastest-growing communities in the north central Texas region.
All of these factors and more are driving the population and the popularity of Rowlett higher, with a concerted effort underway by city leaders to attract new businesses and developments while updating its master plan.
One of the city's largest areas available for development is 1,000 acres in the North Shore Commercial District. This development will house office, medical, light industrial, retail, and other commercial development. But the most well-known development in the process truly stands out.
Sapphire Bay – a massive waterfront development
Sapphire Bay is a more than $1 billion, 116-acre mixed-use development project that will become a distinctive waterfront destination for new residents and visitors alike. There are many components to that project, according to Rowlett Director of Economic Development Libbey Tucker.
It includes a 500-room Sapphire Bay Resort operated by Hyatt, a surf village and water park, more than 1,500 residential units, 1.7 million square feet of mixed-use restaurant, retail, entertainment, office, and hospitality space, more than 20 acres of parks and trails, a 1,000-slip marina, and a one-of-a-kind water feature adding to the appeal for residents and tourists.
Part of the Sapphire Bay development is a new 130-key hotel, 633 multifamily unit project  by Floridays Development Co. Anchor additions to the Sapphire Bay development include a Bombshells restaurant and entertainment complex and a Margaritaville hotel and resort complex. Several other standalone restaurants will also be included in this massive development.
According to Tucker, "This is one of the reasons we want to attract more employers here."
Downtown Rowlett is also expanding
A significant emphasis is being placed on Downtown Rowlett now that several capital infrastructure projects from water and sewer to roads and sidewalks have been completed.
One of the themes of  Downtown Rowlett is to "restore and rehabilitate" downtown buildings for revitalization, recruitment, and retention, making it ideal for new business opportunities. The city's Economic Development department works with site selectors, brokers, developers, and business owners to create jobs and broaden the commercial tax base.
"We're looking to create a balanced business mix that's a beacon for residents to commune, shop and enjoy unique experiences," says Rowlett Downtown Manager Melinda Bartram. She adds that city officials work "hand in glove" with the Rowlett Area Chamber of Commerce and Visitors Center to create special projects and events for small business owners and aspiring entrepreneurs.
Downtown Rowlett's growth and appeal are supported by the numerous community events on the grassy lawn including a Thursday evening Farmer and Crafts Market for part of the year, along with concerts and movie nights during the fall. Other events held both downtown and throughout the city include the Little Sweetheart Dance, an Easter egg hunt for kids, the Cardboard Boat Regatta, a Memorial Day Ceremony, and Barks, Brews, & Brats along with 4th of July's Fireworks on Main.
Fall brings a trunk and treat event downtown for families and a Veterans Day Ceremony. December is known for the Main Street Fest & Holiday Parade and 12 Days of Christmas. Many of these events are managed by the City of Rowlett Parks and Recreation department.
New resources are supported by city data
Rowlett will likely gain more valuable information on what residents, visitors, and other stakeholders want in the business community when the results from a comprehensive survey that included more than 1,300 respondents are released later this year. Bartram says Rowlett is already searching for more restaurants, florists, home décor retailers, at least one ice cream store, and other community-oriented businesses that will further raise downtown's regional profile.
Another way to drive new residents to the city is to embrace the remote working trend. Rowlett is adding a large co-working space where individuals can lease office space or a desk for anywhere from a day to a month. As Bartram puts it, a worker can simply bring in their laptop, plug, print, and play.
Yet keeping young people in the community is important as well. Rowlett city leaders are working with Dallas College and other area schools to create a pipeline of future workers in several fields, including healthcare. Baylor Scott & White Medical Center-Lake Pointe for example has hired recent graduates to work as lab technicians to fill a pressing labor need.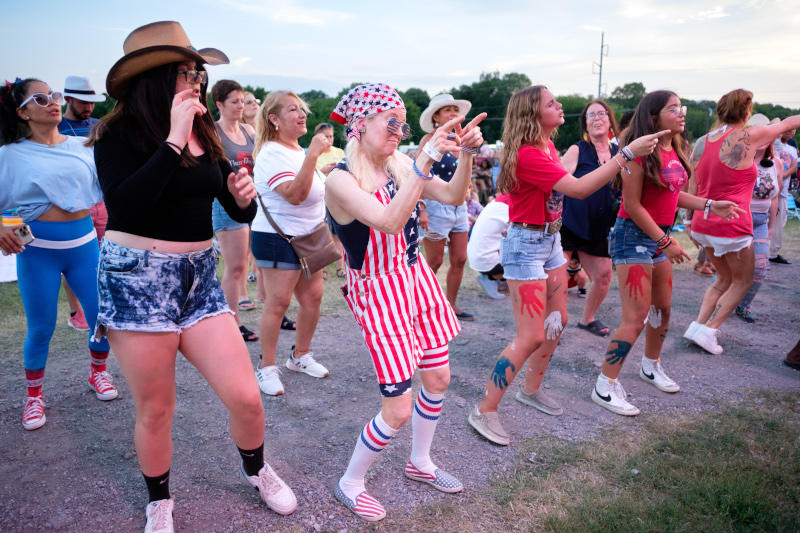 Small-town charm with big city resources
Residents are the biggest advocates for all that Rowlett has to offer. The fact that it offers small-town charm amid a large metropolitan area is a significant benefit, says Bartram. That includes the Baylor Scott & White Medical Center – Lake Pointe campus which is a nearly 150-bed acute care facility in Rowlett. It has access to more than 500 physicians along with such services as a fast-track emergency department, intensive care unit, women's services, Level III NICU, interventional cardiology, diagnostic imaging, robotic-assisted surgery, and orthopedics.
Rowlett is also just a 30-minute drive from Dallas Fort Worth International Airport, one of the largest passenger and commercial airports in the South with direct flights to destinations around the world.
"There are many reasons why people move here but having (access to convenient) resources without the feeling of living in a big city is very appealing," Bartram says.
This demand is why adding affordable housing options is such a priority, Tucker says. Local elected officials are also highly active in not just improving the quality of life in Rowlett but being visible and approachable to residents. That includes Mayor Blake Margolis, a lifelong Rowlett resident, who is updating city processes to increase the flow of efficient services.
Short-term goals highlight big plans
Among the city's pending goals is updating its Downtown Strategic Plan with stakeholder input to help drive core efforts through the next half-decade. Part of that strategic plan will be an active effort to recruit new businesses to the downtown area that will be a good fit for its growing population base, Tucker says.
As that population grows, addressing the needs of residents living near downtown continues to remain critical. Bartram says there are roughly 800 housing units within a five-minute walk of downtown Rowlett which will require future service and infrastructure investments. The ongoing work to finish the Sapphire Bay development will have a significant economic impact.
Once future light industrial employers are added to the mix, the circle will be completed, says Tucker. "These efforts will help us become a regional destination community. She adds, "We want to create opportunities for residents to also be able to work right here in Rowlett."
Dallas College – www.dallascollege.edu
Looking to grow your business? Dallas College can help! We are dedicated to supporting your success by delivering in-demand programs and training to help you achieve your goals and elevate your business to greater heights.